Oh my God !! This recipe my friends… this recipe is "Bomba Atomica" as Chef Simone Zanoni might say !! And he would be right to do so, since it's his recipe I'm sharing here.
Carb and apple penne, or how to cook pastas like an Italian Chef !!
The recipe, Chef !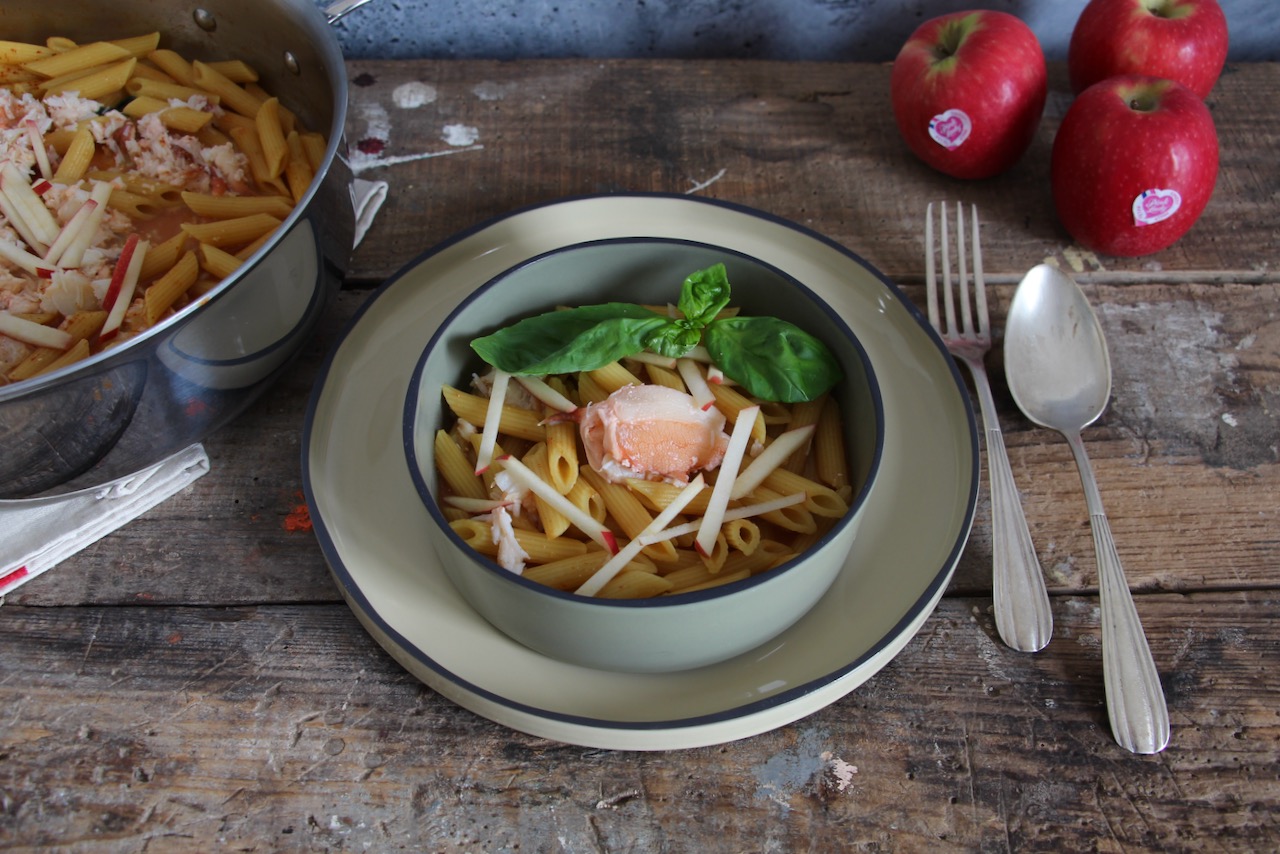 Print Recipe
Ingredients
4 crab claws

1 onion

3 garlic cloves

4 tablespoons olive oil

1/2 glass white wine

400 g tomato pulp

1 Pink Lady apple

500 g penne

2 tablespoons cream

Salt

Pepper

Red mild pepper

Ground ginger

Curcuma

6 basil leaves (or coriander)
Instructions
1
Place your crab claws on your cutting board, hit with a hammer a few times so that to break the shell.
2
Remove the crabmeat and set it aside in your fridge. Keep the shells.
3
Peel the apple, cut it in quarters, remove the center. Cover the quarters with absorbing paper, set the rest aside.
4
Heat the oil in a large frying pan, add the chopped onion and the garlic cloves cut in half.
5
After 2 minutes, add the crab shells and cook at medium/high heat.
6
When the shells start to get orange, pour the wine and leave to boil for 3 minutes.
7
Add the apple peels and center, the tomato pulp, fill in the empty pulp can with water and pour on the shells. Season with salt and pepper.
8
Cook with lid at low heat for 30 minutes.
9
After 20 minutes, boil a large volume of salted water in a large sauce pan (1 liter for 100 g pastas).
10
When the water starts boiling, pour the pastas and cook them half of the recommended time (cook 6 min if 12 min are recommended).
11
Pour the crab shells and juice through a strainer. Crush to get as much sauce as possible.
12
Heat the sauce again at medium heat without lid. Add the spices and ajust wil salt and pepper.
13
When your pastas are half-cooked, take them with a skimmer and add them to the sauce. Keep the water in case you need to add more to the sauce.
14
Cook the pastas for the other half of recommended time.
15
In the meantime, cut the apple quarters in sticks, chop the basil leaves. Take the crabmeat out of the fridge.
16
When the pastas are cooked, add the cream and crabmeat, mix gently.
17
Spread apple sticks and basil when serving.
Notes
You can add vegetable broth instead of the white wine.