Hello my friends!!
How to highlight exceptional products? My answer is often the following: as simply as possible, just focus on the product itself.
That's what I tried to do here with the ceps by Terres & Sauvagines.
Here is my cep risotto.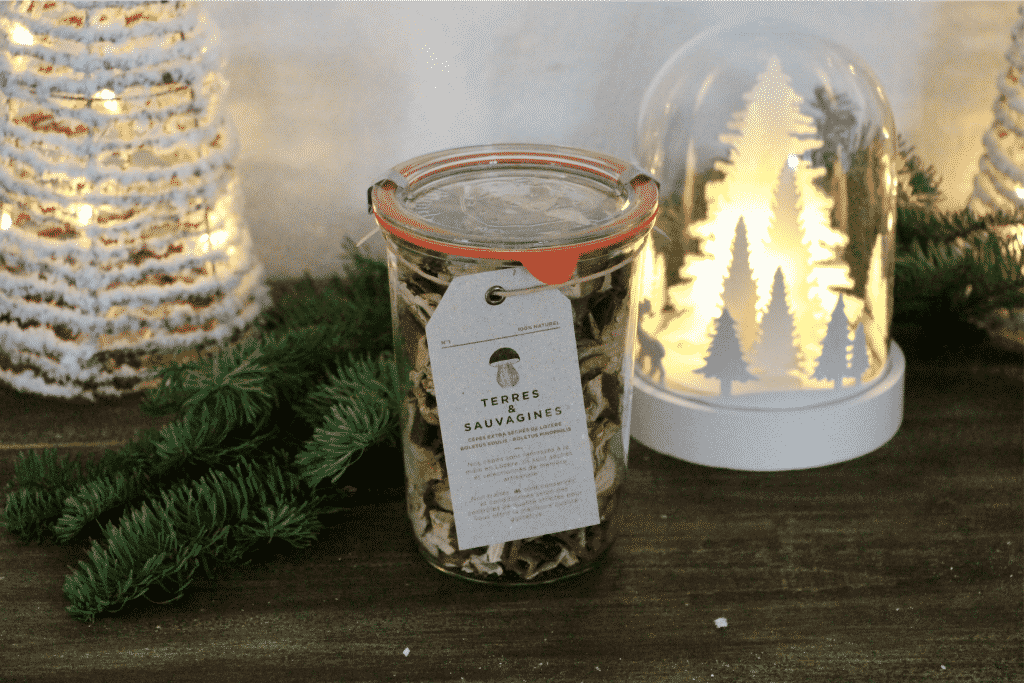 I was lucky enough to receive a nice jar of dried ceps by Terres & Sauvagines. Margaux, the founder, told me a lot about them. I was not disappointed at all!!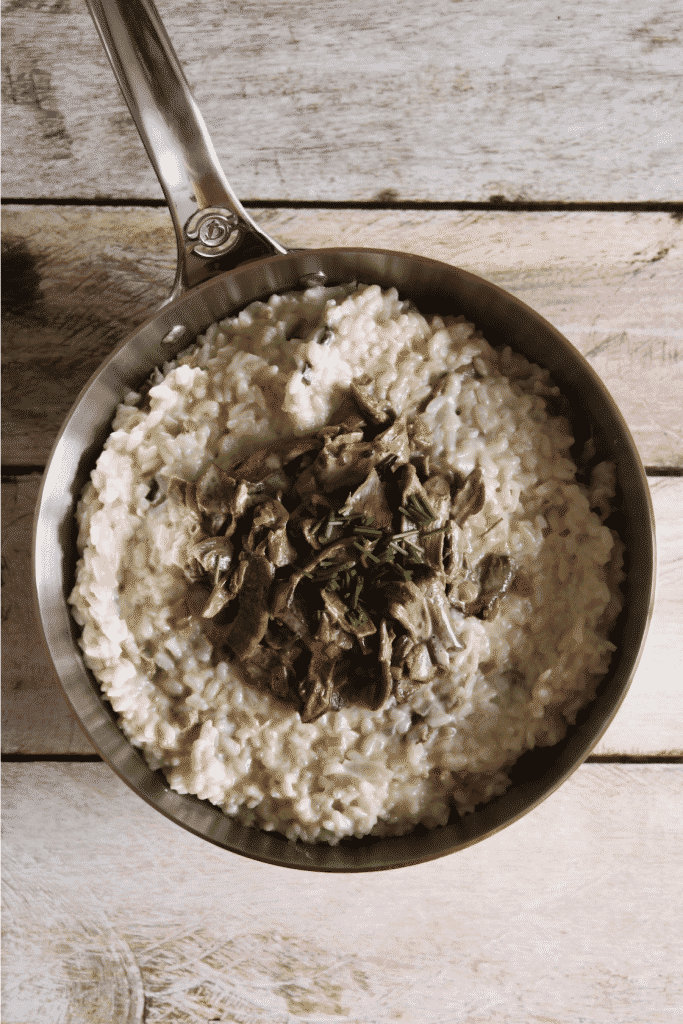 The great thing about dried ceps is that you can enjoy their amazing taste all year long, without the contraint of having to clean them!! 😉 Let's vote for that!!
You will just have to soak them into water for 30 minutes before cooking them.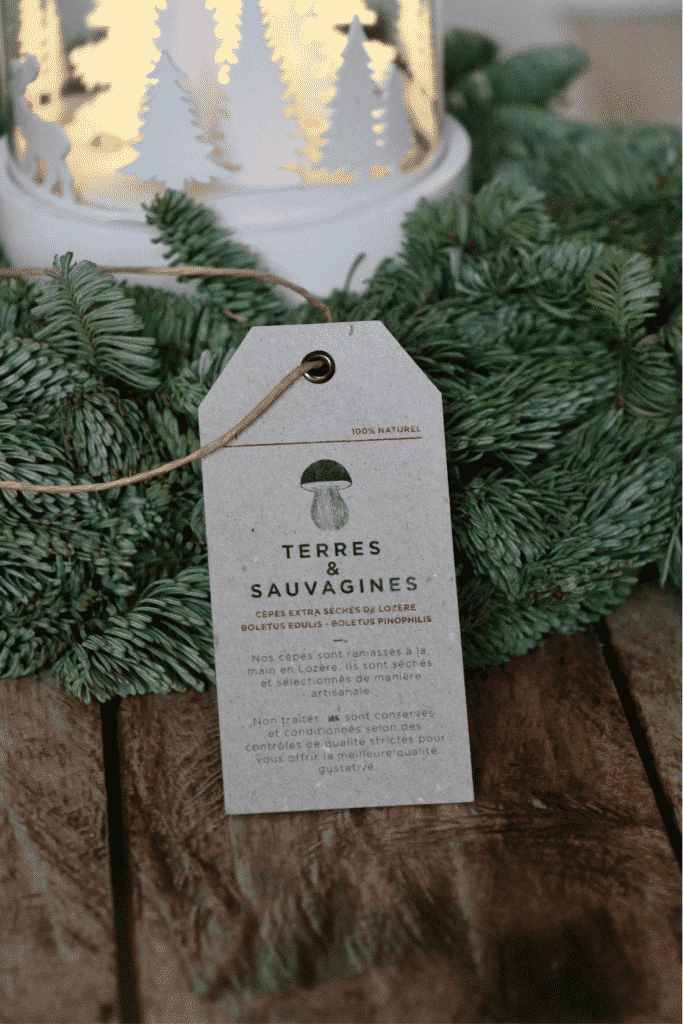 Then you will prepare a very simple cep risotto with broth (poultry or vegetable, it's up to you), you will add mascarpone to get a very smooth texture and parmesan cheese, and that's it!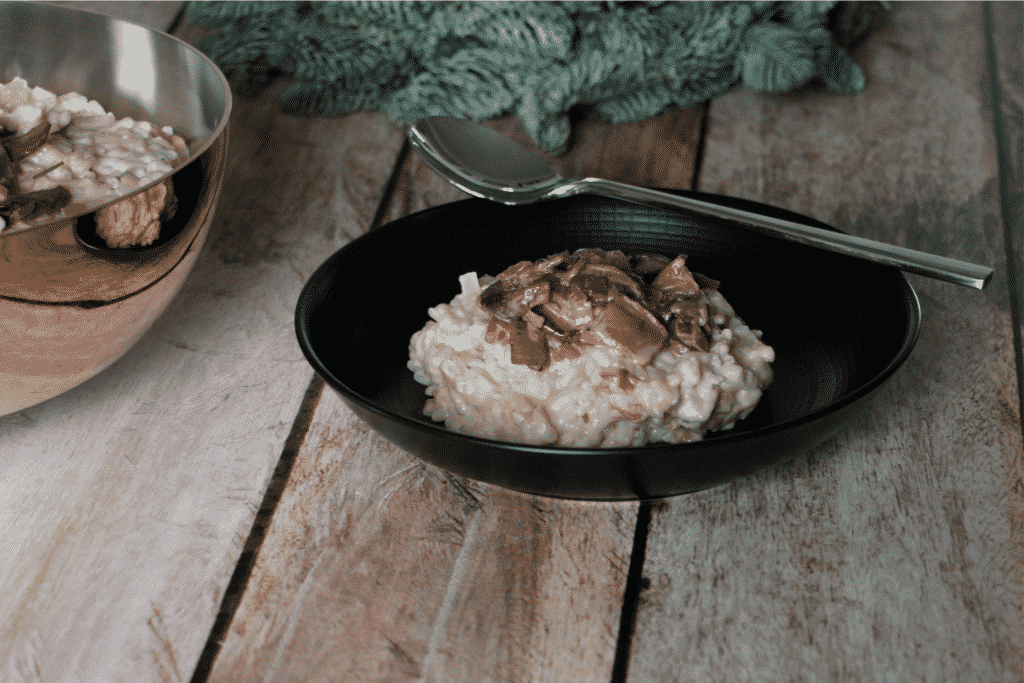 You will highly appreciate this meal that really puts the ceps first. You will obviously have the choice to have it as a starter or a main dish.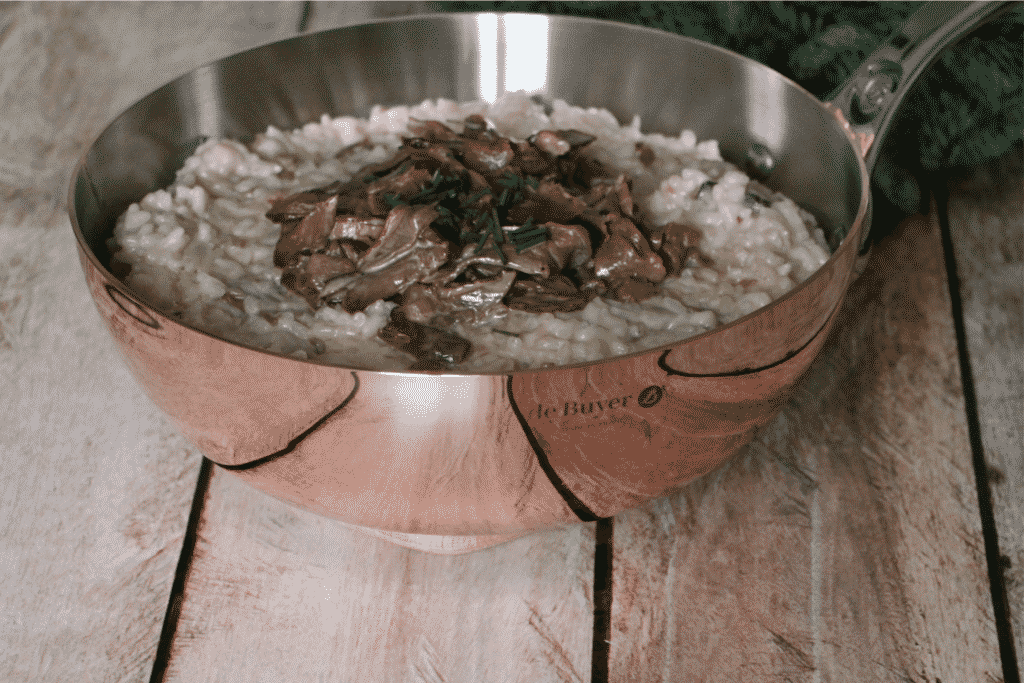 I was very happy to use for the first time my  Prima Matera sauté pan by De Buyer. The cooking is just amazing with this pan. And I must say that it will bring a little wow effect on your table (and keep your cep risotto warm!).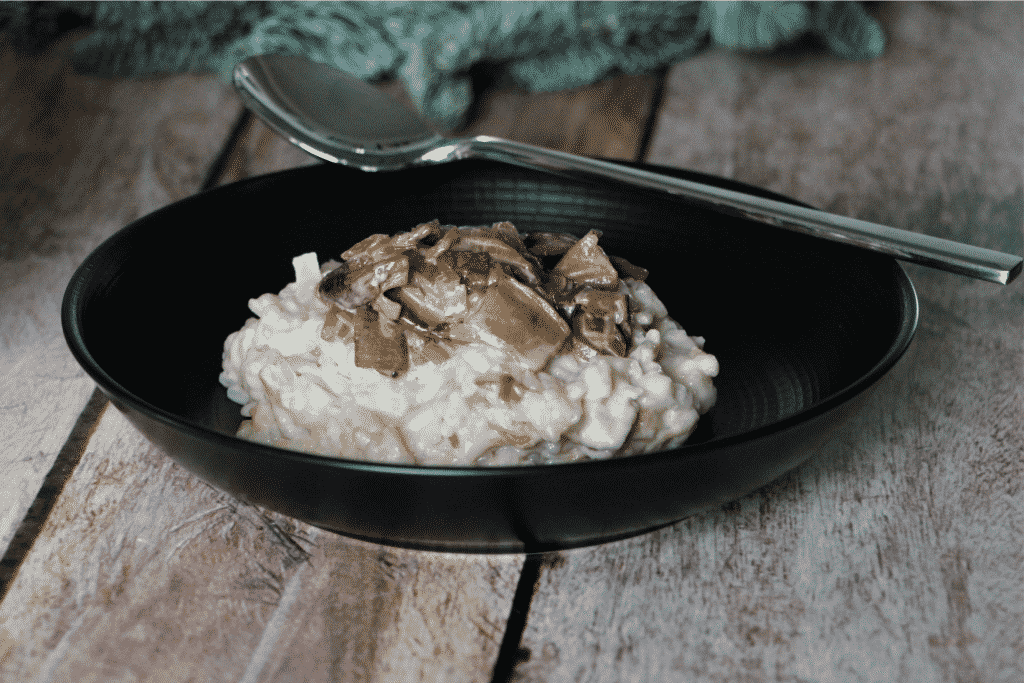 (Presentation: plate "Modulo Nature" by Degrenne)
The utensils:
A large frying pan,
A sauté pan,
A cutting board
And a sharp knife.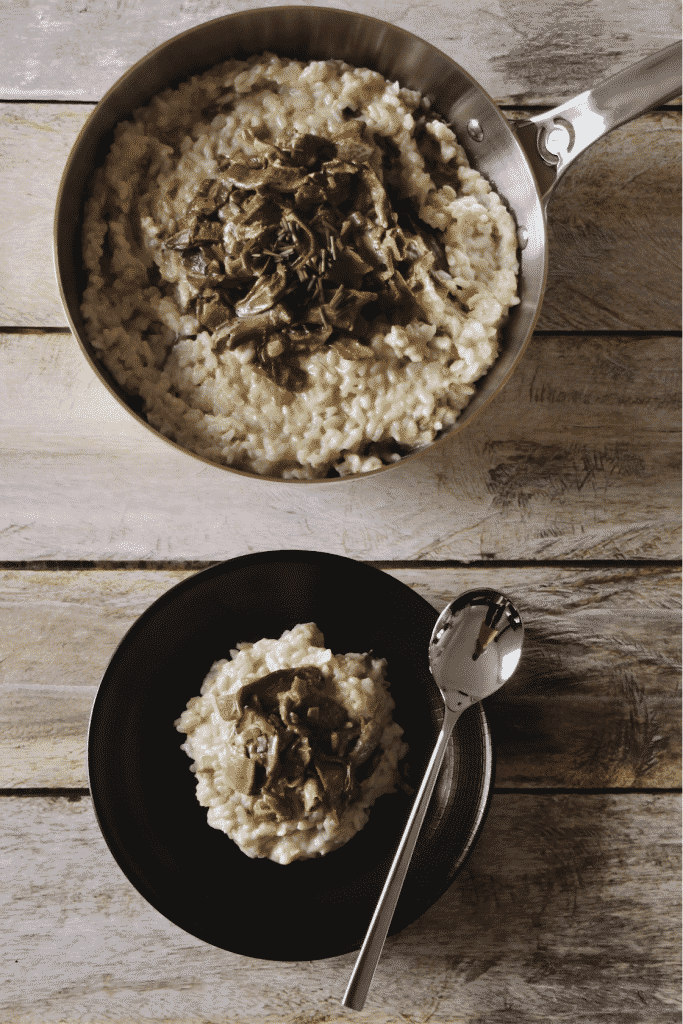 Shall we start?
The recipe, Chef!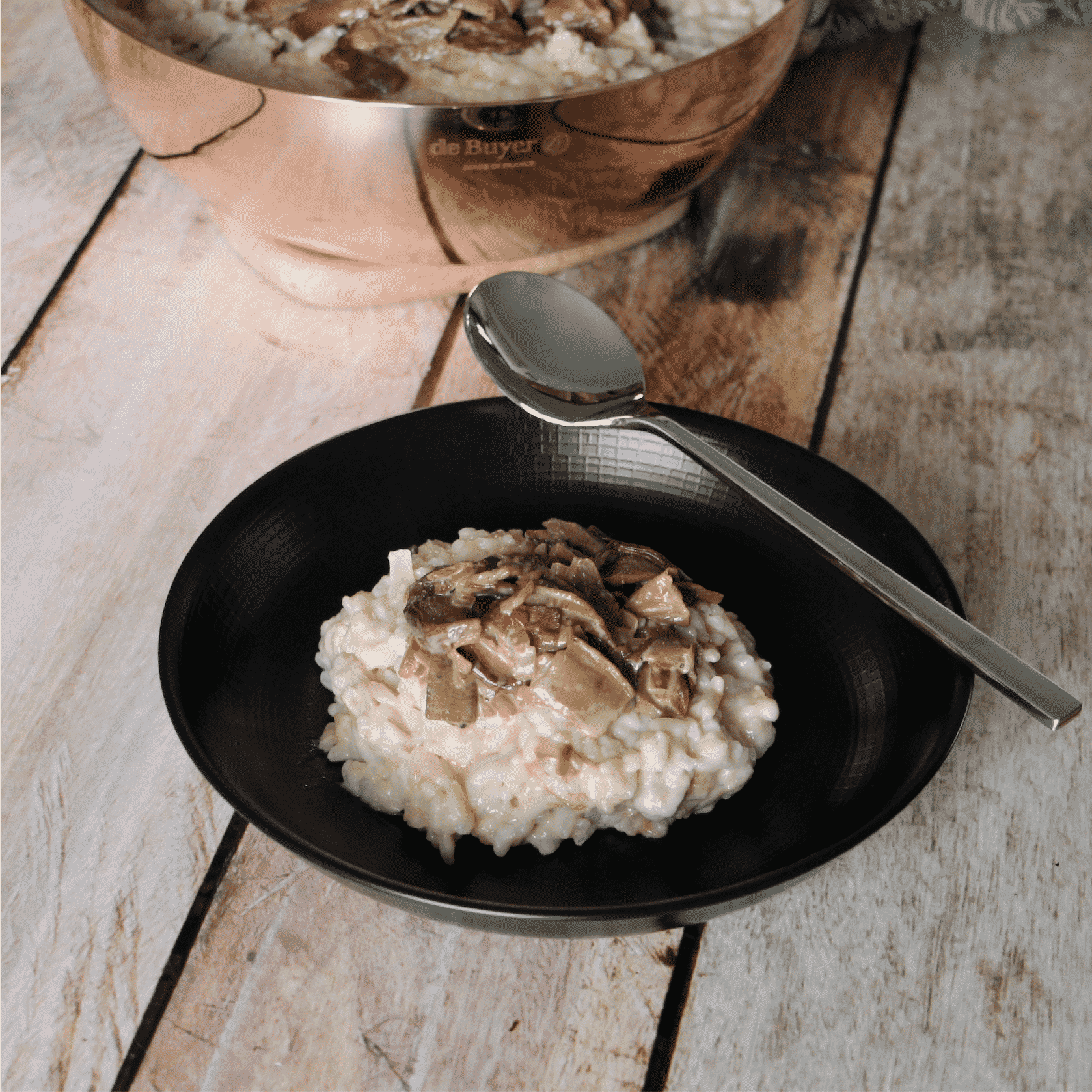 Print Recipe
Ingredients
360 g risotto rice

1 onion

1 shallot

2 tablespoons oil

10 g butter

100 g dried ceps

50 g parmesan cheese

2 tablespoons mascarpone

1,5 liter broth

1/2 tablespoon ground ginger

1/2 tablespoon paprika

Salt

Pepper

Herbs (coriander, chive, parsley)
Instructions
1
30 minutes before cooking, soak the ceps in a large bowl with cold water.
2
Melt the butter in a frying pan. Add the chopped shallot at medium heat, then add the rinsed ceps.
3
Add ginger, paprika and a large laddle of broth. Cover and cook at low heat 15 minutes.
4
In your sauté pan, heat the 2 tablespoons of oil at medium heat and add the minced onion.
5
After 2 minutes add the rice. Cook until the rice gets translucent (use regularly a spatula to mix your rice, it shouldn't get brown). This step will take a few minutes.
6
Add two ladles of broth and cook until it is fully absorbed by the rice.
7
When it's done, start over again until your rice is cooked. Add the ceps juice.
8
Finally, add the parmesan cheese, mascarpone and adjust seasoning with salt and pepper.
9
Mix with the ceps and serve with chopped herbs.