Hello food lovers!
You know me, I love food wherever it comes from. I was lucky enough to travel quite a bit and it really opened my culinary horizons.
I try to share that with you as much as I can. Invitation to a culinary trip then…
Singapore style fried rice!
This recipe has been recently shared by Jamie Oliver on the English television network Channel 4. This recipe comes directly from his website.
This Singapore style fried rice is a rather simple recipe. Prepare all your ingredients first, peel the ones that need to be peeled, cut them properly and after it will be quite quick.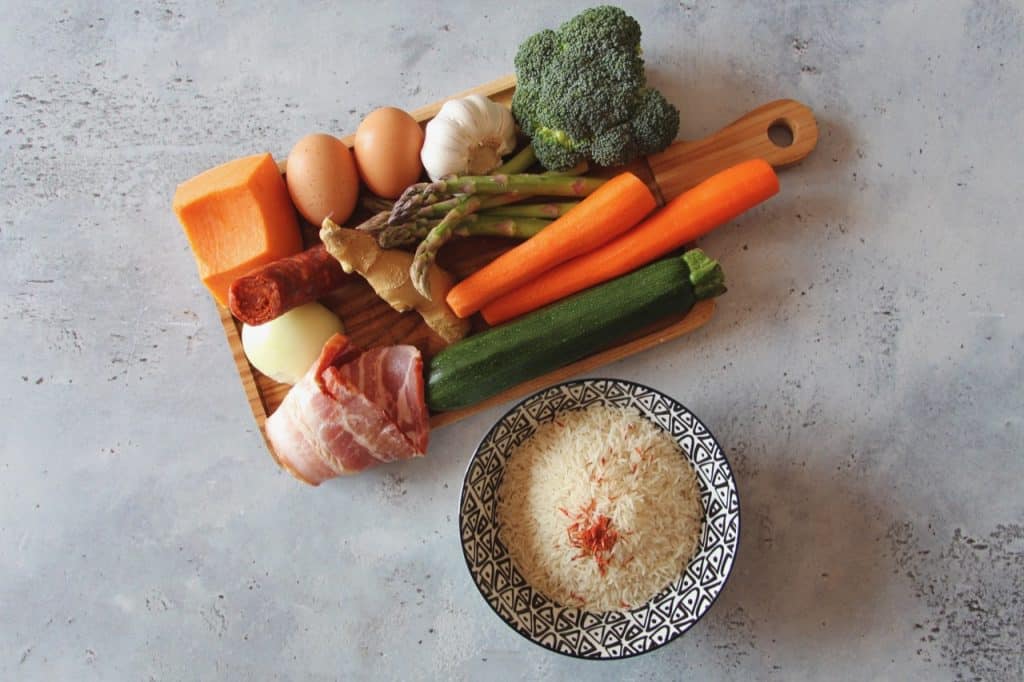 The first time I made the recipe, I followed Jamie Oliver's instructions by the letter in terms of quantities. We are 5 at home, good eaters, the recipe served 4 and we finally made two meals out of it!!
I think that Jamie was really hungry that day!! 😉 I adjusted the quantities, especially for the rice.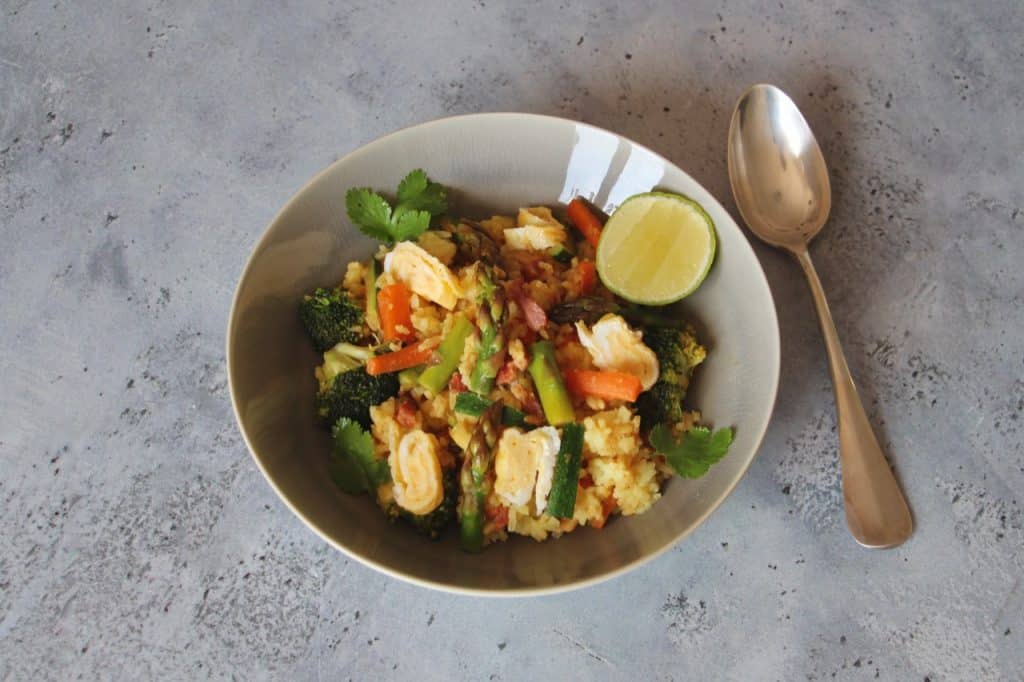 This being said, you get that this dish can be heated again if you have leftovers, simply in your microwave oven. And it's a good thing when you don't have much time to spend in the kitchen.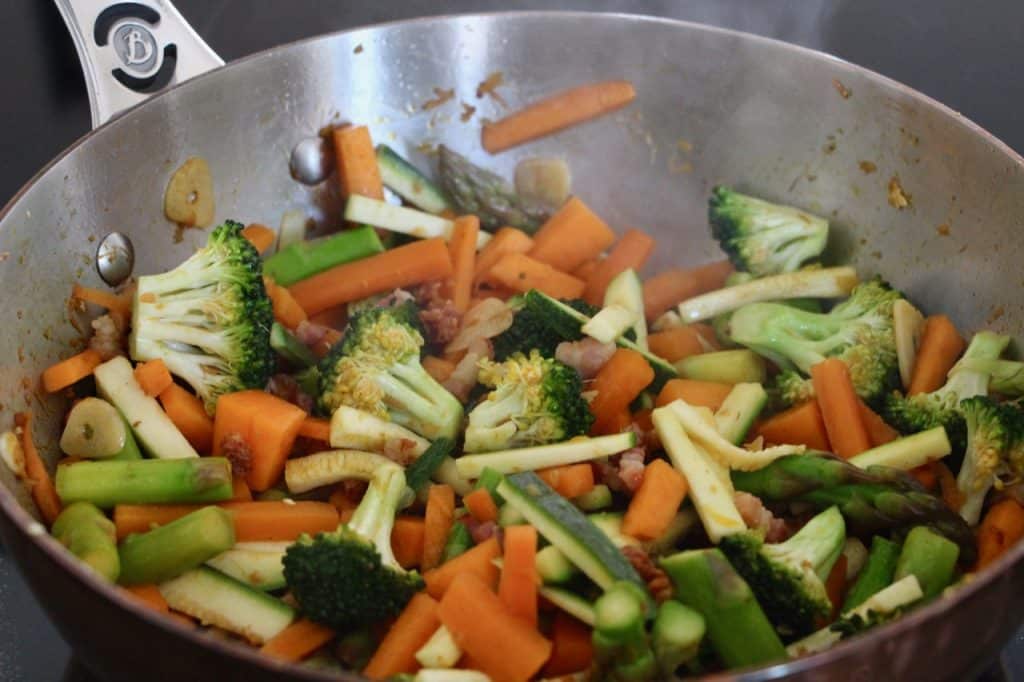 As far as veggies are concerned, take whatever you have left in your fridge (no tomato or red pepper though, it won't match) but: aspargus, baby corn, brocoli, leak, courgette, pak choi cabbage, chive, carrot, cauliflower, etc…
I chose to make a saffron rice but it's no obligation. I just like to yellow color of the rice in this dish… 🙂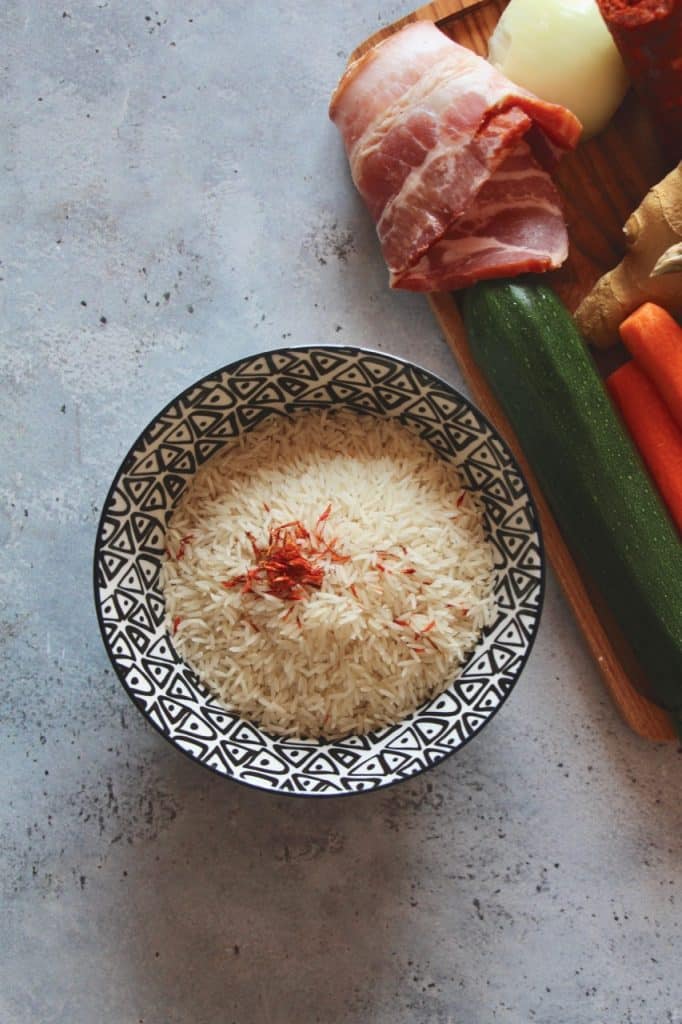 The utensils:
A sauce pan to cook the rice (or a rice cooker),
A sauté pan for the eggs and vegetables,
A cutting board
And a sharp knife.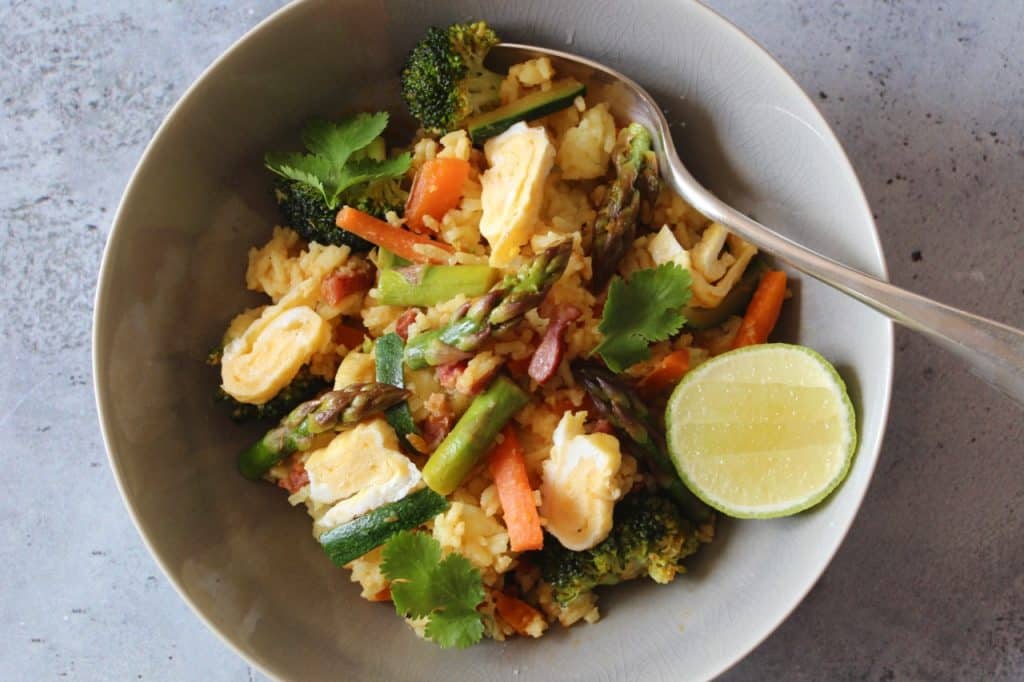 Culinary passeport in hand, let's go to Singapore.
The recipe, Chef!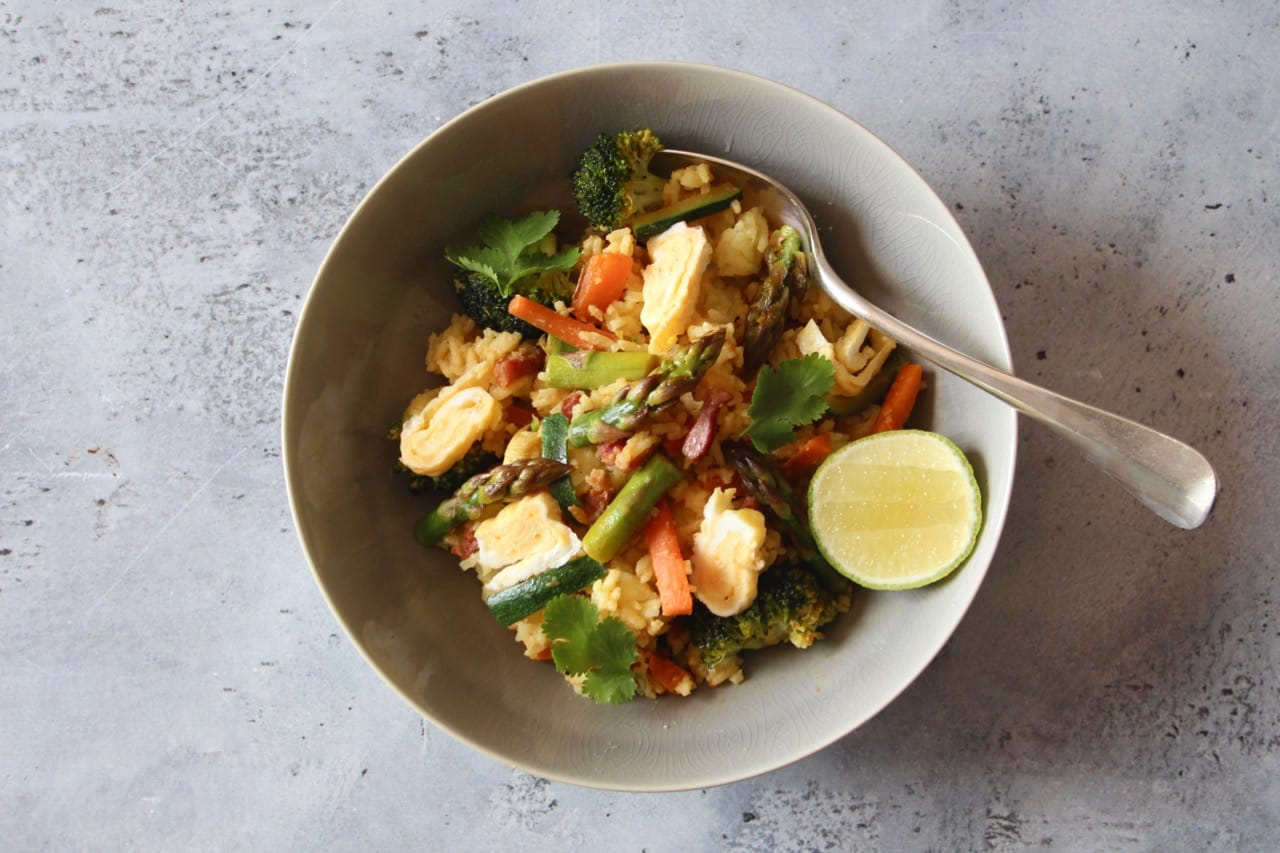 Print Recipe
Singapour Style fried Rice
Ingredients
200 g basmati rice

Saffron (optional)

400 g vegetables (asparagus, baby corn, brocoli, leek, zucchini, pak choi, carrot)

2 cloves of garlic

3 cm ginger

2 eggs

Sunflower oil

Chorizo or chipolata

1 slice bacon (60-70 g)

6 fresh or frozen raw peeled prawns or shrimps

1 teaspoon yellow curry paste

2 tablespoons low-salt soy sauce

Chopped coriander

1 lime

Salt

Pepper

Cashew nuts (optional)
Instructions
1
Cook the rice (with the saffron) according to the instructions on the package. Set aside once cooked.
2
Prepared all the vegetables : wash them, peel them and cut them into strips or chuncks of the same size. Set aside.
3
Peel and finely chop the garlic, peel and grate the ginger. Set aside.
4
Heat one or two tablespoons of oil in your frying pan at medium heat.
5
Beat one egg and pour into the frying pan. Cook as a thin egg pancake.
6
Once cooked, roll it up, cut slices and set aside. Start over with the other egg.
7
Add one tablespoon of oil in the frying pan, add the chorizo and bacon cut in small pieces. Add the prawns, then the garlic and ginger.
8
Add the curry paste then the vegetables, starting with those needing a bit longer cooking like carrots for instance.
9
Keep stirring or tossing and adding the vegetables until there are all in there.
10
Add the rice and stir-fry.
11
Add the soy sauce and the juice of half lime.
12
Adjust seasoning with salt and pepper. Add the eggs.
13
Serve with chopped coriander, more lime juice and cashew nuts.
Notes
You can add chilli jam to spice it up.