Huge discovery… My life is about to change…
I just made coconut cookies. Phew! It's out! I said it!! I'm already feeling much better!!
I just made coconut cookies!!
Is the confinement making me nuts? Not necessarily!! 😉 I can go nuts for cuisine or pastry for no significant reason!!
You know, the thing is that the recipe is so simple, so (incredibly) delicious that I really wonder why I have missed it up to now!!
(Here my coconut cookies made with my piping bag and rose nozzle by De Buyer)
Heavenly!! My first batch (30 coconut cookies) lasted less than 4 hours on my working plan. So it's true we are 5 people in confinement but still!! 4 hours!! We are going to be so fat at the end of it!!
(Here made with a teaspoon)
So now. The recipe…
Basically you will just need 3 ingredients: egg whites (I had plenty in my fridge), coconut powder (I had a pack in my cupboard just waiting and waiting) and caster sugar. Then it's a piece of cake!! A great activity to do with the kids!!
I will immediatly add this recipe to my too many eggs whites or yolks post…
It's good to keep two advices in mind: whisk the mixture with a double boiler and turn the baking tray at half time of cooking.
So why whisk the mixture with a double boiler? This step isn't mandatory, that's true. Yet, it will make your coconut cookies very moist inside, advice from chef Christophe Felder… 😉
And why turn the baking tray at half time of cooking? It's to have a uniform golden color on the all sides of your cookie.
That's it! You're all set my friends!!
Let's make some baking!!
The recipe, Chef!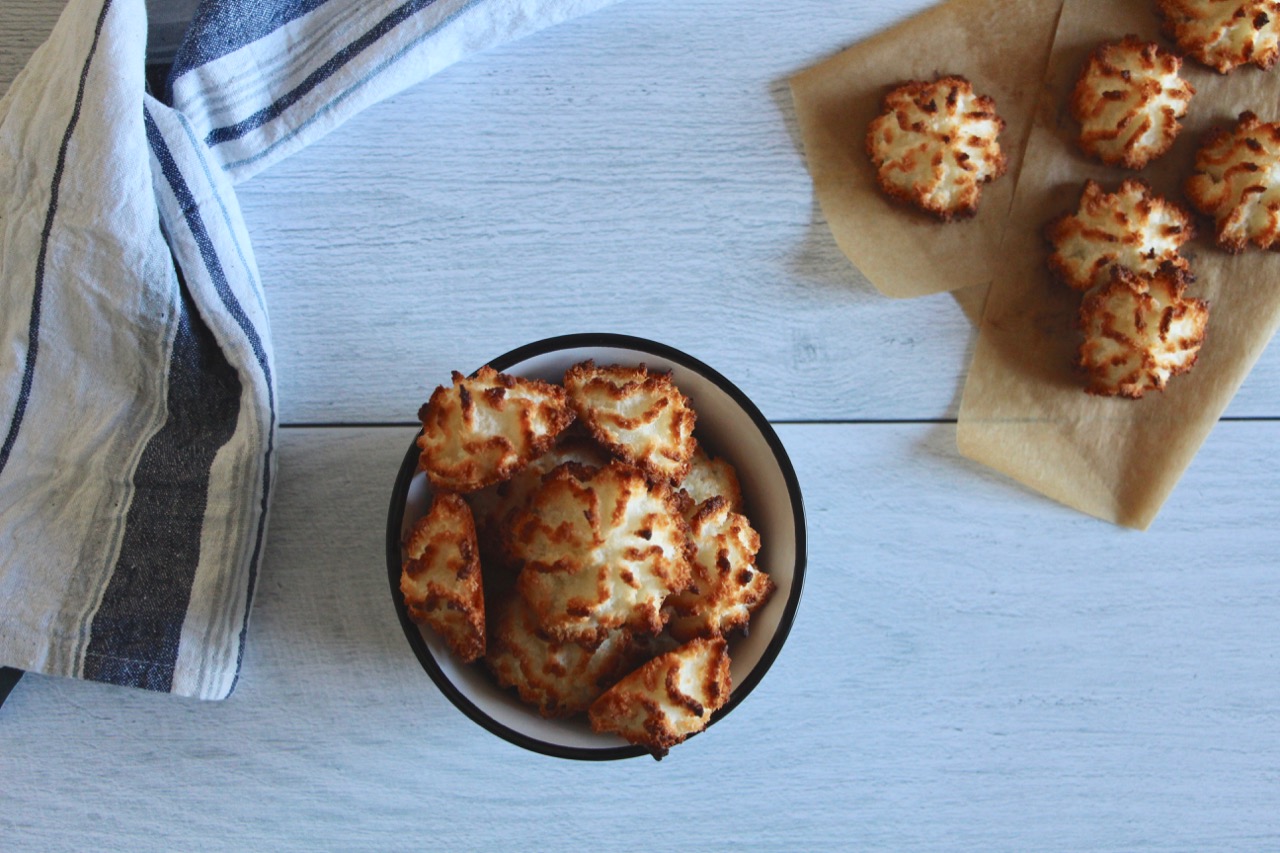 Print Recipe
Ingredients
200 g coconut powder
150 g egg whites (4)
160 g sugar
Instructions
1
Preheat your oven at 210 degrees.
2
Mix all ingredients in a bowl.
3
Heat a bit of water in a sauce pan, then place the bowl on the sauce pan without touching the water. Whisk 3-4 minutes.
4
Pipe your coconut cookies on a baking tray.
5
Cook 10 minutes, turn the tray after 5 minutes of cooking.