Hello my dear friends!
In Alsace, potatoes are a sacred ingredient!! 😉 and obviously we have the best potato salad in the world! (I'm not exagerating…)
And yet, here I am proposing another recipe: the potato and sardine salad.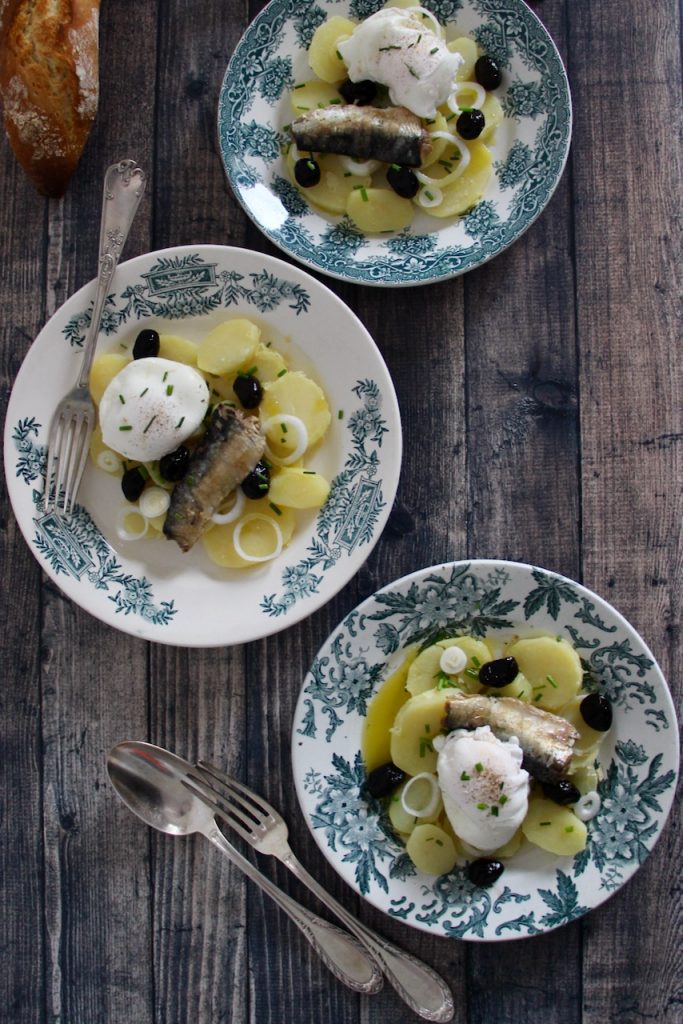 And I must say that it's not bad at all…
This recipe is really simple, quick to make and will be a complete meal. You can also serve my potato and sardine salad as a starter.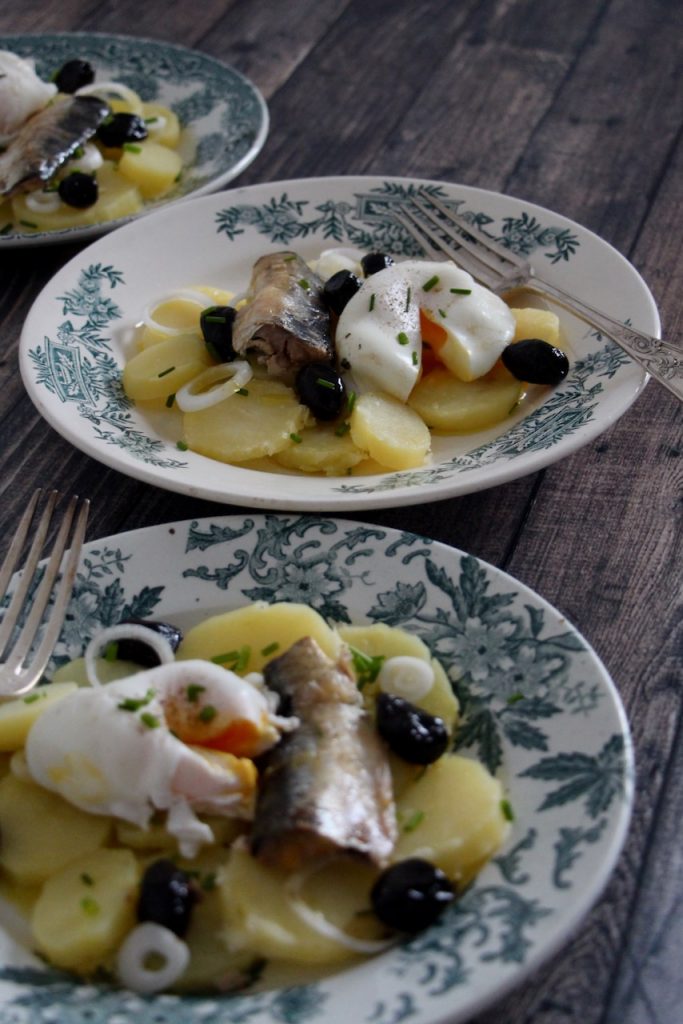 This dish is based on 3 main ingredients:
– the potato obviously… I suggest to take a variety that is adequate for steam cooking like the Amandine. You can also have the Roseval (with red skin).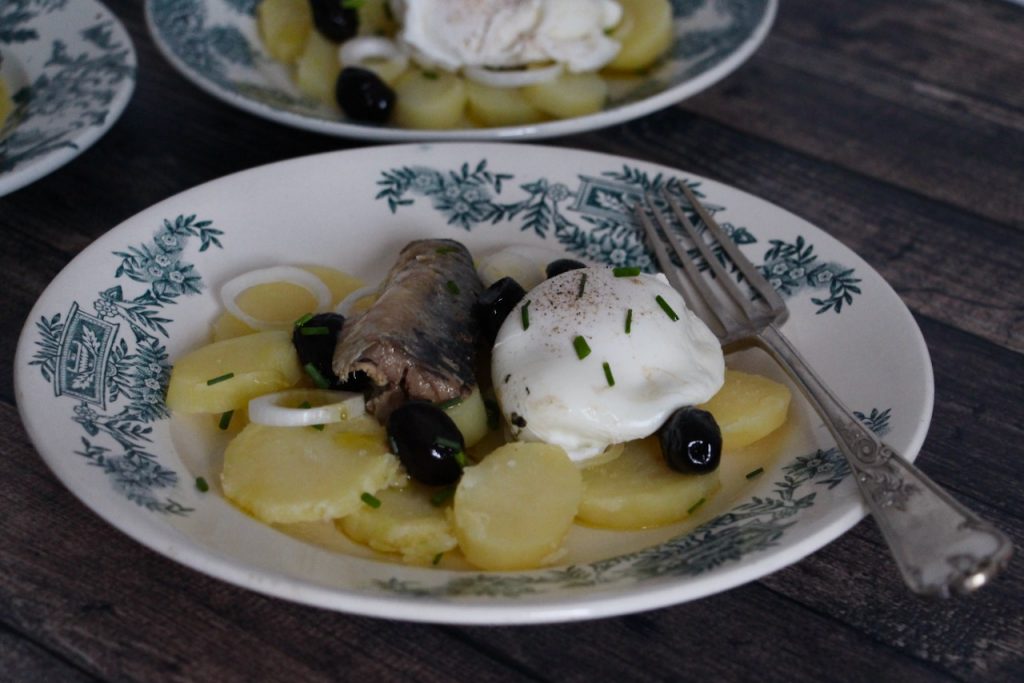 – the sardine with oil: I bought sardines from Conserverie Parmentier, they were delicious. You can also take tuna with oil, anchovies or even mackerel.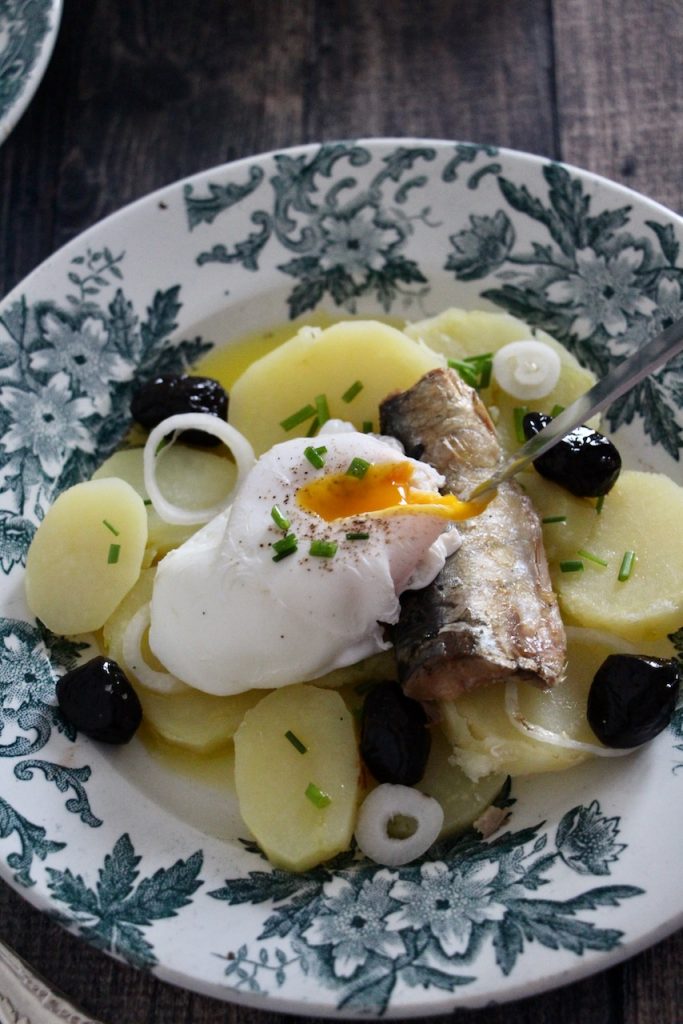 – the egg: it's poached in a vinegar boiling water. Once the water and vinegar starts boiling, make a swirl in the center with a fork for instance, then pour the egg at once (without the shell). The swirl mouvement will help get a rather round shape and a smooth surface to your poached egg.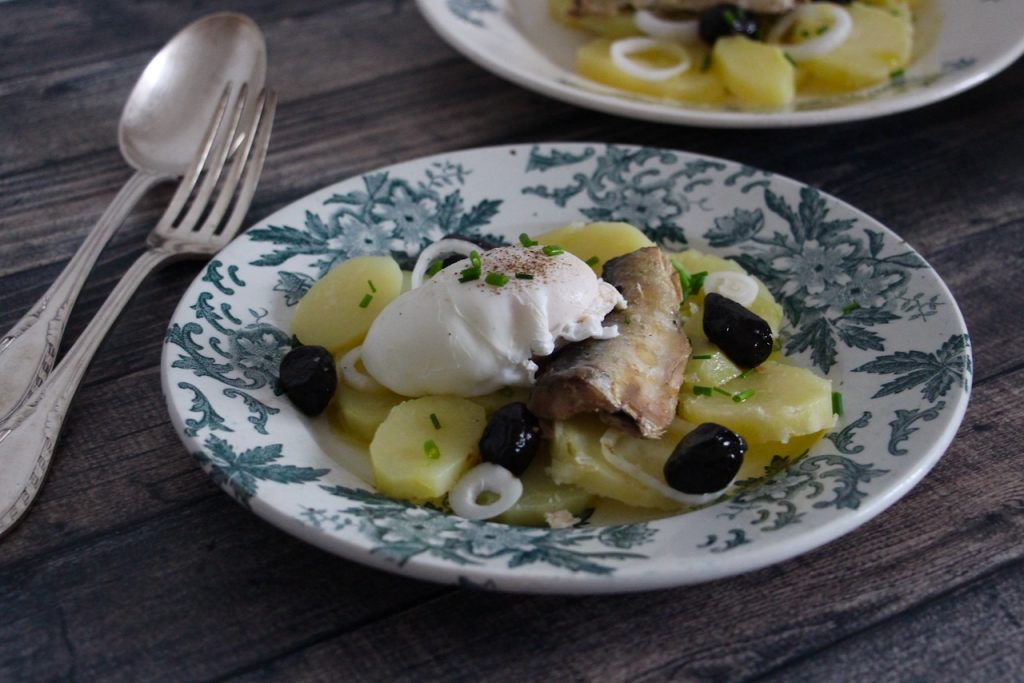 The result is a winner: kids and grown ups love it ! And you can cook this potato and sardine salad all year long. Perfect or what?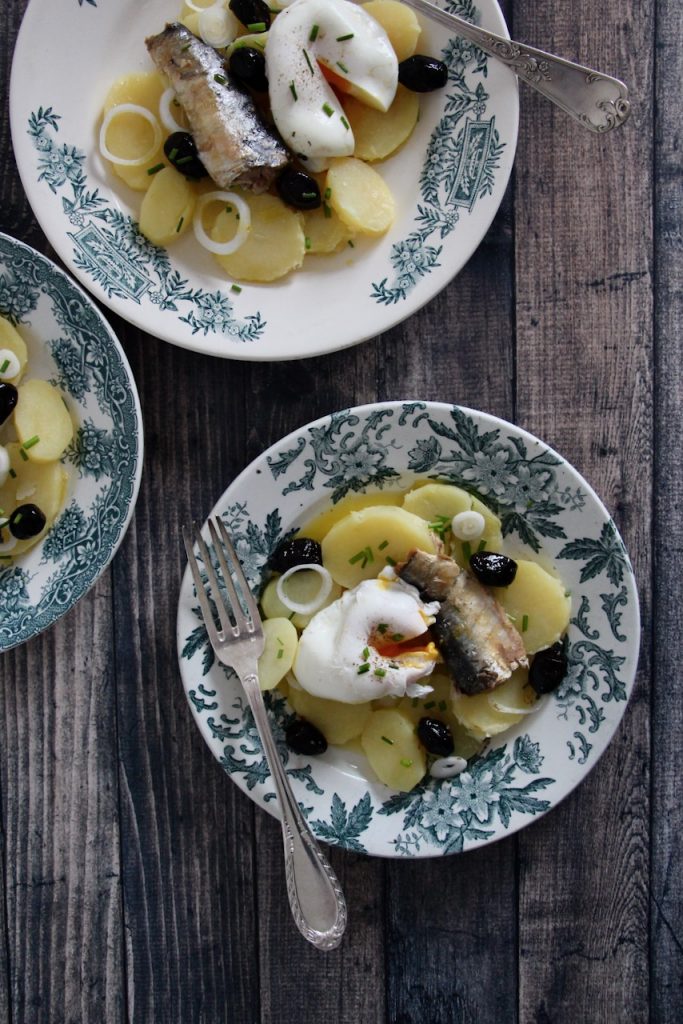 The utensils:
A steam cooker,
A small sauce pan,
A cutting board
And a sharp knife.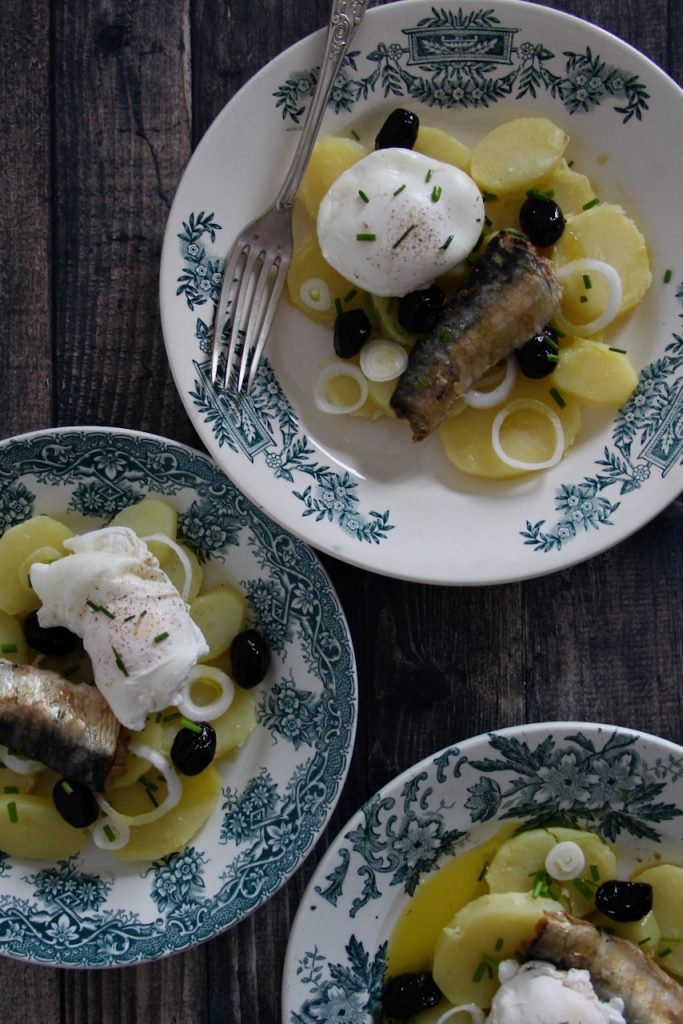 Let's do this!!
The recipe, Chef!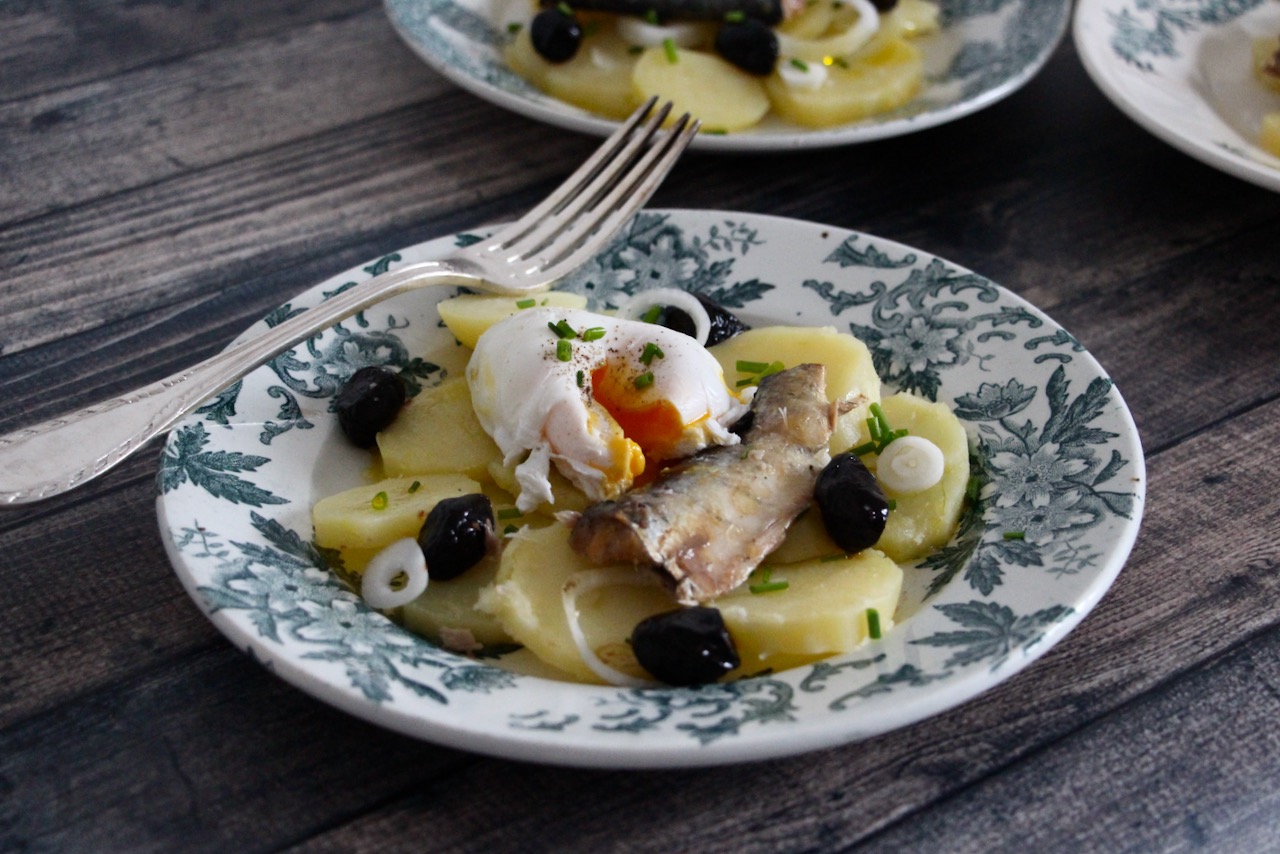 Print Recipe
Ingredients
3 medium size potatoes
1 oil sardine can
1 fresh white onion
3 eggs
3 tablespoons vinegar
15 black olives
Herbs (parsley, coriander, chive)
Olive oil
Flower salt
Pepper
Instructions
1
Peel and cook your potatoes with your steam cooker for 20 minutes.
2
Once cooked, cut them in slices and place them on your plates.
3
Cook the eggs, one after the other, in boiling water with the vinegar for 2 minutes and 30 seconds.
4
Once cooked, place them on your plates.
5
Add 5 olives per plate, the onion finely sliced, herbs, sardine and a bit of olive oil.
6
Season with flower salt and pepper.