Easter 2020 …
We are in confinement, it's weird. A celebration in such conditions had all my attention. So for the occasion, I decided to broaden the culinary horizons of my little  family.
I made a lamb shawarma.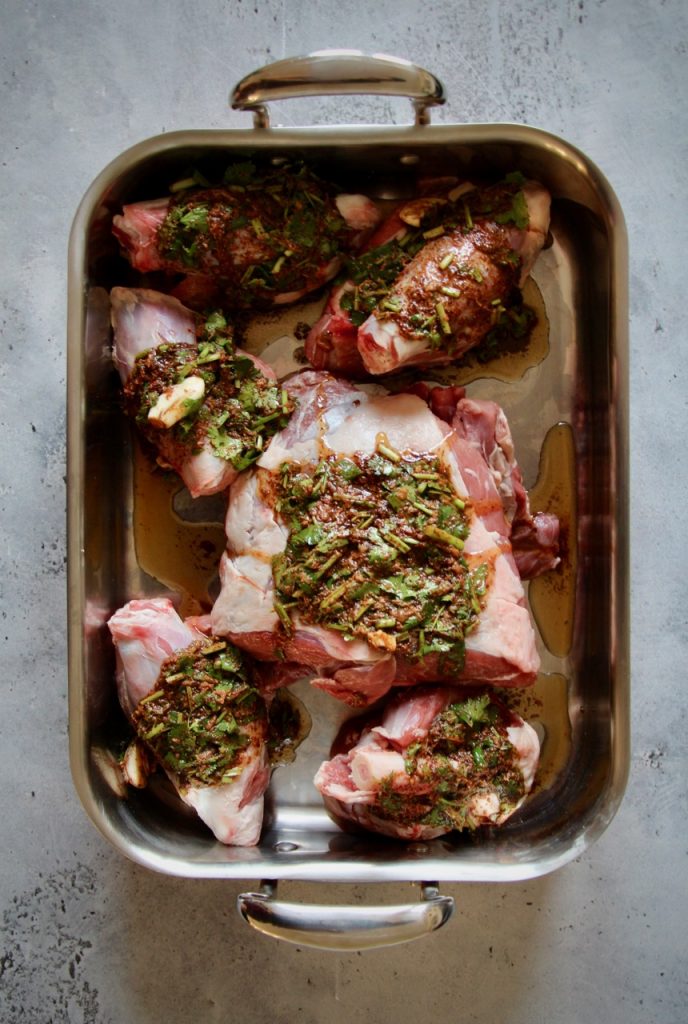 What could be better for Easter to take a recipe from the cookbook "Jerusalem" by Yotam Ottolenghi?? Obvious choice or what?
I could have chosen my 7 hour cooked lamb leg with beer and rosemary or my roasted lamb shoulder, but I wanted to travel through taste, texture, and spices with this lamb shawarma.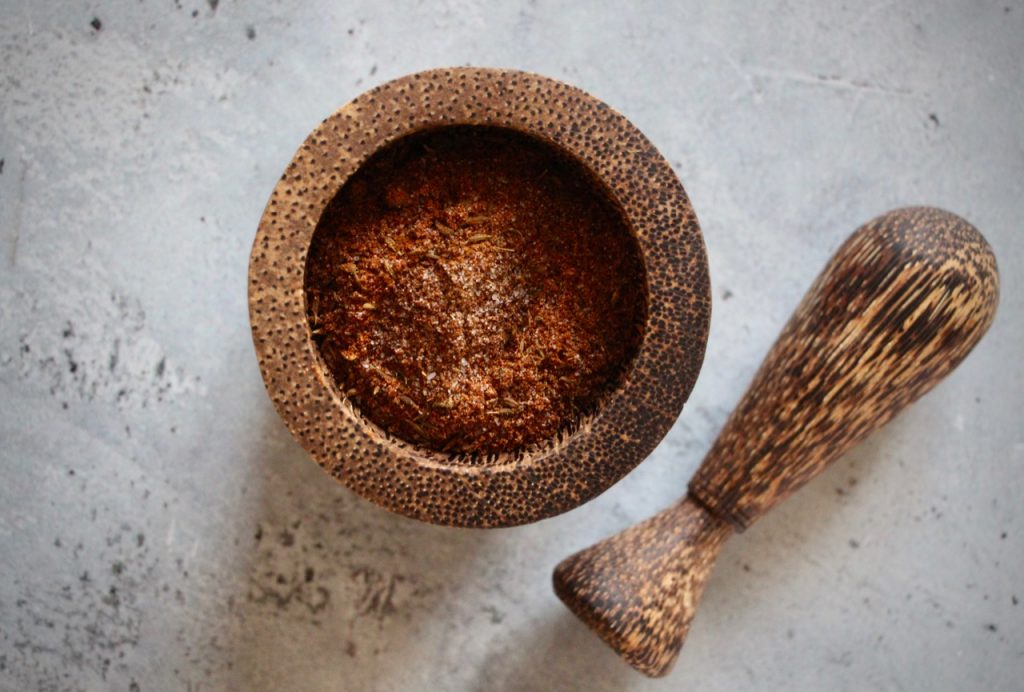 We were not disappointed… oh no!! A super smooth meat (you could almost have eaten it with a spoon!!), tasty, full of flavors, so tender… and with a cooking juice to die for!! and not too spicy, even you could think the opposite way considering the spices list…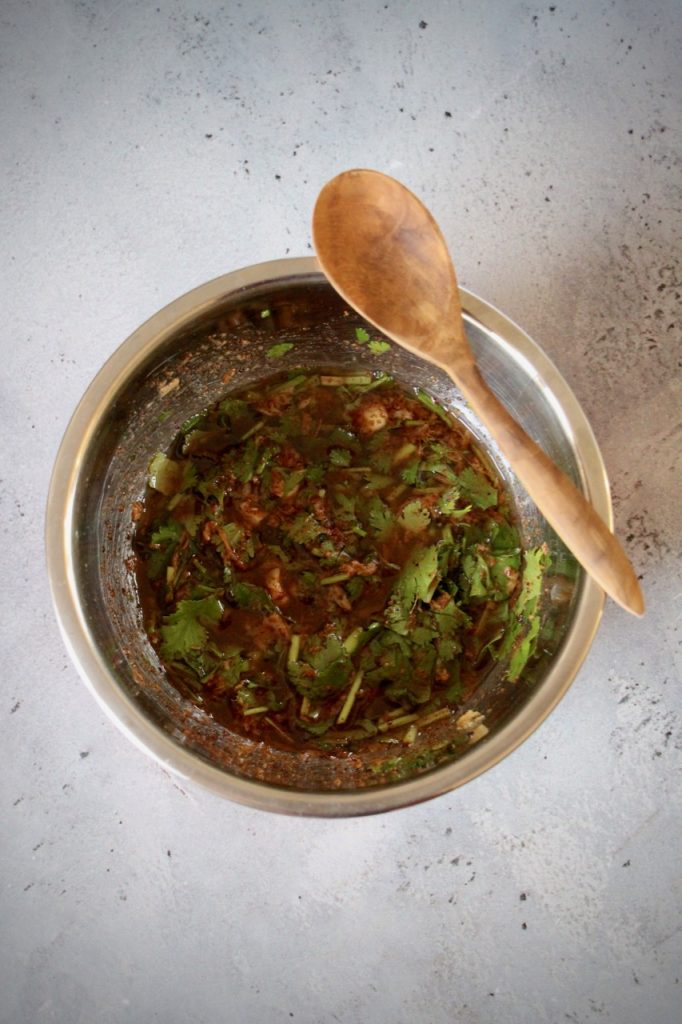 Talking about spices, you may not have the full list of ingredients. Some of them are really specific of the Middle East. If you are missing 2 or 3 of them, that's okay (I didn't have fennel seeds and fenugreek seeds), but it's the whole point of the marinade. Do not skip this part.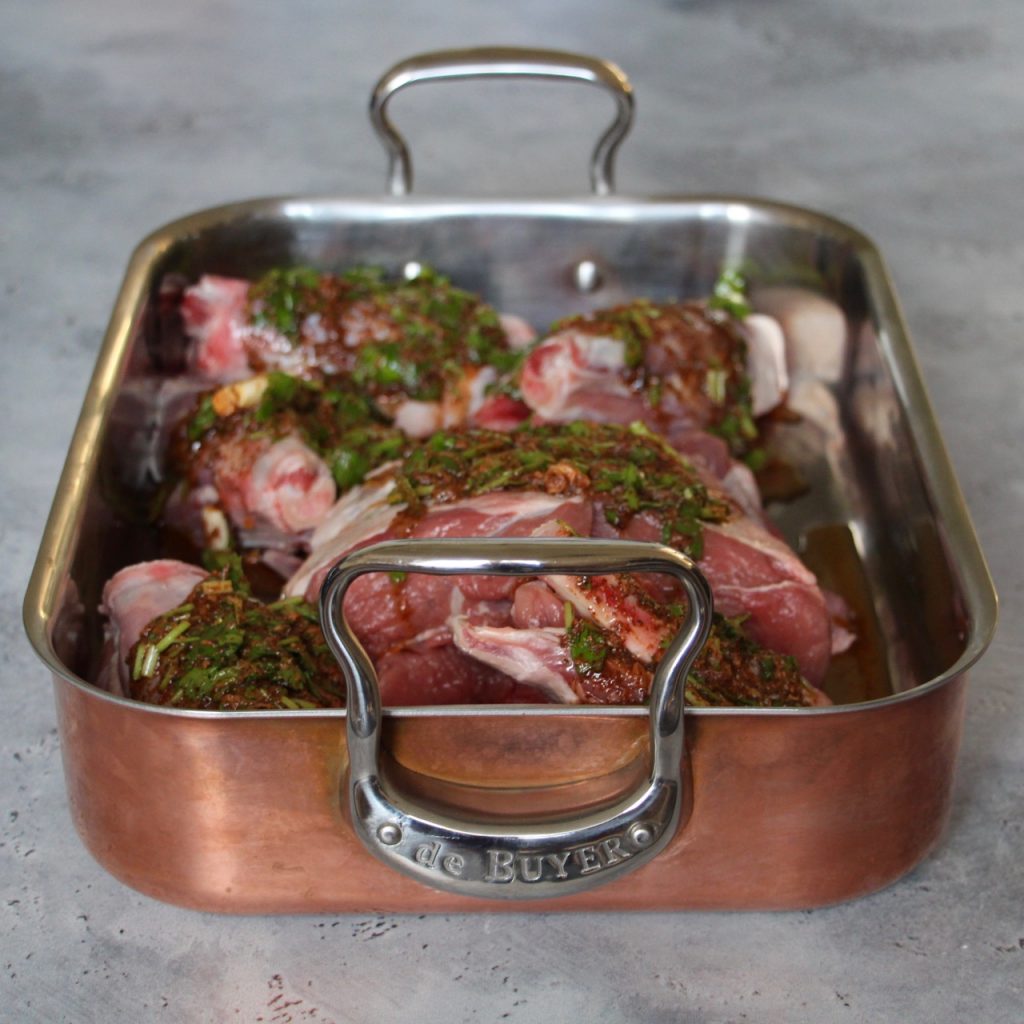 I kept the lamb leg in the marinade for a whole night (the recipe says 4 hours at least) and I finished the cooking at low temperature (meaning 90 degrees), Ottolenghi suggests 150-170 degrees all the way. You can also cook lamb shoulder or lamb shank.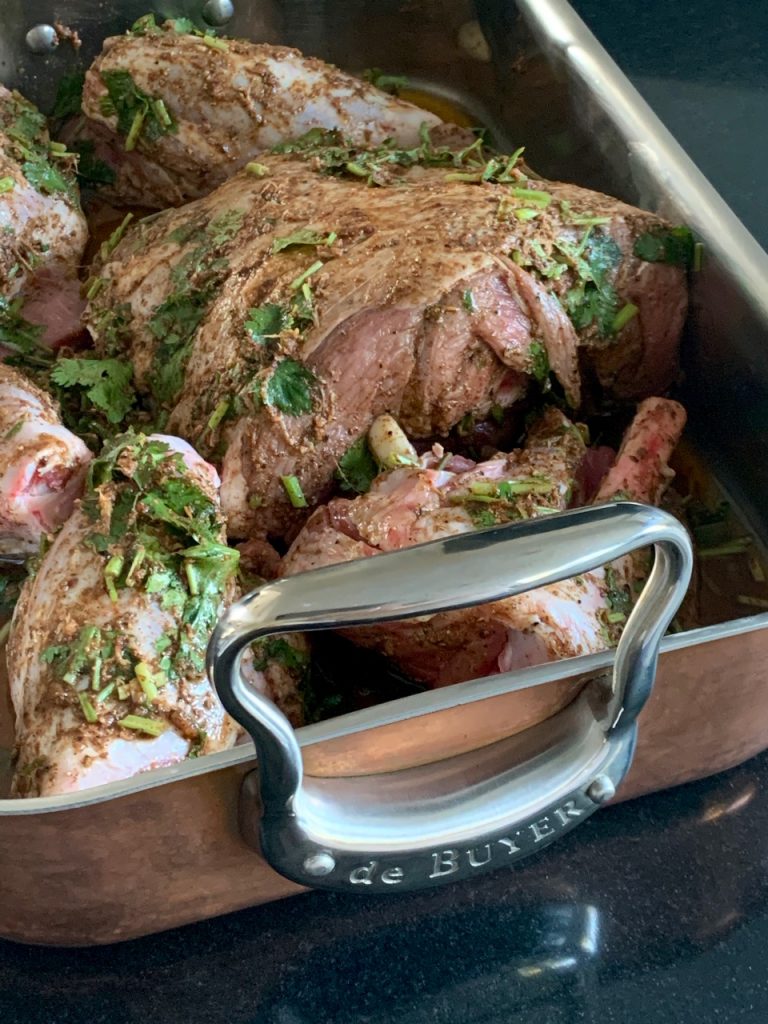 I followed the Chef's advices for the sidedishes: basmati rice, cucumber salad with tomato, basil and olive oil, and a sauce with Greek yogurt, a teaspoon of tahini and a grated garlic clove, like in my stuffed courgettes with lamb. You can have pita bread instead of rice and make a delicious kebab!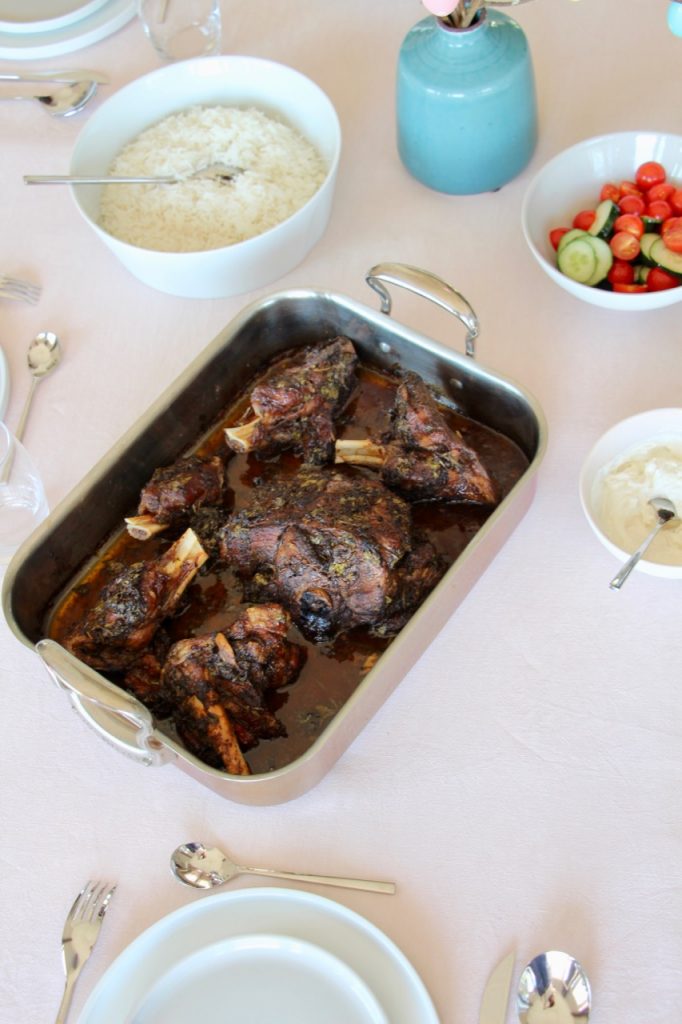 You get it: it's a delicious meal, that requires little work. Once your marinade ready, you just have to deal with the cooking! It comes quite handy when you have guests…
The utensils:
A mortar with pestle,
A small frying pan,
A bowl
And a large roasting pan (I used my Inocuivre roasting pan by De Buyer).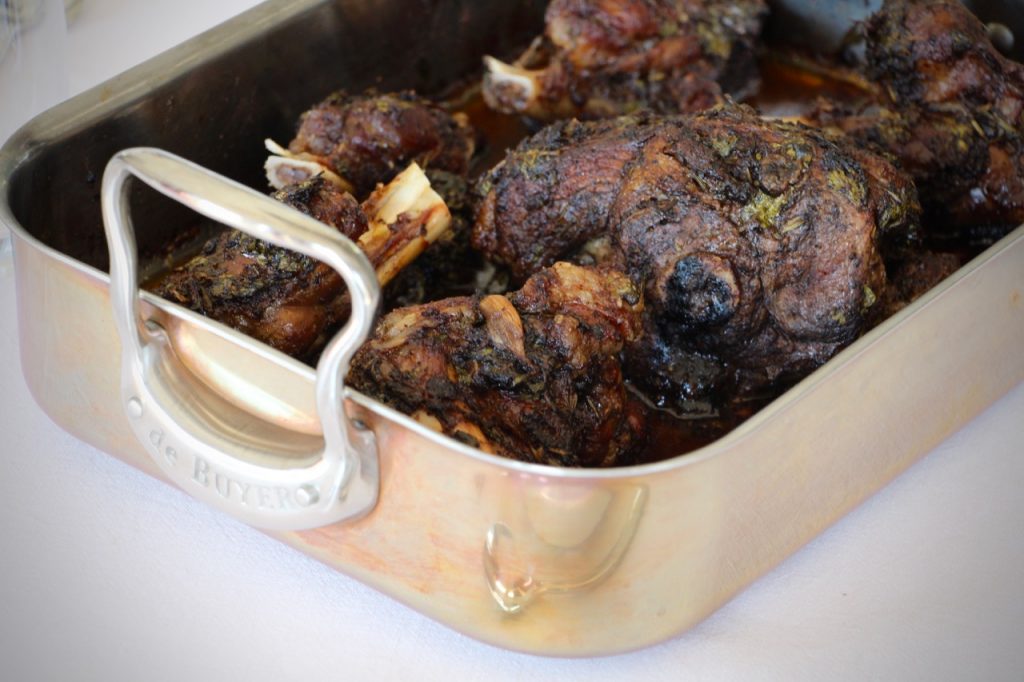 I think we can start now.
The recipe, Chef!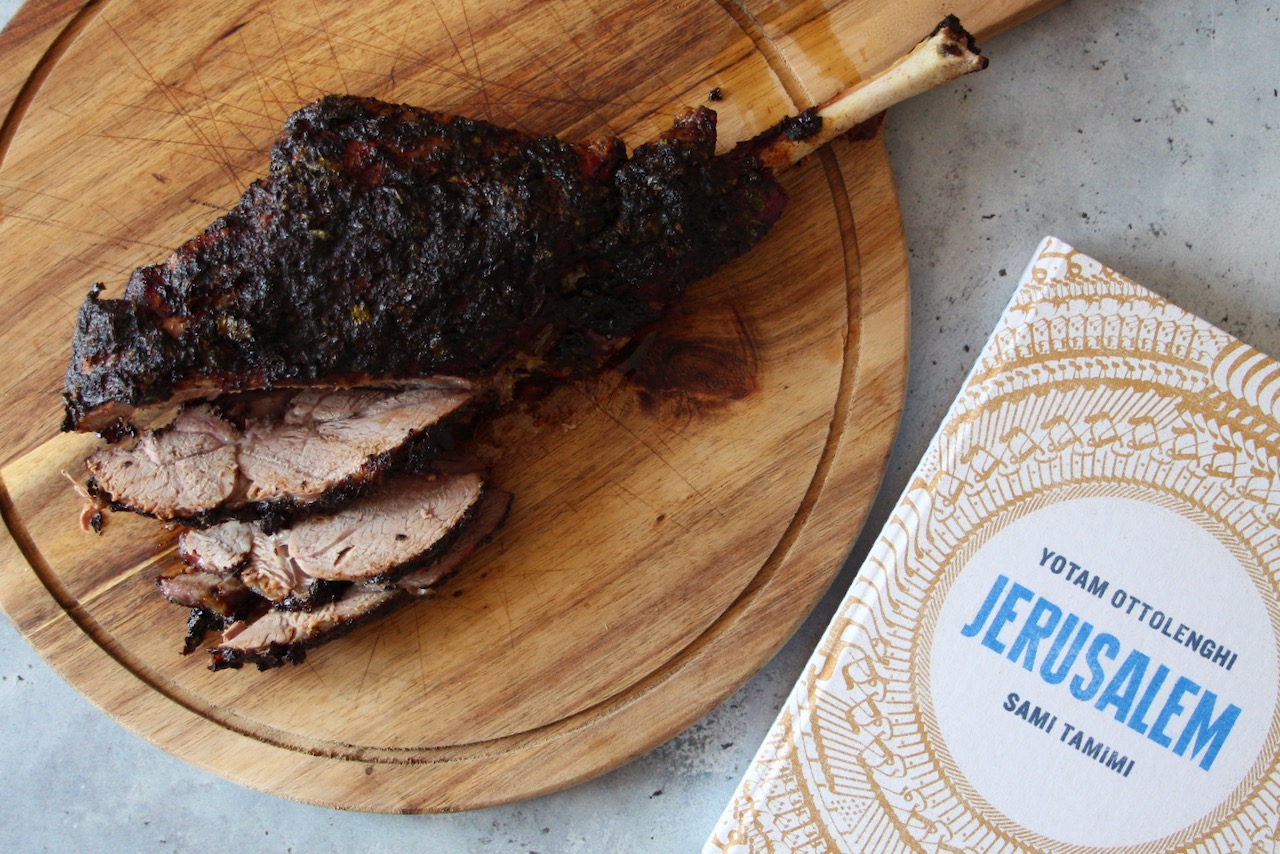 Print Recipe
Ingredients
1 leg of lamb, approx 2,5 kg
2 teaspoons black peppercorns
5 cloves
1/2 teaspoon cardamon pods (or cardamon powder)
1/4 teaspoon fenugreek seeds
1 teaspoon fennel seeds
1 tablespoon cumin seeds
1 star anise or 1 teaspoon ground anise
1/2 cinnamon stick or 1 teaspoon cinnamon powder
1/2 grated nutmeg or 1 teaspoon nutmeg powder
1/4 teaspoon ground ginger
1 tablespoon paprika
1 tablespoon sumac
3/4 tablespoon sea salt
25 g fresh grated ginger
3 crushed garlic cloves
40 g fresh coriander (leaves and stems)
60 ml lemon juice (the juice of a large lemon)
120 ml oil
Instructions
1
Place the black peppercorns, cloves, cardamon pods, fenugreek seeds, fennel seeds, cumin seeds, star anise and cinnamon stick in your small frying pan.
2
Dry at medium heat for 2 minutes while mixing (do not burn the spices).
3
Add the nutmeg, ground ginger and paprika, mix for 15 seconds and remove from the stove.
4
Process the spices to a uniform powder.
5
Transfer to a bowl, add sumac, sea salt, fresh ginger, garlic, coriander, lemon juice and oil. Mix.
6
Place the leg of lamb in the roasting pan and make 1,5 cm deep cuts with a knife at several places.
7
Pour the marinade on the meat and rub it all over.
8
Cover with cling film and set aside in your fridge for at least 3-4 hours, preferably overnight.
9
Preheat your oven at 170 degrees.
10
Make sure the lamb has the fatty side up and put it in the oven.
11
After 30 minutes, add 250 ml boiling water.
12
During cooking use the liquid to baste the meat every hour or so. Add more water if needed to keep at least 1/2 cm of juice in the pan.
13
After 1 hour, reduce to 150 degrees. After 3 hours, reduce to 140 degrees. After 4 hours, reduce to 90 degrees.
14
Remove the lamb from the oven and wait 10 minutes before serving.