I often go through phases… Currently it's an Asian one…
Is it a consequence of the Chinese New Year or not, I just can't get enough!!
For you today, the shrimp Tom Yam Kung soup!
This soup is probably the most iconic soup of Thailand. You will find most of the unavoidable ingredients of Thai food: the red curry, lemon grass, fresh ginger, lime, shrimps.
I was lucky enough to discover the shrimp Tom Yam Kung soup for the first time in Thailand and, even if it made me cry (because of the spice!!), it's definitely my favorite soup!!
It's spicy indeed but still it's subtle, you will still feel the taste of the other ingredients. Your mouth won't be on fire, even if it wakes you up a bit to be honest !! 😉
So it might not be the original recipe, I combined quite a few here… Thumbs up to the blog Healthy Flavor which gave me the idea of this shrimp Tom Yam Kung soup… I took the idea of bok choi there… 😉
The coconut milk isn't absolutely mandatory. But I like the sweet contrast with red curry. You can also add combawa leaves, a tablespoon of fish sauce (I didn't have any at home…) and chive at the end of cooking.
As far as red curry is concerned, I put 2 tablespoons of red curry. If you don't like it too spicy, put one tablespoon first and adjust if you want more.
I love this soup as a starter but I also serve it as a main dish with chinese noodles (wheat or rice noodles). And that makes a well balanced meal.
The utensils
A sauce pan,
A cutting board,
A sharp knife
And a strainer.
You know everything now, you can get started!
The recipe, Chef!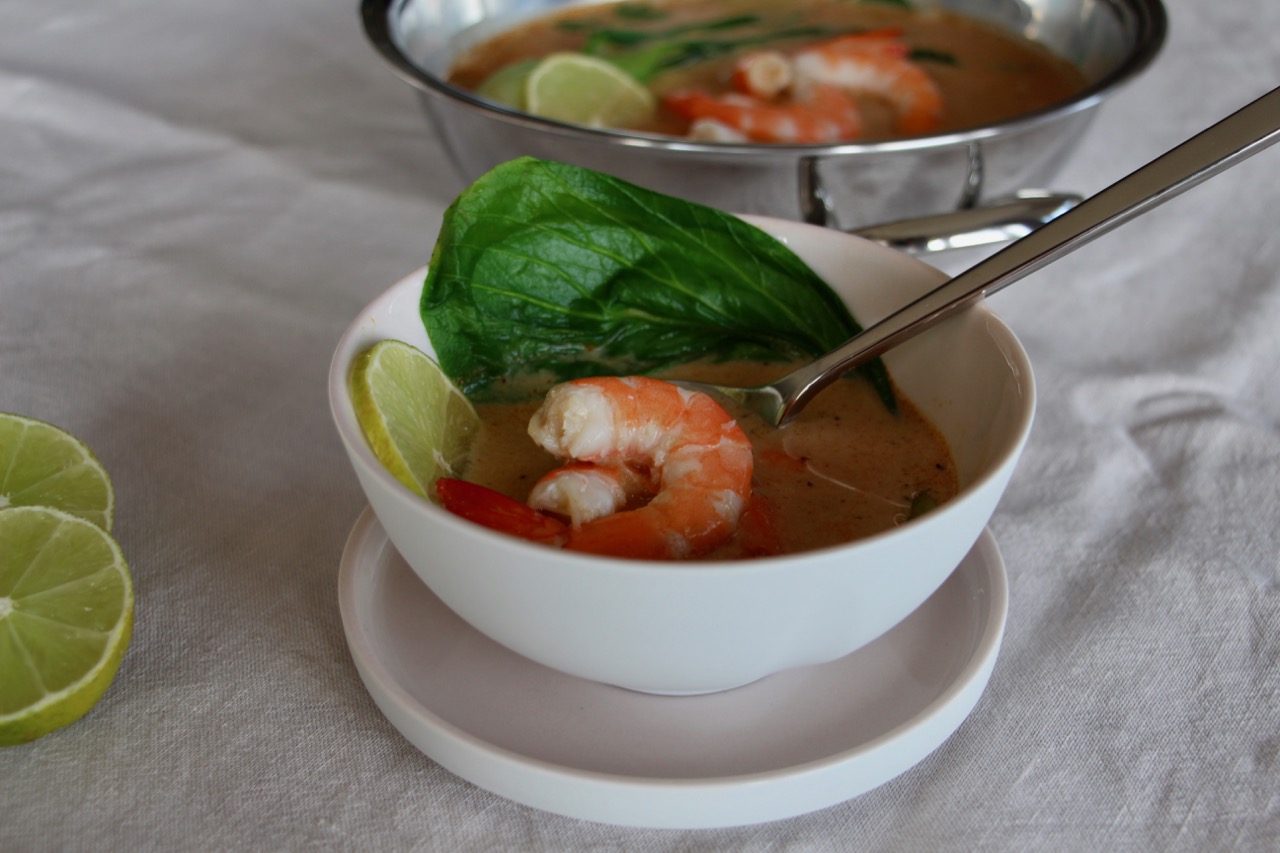 Print Recipe
Ingredients
2 stalks lemon grass
2 cm fresh ginger
2 tablespoons red curry paste
1 tablespoon oil
2 or 3 tablespoons tomato sauce
750 ml water
1 vegetable stock cube
16-20 shrimps
20 cl coconut milk
1 bok choi
A few coriander leaves
1 lime
Salt
Instructions
1
Boil a large volume of water in your sauce pan. Once the water boils, put the bok choi in for 2 minutes.
2
After this time, remove from the hot water and flow cold water so that the bok choi stays green. Set aside.
3
Heat the oil in the sauce pan and add the lemon grass stalks cut in two lengthwise, the ginger peeled and minced in thin slices.
4
Add the red curry and leave at medium heat for 2 minutes.
5
Add water, the tomato sauce and the stock cube. Cook 10 minutes.
6
Pour through the strainer, put the soup back in the sauce pan.
7
Add coconut milk and the shrimps without shell.
8
Cook 5 more minutes. Add the bok choi and salt.
9
Add chopped coriander and lime juice when serving.