Hello my friends!
Christmas is all around and I'm enjoying so much cooking and baking lately! And I hope you do too!
Today, let me introduce my chocolate and passion fruit tart. So delicious, it's the perfect dessert for a celebration meal!
Let's see the recipe, Chef!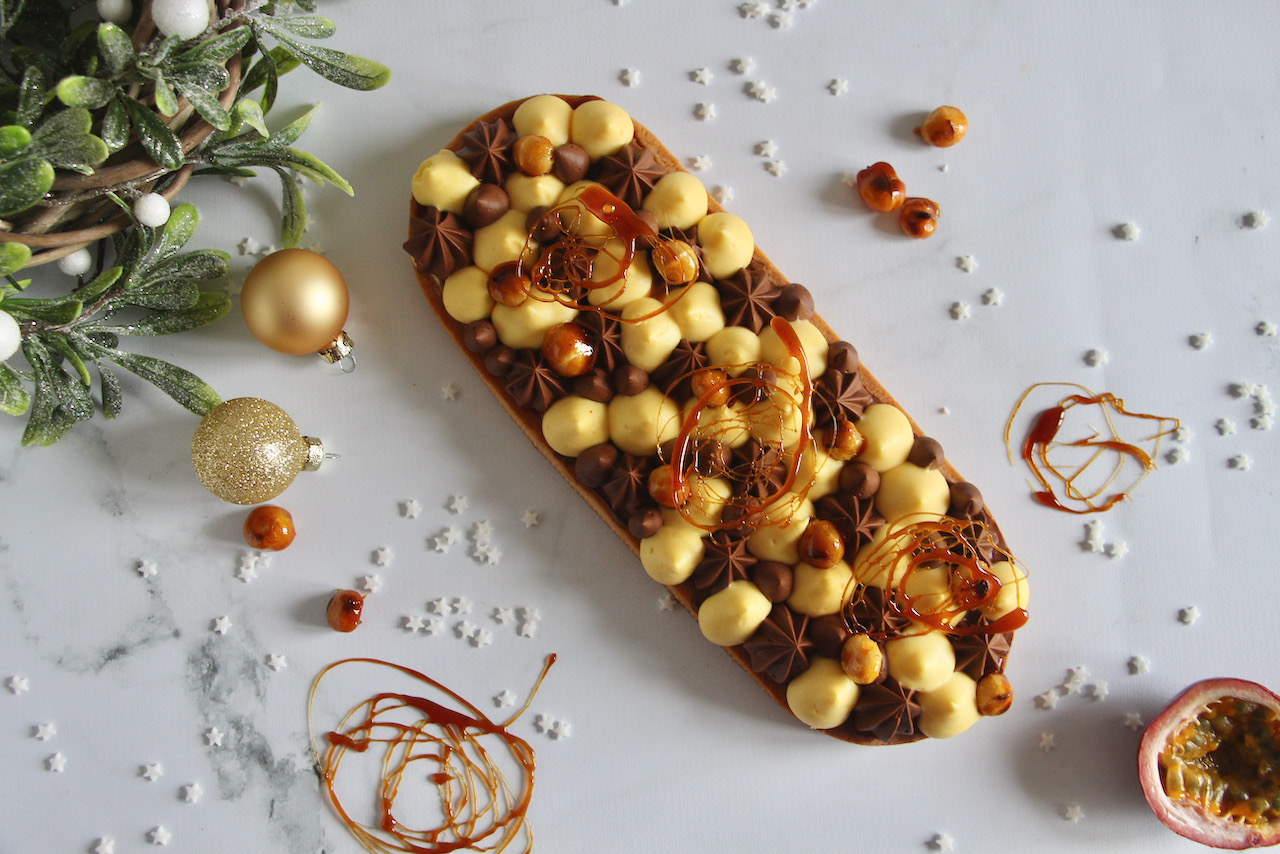 Print Recipe
Chocolate and Passion Fruit Tart
Ingredients
Shortcrust pastry

230 g flour

2 tbsp milk

130 butter at room temperature

50 g ground almond

1 pinch of salt

125 g iced sugar

2 egg yolks

Chocolate ganache

100 g dark chocolate

200 g cream (30% fat)

1 tsp honey

Passion fruit curd

240 g passion fruit pulp

67 g butter

3 eggs

105 g sugar

3 g gelatine sheets

90 g liquid cream (30% fat)

Decoration

15 macadamia nuts

30 g sugar
Instructions
1
Combine the flour, salt, ground almond and sugar in your food processor bowl.
2
Cube the butter and mix medium speed until it resembles breadcrumbs.
3
Add the egg yolks and milk until it comes together.
4
Wrap it in clingfilm and set aside in your fridge for at least one hour.
5
Preheat your oven at 190 C / 375 F degrees.
6
Spread the pastry. Place it in your pastry ring.
8
Set aside on a cooling rack.
9
Pour 50 g of cream in a saucepan. Add the honey.
10
Heat to a boil. Stop heating immediately.
11
Melt the chocolate with a double boiler. Pour the hot cream in 3 times until homogeneous.
12
Add the remaining 150 g of cream, combine.
13
Place a clingfilm directly on the ganache and set aside in your fridge for 4 hours.
14
Soak the gelatine into cold water.
15
Remove the pulp from the passion fruits.
16
Pour the pulp, sugar and butter in your sauce pan. Cook 3-4 minutes at medium heat and whip gently.
17
Add the 3 beaten eggs and cook at higher heat and whip more vigorously for 2-3 minutes. Your passion fruit curd should get thicker.
18
Remove from the heat once your whisk makes furrows.
19
Pour the curd through a strainer to remove the solid parts.
20
Add the drained gelatine and combine.
21
Pipe an insert on a baking mat (same shape as your pastry ring keeping it 1 cm smaller on each side) and set aside in your freezer.
22
Let the rest of the passion fruit curd cool down in your fridge for 2 hours with a cling film on top.
23
Whisk the 90 g cream into a firm chantilly cream.
24
Whip the passion fruit curd until smooth and add gently the chantilly cream with a spatula.
25
Pipe a layer of passion fruit curd on your pastry.
26
Remove the insert from the freezer. Place it in the center on your pastry and press gently so that some ganache comes up on the sides.
27
Whisk the chocolate ganache for a few minutes until firm and compact.
28
Cover the insert with a layer of chocolate ganache. Flatten with a spatula.
29
Pipe the rest of passion fruit curd and chocolate ganache using 3 different nozzles.
30
Set aside in your fridge for 2 hours.
31
Before serving, heat the sugar in a small frying pan to make a caramel. Add the macadamia nuts. Roll them in the caramel, remove from the pan and let cool down.
32
Place the macadamia nuts on the tart and serve.