Hello my friends!
Isn't it the perfect seasonal tart?!! I you love figs as much as I do, this dessert is definitely made for you!
Here is my fresh fig tart.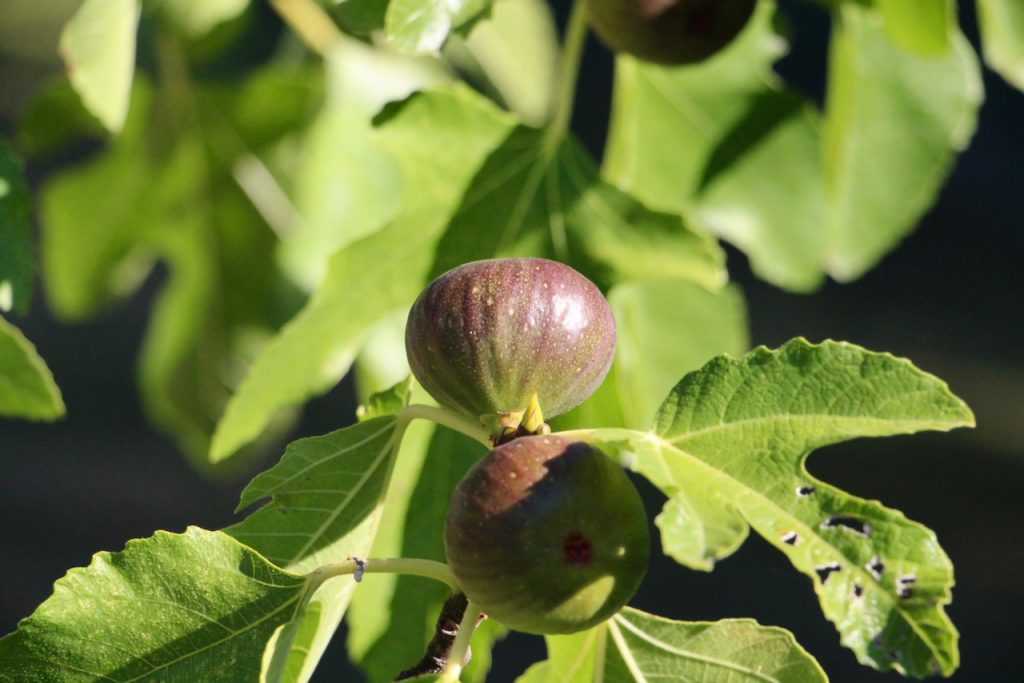 I've been quite lucky for a few years now (let me tell you my life!!). I planted a fig tree in my garden, and even if it's not a big one, it gives tons of fruits! Every day or so, I harvest 1 to 2 kilos of delicious and sweet figs!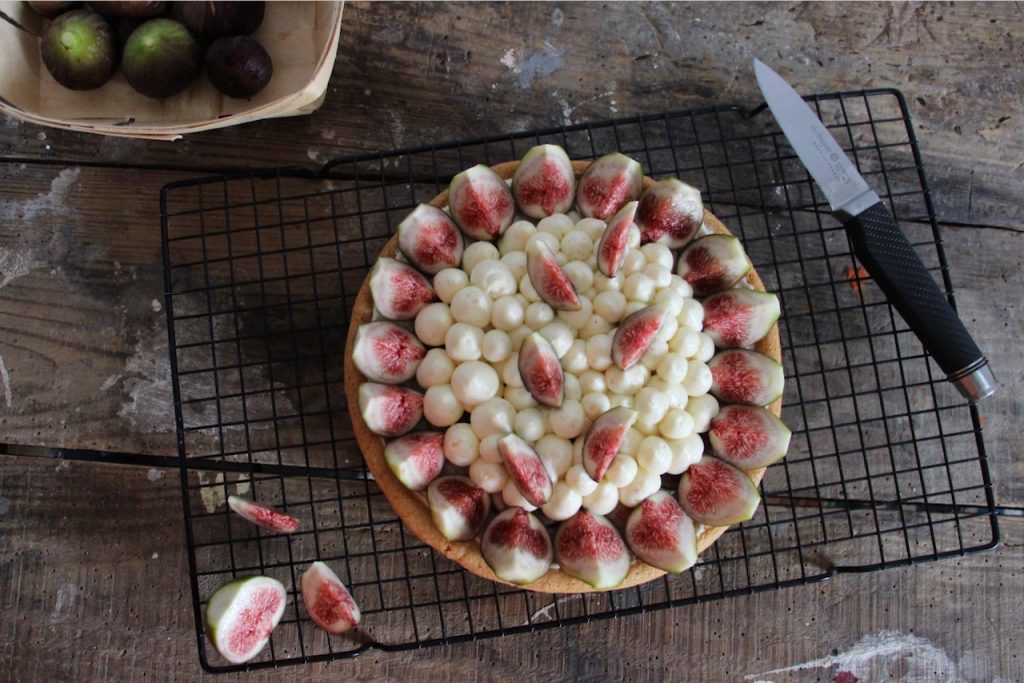 My kids and I love to eat them fresh, directly from the tree. But this time I wanted to make a dessert where they would be at the front row. That's how I had the idea of this fresh fig tart. And front row there is !!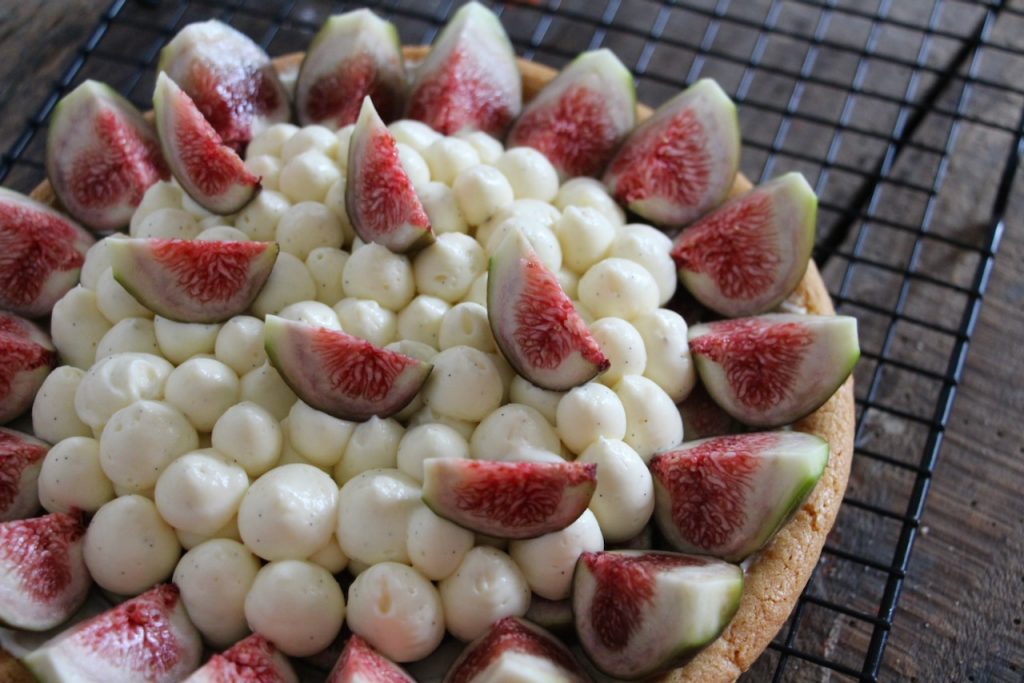 So this is not a traditional tart, you got it, and that's probably what makes this dessert so special.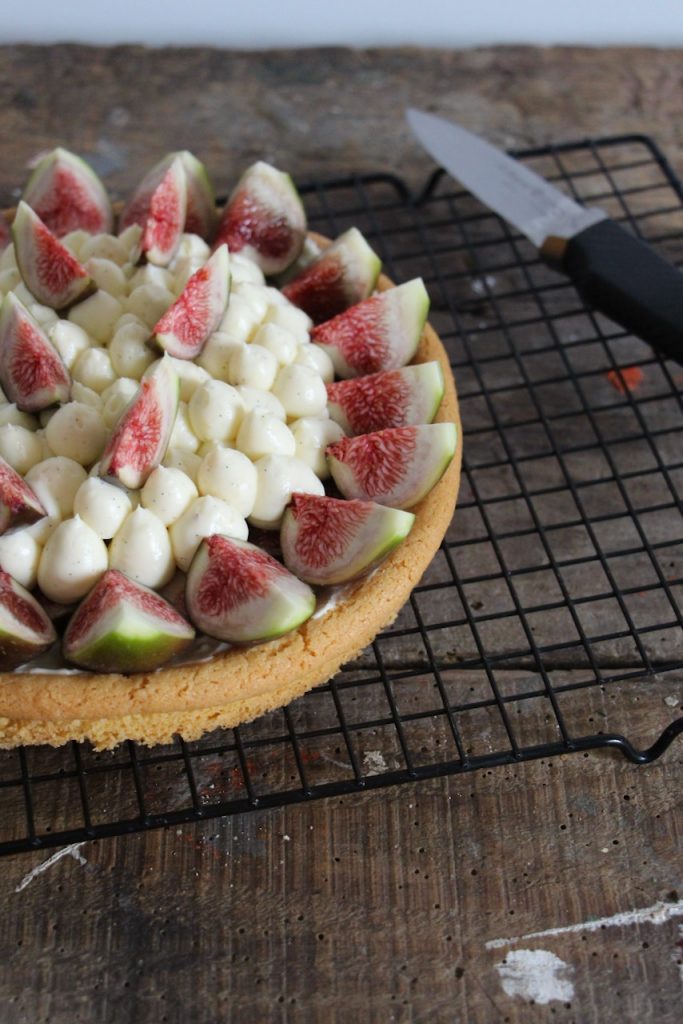 I started with a shortbread biscuit with a pinch of flower salt. I added a vanilla diplomate cream and as many fresh figs that I could put! And there it is, my fresh fig tart!
My tip to get a perfect vanilla flavor: I leave the vanilla pod in the vanilla curd until I mix it with the chantilly cream. This way, the vanilla can diffuse its flavors as much as possible.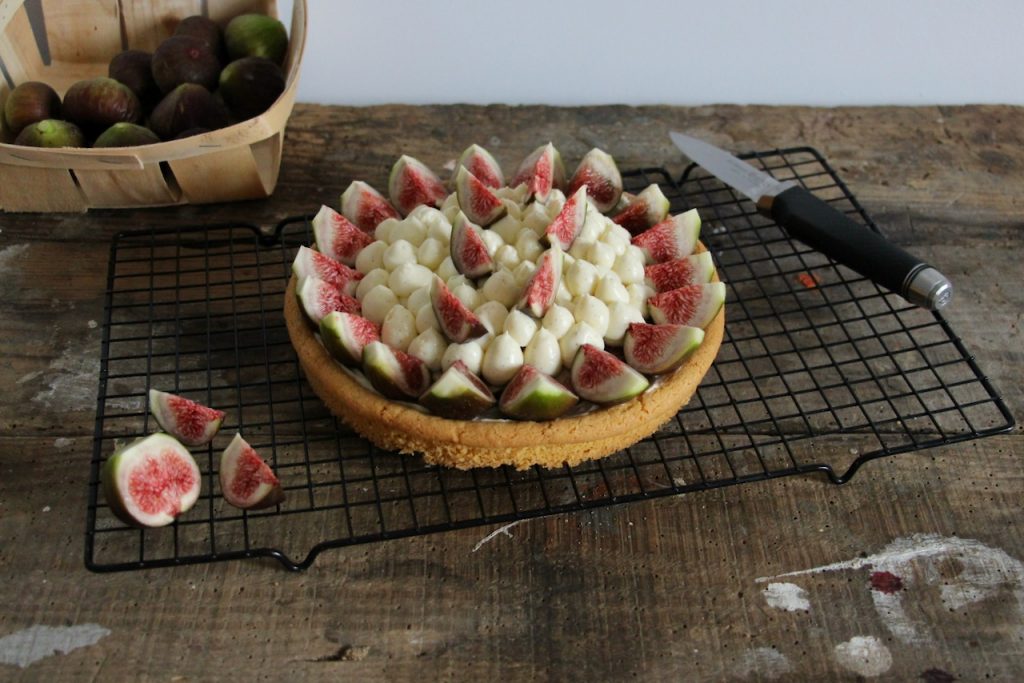 It's not really a difficult recipe to make, the main point to be taken into account is the diplomate cream: it's actually a vanilla curd, that you will cook enough to have a rather firm texture, and that you will gently mix with a firm chantilly cream.
You can prepare this fresh fig tart the day before. You will just add the figs the next day, so that they still have a fresh and shiny look.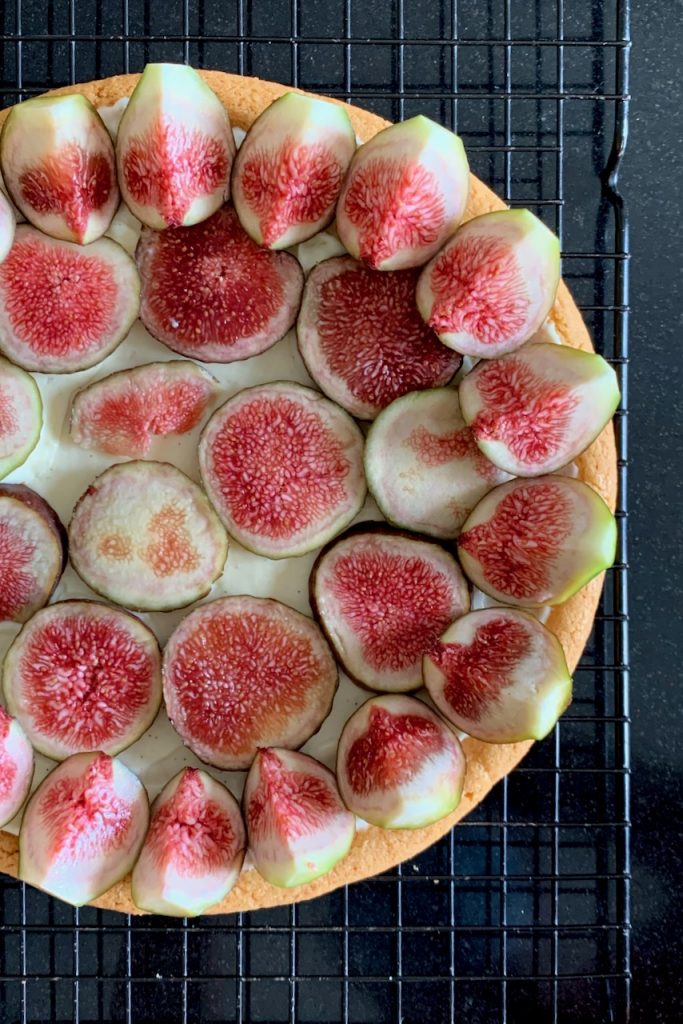 The utensils:
A food processor with the standard accessory and the whisk (to make the chantilly cream),
A sauce pan with thick bottom and a good whisk (or an electric mixer) for the vanilla custard,
A 22 cm diameter pastry ring (I took my perforated De Buyer one which enables a perfect baking),
A small spatula,
A piping bag
And a round nozzle.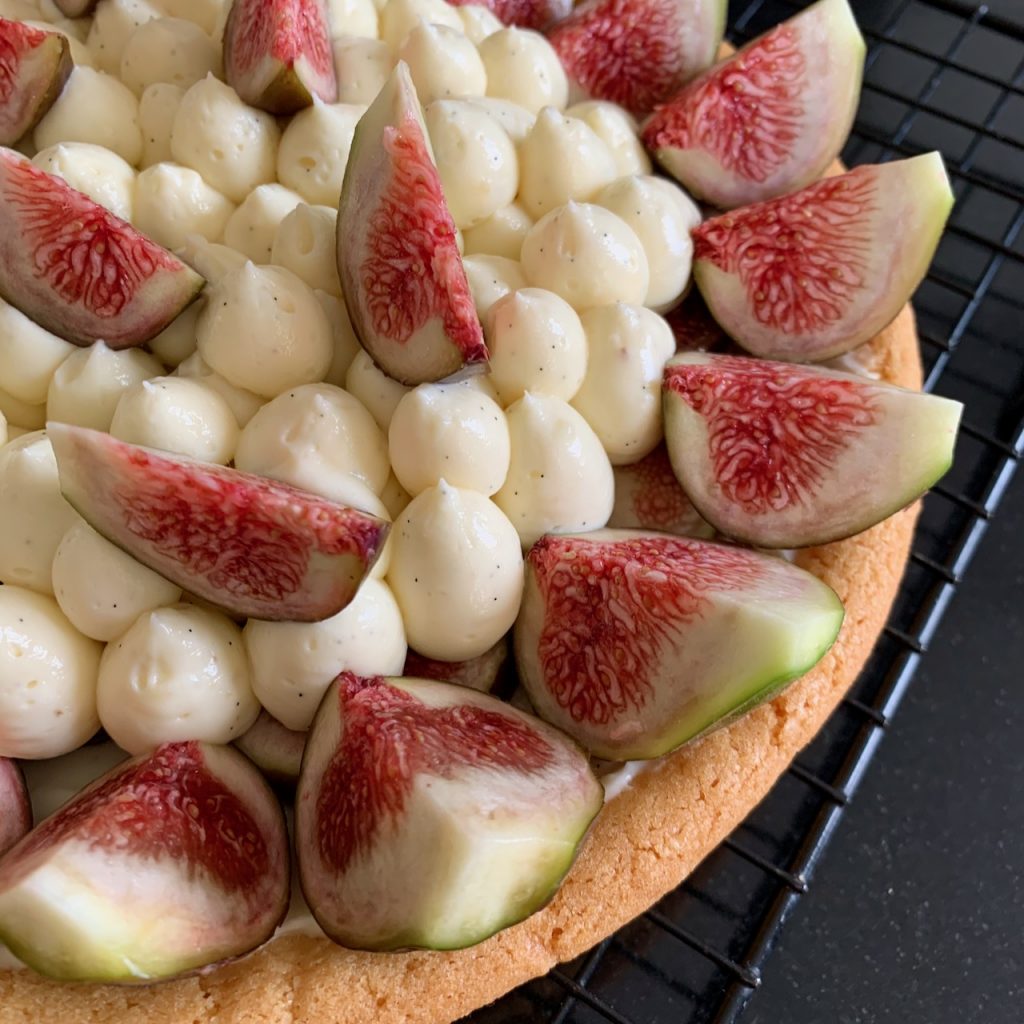 Now I think you're ready to start.
The recipe, Chef!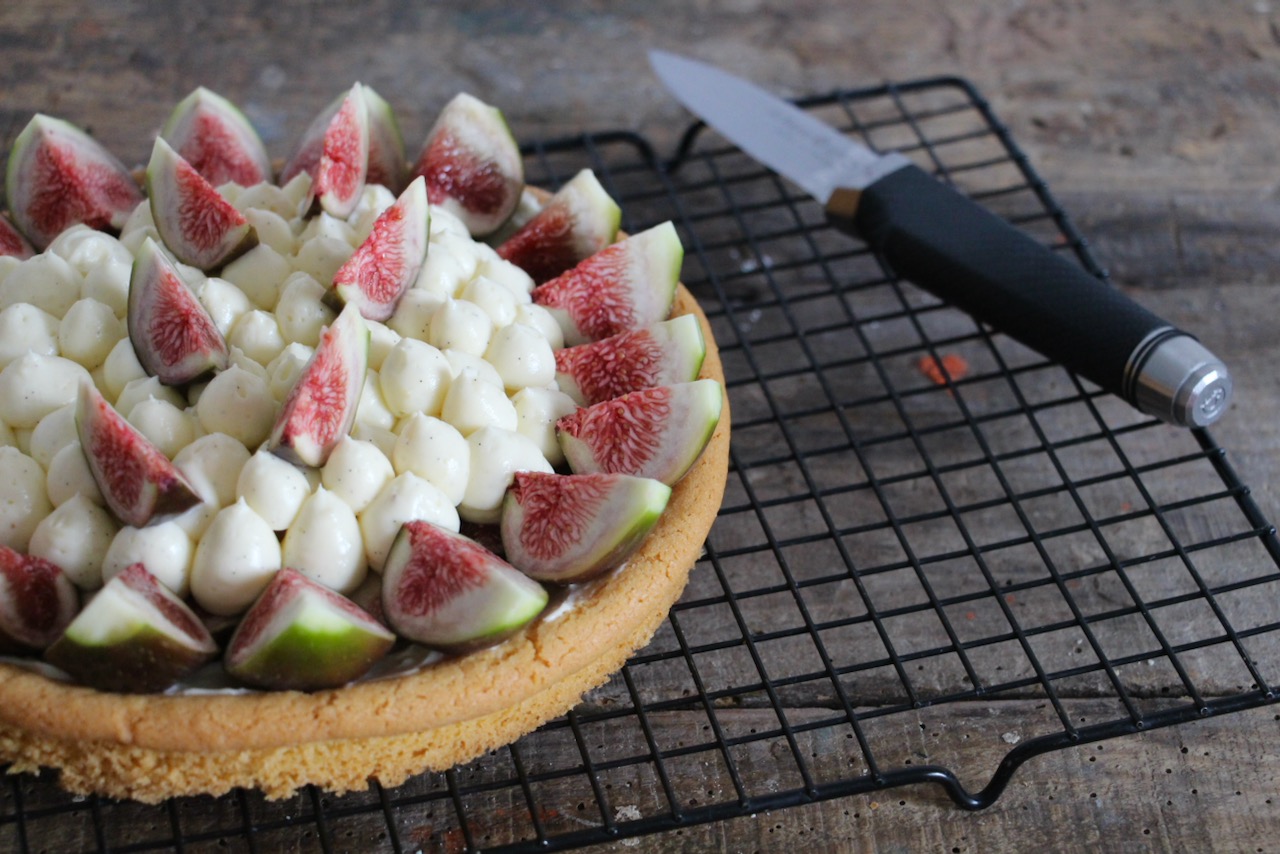 Print Recipe
Ingredients
135 g flour (for the shortbread biscuit)

2 egg yolks (40 g) (for the shortbread biscuit)

85 g sugar (for the shortbread biscuit)

100 g butter at room temperature (for the shortbread biscuit)

1/3 teaspoon flower salt (for the shortbread biscuit)

8 g baking powder (for the shortbread biscuit)

185 g milk (for the vanilla curd)

30 g egg yolks (2 small ones) (for the vanilla curd)

55 g sugar (for the vanilla curd)

20 g corn flour (for the vanilla curd)

1 vanilla pod (for the vanilla curd)

2 gelatine sheets or 4 g (for the vanilla curd)

110 g cream 30% fat (for the diplomate cream)

10 figs
Instructions
1
Prepare the shortbread batter.
2
Mix the egg yolks and sugar until it gets white and foamy (I use my hand mixer with whip accessory).
3
Add the butter and mix until you get an homogeneous mixture.
4
Add the flour, salt and baking powder. Mix until you get a nice and smooth pastry.
5
Wrap it in clingfilm and set aside in your fridge for 2 hours.
6
Prepare the vanilla curd.
7
Place the gelatine sheets in cold water.
8
Pour the milk in a saucepan with the vanilla pod cut in half.
9
Boil and remove immediatly from the heat.
10
During that time, whip the egg yolks with the sugar and corn flour until it gets white.
11
Pour half of the milk on your mixture and mix. Pour the other half, mix again.
12
Pour the whole mixture in your saucepan and boil for 2 minutes while whipping with energy (otherwise your cream will cook too much at some point). (I do that at medium heat)
13
When the cream has the right constistency, add the drained gelatine sheets.
14
Pour it in a plate and cover with a clingfilm to avoid having a thick crust.
15
Prepare your shortbread biscuit.
16
Preheat your oven at 180 degrees.
17
Spread the pastry with 1 cm thickness and place it in your mold.
19
At the end of baking, wait for 1 minute before unmolding and let cool down on a grid.
20
Prepare your vanilla diplomate cream.
21
Remove the vanilla pod and whisk the vanilla curd to make it smooth.
22
Whisk the cream until you get a firm chantilly cream. Add the vanilla curd and whisk until you get an homogeneous mixture.
23
Pipe a thin layer of diplomate cream on your shortbread biscuit. Spread with a spatula.
24
Place slices of figs all over and quarters of figs on the boarder.
25
Pipe the rest of your diplomate cream and finish decorating with a few slices of figs.
26
Set aside in your fridge until serving.