Hello my friends!
Today I will share a recipe that comes right from where I was born, and probably the most iconic of my region!!
Here is the famous tart flambee!!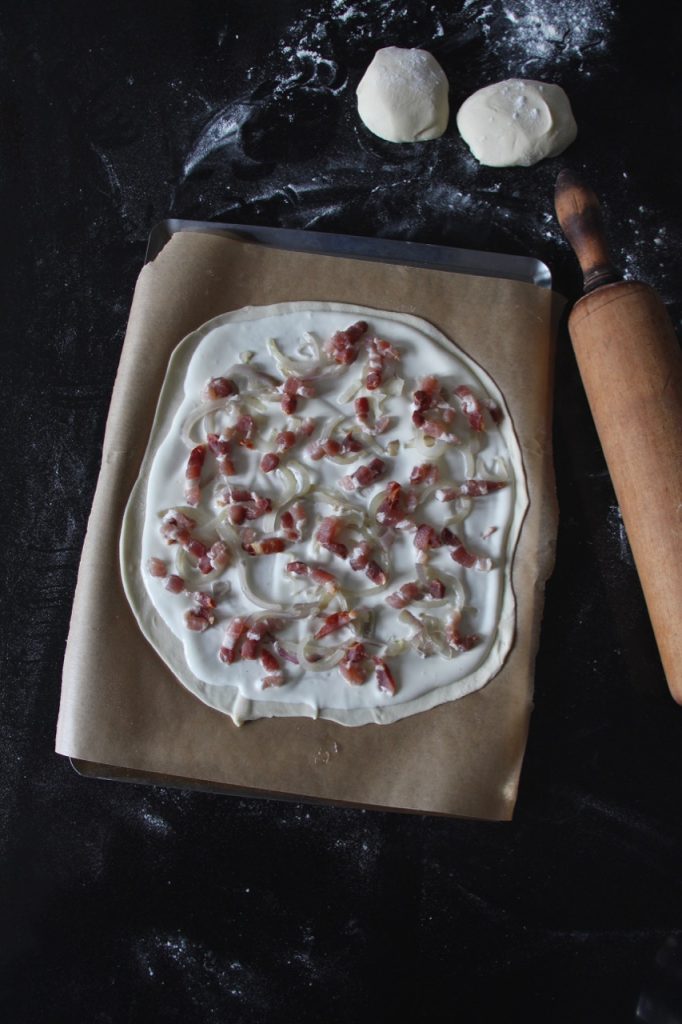 But before going into details, let me clear up a few things…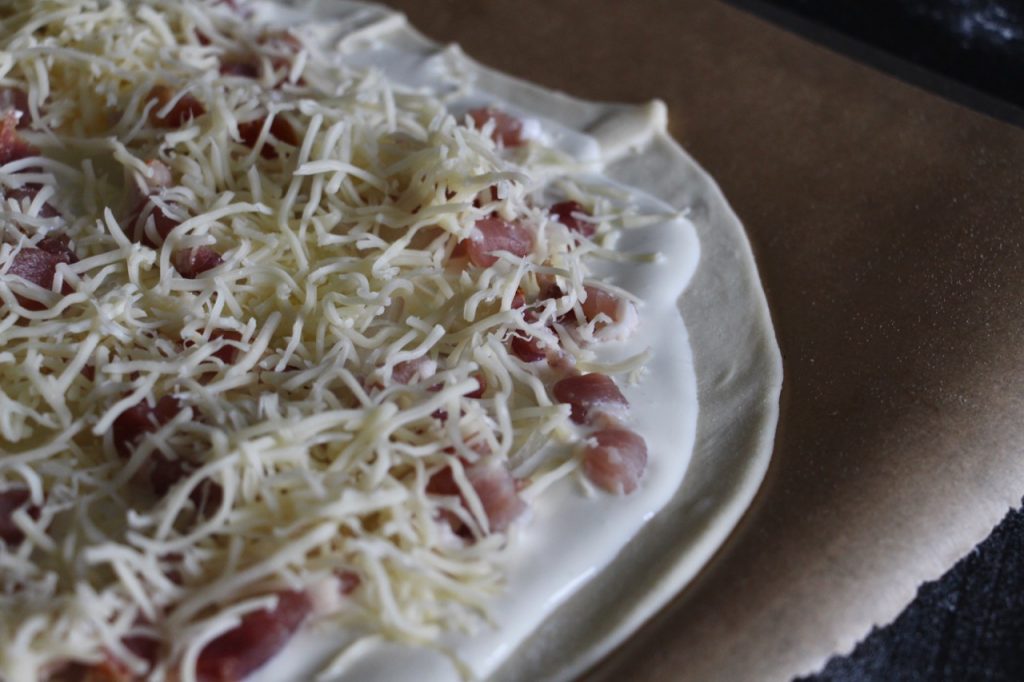 In Alsace, my region, we say "tart flambee". We don't say flammekueche, unless we speak Alsatian… And no need to mention "Alsatian tart flambee". It's only in Alsace that you will find the genuine tart flambee, elsewhere it's only plagiarism that deserves hanging at least… (I'm not exagerating at all !!)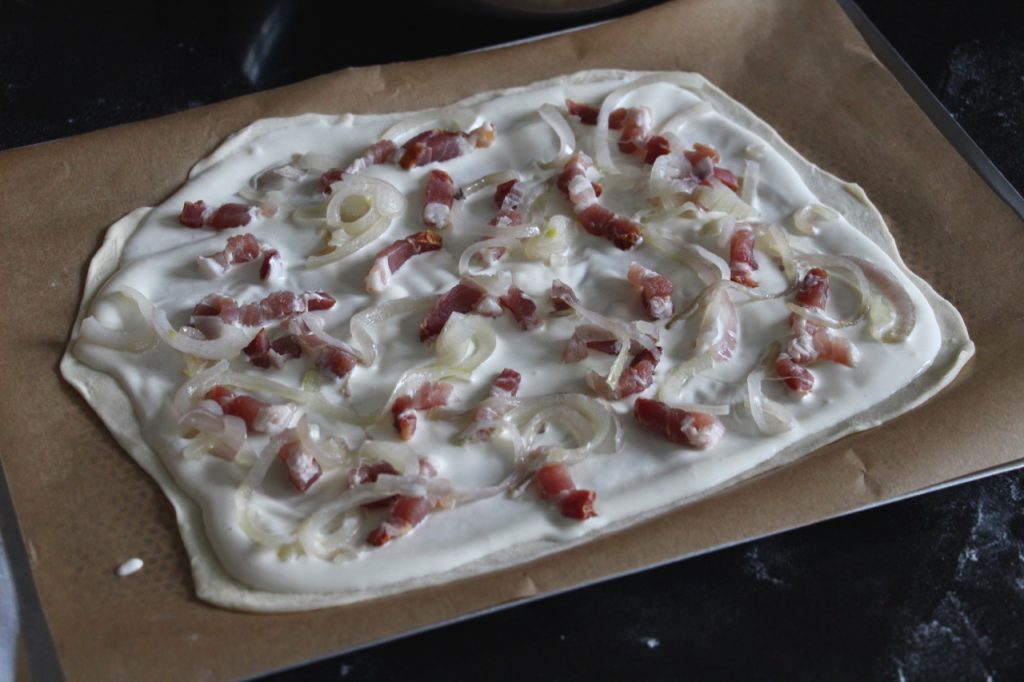 I feel better … Do not mess around with the Alsatian lady!! 😉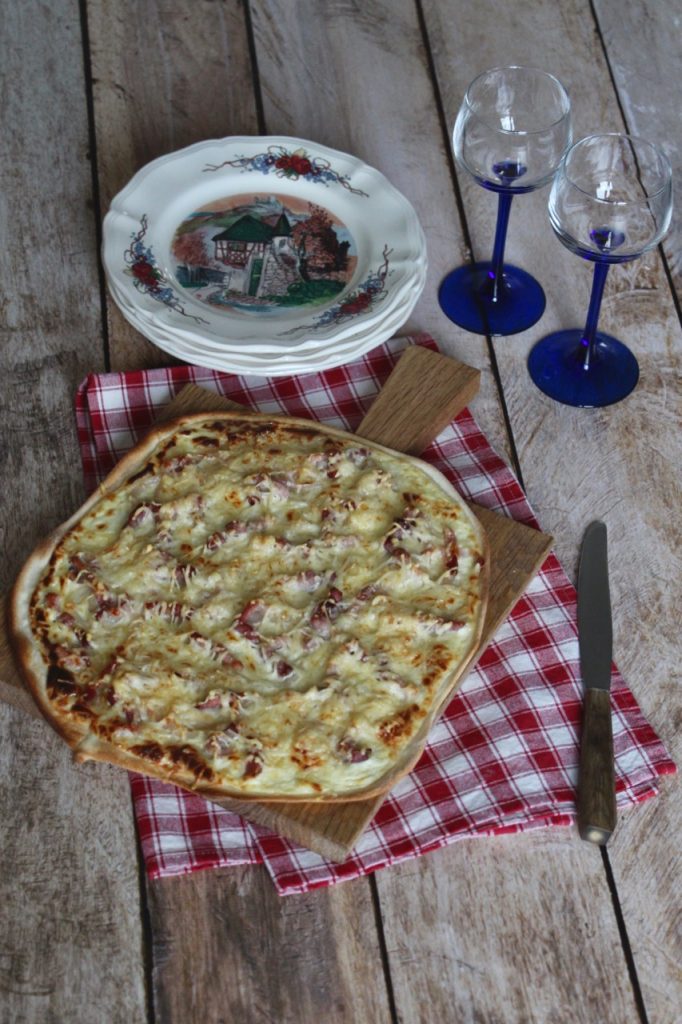 Then, the tart flambee is either simple or au gratin (with grated Gruyere). No mushroom, no carrots, no goat cheese or any kind of zucchini, okay! This too will be considered as an offense by the Alsatian lady (aka me !!)… I give you tradition, and only tradition!!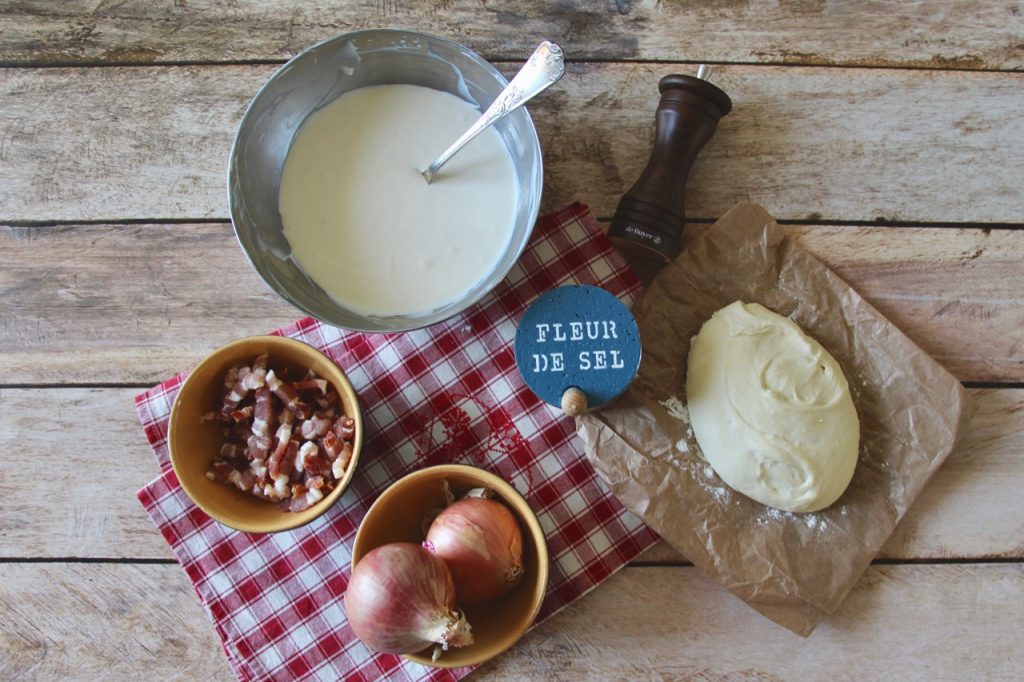 Talking about tradition, the tart flambee is really the symbol of Alsace in a plate: a simple dish, super delish, a bit rich (I won't lie) and mainly a dish to share. In typical Alsatian restaurants, you will order tart flambee and the waiter will bring some until you say stop. And in the meantime, you put the tart flambee on a wooden board in the middle of the table, you cut it in slices and everybody picks a slice by hand!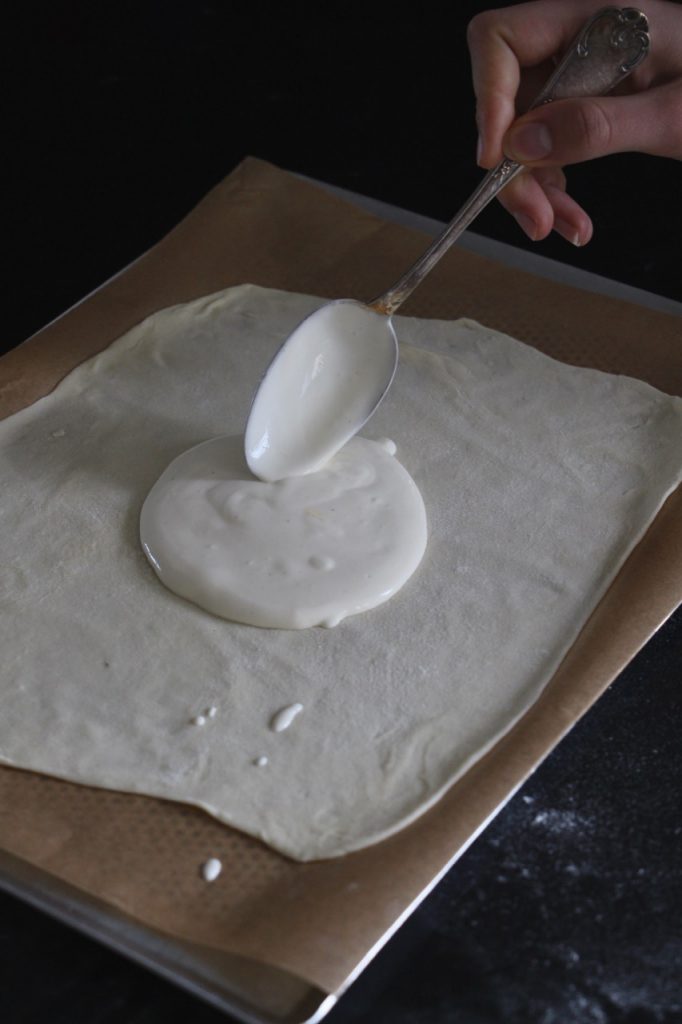 Add a glass of Riesling or Pinot noir and it will be heavenly!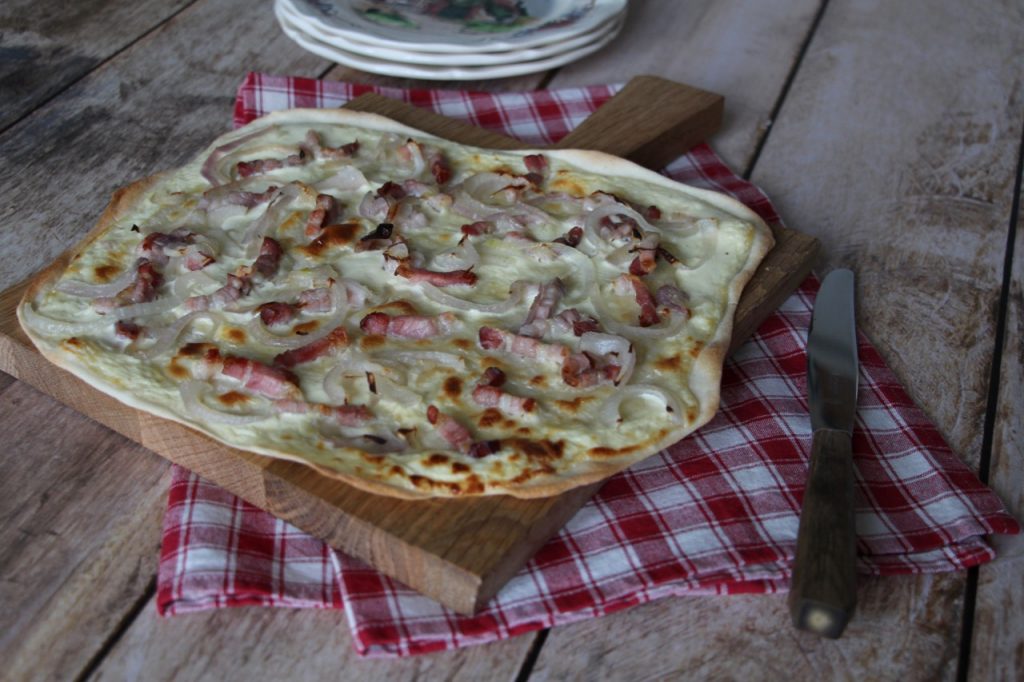 The real tart flambee is cooked in a traditional wood oven, but it will be okay with your electrical oven heated at 280 degrees. I know, I wrote 280!! 😉 Ooh it's hot!!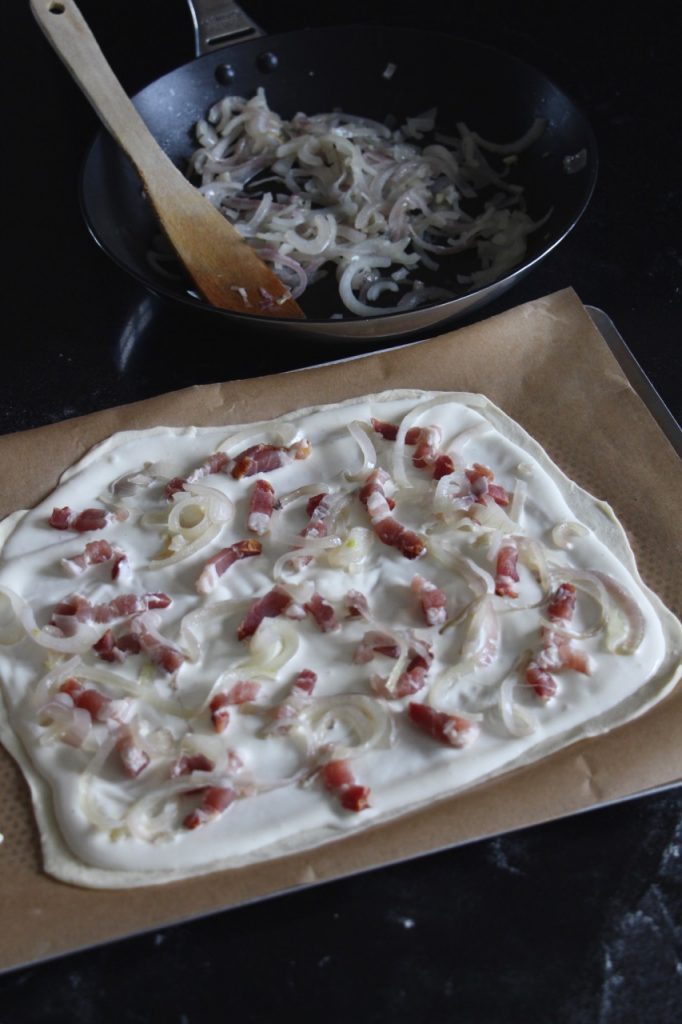 The utensils:
A food processor for the dough (by hand it works too),
A rolling pin,
A frying pan,
A cutting board and a sharp knife.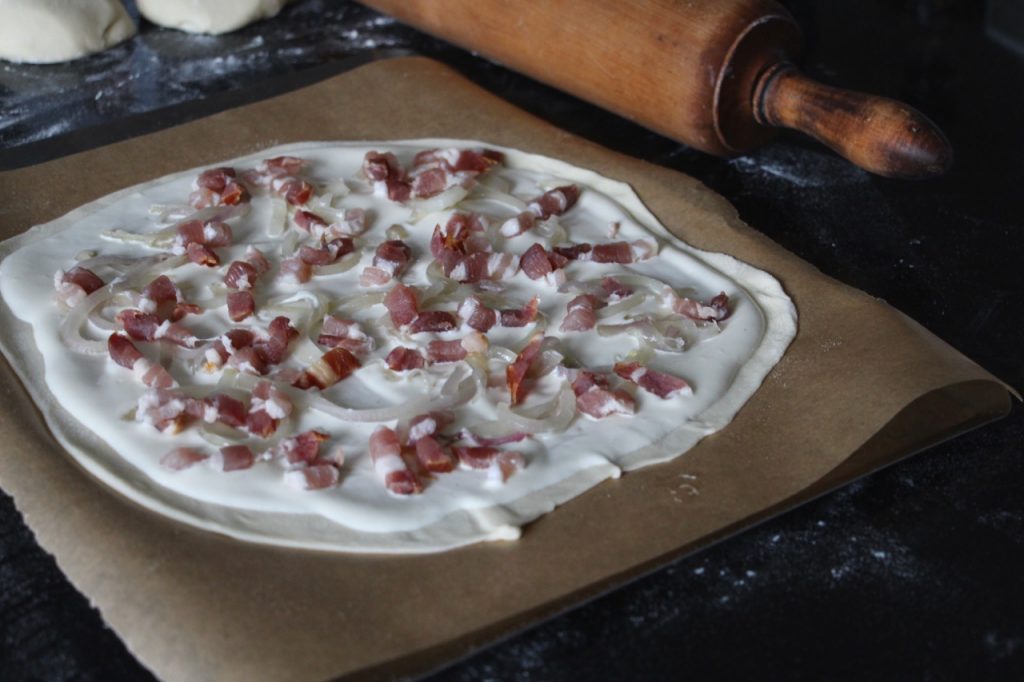 There you go! And as we say: E Güeter !! (Bon appetit in Alsatian)
And the recipe, Chef!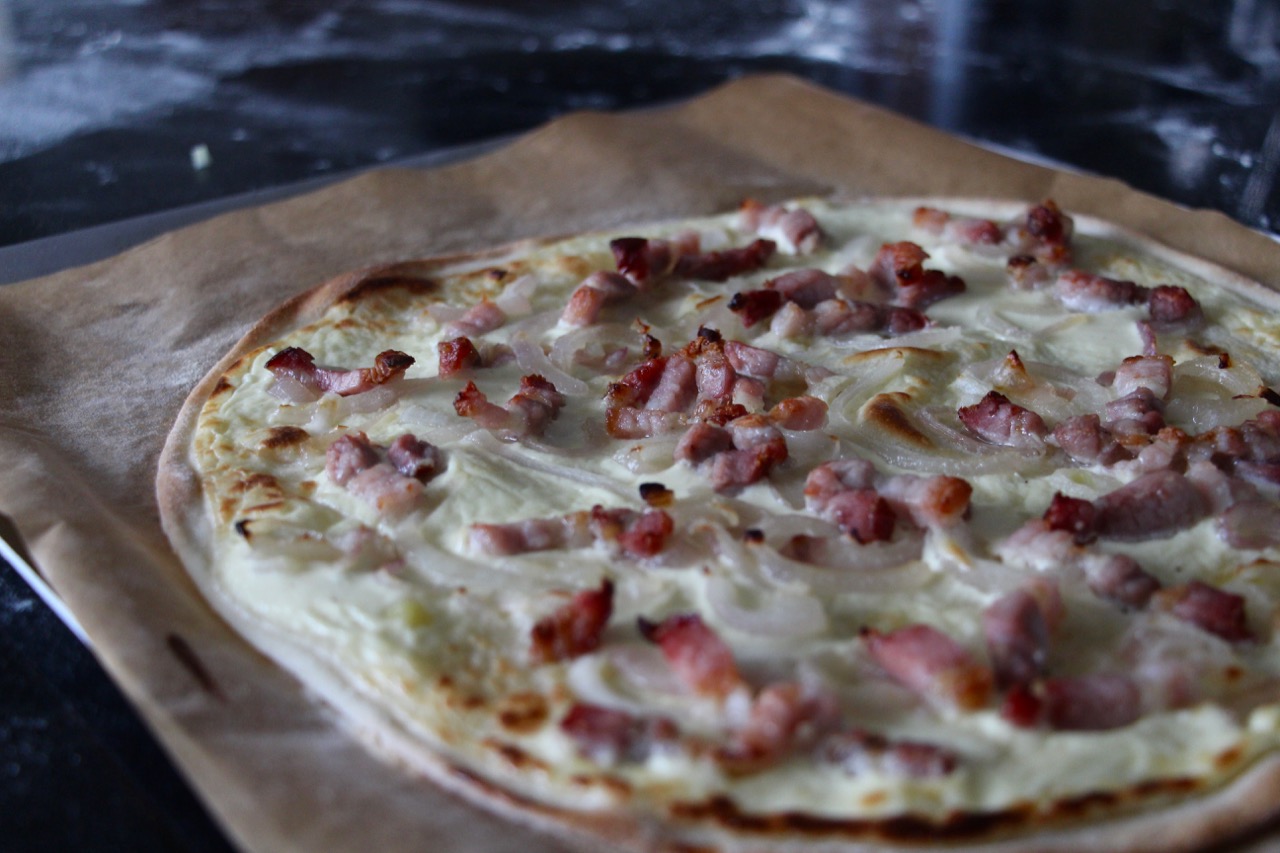 Print Recipe
Ingredients
250 g flour (for the dough)

5 cl or 50 g rapeseed oil (or sunflower oil) (for the dough)

1 teaspoon salt (for the dough)

12 cl or 120 g lukewarm water (for the dough)

200 g cottage cheese (for the cream)

150 g liquid cream (for the cream)

1 tablespoon rapeseed oil (for the cream)

1 egg yolk (for the cream)

Salt (for the cream)

Pepper (for the cream)

Ground nutmeg (for the cream)

300 g pork belly (for the filling)

Grated Gruyere (for the filling)

2 onions (for the filling)

10 g butter (for the filling)
Instructions
2
Mix the flour, rapeseed oil and salt. Add the water little by little, mix well.
3
When you get an homogeneous and non sticky dough, set aside for one hour at room temperature.
5
Mix the cream cheese, the cream, the tablespoon of rapeseed, the egg yolk.
6
Add salt, pepper and nutmeg.
8
Melt the butter in your frying pan at medium heat. Add the onions finely chopped. Cook 5-8 minutes while whisking (they shouldn't get brown). Set aside.
9
Slice the pork belly. Set aside.
10
Take the dough and make 4 balls.
11
Preheat your oven at 280 degrees.
12
Spread the doughs on baking paper until you get a very thin layer and a 24 cm diameter shape. I add flour very regularly to avoir sticky dough.
13
Spread cream on the doughs. Spread onions and pork belly pieces. Add grated Gruyere if you want.
14
Cook for 10 minutes each.
Notes
The egg yolk isn't mandatory for the taste but it brings a shiny look to the cream mixture and makes it smoother. 😉