What can I say? I told you already in my post about Stolle … When Christmas is coming, Alsace is all over me!! So when I start thinking about easy meal, delicious, tasty and comforting, I think about onion pie!! Simple as that! And we know what we're talking about in Alsace when it comes to onion pie!!
Another reason for making this recipe, is that I went grocery shopping 3 times lately, sure that I needed to buy onions. 3 times. 3 times I bought onions… And 3 times I said to myself, once back home, "but you had onions you i…t!!". Okay, let's move on after such a breathtaking story… I had to do something to use all my onion stock… 🙂
Alsatian onion pie!! Isn't it obvious??
Oh, and did I mention it the onion pie is super easy to cook? You need a savory shortcrust pastry, onions, cream and eggs, and bam! the job is done!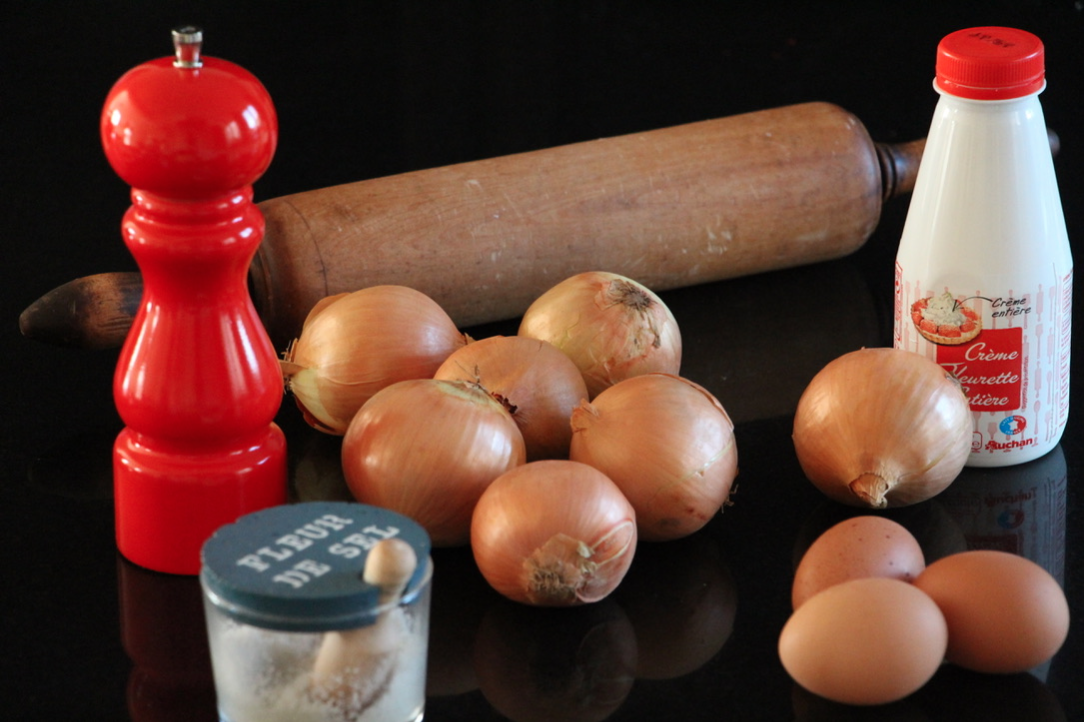 A cheap but delicious recipe, that will be perfect for a starter, a nice meal when served with salad or cut in small pieces for aperitif bouchees.
You can also make a more elaborate version with bacon or chorizo. The union of Alsace and Spain…
The utensils:
A cast iron casserole (I take a Staub or a Le Creuset),
A 26 cm diameter mold with 6 cm heigth,
A rolling pin,
A cutting board,
A sharp knife
And a scuba diving mask!! to avoid crying while peeling the onions… 😉
You talk too much Emma, you talk too much!! The recipe, Chef!
Print Recipe
Ingredients
1 savory shortcrust pastry (recipe on the blog)

900 g onions

15 g butter

3 eggs

25 cl cream

Salt

Pepper

Nutmeg powder
Instructions
2
Melt gently the butter in a stewpan and add the onions.
3
Cover and cook at low heat for 2 hours. Mix from time to time.
4
After 2 hours, preheat your oven at 220 degrees.
5
Remove the stewpan from the stove and add the cream. Mix.
7
Season with salt, pepper and nutmeg.
8
Spread your pastry and place it in your mold.
9
Pour your onion mixture on it.
Notes
You can add smoked pork belly for more yummy effect...