Hi everyone ! How are you today ? Does your weekend start awesomely or what ??
So if you have nothing for dessert yet, Casserole&Chocolat(e) did the thinking for you… Summer is coming soon, strawberries are looking good in the backyards, so we want fresh, healthy and super good food.
Tadaaa ! My red fruit charlotte recipe is just what you need ! And I'd love to have your comments ! I'm pretty sure you'll be thrilled.
This recipe is really easy to bake, you just have to make it early enough so that your mousse can freeze. Otherwise, piece of cake my friend !
And you keep it long enough in your fridge, you will have very clean cut.
You can use any mold you want : I often use a long cake mold so that I can cut very nice slices.
Let's bake now !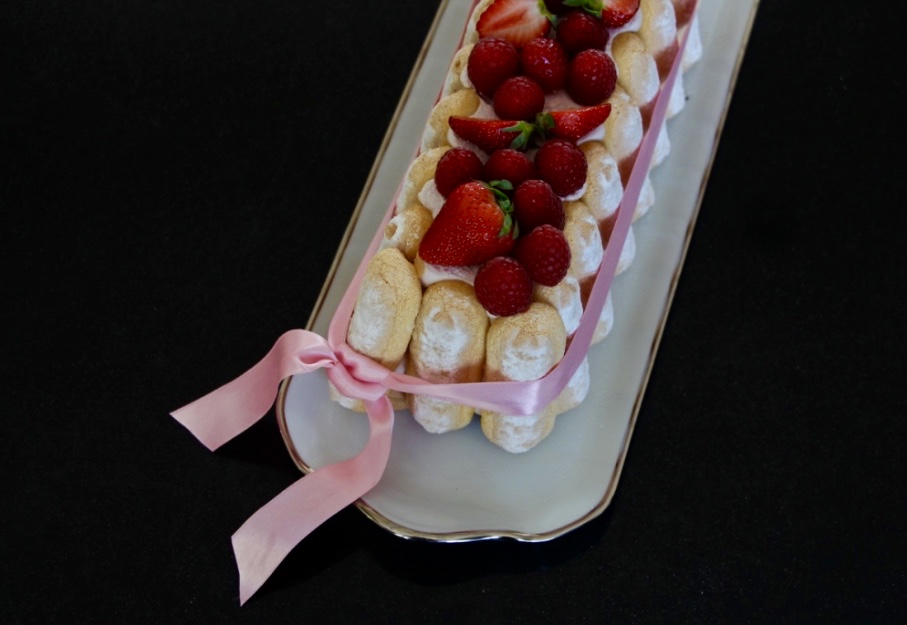 Print Recipe
Ingredients
Lady fingers (the number depends on the mold you chose)

250 g mascarpone

30 cl liquid cream

50 g iced sugar

3/4 red fruit jam or jelly (strawberries, raspberries, blueberries, choose what you like most !)

2 sheets of food gelatine

A few red fruits for decoration
Instructions
1
First, put the gelatine sheets in cold water.
2
Warm up gently the jam in a pan.
3
Once the jam is liquid, add the gelatine that you will have dried with absorbent paper.
4
Keep aside until it cools down.
5
Once the jam is at room temperature, add the mascarpone and whip until you get a homogeneous mixture.
6
Make a chantilly cream with the cream and iced sugar. You will have a slightly sugared chantilly.
7
Add gently the chantilly to your mascarpone/jam. You will get a tasty mousse.
8
Then put a transparent food film in your mold.
9
Place the lady fingers and pour the mousse.
10
Set aside in your fridge for 6 hours.
11
When it's time to serve, unmold gently your charlotte and put a few fresh red fruits on top.