Who's craving choux?
I just love choux!!! I could have them any possible way but my favorite version of all remains the mascarpone chantilly and strawberries choux !!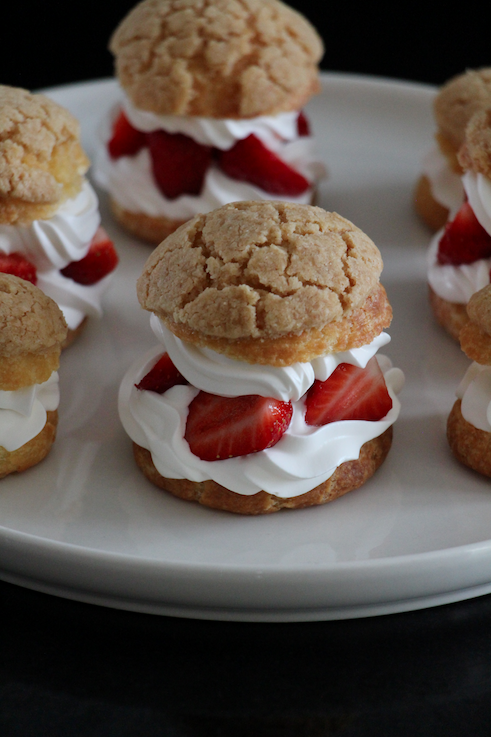 This dessert is such a treat! First because the chou itself is really delicious. I put craquelin on top most of the time because it helps with having a perfect round shape and it gives a crunchy texture that I love…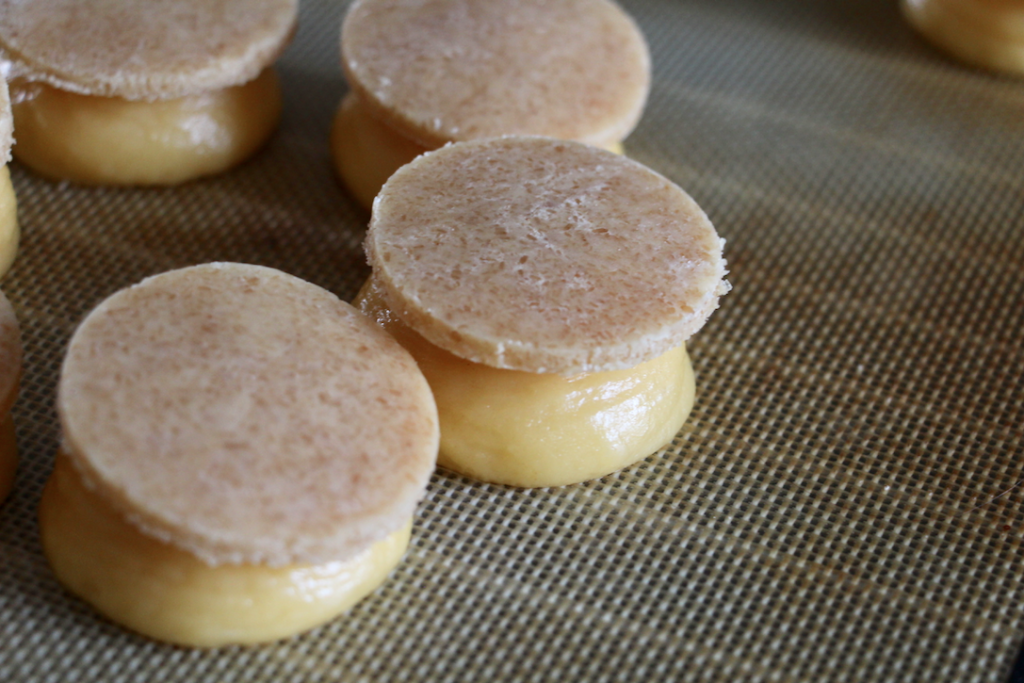 Then I add chantilly cream made with mascarpone, my Italian best friend!! You know me already!! Texture is great and taste… aww… heavenly!!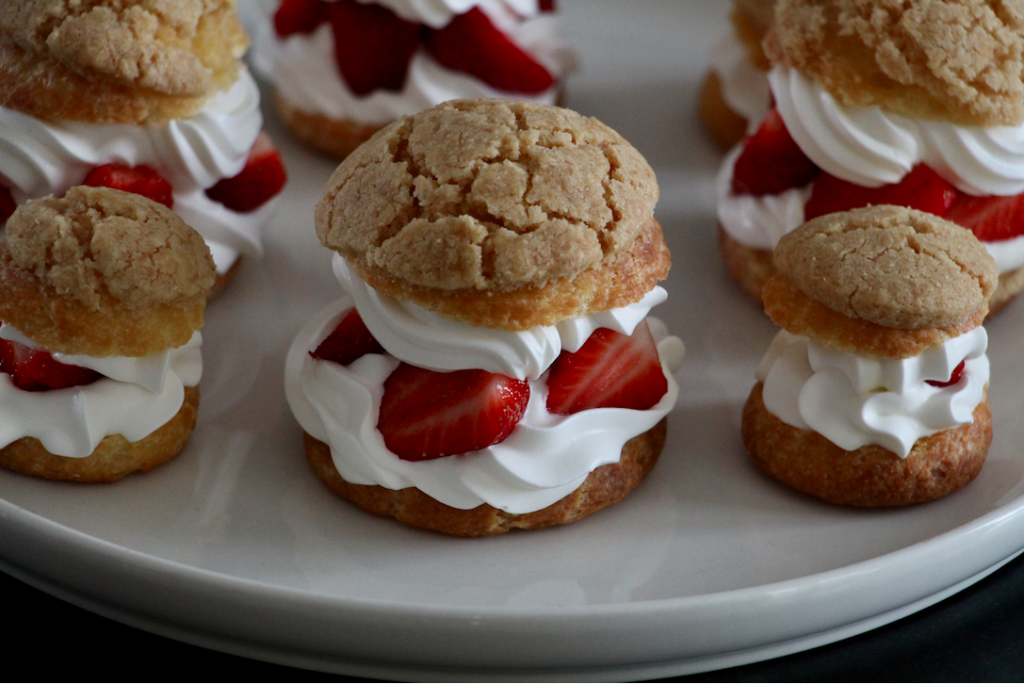 And finally I add strawberries (from my garden!! I'm so lucky!!). This combo is delicious and the look of it is quite nice…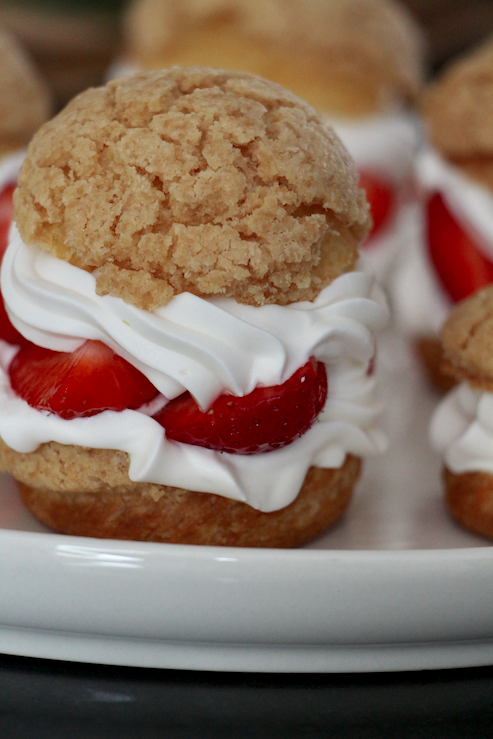 This dessert is always better when you prepare it on the day you're going to eat it, but you don't always have time. Do not hesistate to make it the day before, just keep in mind to make a very firm chantilly cream.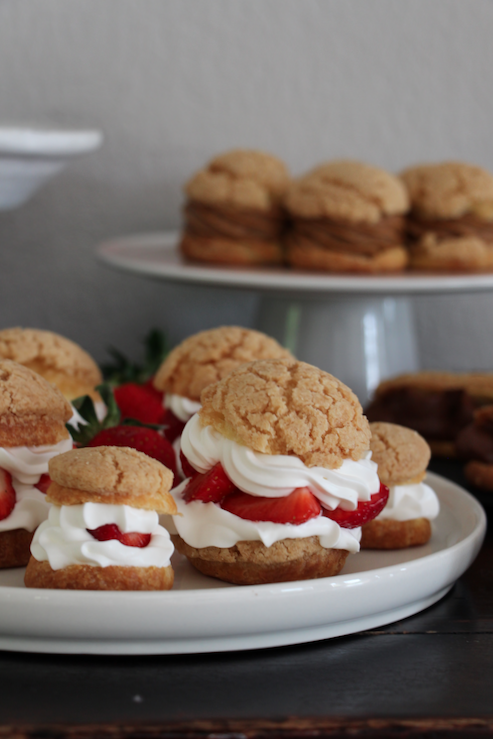 I may state the obvious but you can change and combine with other fruits: raspberries, kiwis, nectarines, blueberries, mango, etc.
The utensils:
A sauce pan with thick bottom,
A good whisk,
A food processor or a hand mixer,
A piping bag.
No more waiting…
The recipe, Chef!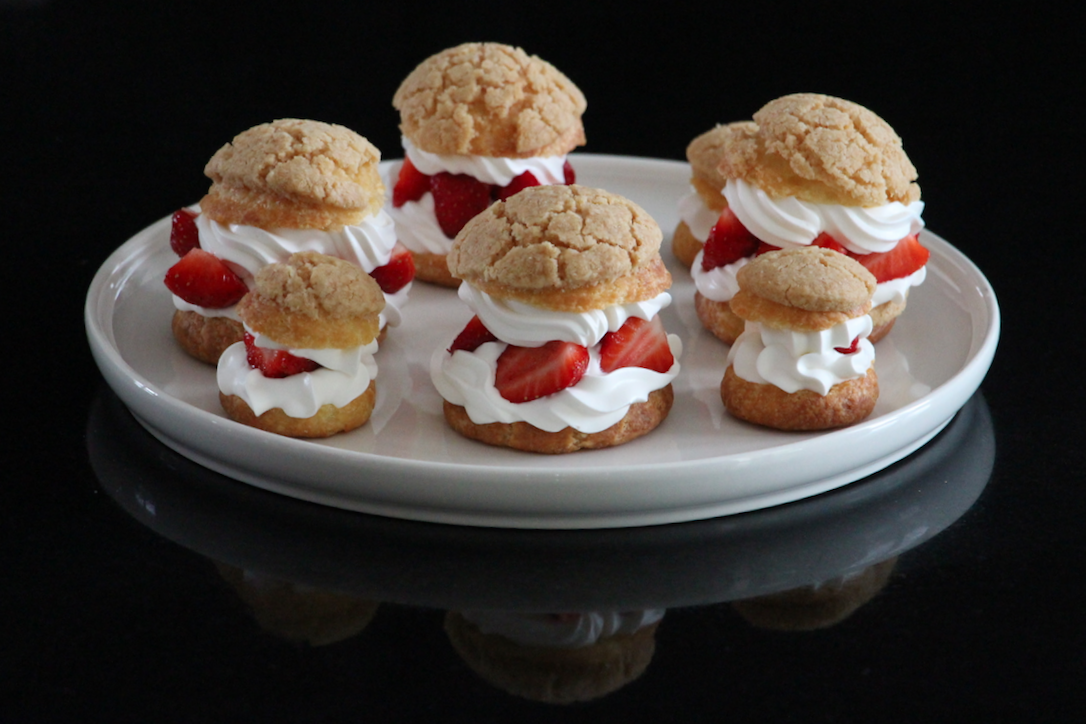 Print Recipe
Mascarpone Chantilly and Strawberries Choux
Ingredients
100 g eggs (2 eggs medium size)

60 g milk

60 g water

60 g butter

60 g flour

3 g sugar

2 g salt

200 g cream 30% fat

125 g mascarpone

1 tablespoon icing sugar
Instructions
1
Melt the butter into a sauce pan with the milk and water then boil.
2
Lower the temperature (I put at 4 on a scale from 1 to 10) and add the flour, sugar and salt. Mix vigorously with a spatula until you get a homogeneous mixture.
3
Keep on mixing while your sauce pan is still heating slowly (we say that we dry the pastry) for 2 minutes and make sure that the pastry won't stick to the bottom of your pan.
4
Take the pan away from the heat and add one egg and whisk until you get an homogeneous mixture.
5
Add the second egg and whisk. Your mixture must be smooth and homogeneous.
6
Then put the pastry into your pastry bag and pipe on a silicon baking mat or a baking paper.
7
Pre-heat your oven at 160 degrees and put your choux in it for 35 minutes (a little bit longer if you make big ones, a little shorter if you make small ones). Do not open the oven door during that time !
8
After 35 minutes, make sure that your choux have a nice golden colour (if not, leave them for a few more minutes while still watching).
9
When you take them out of the oven, wait 2-3 minutes and place them on a grid until they cool down completely.
10
Place the bowl and whisk in your freezer for 5 to 10 minutes.
11
Pour the cream and whisk until it starts to be firm. Add the icing sugar.
12
Keep whisking and add the mascarpone until you get a very firm texture.
14
Stuff them with chantilly cream and strawberries.
15
Serve or set aside in your fridge.