New recipe, new major crush!! But like huge crush!!
I find my inspiration here and there, this time it was on Instagram that it happended! I will tell you everything…
Applause for the roasted zucchini and meat fatteh!!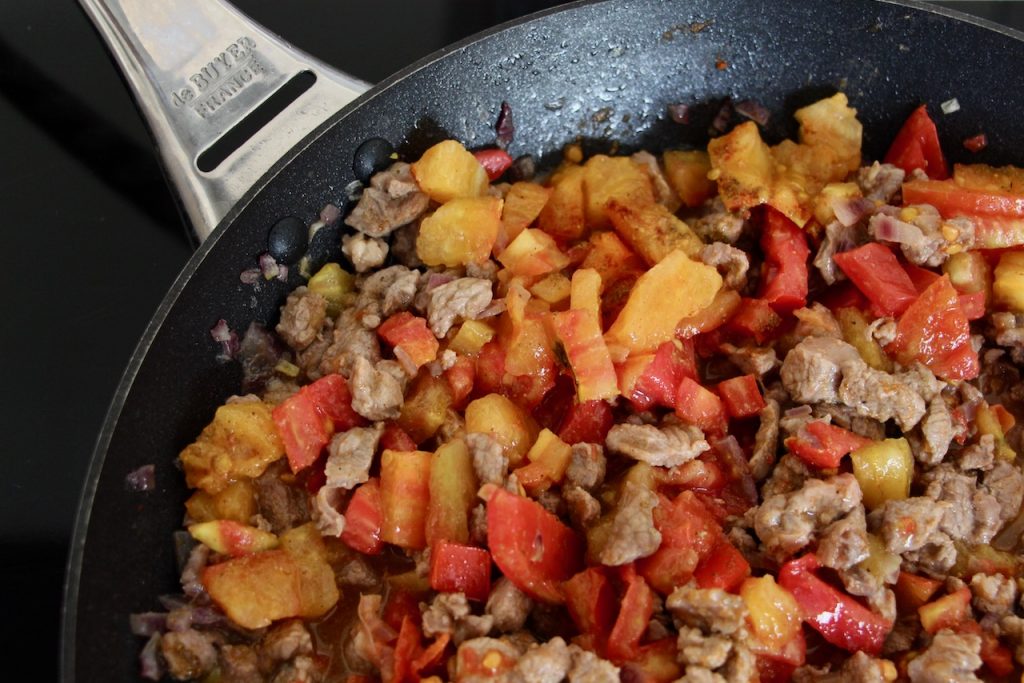 I follow on Instagram a palestinian woman, living in the States. Her name is Nadia Tommalieh, and I really recommend her account if you like Middle Eastern food, healthy and tasty food with spices.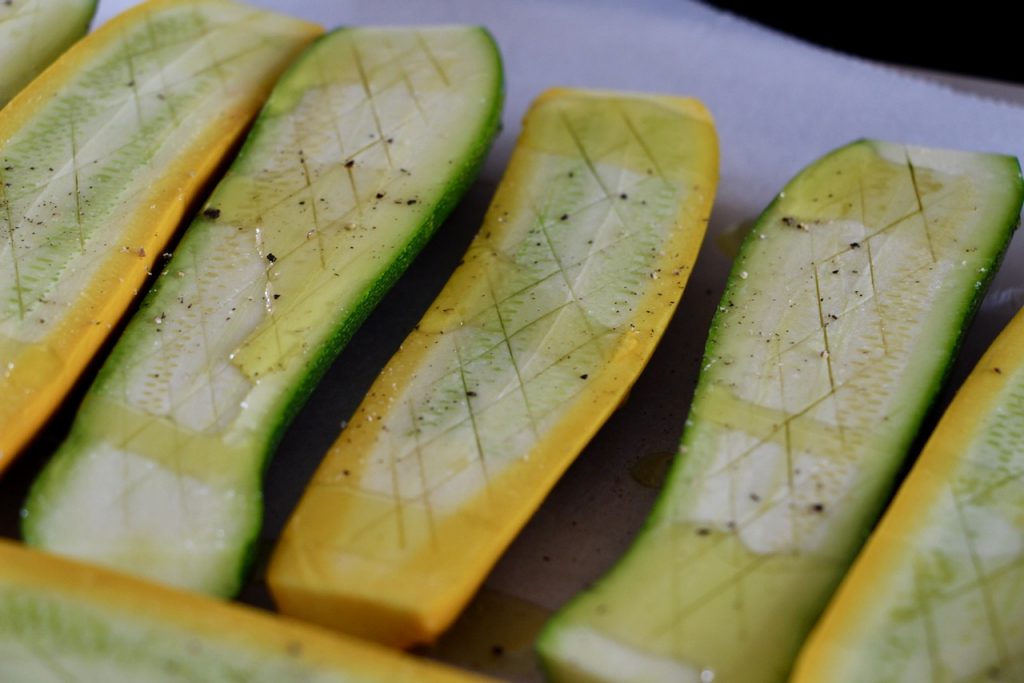 You know that I do for sure, and this is why I've been following Nadia for a while now. A few weeks ago, she posted in her story a recipe, step by step: "Roasted Zucchini and Meat Fatteh". Understand roasted zucchini with meat ragu. It was love at first sight for me!!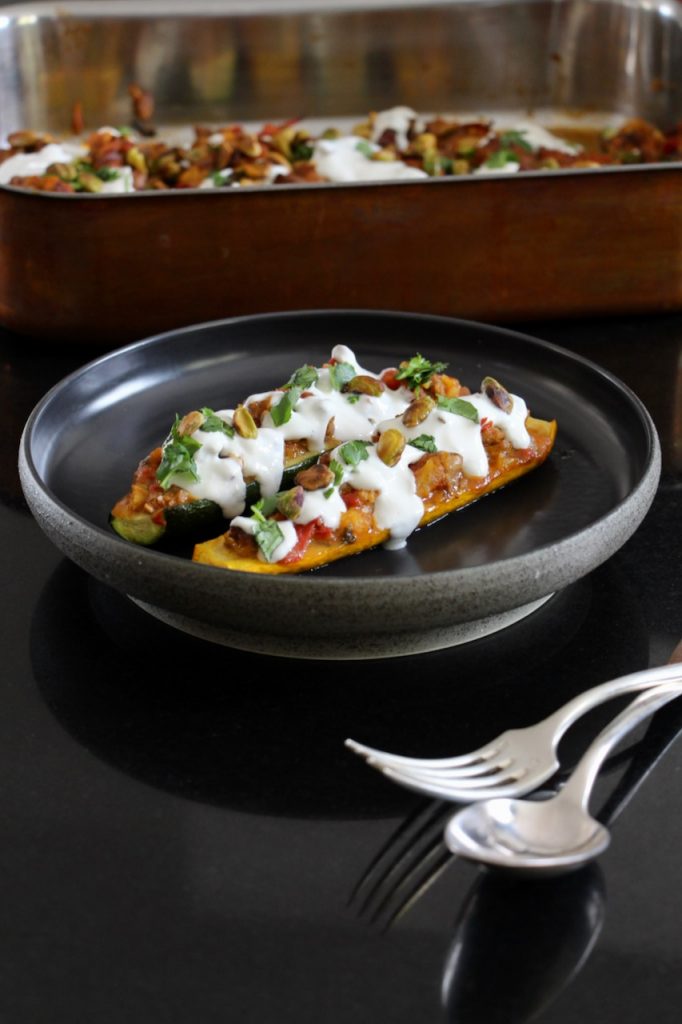 A few screen shots later, I had an amazing recipe and could already imagine the delicious flavors!!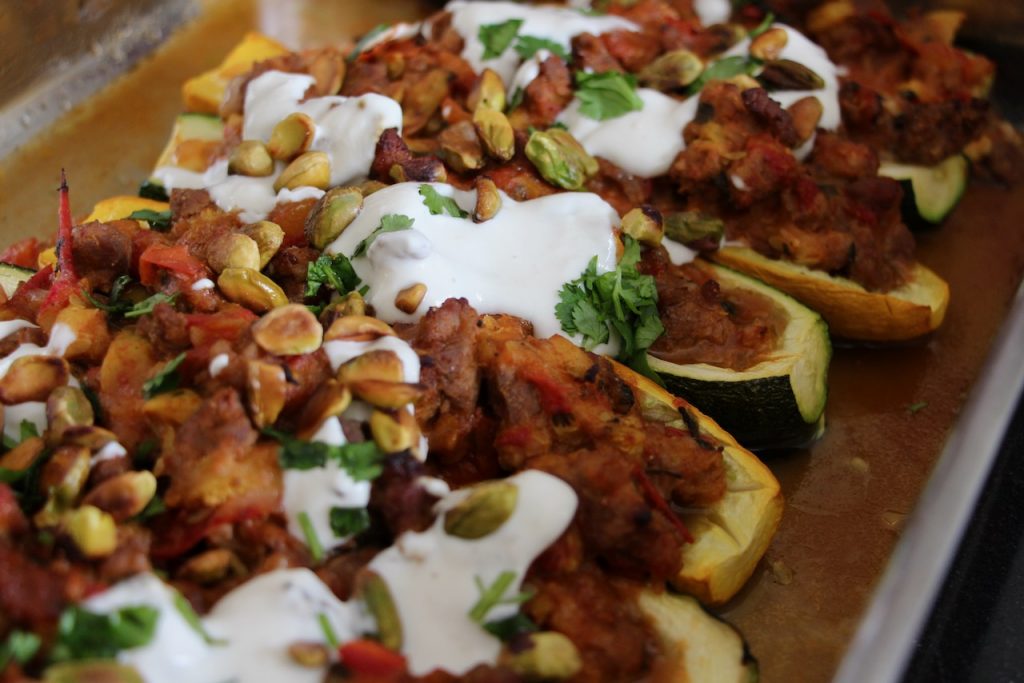 I made some modifications, basically because there were some ingredients that I didn't have, but I think I kept the idea of Nadia's roasted zucchini and meat fatteh…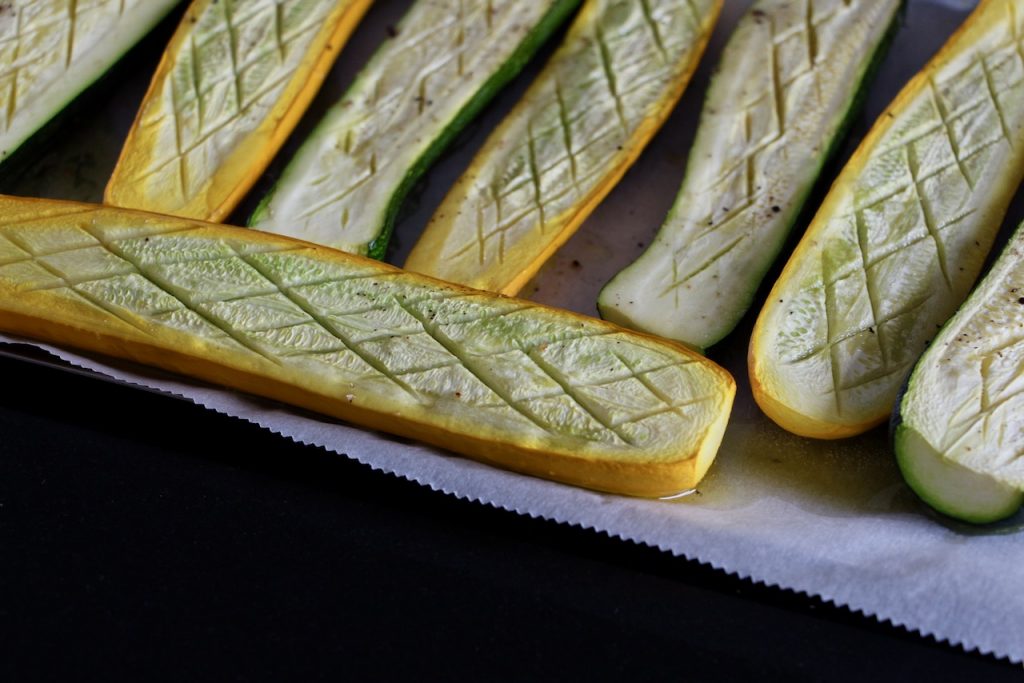 What I love about this recipe, besides all the flavors of spices, is that it's based on a vegetable that isn't appreciated enough. It's true that zucchini isn't always very tasty. There is quite a lot of water in it, and if you mix it with other ingredients, its taste will be erased by the others. In a ratatouille for instance, zucchini taste isn't what you will keep in mind… And even if I have a delicious zucchini and cream cheese soup or a zucchini and basil cold soup, I have too few recipes with zucchini on the blog.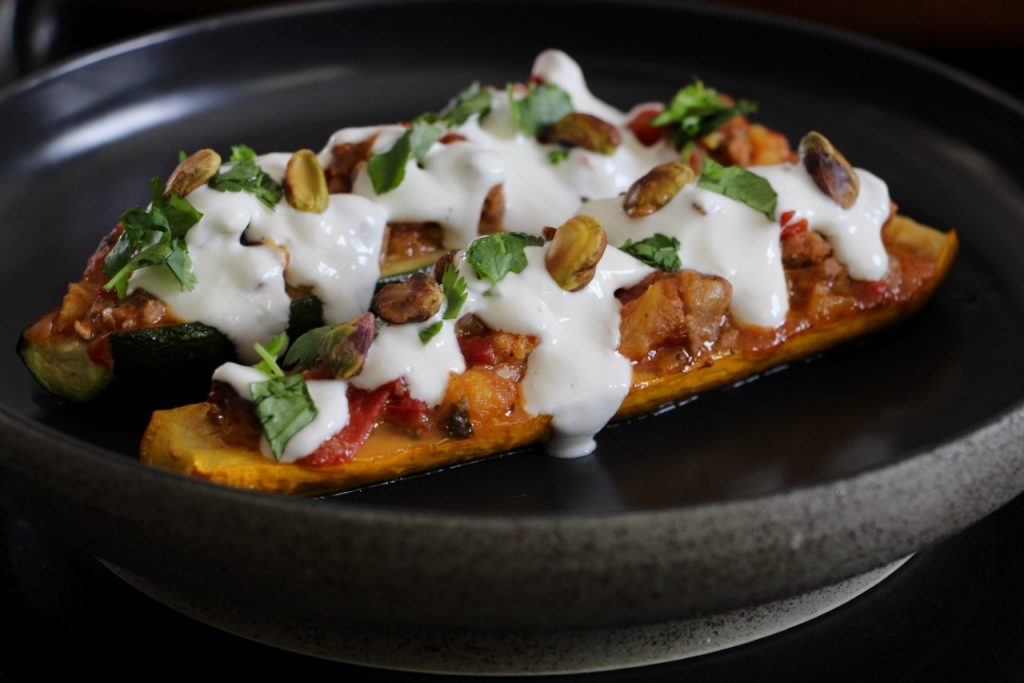 So it's a yummy way to catch up here!! My advice for the perfect recipe is to choose rather thin zucchinis. I decided to go for two kinds: the green one (the standard) and the yellow one (with a smoother taste).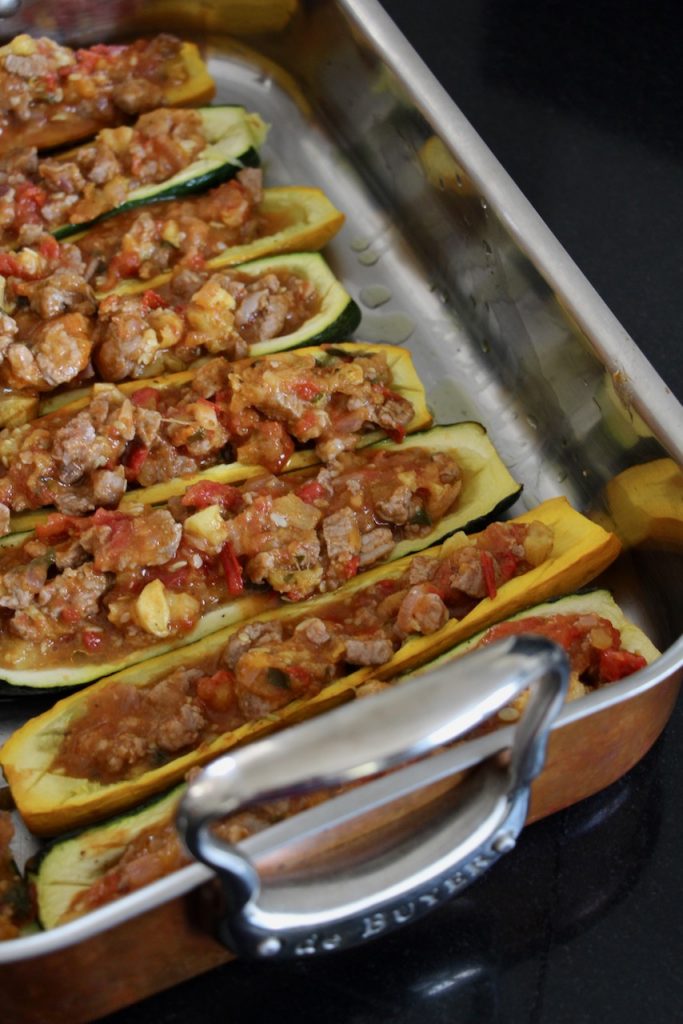 The utensils:
A roasting pan,
A large frying pan or casserole
And a sharp knife!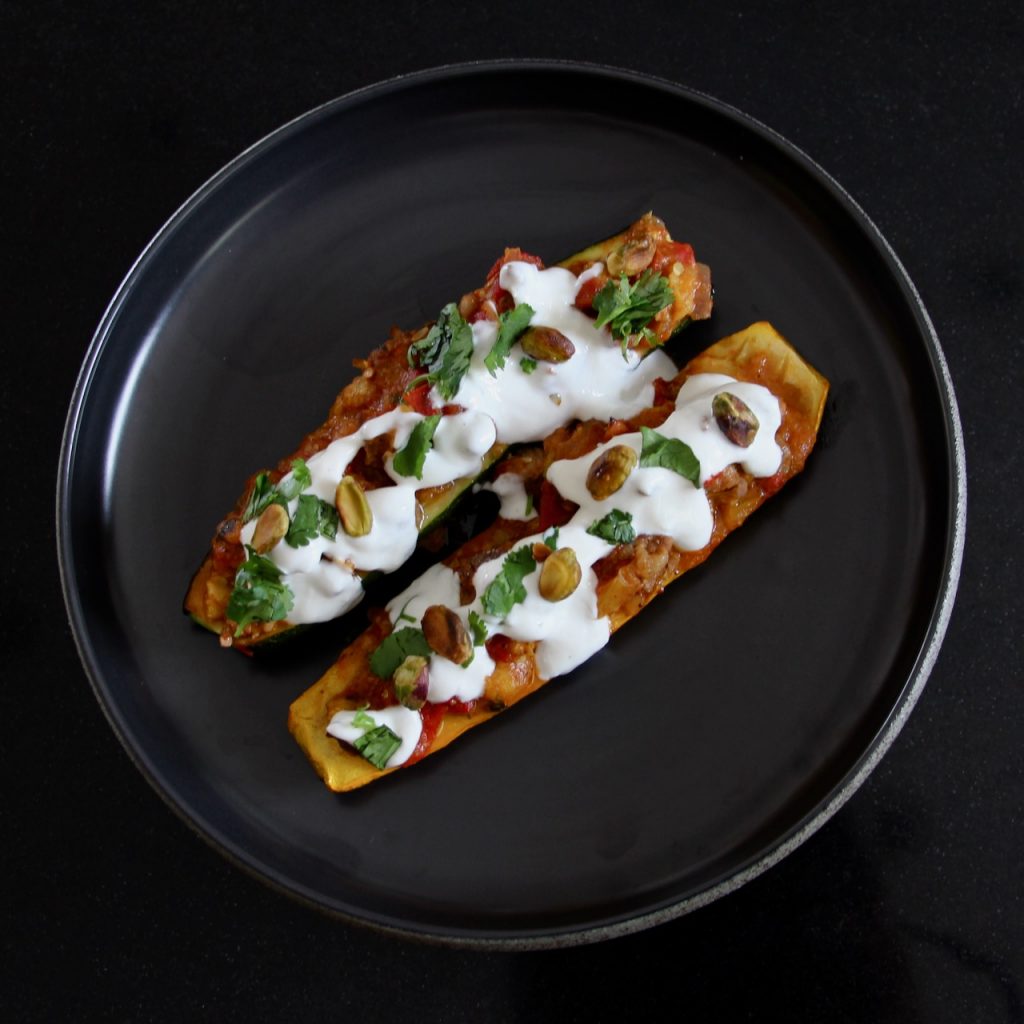 Last comment before moving on with the recipe: I took lamb meat, but you can go for beef or pork.
Let's do this!
The recipe, Chef!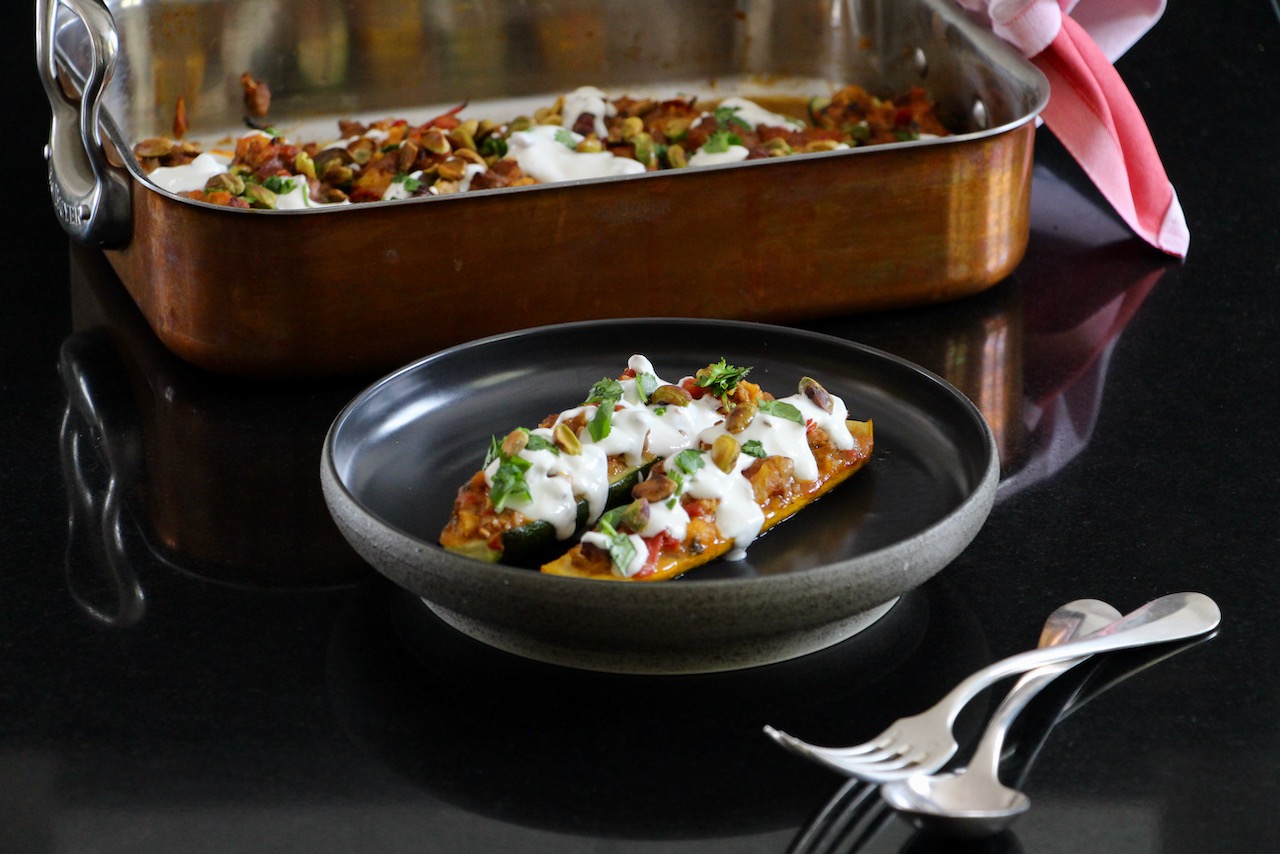 Print Recipe
Roasted Zucchini and Meat Fatteh
Ingredients
6 zucchinis
1 onion
600 g minced lamb shoulder
3 large tomatoes
2 tablespoons tomato concentrate
2 tablespoons maple syrup
2 teaspoons ground ginger
2 teaspoons ground cumin
2 teaspoons ground coriander
2 teaspoons paprika
Olive oil
Salt
Pepper
150 g Greek yogurt
1 teaspoon tahini
1 garlic clove
Fresh coriander
1 handful pistachios
Instructions
1
Preheat your oven at 200 degrees.
2
Clean the zucchinis, cut the ends and cut them lengthwise.
3
Place them on a roasting pan, make braces, pour 2 tablespoons of oil. Add salt and pepper.
4
Cook in in the oven for 25 minutes.
5
In the meantime, stir fry the minced onion in a frying pan with 3 tablespoons of oil, during 3 minutes.
7
Cut the tomatoes in cubes and add them in the frying pan with the spices and the tomato concentrate.
8
After 10 minutes, add the mapple syrup and salt.
9
Leave on the stove at low heat with lid.
10
When your zucchinis are cooked, let them cool down a bit and remove the center. Chop this pulp and add it to the meat ragu. Keep on cooking at low heat for 30 to 40 minutes without lid.
11
Preheat your oven at 200 degrees again.
12
Place the half zucchinis in your roasting pan.
13
Adjust the meat seasoning and fill in the zucchinis.
14
Add pepper and cook 15 minutes.
15
In the meantime, mix the Greek yogurt with tahini and grated garlic. Chop the fresh coriander.
16
Stir fry the pistachios 2 or 3 minutes in a frying pan.
17
When you serve, spread a tablespoon or two of yogurt, pistachios and coriander on each zucchini.