Summer is here, I repeat… summer is here!! I'm telling you aperitif time is back!! And you should definitely be ready for it!!
And this is why your favorite blog (I strongly believe it is your favorite!! 😉 ) is here for you!! What about a delicious red pepper cream??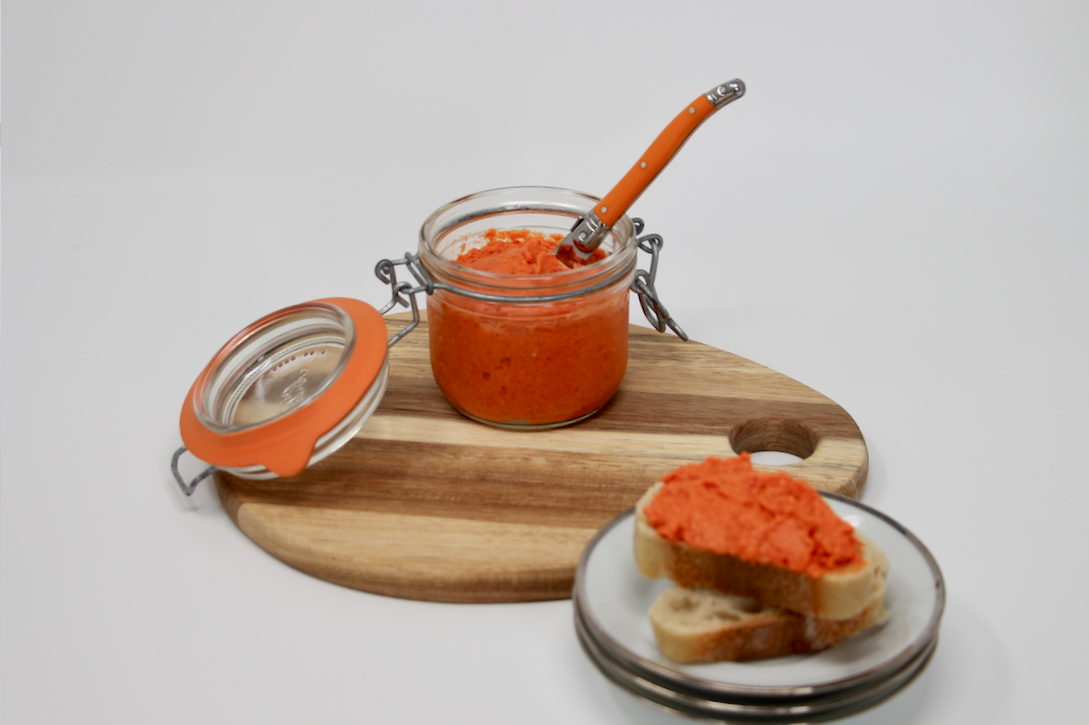 Don't you think it's just like sunshine in a jar?? This red pepper cream brings color, taste and novelty on your table.
Cherry on the cake, you will accomodate this cream several ways: on a toast, with blinis, or tortillas, or with raw vegetables (carrots, cucumber, cauliflower, radish), or on a savory number cake.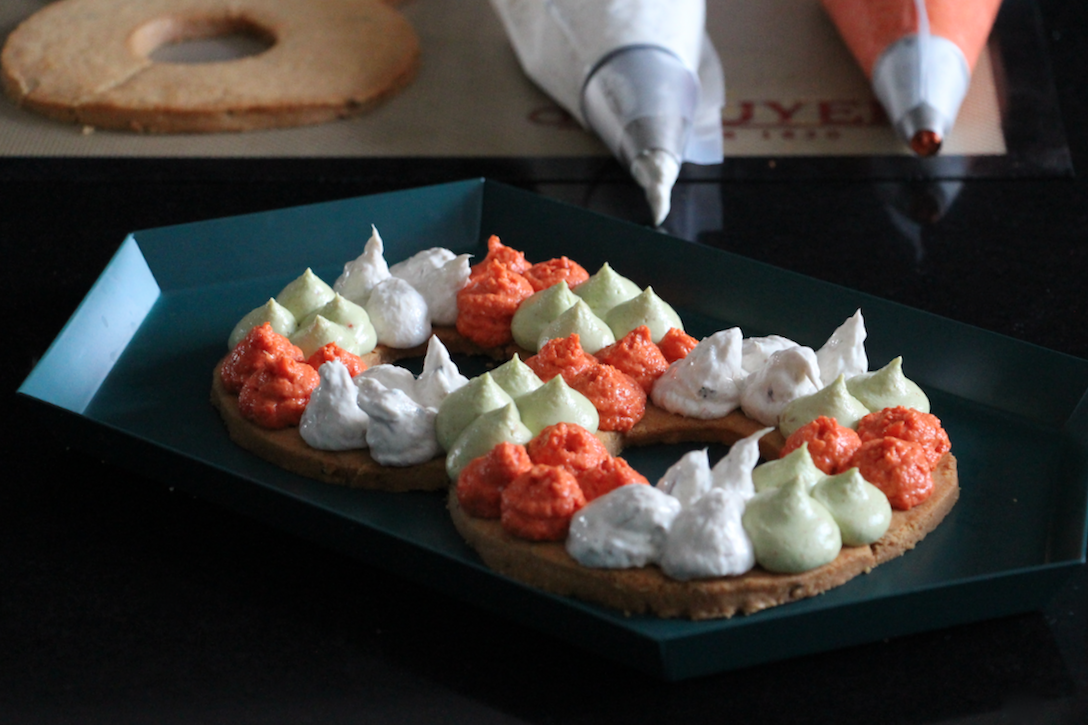 This cream will also be a nice alternative to the pesto rosso I suggest in my puff pastry crown recipe  or with a pork filet mignon with pastry (for such recipe, brush the filet mignon with cream before wrapping it in pastry).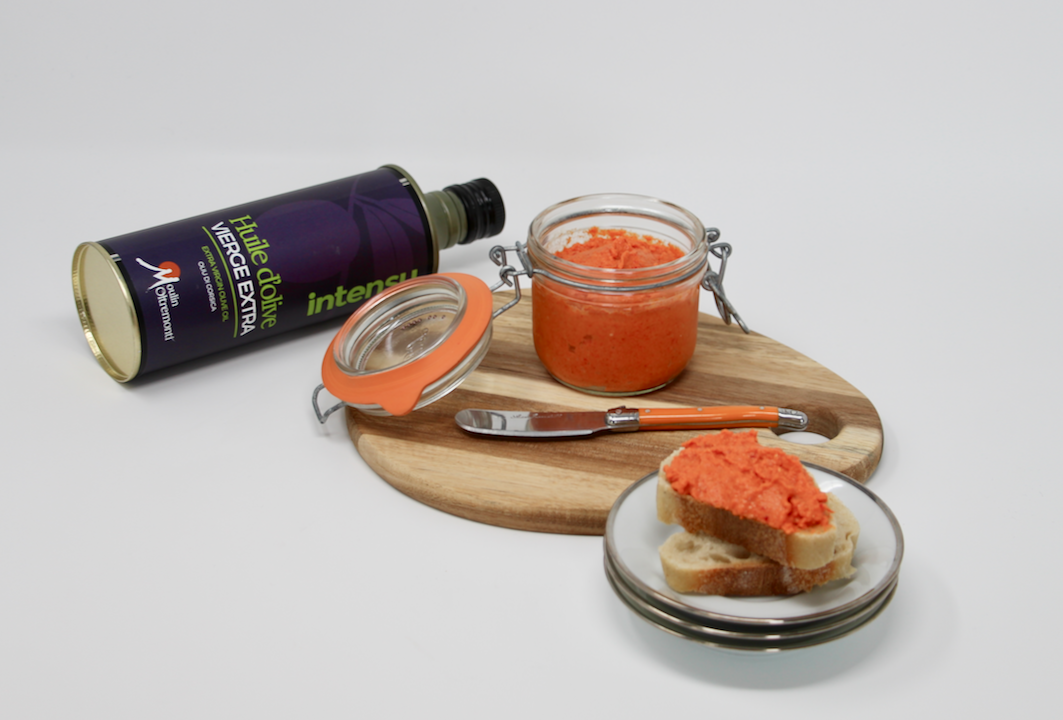 And if you have other ideas to upgrade it, just leave a comment below the recipe!!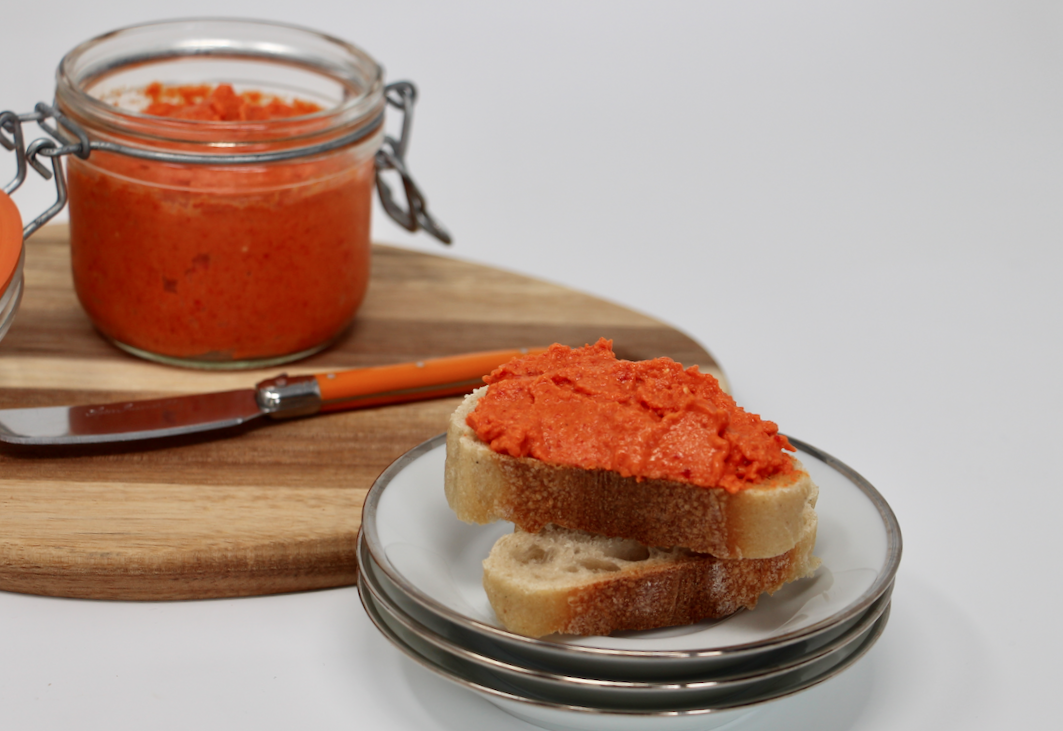 Now, before giving you the recipe, I must insist on the fact that the quality of your ingredients is key for the delicious taste of this red pepper cream, especially since there is almost no cooking… Take a good olive oil, good red peppers at your grocery store and that shall do the trick!
Finally, depending on the quality of your red peppers, you will get more or less water after grilling and peeling them. leave them to rest a few minutes in a plate, dry them with absorbant paper. Be careful at this point especially if you need your cream to be firm. If you need to pipe it for instance, you can add a gelatine sheet soften into cold water then drained. In this case you will have to heat your freshly mixed red peppers and add the gelatine that will melt. Then you get back to the original recipe.
Ready? The recipe, Chef!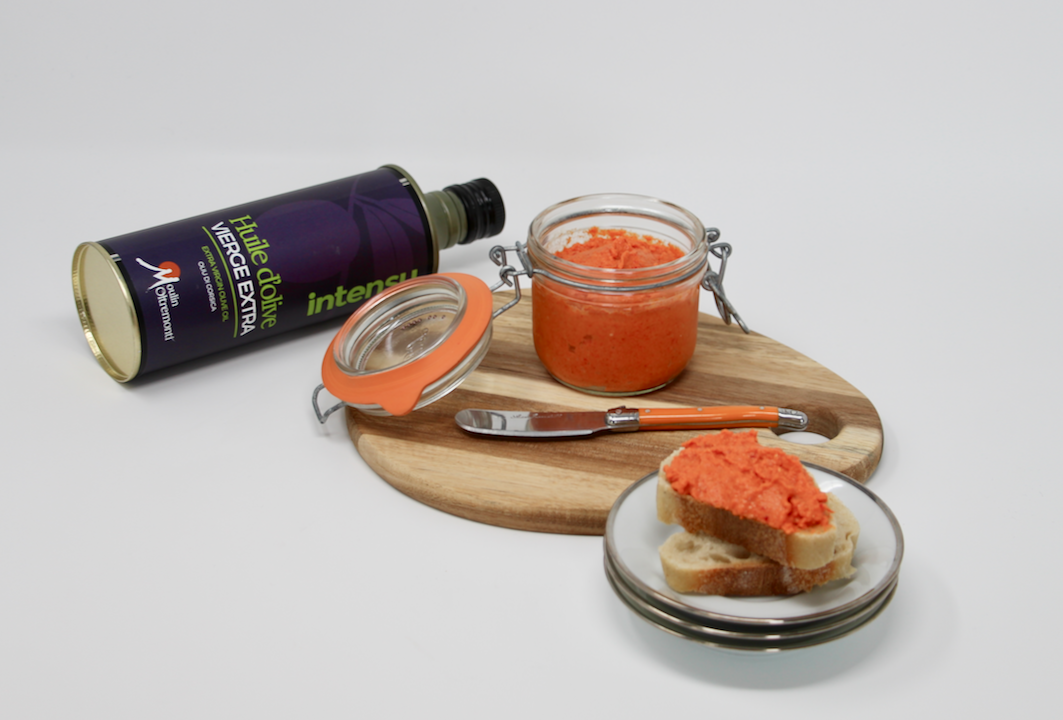 Print Recipe
Ingredients
2 red peppers

2 tablespoons olive oil

2 cloves of garlic

125 g mascarpone

Salt

Pepper

Paprika

Red mild pepper

Espelette pepper

Ground ginger
Instructions
1
Place your red peppers on an oven tray.
2
Set your oven on 220 degrees. Put the tray in the oven.
3
Grill the red peppers on each side until they change color.
4
Once grilled, place them in a freezer bag and close it.
5
Let cool down at room temperature for 30 minutes. This step will help you peel the red peppers very easily.
6
Peel the peppers, remove the seeds and tail.
8
Mix with your blender or a few seconds with your Thermomix.
9
Add the cloves of garlic (peeled and grated), the olive oil, the mascarpone and spices. Mix.
11
Set aside in your fridge until use.
Notes
You can cook this recipe with yellow or orange peppers. Once in your fridge, this cream can be kept a whole week.