Hello food lovers!
It is a possibility that this recipe might become of my favs ! The chickpea curry or Chana Dahl, is a delightful dish, full of tastes and spices, just like I love them! And rather light by the way!! What's not to like?
It's true that I'm having a kind of curry phase lately. I just posted a curry chicken quiche recipe, there must be some subconscious message … An invitation to travel maybe…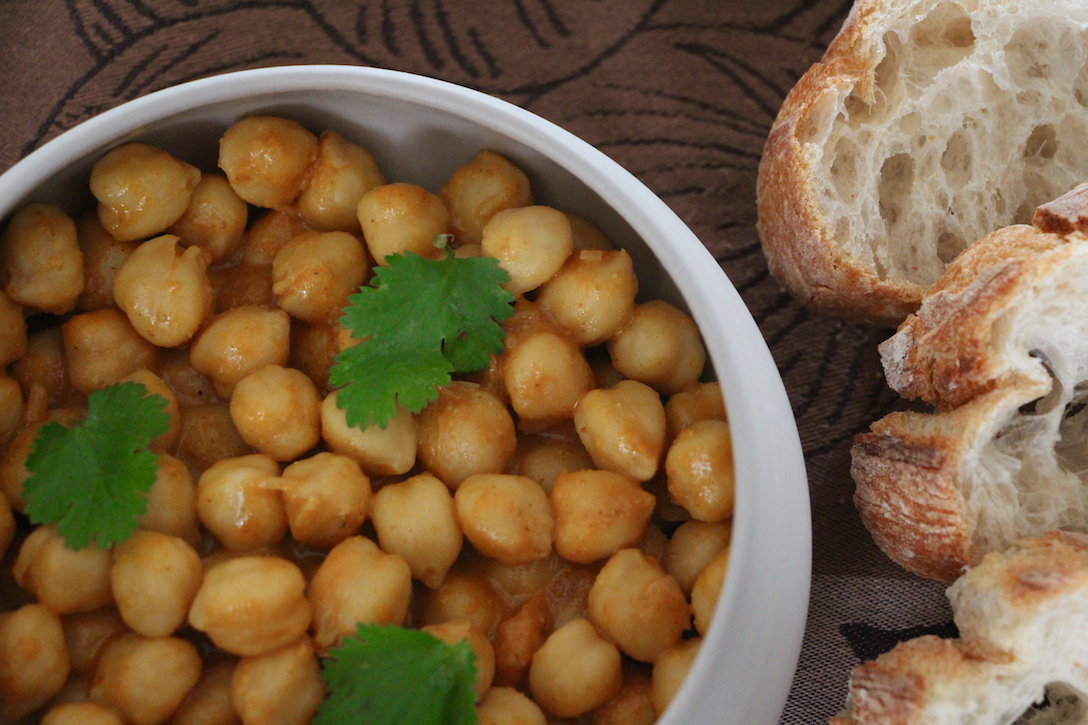 I was lucky enough to travel quite a lot over the past 20 years, and my favorite destination is Asia. And who says Asia thinks immediatly about Asian food. Thai food, Chinese food, Japanese food, Vitenamese food or Indian food, I love them all!! And I especially like curry!!
Cooking chickpeas is also means getting out of my comfort zone, trying to cook new dishes, new flavors while keeping it healthy without starving when leaving the table.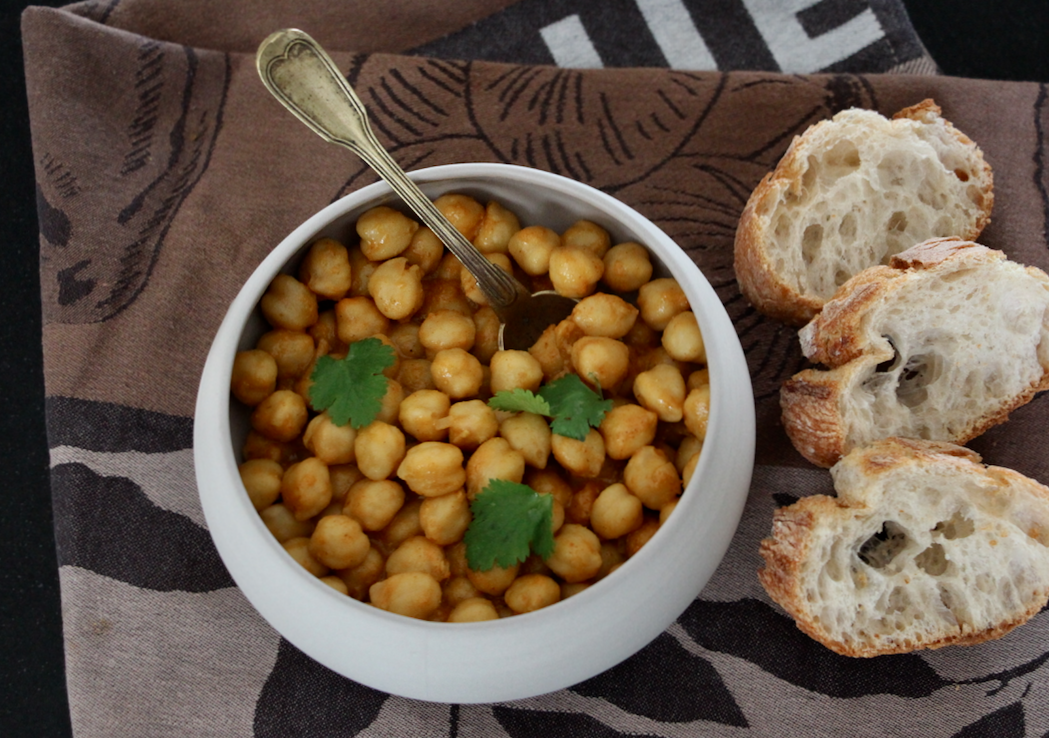 Cooking this chickpea curry recipe is rather simple and quick (please note though that you will need a soaking time if you have dry chickpeas, the cooking time is once your chickpeas are cooked).
Besides, you can easily warm up your chickpea curry with your microwave oven or in a sauce pan with additional water, cream or coconut milk.
As far as spices are concerned, I buy them from Albert Ménès since they are of high quality, and I buy my tomato puree form the brand Mutti.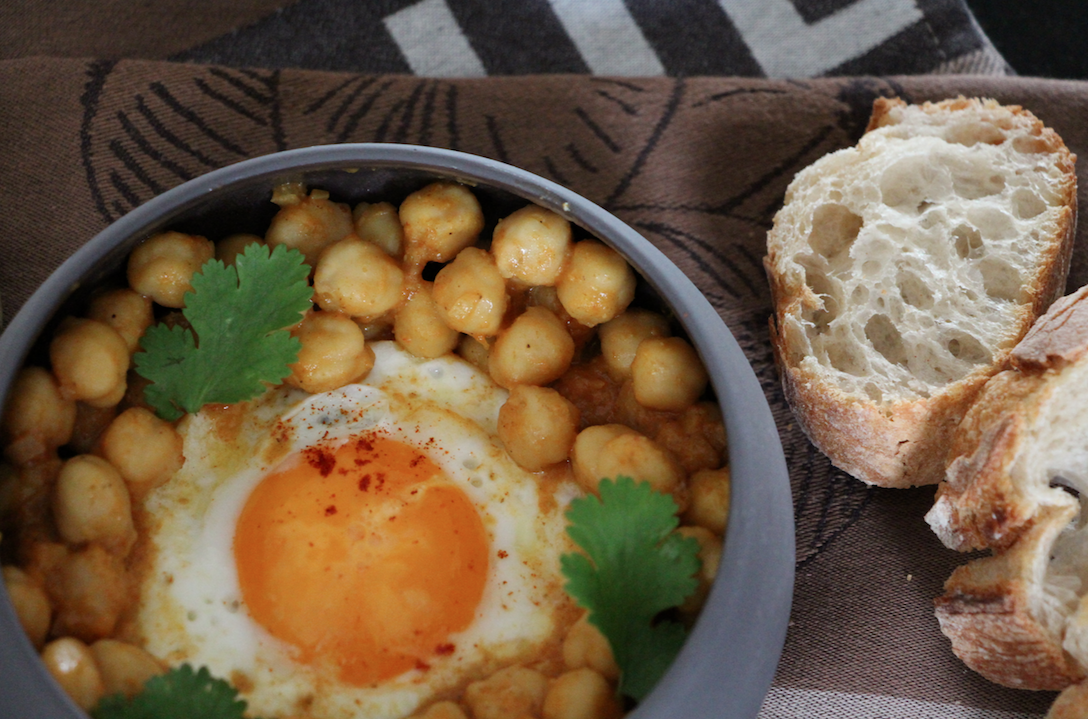 This dish can be a starter, a side dish with meat or fish, or even a full meal by itself. In this case, I like to serve it will one fried egg spread with paprika. The combination of chickpea curry and the egg is quite amazing. Please try it!
You know everything now! The recipe, Chef!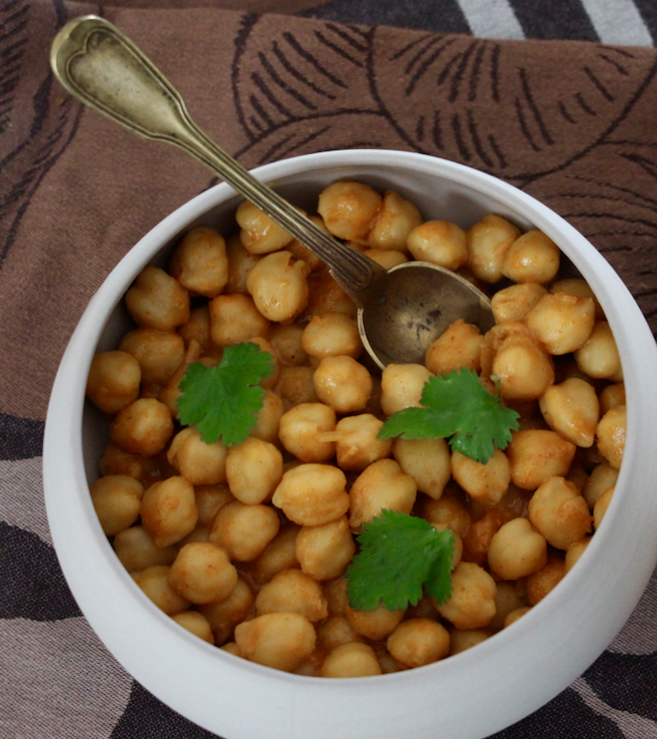 Print Recipe
Ingredients
200 g dry chickpeas (soak them 12 hours in cold water before use)

or 400 g cooked chickpeas

2 tomatoes

20 cl tomato puree

15 cl coconut milk

2 shallots

2 tablespoons of vegetal oil

1 chicken stock cube (if you're cooking dry chickpeas)

Salt

Pepper

1 teaspoon of ground cumin

1 teaspoon of ground coriander

1 teaspoon of ground curry

2 to 3 cm fresh ginger root

2 cloves of garlic

Fresh coriandre (if you like)
Instructions
1
If you're having dry chickpeas, drain and rinse them. Cook them for 1 hour in a large volume of boiling salted water with the chicken stock cube. Drain them afterwards.
2
Drain and rinse the chickpeas if you're having cooked ones.
3
Place the tomatoes into boiling water for 2 minutes and remove the skin.
4
Peel and finely chop the shallots. Heat the oil in a saucepan over a medium heat and add the shallots. Add the ground cumin and cook for 1 minute.
5
Pour 10 cl of water and add the ground coriander and curry powder.
6
Grate the ginger root and add it in the fryingpan.
7
Add the choped tomatoes and tomato puree.
8
Keep stirring and cook for further 5-7 minutes.
9
Add the coconut milk, cook another few minutes.
10
Season with spices according to your tastes, then salt and pepper.
11
Add the drained chickpeas and fresh coriander.
12
Cook for further 15 minutes at low heat with cover. Mix gently from time to time.
Notes
You can have this chickpea curry cold as a starter for instance.