Hello (food) lovers!
The great thing about chocolate is that you can mix it with many flavors, with quite a lot of fruits like raspberry. And talking about mix and match 😉 , let me suggest another idea for Valentine's day (or any other occasion actually!!) …
Here is my chocolate and raspberry duo!
So I already gave a few ideas on the blog to have a great time with you better half or with your several halves (It's difficult for me to organize a romantic dinner at home without my kids asking for their share of the cake!! it's always a family celebration !!): my Valentines' day macarons, the strawberry cake, the raspberry and meringue entremet, the chocolate, praline and raspberry mini tarts …
Today, let's make it simple and very yummy. The biscuit in this dessert is a chocolate fondant in which you will add fresh raspberries (please avoid the frozen ones if you can since they will give back water during cooking). Then you are going to pipe a raspberry chantilly cream to bring a soft touch to this chocolate and raspberry duo … I told you: nothing really complicated here.
(Presentation : plates L'Économe by Starck and Fuse spoons by Degrenne)
And besides it's very quick to make…
The extra "je ne sais quoi" here is obviously the heart shape of this cake. I used 2 pastry rings made in France by De Buyer in collaboration with Valrhona.
The other utensils:
A whisk (an electric one if you have since the eggs and sugar will have to be beaten for a few minutes to get a light and foamy texture),
A small sauce pan,
A baking mat or sheet,
A piping bag
And a diameter 10 round nozzle.
And now that you have all the informations,  let's bake!! And vive l'Amour…
The recipe, Chef!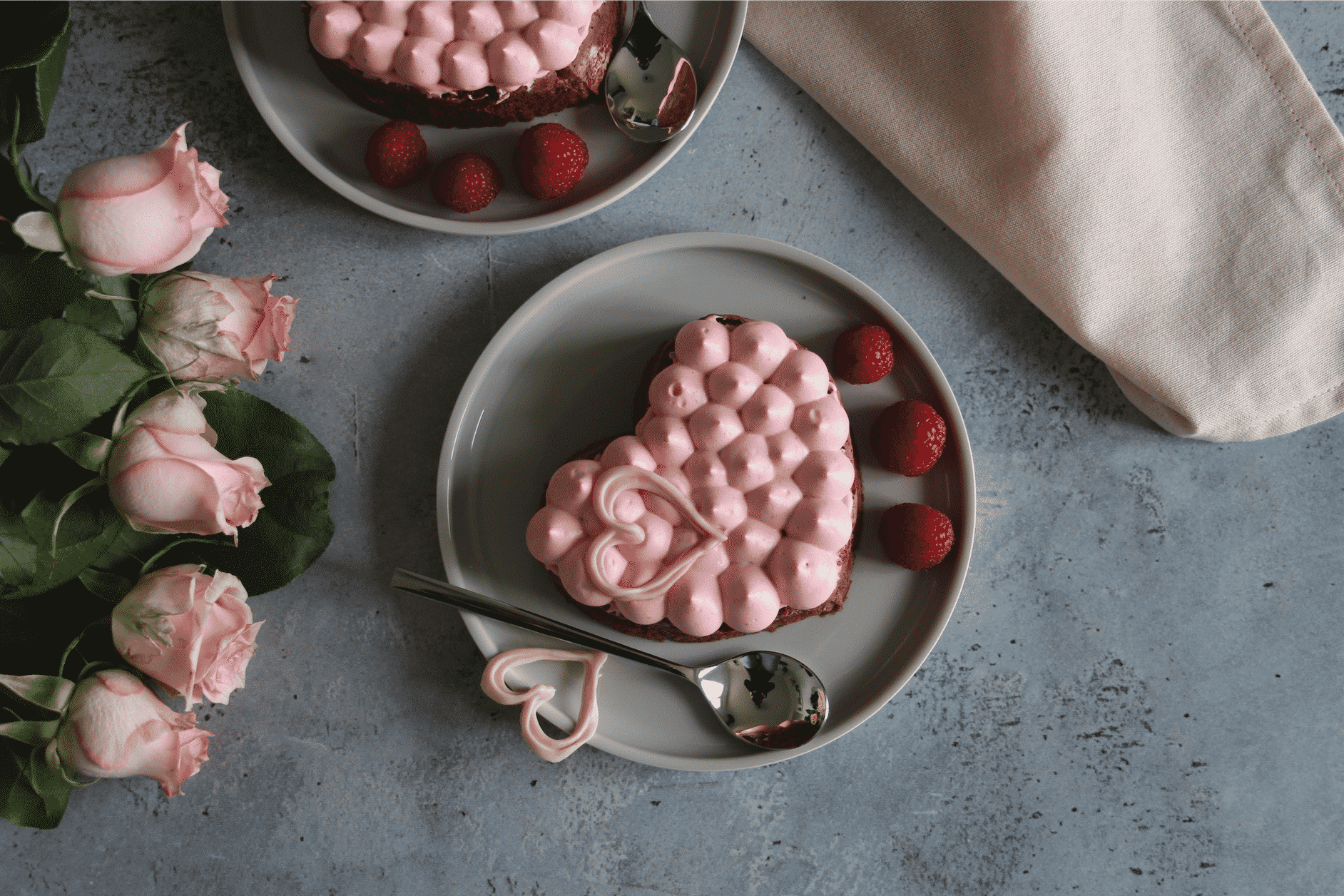 Print Recipe
Chocolate and Raspberry Duo
Ingredients
50 g dark chocolate
2 eggs
50 g butter
70 g sugar
30 g flour
1 teaspoon cocoa powder (approx 4 g)
12 raspberries
130 g liquid cream
2 teaspoons raspberry jam
Instructions
1
Preheat your oven at 200 degrees.
2
Melt the chocolate and the butter.
3
In the meantime, mix the eggs and sugar in a large bowl. Whip vigorously a few minutes until you get a foamy mixture.
4
Add the chocolate/butter to the mixture and mix.
5
Add the flour and cocoa powder and whip until you get an homogeneous mixture.
6
Butter your molds and pour the batter in both of them.
7
Add 3 raspberries cut in halves on each heart.
9
Let cool down for 10 minutes then unmold the hearts. Set aside.
10
Whip the cream and jam until you get a firm chantilly.
11
Pipe the chantilly on the hearts. Serve or set aside in your fridge.