Again sorry for not making a proper introduction to this great Christmas layer cake recipe.
I'm swamped lately but I still share the details …
The recipe, Chef !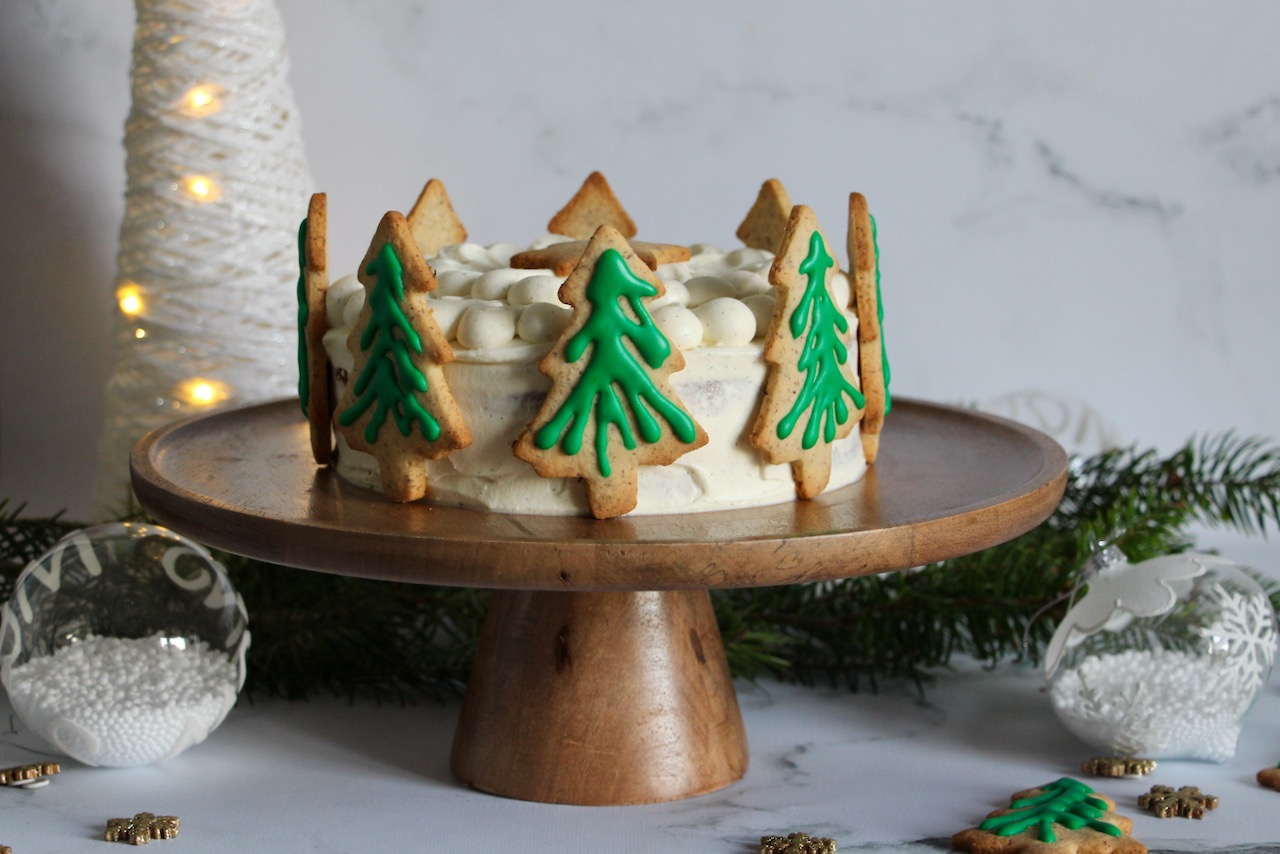 Print Recipe
Vanilla, Hazelnut and Pear Christmas Cake
Ingredients
150 g white chocolate (for the ganache)

75 g + 225 g cream (for the ganache)

1 teaspoon of honey (5 g) (for the ganache)

1 vanilla pod (for the ganache)

2 eggs (for the cake)

75 g sugar (for the cake)

125 g mascarpone (for the cake)

65 g flour (for the cake)

35 g hazelnut powder (for the cake)

8 g baking powder (for the cake)

1 pear

8 Christmas tree cookies
Instructions
1
The day before, prepare the ganache.
2
Cut the vanilla pod in two pieces in its length. Scrape the seeds.
3
Pour 50 g of cream in a saucepan. Add the honey, vanilla seeds and vanilla pod.
4
Heat until it boils. Stop heating immediately.
5
Leave to rest 10 to 15 minutes.
6
Remove the pod from the cream (try to extract as many seeds as possible).
7
Melt slowly the white chocolate.
8
When the chocolate is melted, heat again for a few seconds the cream.
9
Add it to the chocolate 1/3 after the other.
10
Add the 150 g of cream, mix.
11
Place a clingfilm directly on the mixture so that there's no air remaining.
12
Set aside in your fridge for the night.
13
The next day, make the cake.
14
Preheat your oven at 170 degrees.
15
Beat the eggs and add 75 g sugar.
16
When the mixture gets foamy, add the mascarpone.
17
Add the flour, the hazelnut powder and baking powder.
18
Pour the batter in your buttered mold.
20
Unmold after 5 minutes and let cool down on a grid.
22
Place the bowl and whisk in your freezer for a few minutes.
23
When the bowl is cold, pour the cream inside and whisk for a few minutes. You should get a firm and compact ganache.
24
Set aside in your fridge.
25
Peel the pear and cut it in slices.
26
Cut the cake in two horizontally. Place the lower part on your serving plate.
27
Garnish with a layer of ganache then place the pear slices. Put some more ganache.
28
Place the upper part of the cake on top. Cover the whole cake with ganache, you can make a nice piping on top.
29
Place the Christmas tree cookies and set aside in your fridge until serving.