Hello my Foodies!
Easter is coming soon… You just have a few days to finalize your celebration menus.
Today, let me introduce a surprizing recipe: the slowly cooked roast lamb lag with beer and rosemary. It's another way to cook the famous 7 hours lamb leg.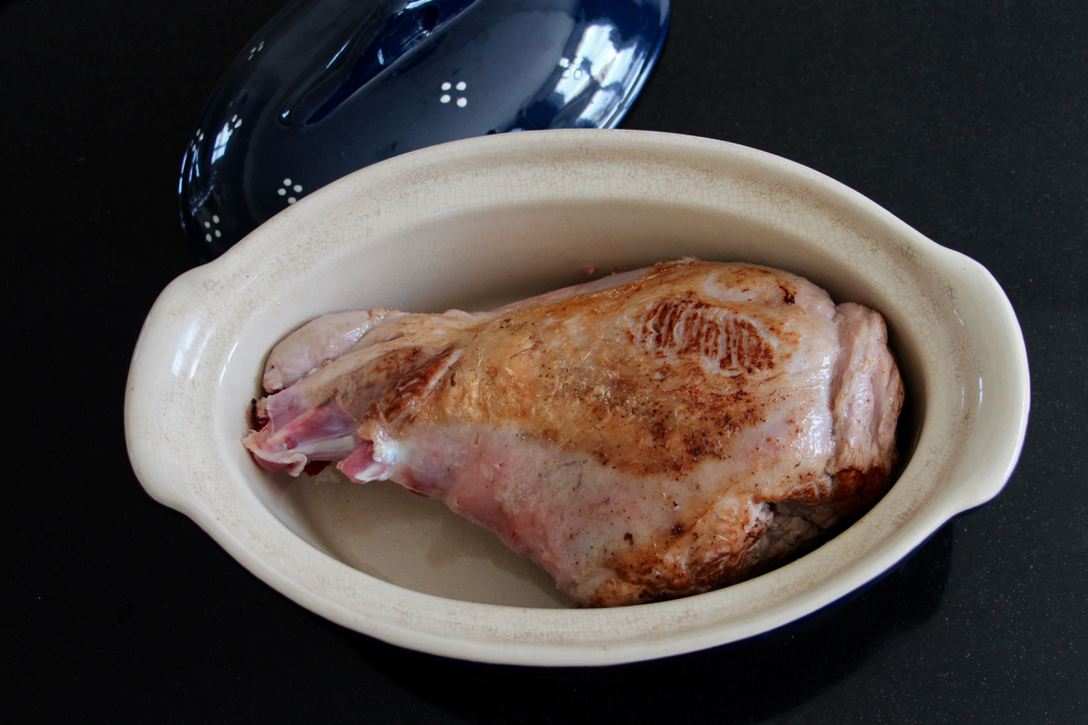 As always, you will have to keep in mind 3 rules when cooking meat:
1 – Buy your quality meat at your butcher shop
2 – Cook the meat with care
3 – Season the meat and sauce.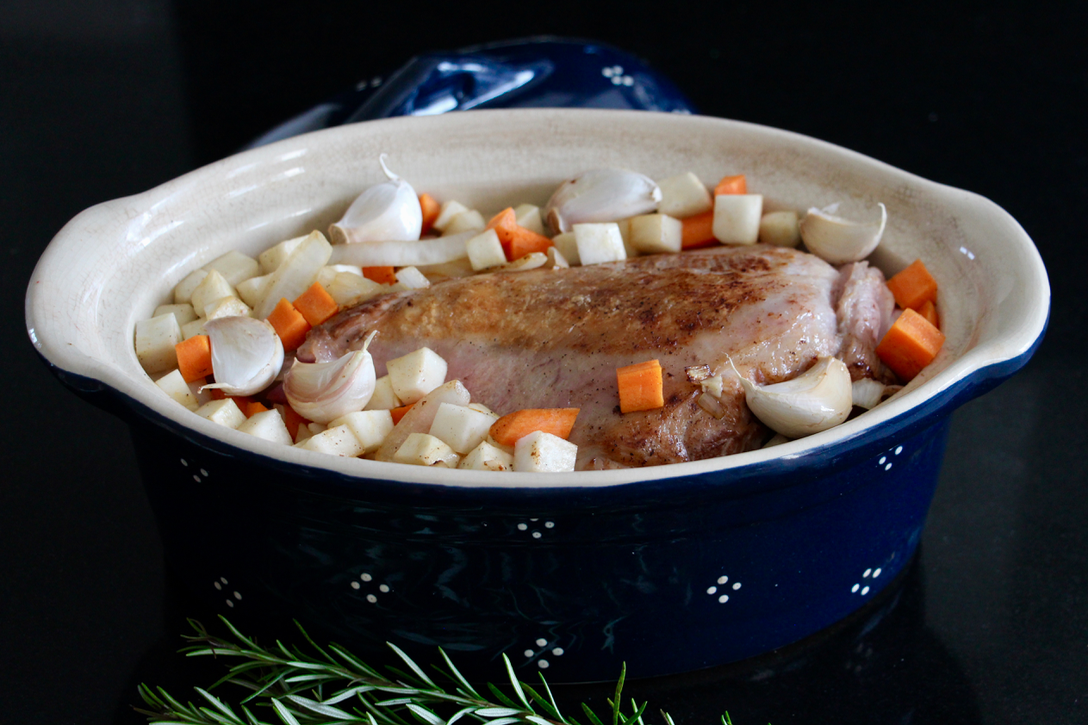 And this last point will often be the one to make the difference between a good meal and a delicious meal. I like spices, flavors that will add this "je ne sais quoi" to your dish…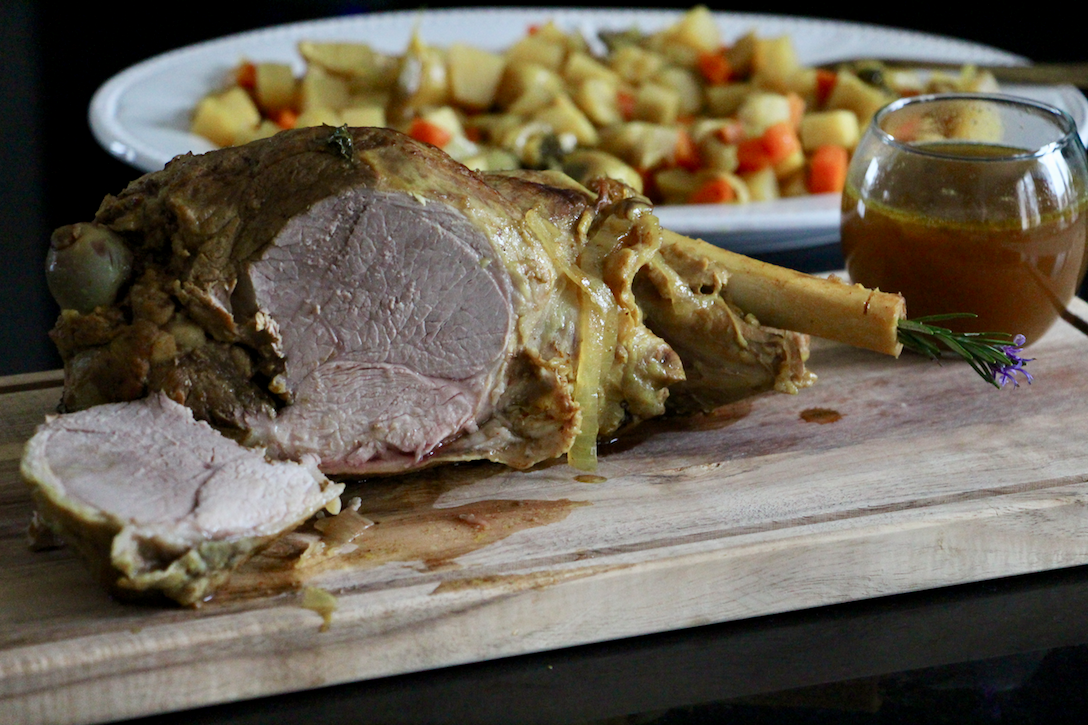 This roast lamb leg with beer and rosemary will follow the rule…
So you get that there will be beer and rosemary in the recipe… But also honey, fresh coriander,  ground ginger (I'm a huge fan of ginger!! and I may try to add some in almost all of my dishes 😉 ), paprika, etc.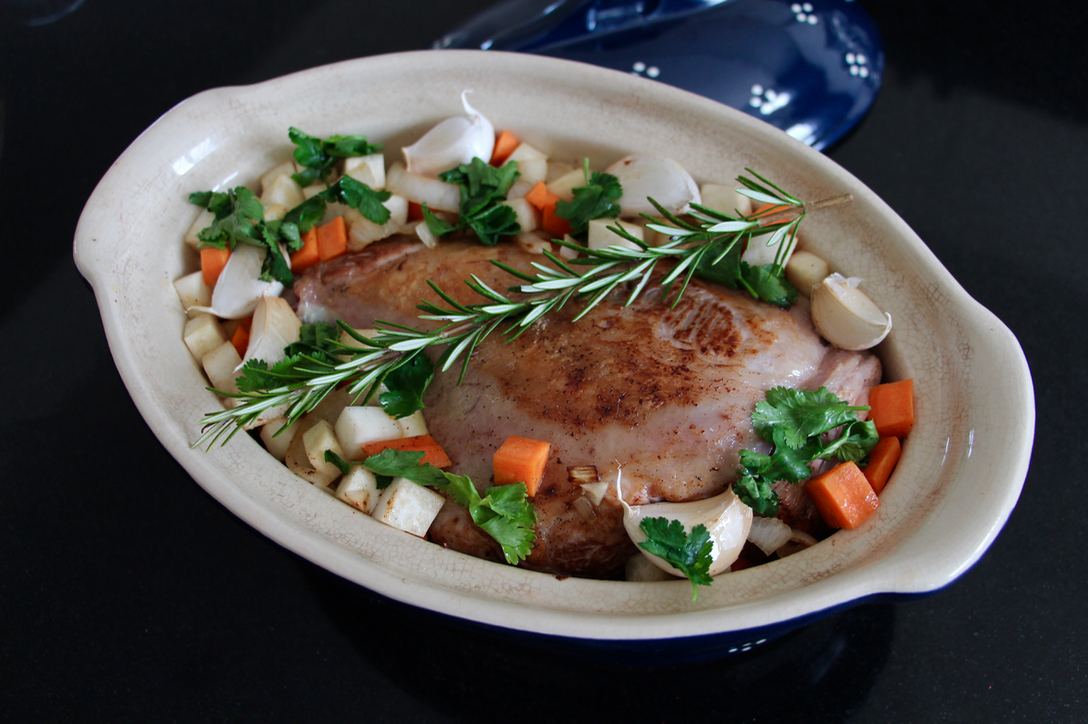 Many flavors that will have to be combined with subtlety to maintain your lamb leg as the master piece of your meal.
So now, this lamb leg… Well it will be smooth, delicate, a perfect treat for a celebration meal! I strongly recommend to cook it in a terracotta terrine. But you can also use a cast iron cocotte from Le Creuset or Staub.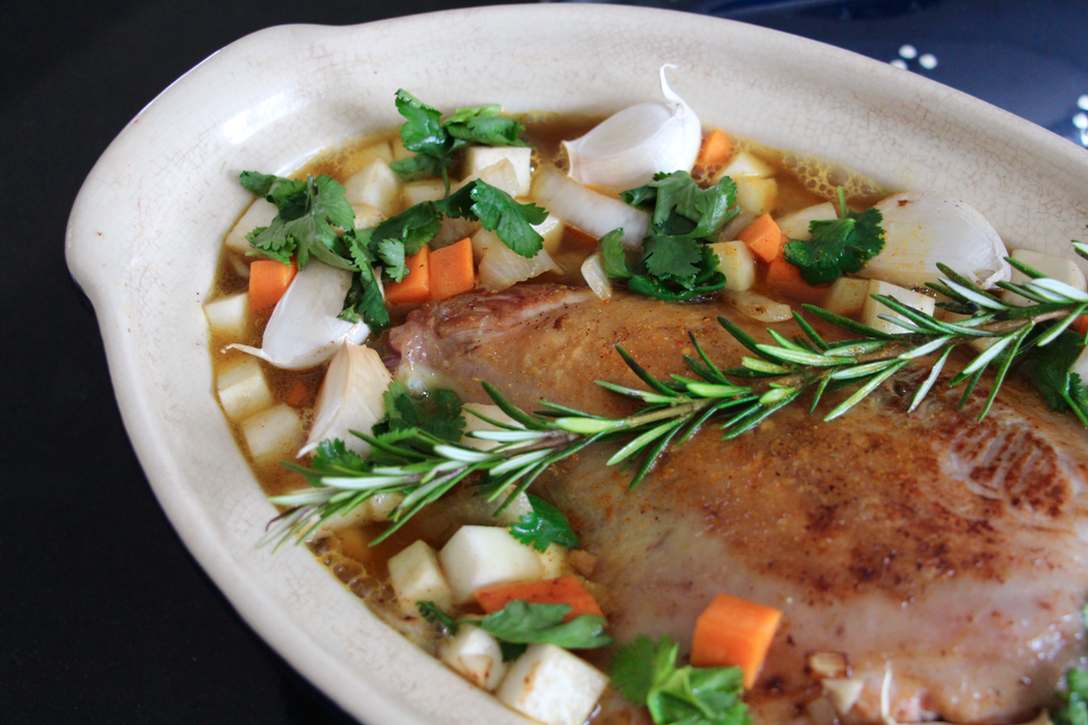 Last comment before the step by step of this recipe, you can start the cooking the day before your lunch or dinner. So you won't have to wake up too early if you're having your family over for lunch !!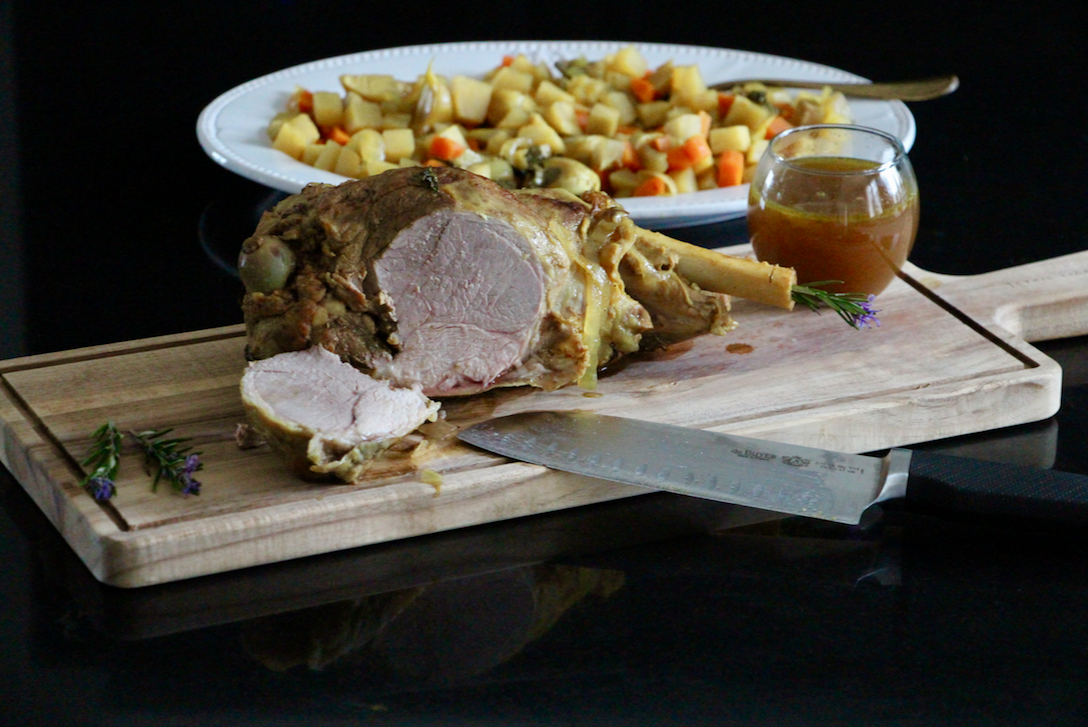 Shal we now? The recipe, Chef! (and Happy Easter!!)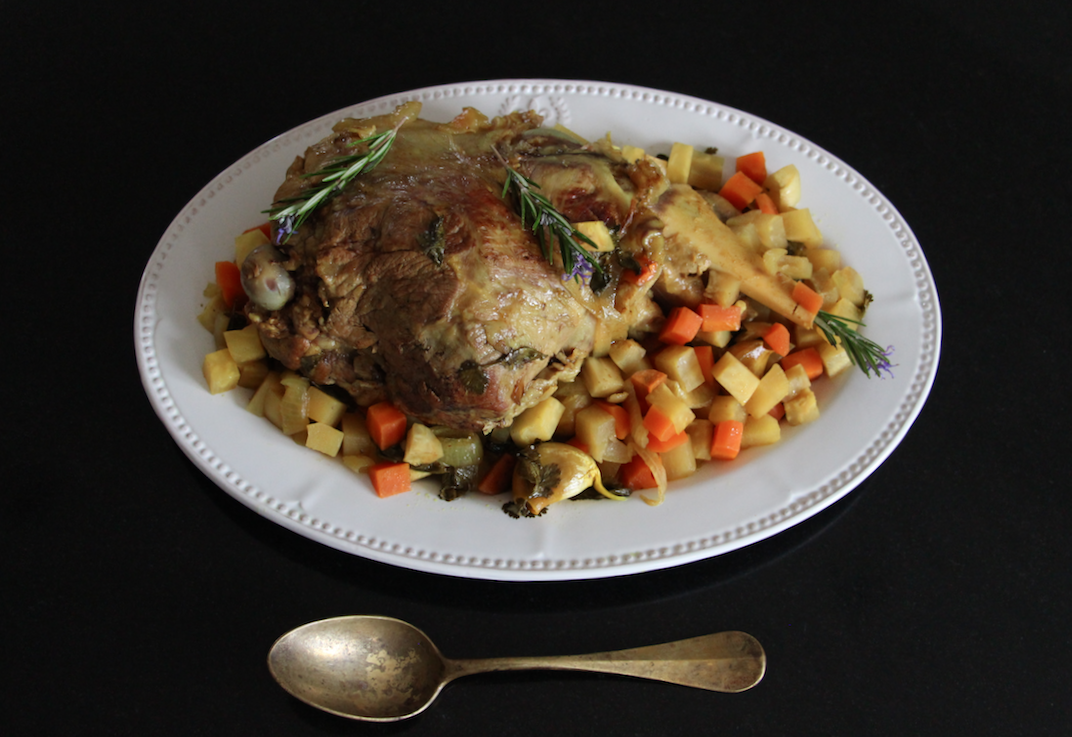 Print Recipe
Lamb slowly cooked with Beer and Rosemary
Ingredients
1 lamb leg (2 kg approx)
25 cl beer
1 l poultry broth (or vegetable broth)
1 onion
4-5 garlic cloves
1 carrot
1 turnip
1/4 celery root
30 g butter
2 generous tablespoons of honey
Salt
Pepper
Rosemary
A few fresh coriander stalks
1/2 teaspoon ground ginger
1/2 teaspoon paprika
1/2 teaspoon red mild pepper
1/2 teaspoon curcuma
Instructions
1
Sprinkle the leg with salt.
2
Stir fry the lamb in a frying pan or a cocotte with the butter.
3
Set aside in the terrine you will use for the oven cooking.
4
Peel and cut in cubes the vegetables. Peel and mince the onion.
5
Stir fry the minced onion in the frying pan or cocotte.
6
Add the garlic cloves, then the vegetables. Cook at high heat for 3-4 minutes. Keep mixing with a wooden spatula.
7
Place the vegetables around your lamb leg in the terrine.
8
Pour the beer in the frying pan or cocotte and cook at high heat.
9
Add half of the broth, the honey and spices.
10
Pour this sauce in the terrine. Add the rosemary and coriander leaves. Add pepper. Add some more broth so that your lamb is covered.
11
Place the terrine in the oven (with cover) and cook at least 6 hours at 110 degres. (7 hours is even better).
12
At half-time, turn the lamb leg upside down.
13
Before serving, check seasoning, add salt, pepper, spices if necessary.
14
You can take some of the sauce and thicken it with a tablespoon of flour.
Notes
You can serve with homemade potato puree, beans, green beans etc. I recommend to keep the lamb in the terrine for service, the meat will be so soft that it might fall apart!