Hello, hello !!
Today, I will share a classic of the French appetizers : the savory choux with cheese!
It is a savory puff pastry with grated cheese that you can eat warm or cold with a nice glass of Chardonnay for instance. This recipe is THE recipe !! You are going to love it !!
If you follow the recipe step by step very precisely, you'll have nothing else but award winning savory choux !!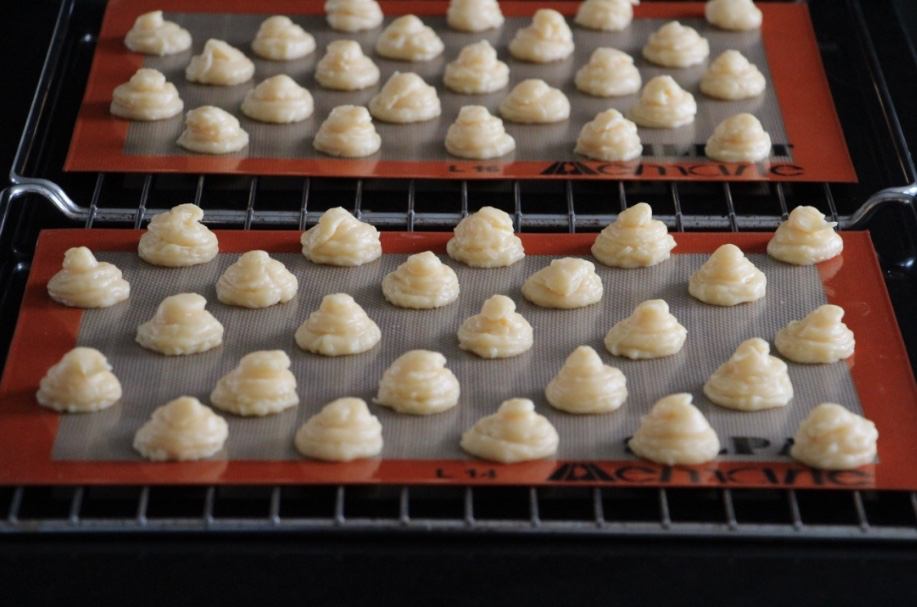 And that will only be the beginning of your happiness since you'll be able to bake wonderful variations : with chorizo, olives or even dried tomatoes … Isn't it the dream or what ?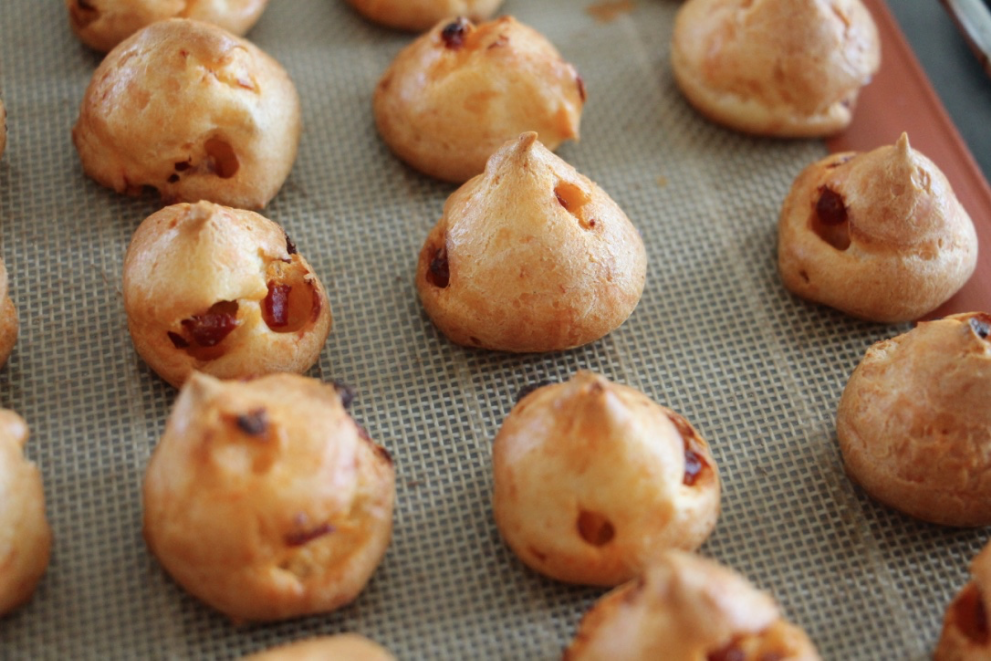 Before starting with the recipe, it is important to add a few comments: piping is a key matter to get a smooth and generous shape. For the grated cheese version, I recommend the steel plain nozzle diameter 10 and for the chorizo, etc version I recommend the steel plain nozzle diameter 12 and the polyurethane pastry bag from De Buyer. This specific pastry bag will resist to the temperature of your mixture when piping, it is also very easy to handle. Having a great recipe without great material would be a shame … It is also mandatory to comply precisely with the quantities of each ingredient.
Ok, let's bake ! The recipe Chef!! 😉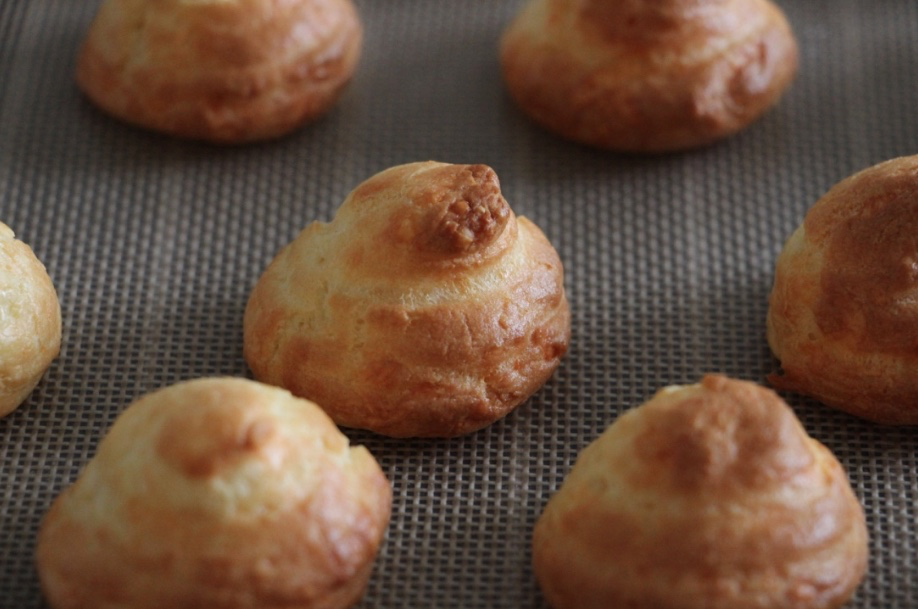 Print Recipe
Ingredients
140 g eggs (3 eggs medium size)

80 g milk

80 g water

80 g butter

90 g flour

90 g grated cheese

4 g salt

2 g sugar
Instructions
1
Melt the butter into a sauce pan with the milk and water then boil.
2
Lower the temperature (I put at 4 on a scale from 1 to 10) and add the flour, sugar and salt. Mix vigorously with a spatula until you get a homogeneous mixture.
3
Keep on mixing while your sauce pan is still heating slowly (we say that we dry the pastry) for 2 minutes and make sure that the pastry won't stick to the bottom of your pan.
4
Take the pan away from the heat and add one egg and whisk until you get an homogeneous mixture.
5
Add the second egg and whisk. Then the third and whisk again. Your mixture must be smooth and homogeneous.
7
Then put the pastry into your pastry bag and pipe on a silicon baking mat or a baking paper.
8
Pre-heat your oven at 160 degrees and put your choux in it for 35 minutes (a little bit longer if you make big ones, a little shorter if you make small ones). Do not open the oven door during that time !
9
After 35 minutes, make sure that your choux have a nice golden color (if not, leave them for a few more minutes while still watching).
10
When you take them out of the oven, wait 2-3 minutes and place them on a grid until they cool down completely.
Notes
I might insist but it's crucial to keep the right balance of weight between all the ingredients. Weigh your eggs first and adjust the other ingredients quantities if necessary.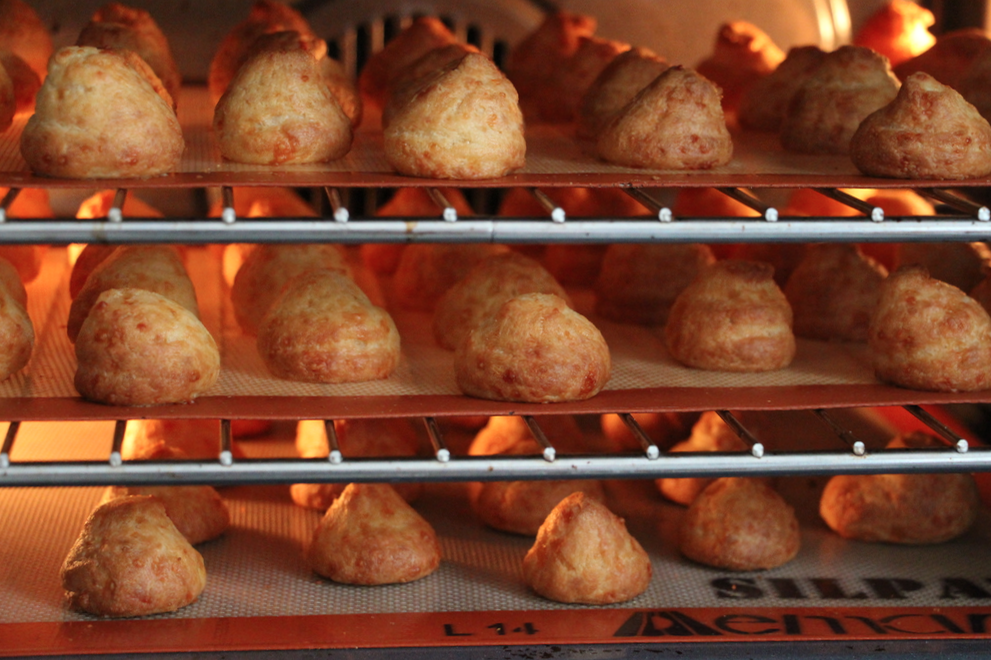 Enregistrer
Enregistrer
Enregistrer