Hello my friends!
Here is a new recipe that I created to be an appetizer or a starter. Sounds interesting?
Here are my ricotta and tomato gougères!
Let's see the recipe, Chef!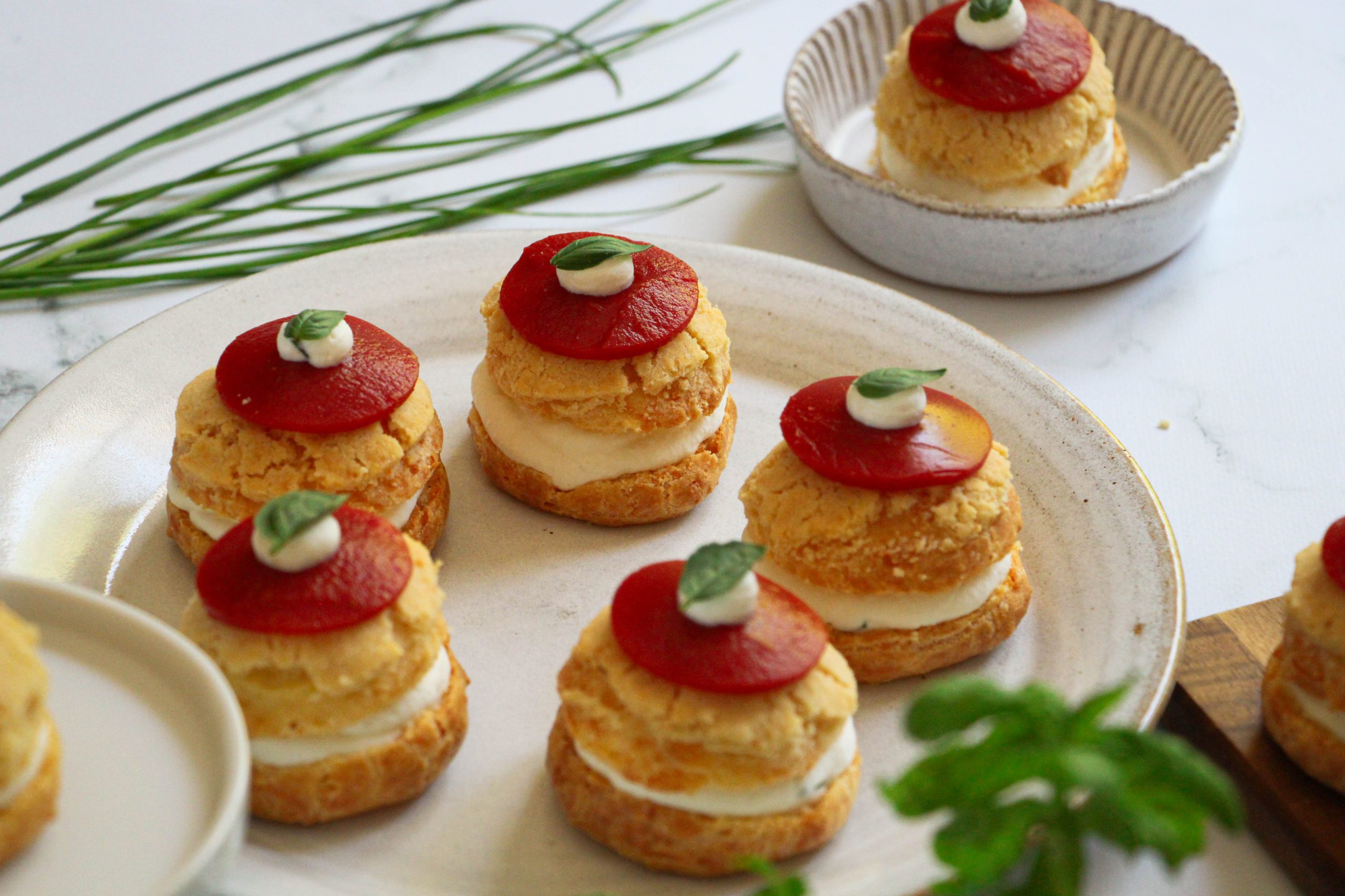 Print Recipe
Ricotta and Tomato Gougères
Ingredients
Tomato jelly

100 g tomato pulp

1 tsp honey

1/4 tsp ground cinnamon

2 g gelatine

Craquelin

30 g flour

15 g grated parmesan

15 g ground almond

25 g butter at room temperature

Gougères

112 g eggs (2 large eggs)

64 g milk

64 g water

64 g butter

1/2 tsp sugar

1 tsp salt

72 g flour

64 g grated cheese

Ricotta cream

180 g liquid cream 30% fat

250 g ricotta cheese

10 chive stalks

1/4 tsp ground coriander

1/4 tsp ground ginger

Salt to taste

Pepper to taste

20 small basil leaves
Instructions
1
Heat the tomato pulp, honey and cinnamon in a small saucepan.
2
Cook without lid at low heat for 10 minutes.
3
In the meantime, soak the gelatine in cold water.
4
Once cooked, mix the tomato compote with a blender. Add the drained gelatine. Combine.
5
Spread on a flat tray covered with well-stretched cling film.
6
Smooth the surface with a small spatula to obtain a thickness of approximately 2 mm.
7
Set aside in your fridge.
8
Combine all ingredients with a fork or with your fingers.
9
Spread between 2 sheets of parchment paper with a thickness of 2-3 mm.
10
Set aside in your fridge.
11
Preheat your oven at 160 C / 320 F degrees
12
Melt the butter into a sauce pan with the milk, watern salt and sugar.
14
Lower the temperature and add the flour. Mix vigorously with a spatula until you get a homogeneous mixture.
15
Keep on whisking while your sauce pan is still heating slowly for 2 minutes and make sure that the pastry won't stick to the bottom of your pan.
16
Remove the pan away from the stove and add one egg and whisk until you get an homogeneous mixture.
17
Add the second egg and whisk. Your mixture must be smooth and homogeneous.
18
Add the cheese and combine.
19
Pour the pastry into your pastry bag and pipe 20 choux on a silicon baking mat or a baking paper.
20
Cut craquelin discs, add them on top of each chou.
21
Cook for 45 minutes. Do not open the oven door during that time !
22
After 45 minutes, make sure that your choux have a nice golden color (if not, leave them for a few more minutes while still watching).
23
When out of the oven, wait 2-3 minutes and place them on a cooling rack until they cool down completely.
24
Whip the cream until it has a smooth and firm texture.
25
Add the ricotta and mix gently with a spatula.
26
Add the chopped chives, spices, salt and pepper. Mix.
27
Put the mixture in a piping bag.
28
Cut your gougères in half, below the edge of the craquelin.
29
Pipe a generous amount of ricotta cream.
30
Place the upper part of the gougère on top.
31
Make discs of tomato jelly and place a disc on each gougère.
32
Pipe a small knob of ricotta cream and add a basil leaf.
33
Set aside in your fridge until serving.