Hello my lovelies!!
So I keep cooking and baking and as a result the local clientele (understand here my 3 absolutely charming children) is starting to be picky… Are you kidding me or what??? Kids…
Mum, your cookies are very good but we would prefer if you made large American cookies like at beep! (I won't mention the name of the place @#!$%£).
You get it … There I go making large American cookies!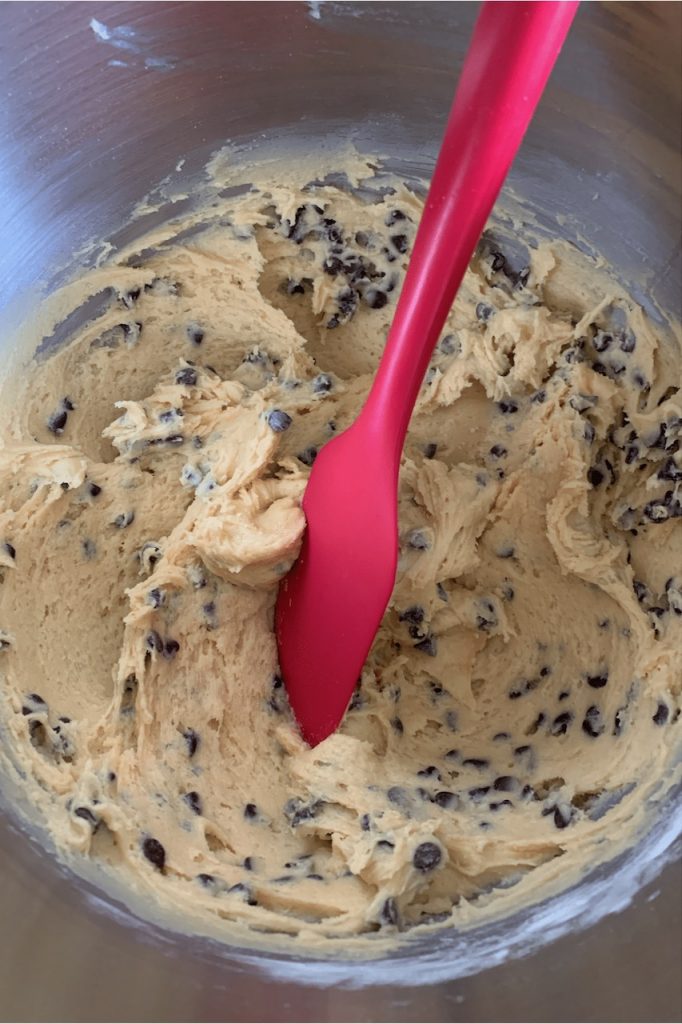 I have already 3 really nice recipes here on the blog…
– My chocolate cookies : super smooth cookies, with melting chocolate in the middle
– The pecan nut and chocolate cookies : these ones are more crunchy cookies, not to mention that it is a recipe by Pierre Marcolini!!
– And the outrageous chocolate cookies by Martha Stewart !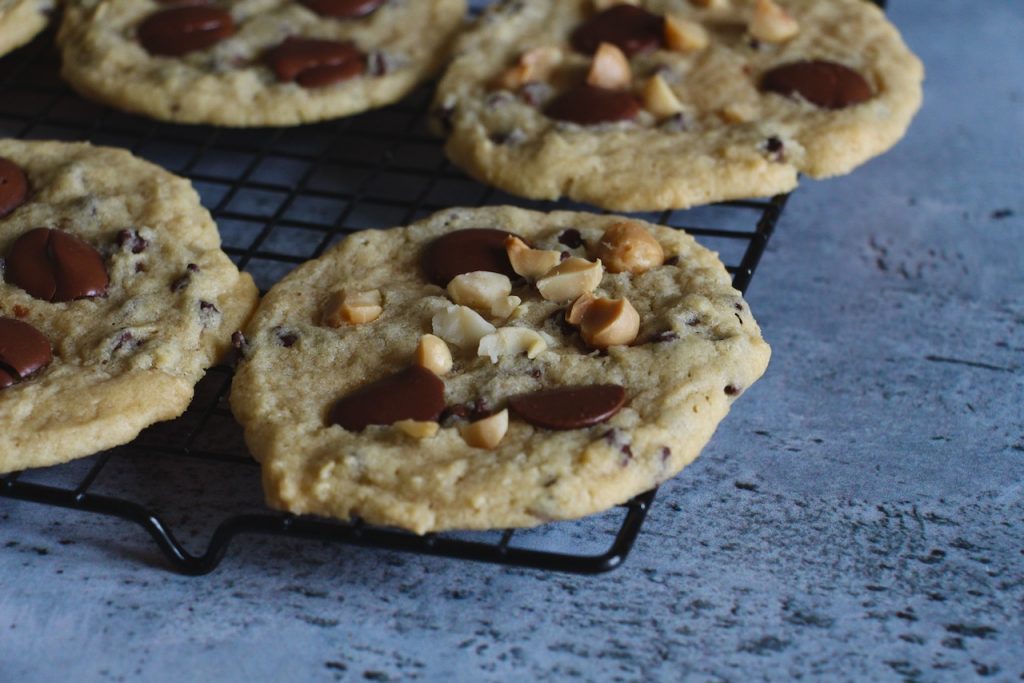 And you see, apparently that is not enough!!
There you go Mummy! Back to work!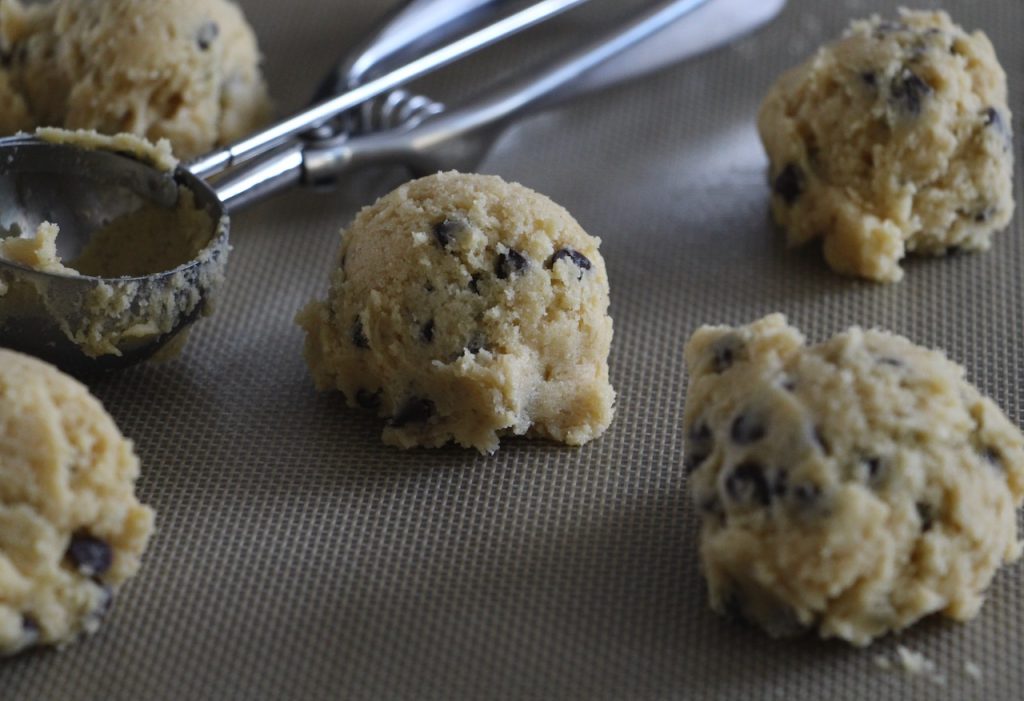 I looked for recipes, I tried a few (most of the recipes I found were too sweet), and here they are! The large Amercian cookies!!
The recipe is really easy and quick to make! No need to place the batter in the fridge to rest (I must say that it's quite convenient when you don't have much time) and the result is quite convincing!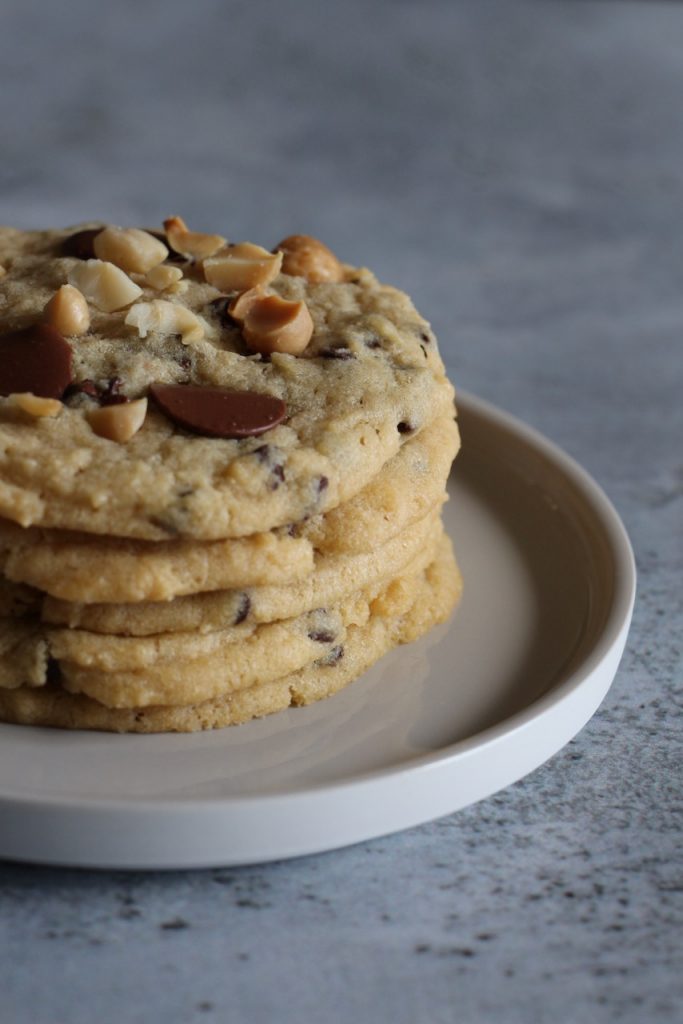 So I must admit that my children were probably right to push me a little out of the box… 😉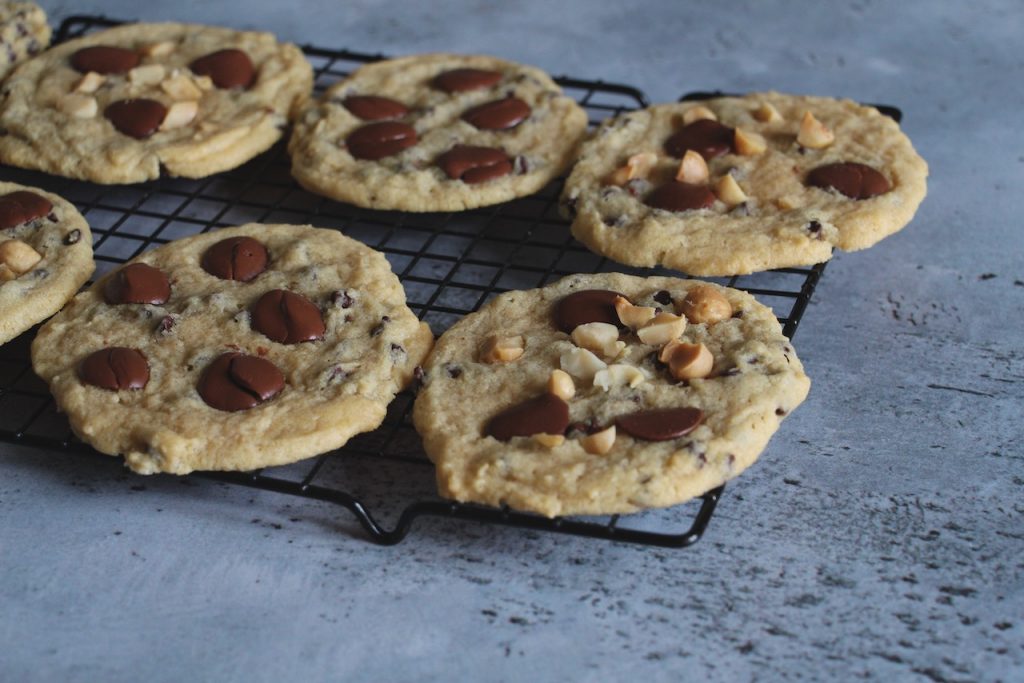 The key point of this recipe will be the baking part. First, you will need two trays with a baking mat or baking paper. You will have to leave enough space between the dough balls… And then you will stop baking them even if they won't look enough baked to you. They should be very soft in the center and rather crunchy on the sides once they have cooled down. Depending on the oven, baking time will be 18 to 20 minutes, not more!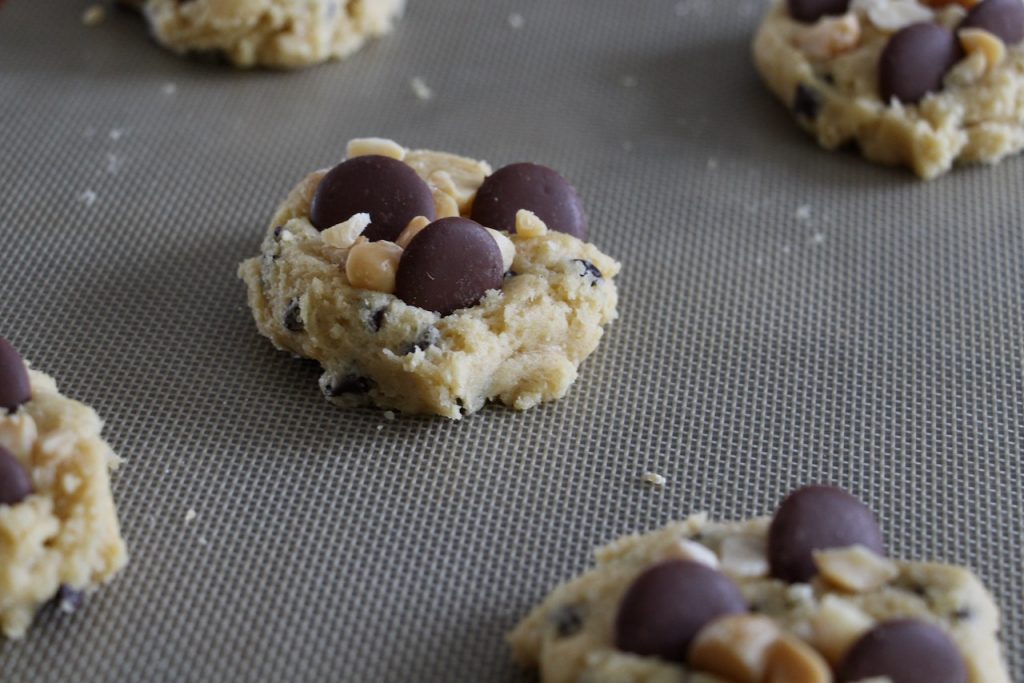 The utensils:
Your food processor (you can mix by hand with a spatula too),
2 baking mats (my De Buyer ones are great!),
And an ice cream spoon to shape the cookies.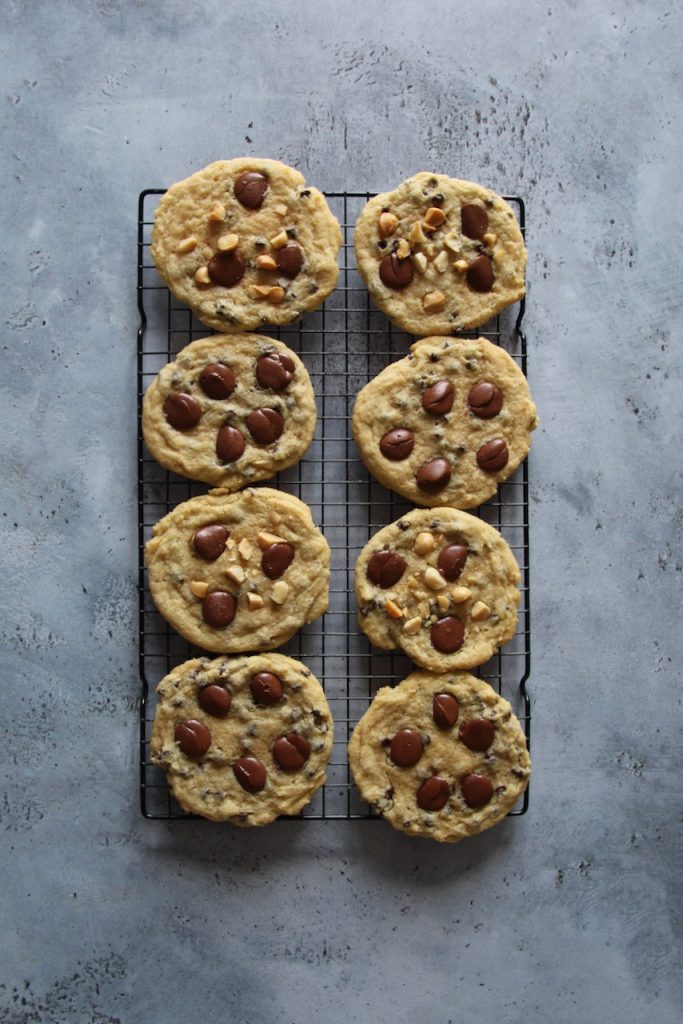 5-10 minutes of preparation and bam! You are going to make happy people!!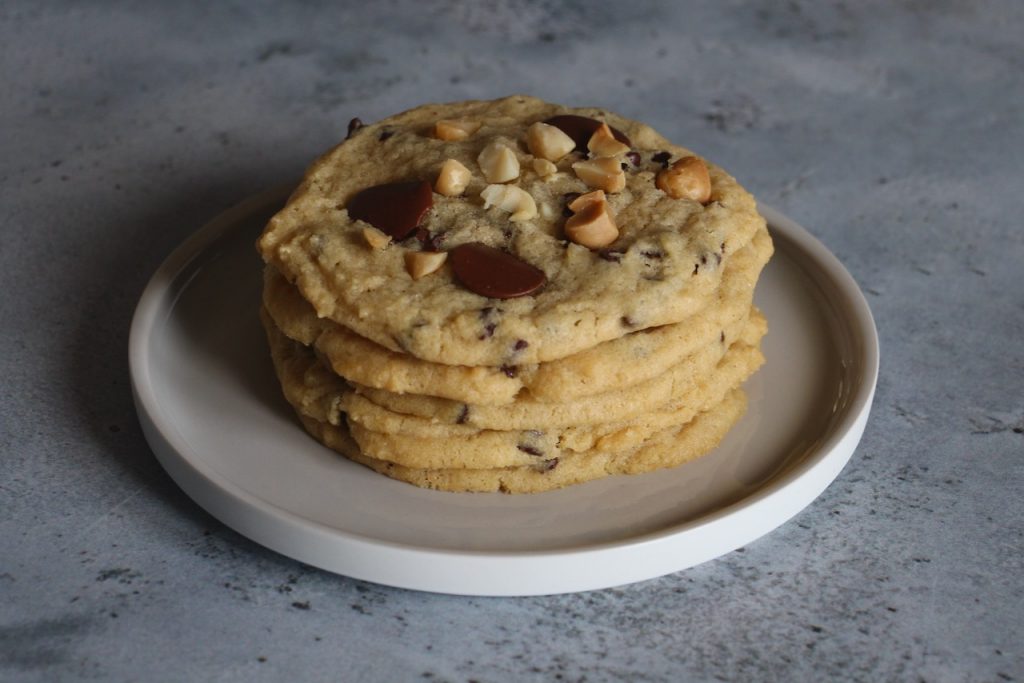 Let's see the recipe, Chef!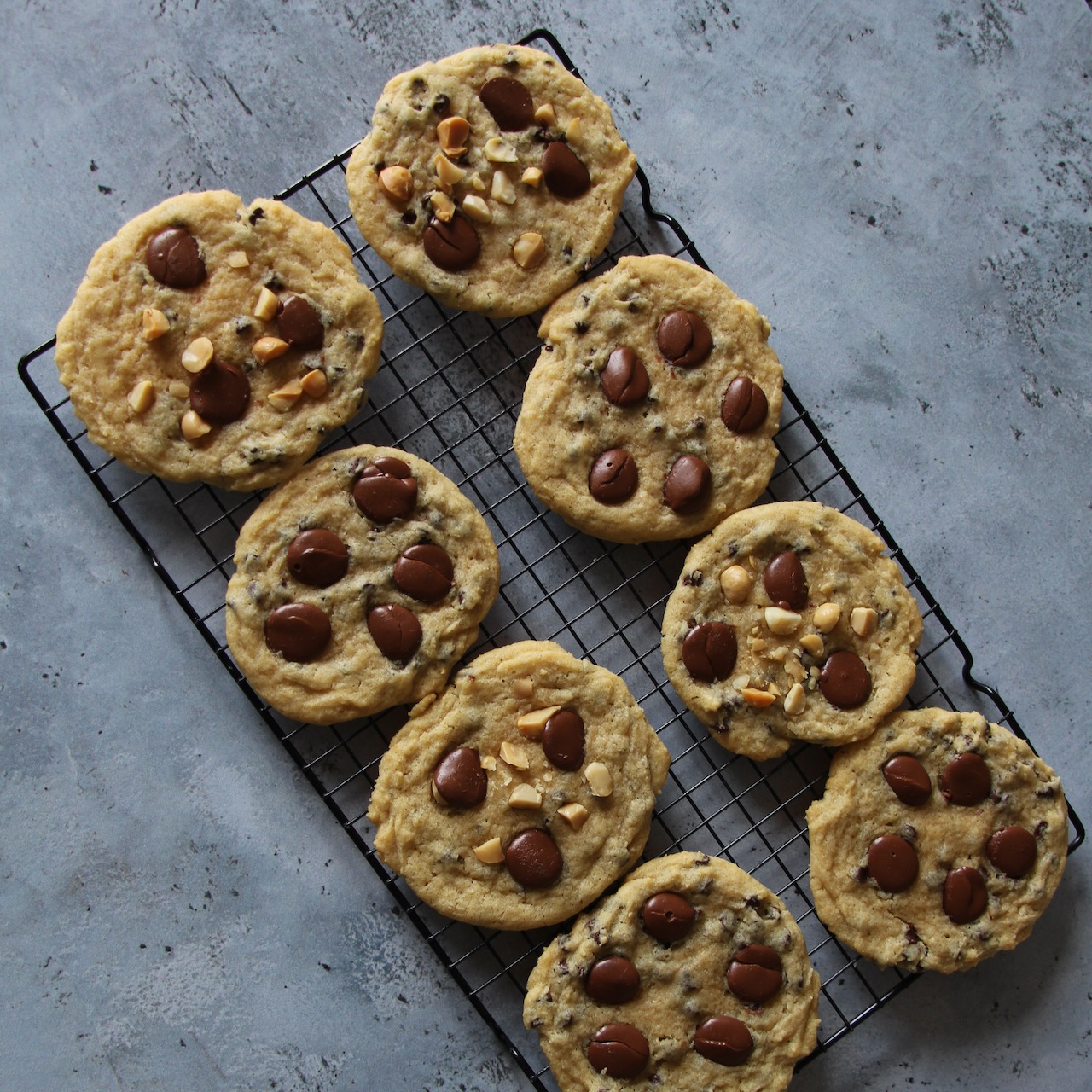 Print Recipe
Ingredients
110 g butter at room temperature
1 egg
20 g caster sugar
110 g brown sugar
220 g flour
1 teaspoon baking powder
1/4 teaspoon salt
1/2 teaspoon vanilla powder
80 g dark chocolate chips
50 g macadamia nuts (roughly chopped)
80-100 g milk chocolate chunks
Instructions
1
Preheat your oven at 150 degrees.
2
Mix the butter, both sugars and the egg until you get an homogeneous mixture.
3
Add the powders (flour, baking powder, vanilla, salt) and mix.
4
Add the dark chocolate chips.
5
With an ice cream spoon, make 10 balls and place them on 2 baking mats.
6
Flatten the balls and add macadamia nuts and the milk chocolate chunks.
8
Let cool down on a grid 30 minutes before eating.