Hello my friends!
Today, let's focus on breakfast! I will introduce a delicious, healthy and easy to make recipe.
Chloe's granola!
Breakfast is sacred for me. A meal I never skip…
For sure, I enjoy a good baguette with butter or jam, a nice slice of brioche too, but lately I'm more into my breakfast bowl !
A very quick preparation and that will prevent me from being hungry until lunch time. Probably thanks to the proteins in the yogurt and also thanks to the granola.
I used to buy organic granola at the supermarket until Chloe, my older daughter, suggested a recipe. And that was a revelation!!
So easy to make, so healthy, there is way less sugar than in industrial granolas (even the organic brand ones) and it's so delicious!
So today it's Chloe's granola that I'm sharing, a version that you will be able to adjust according to what you have in stock, or simply according to your tastes.
The secret ingredient here is the tahini (white sesame condiment). With more than 10 % of fibers, the sesame seed, and consequently the tahini, contributes to the good functioning of your digestive system. It's also a good source of trace elements. Eating tahini provides a significant amount of magnesium, potassium, calcium and phosphore to your body.
I also put a mix of culinary Argan oil and rapeseed oil. I really like to use culinary Argan oil when I'm cooking… Take another vegetal oil instead if you have no Argan or rapeseed oil.
This granola will be a delicious and healthy snack for your kids too: you can add chocolate chips, banana (or any other fruit) and it's super yummy!!
To preserve Chloe's granola, I use a glass jar with airtight lid. A metal box will be perfect too.
The utensils:
Two bowls, a large and a small one,
A cutting board and a sharp knife,
A spatula
And a baking mat (or a baking tray with baking paper).
Now, let's say thank you to Chloe…
The recipe, Chef!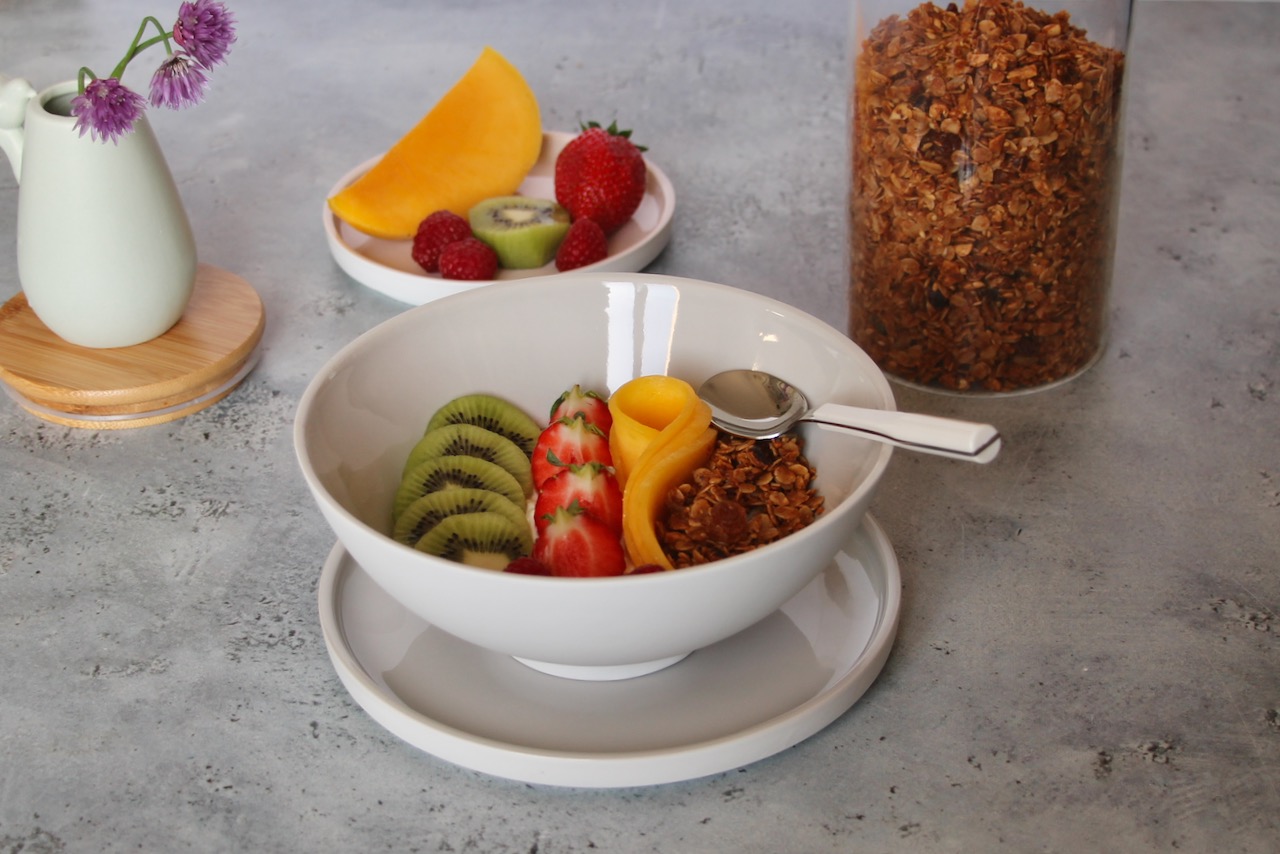 Print Recipe
Ingredients
150 g oatmeal
80 g nuts (hazelnuts, cashew nuts, pecan nuts)
20 g coconut powder
50 g seeds (pumpkin, rapeseed, linseed, sesame, chia)
65 g tahini
45 g honey
40 g oil (50% Argan, 50% rapeseed)
20 g raisins (optional)
Instructions
1
Preheat the oven at 150 degrees.
2
Mix the tahini, honey and oil in a bowl.
3
Crush roughly the nuts, place them in a large bowl.
4
Add the oatmeal, the seeds and coconut powder.
5
Add the liquid mixture and mix well with a spatula.
7
Cook 30 minutes. 5 minutes before the end of cooking, mix roughly with a fork.
8
Let cool down and add raisins.
Notes
You can also add Goji berries once your granola is cooked.