Hello my dear friends!
Today it's thanks to Pinterest that I'm sharing this recipe on the blog! As always with my own little adjustments… you are used to it now! 😉
Here is my quinoa and parmesan gratin.
So this gratin is my typical evening dish, easy to make, yummy for everyone. Veggies, quinoa, a little bit of fat (I know, I love fat!!) with the cream and pork belly. But you'll will mainly find taste in this dish, made with simple ingredients.
Don't you agree that it's nice to have such plate as this quinoa and parmesan gratin on the table when it's rainy or cold outside? It's the perfect dish to share.
Cherry on the cake: you can re-heat easily in your microwave oven! It will also be a good option for a good lunch-box for those who bring their lunch at work.
As far as preparation is concerned: super easy, you can not fail it!
The utensils:
A sauce pan to cook the quinoa,
A large frying pan for the zucchinis and pork belly
And a gratin dish.
You obviously have all of it in your kitchen! So let's do this!
The recipe, Chef!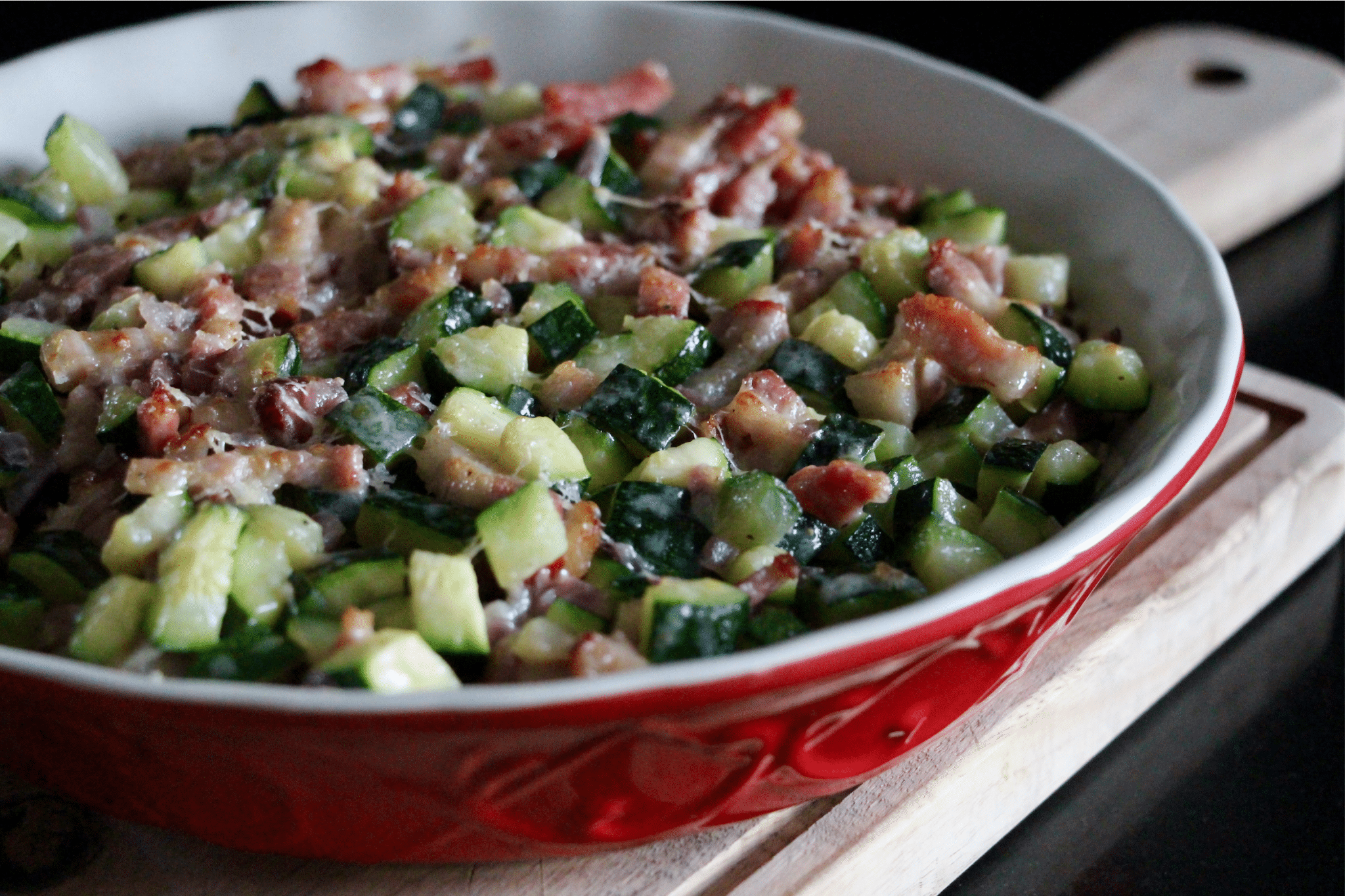 Print Recipe
Quinoa and Parmesan Gratin
Ingredients
200 g quinoa
1 tablespoon coarse salt
2 or 3 slices of pork belly (150 g)
2 zucchinis
1 small pnion
70 g grated parmesan
100 g liquid cream
1/2 teaspoon of spices (ground ginger, coriander)
1/4 teaspoon paprika
Salt
Pepper
Instructions
1
Cook the quinoa with coarse salt according to the package instructions. Drain and set aside.
2
Cut the pork belly in pieces and stir fry in your frying pan.
3
Add the zucchinis and onion cut in small cubes. Add spices and pepper. Keep on cooking at medium heat with lid.
4
In the meantime, preheat your oven at 180 degrees.
5
After 10 minutes, remove from the stove, add 50 g of parmesan and the cream in the frying pan. Add salt if necessary.
6
Pour the quinoa in your gratin dish. Add the zucchini and pork belly mixture on top.
7
Spread the remaining 20 g of parmesan and cook 15 to 20 minutes.
Notes
You can replace Parmesan cheese with Comte cheese if you prefer.