Hello, hello!
Today we will leave forks and knives in the kitchen drawer and use our hands!
Be ready for a taste travel: here is the doner kebab, Casserole&Chocolat(e) style!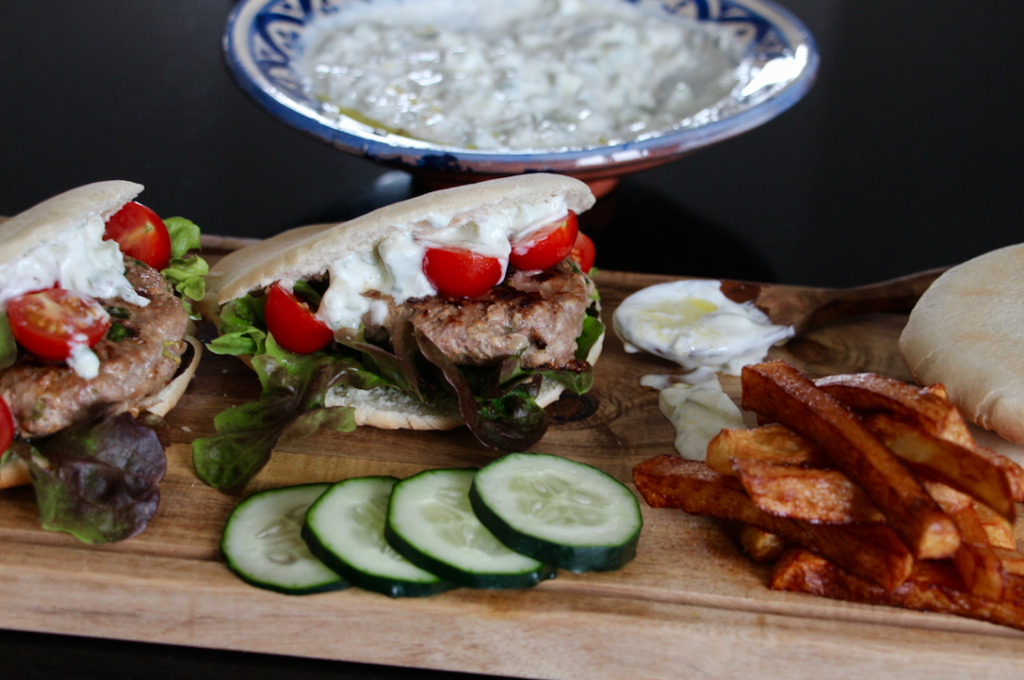 My kids often ask for doner kebab. Of course, as you may imagine, we have doner kebab restaurants in my city of Blois 😉 . But it's definitely not the kind of place where you take time to eat, it's no surprise that this kind of food is called fast food!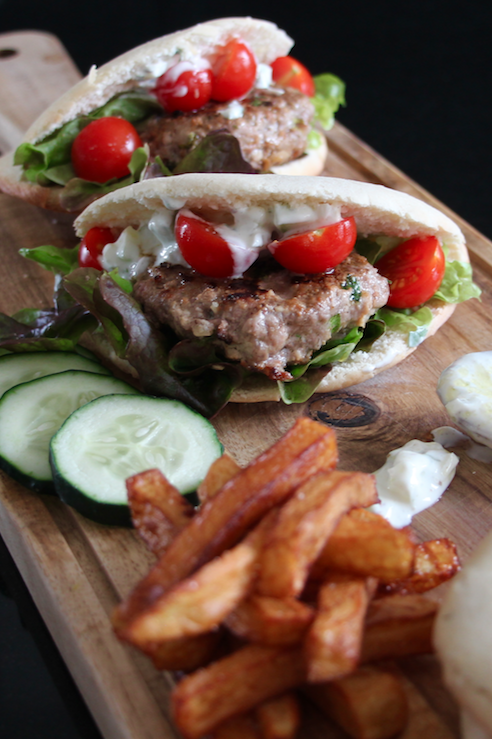 And I must say that I like to take my time when eating is concerned. I also like to make sure that my children eat good quality products even when they are having a rich meal.
So I decided to make my own doner kebab, Casserole&Chocolat(e) style!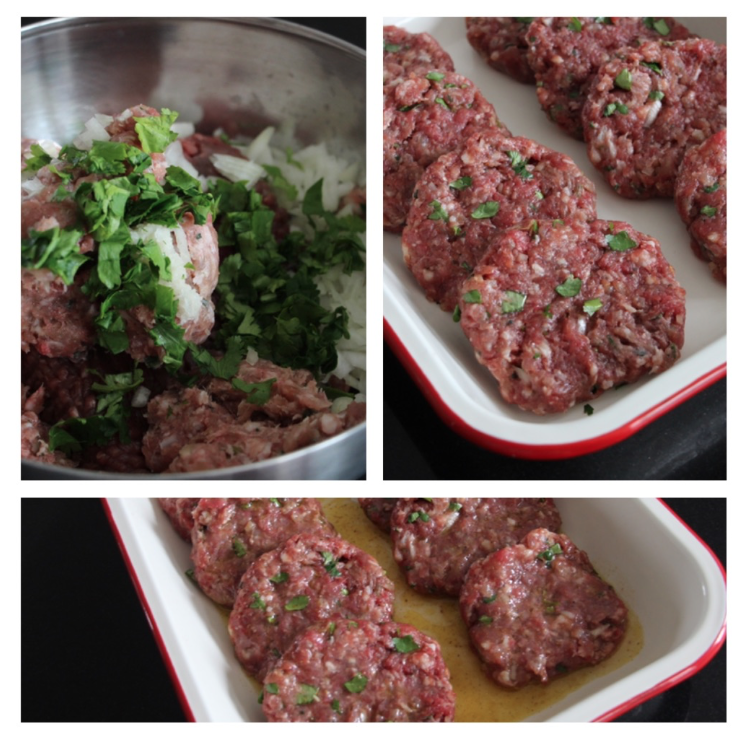 And believe me or not (well … please believe me !! ), it turned out actually quite good with not as much fat as you could expect and fresh veggies (green lettuce, tomato, cucumber). So you might argue that I'm not being 100% honest since you've already seen the French fries on my pics!!!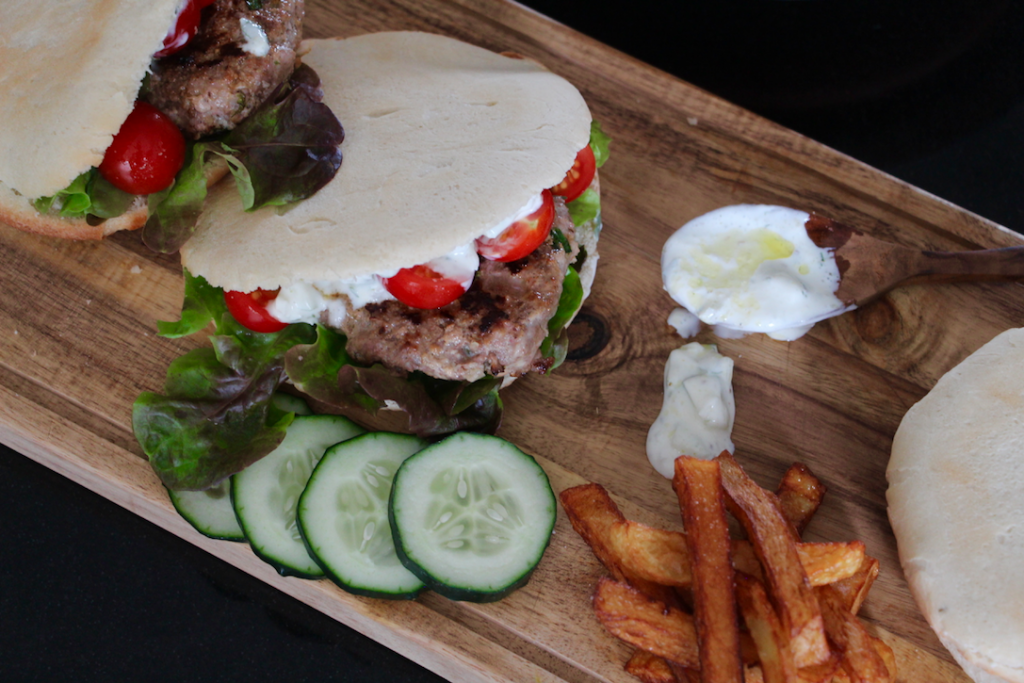 Mea culpa ! It's true, but they are homemade fries, so it doesn't count!!
Each main part of the recipe is going to be homemade! Pita breads,  cucumber raïta (that you can make in advance) and the prepared meat steaks.
Result: it can not be anything else but success!!! Or you'll get your money back!! 😉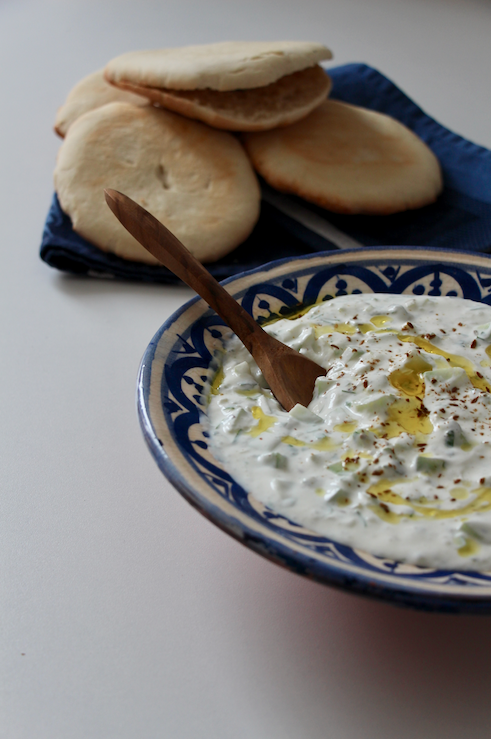 My only recommendations are to have enough time to make the pita breads (you will need around 3 to 4 hours to proceed with the recipe). You can even make them a few days in advance, then freeze them once they have cooled down and then defrost them when the time comes. And also to think about the resting time for the meat to marinate.
This being said, my beef doner kebab, Casserole&Chocolat(e) style, is super easy to make!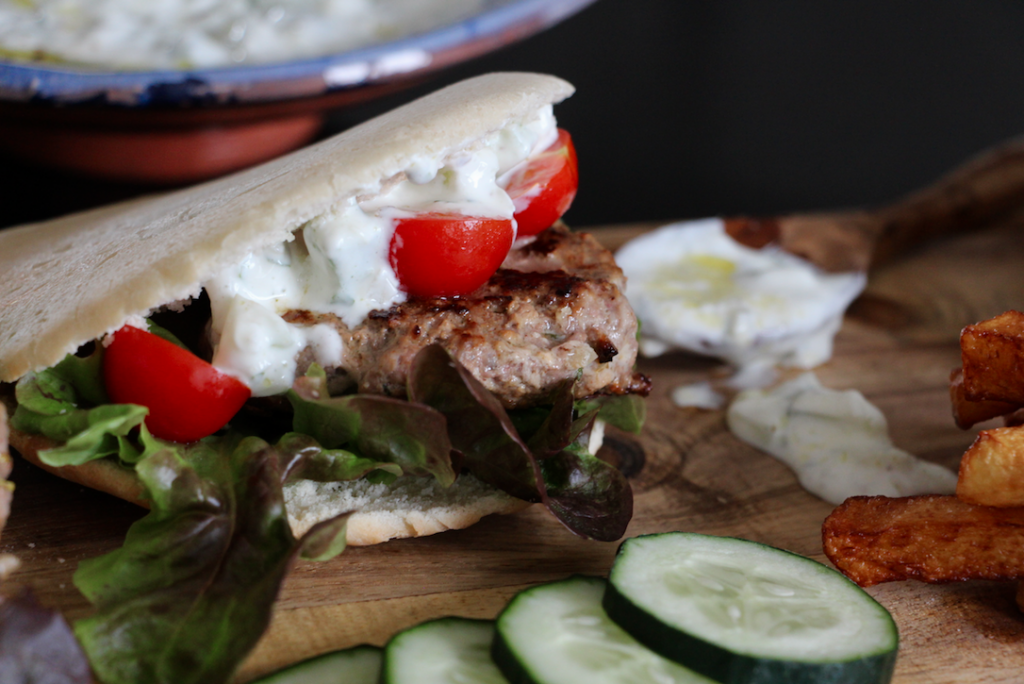 The utensils:
A food processor to make the pita breads,
A frying pan for the meat,
And a few pair of hands to eat!!
Let's do this!!
The recipe, Chef!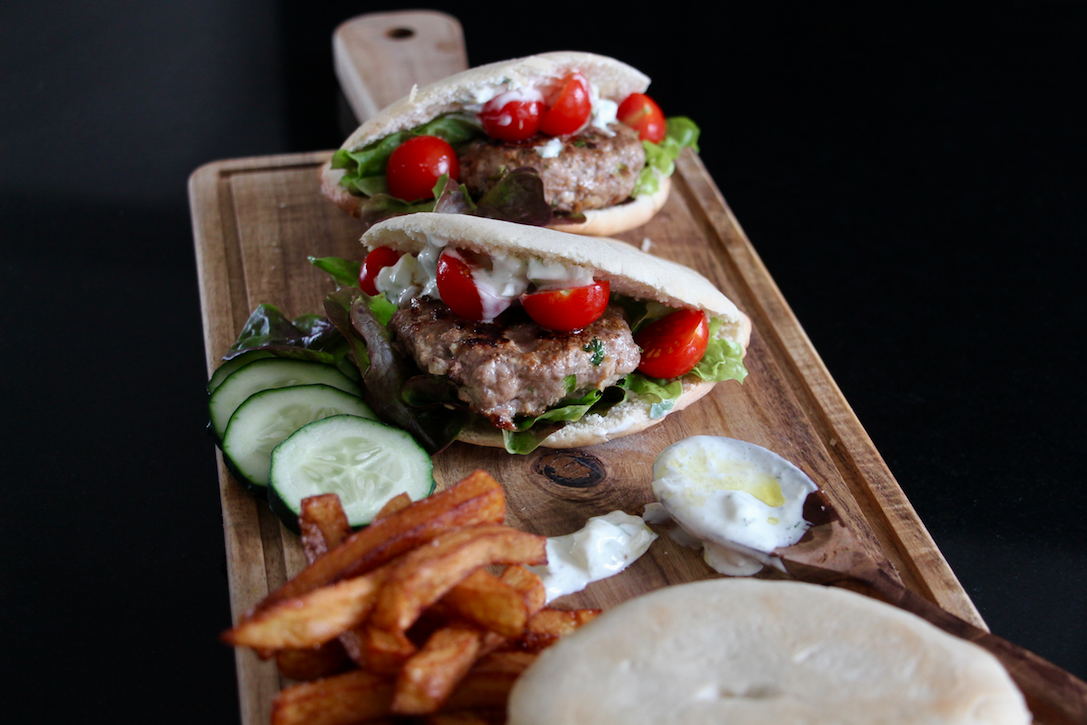 Print Recipe
Beef Doner Kebab, Casserole&Chocolat(e) style
Ingredients
8 pita breads

1 portion of cucumber raita

8 large leaves of lettuce

16 cherry tomatoes

400 g minced beef

400 g minced pork

1/2 onion

1 clove of garlic

4 tablespoons olive oil

1 lemon

20 leaves coriander (or mint)

1/2 teaspoon ground ginger

1/2 teaspoon ground coriander

1/2 teaspoon paprika

Salt

Pepper
Instructions
1
Make the pita breads according to the recipe on the blog (make sure to have at least 3 hours ahead of you).
2
Make a cucumber raita according to the recipe on the blog and set aside in your fridge.
3
Mix the 2 kind of meat, the chopped onion and grated garlic.
4
Add the chopped coriander leaves, ground ginger, ground coriander and paprika.
6
Mix the olive oil and lemon juice in a dish.
8
Set aside in your fridge for at least 2 hours, turn the steaks upside down once or twice.
9
After such time, heat your frying pan and stir fry the steaks on both sides without any additional fat.
10
Season with salt and pepper.
11
Cut your pita breads (lukewarm is better).
12
Place lettuce, one steak and cheery tomatoes cut in 2 or 4.
13
Coat with raita sauce and enjoy!
Notes
If you like it, you can add slices of red onion in your kebab.