Hello my lovelies!
What could be more French than madeleines? So iconic, right? I already shared my lemon and vanilla madeleine recipe. Today, it's a new version. You're gonna like it!!
I made clementine and chocolate madeleines, just for you…
Let's see the recipe, Chef!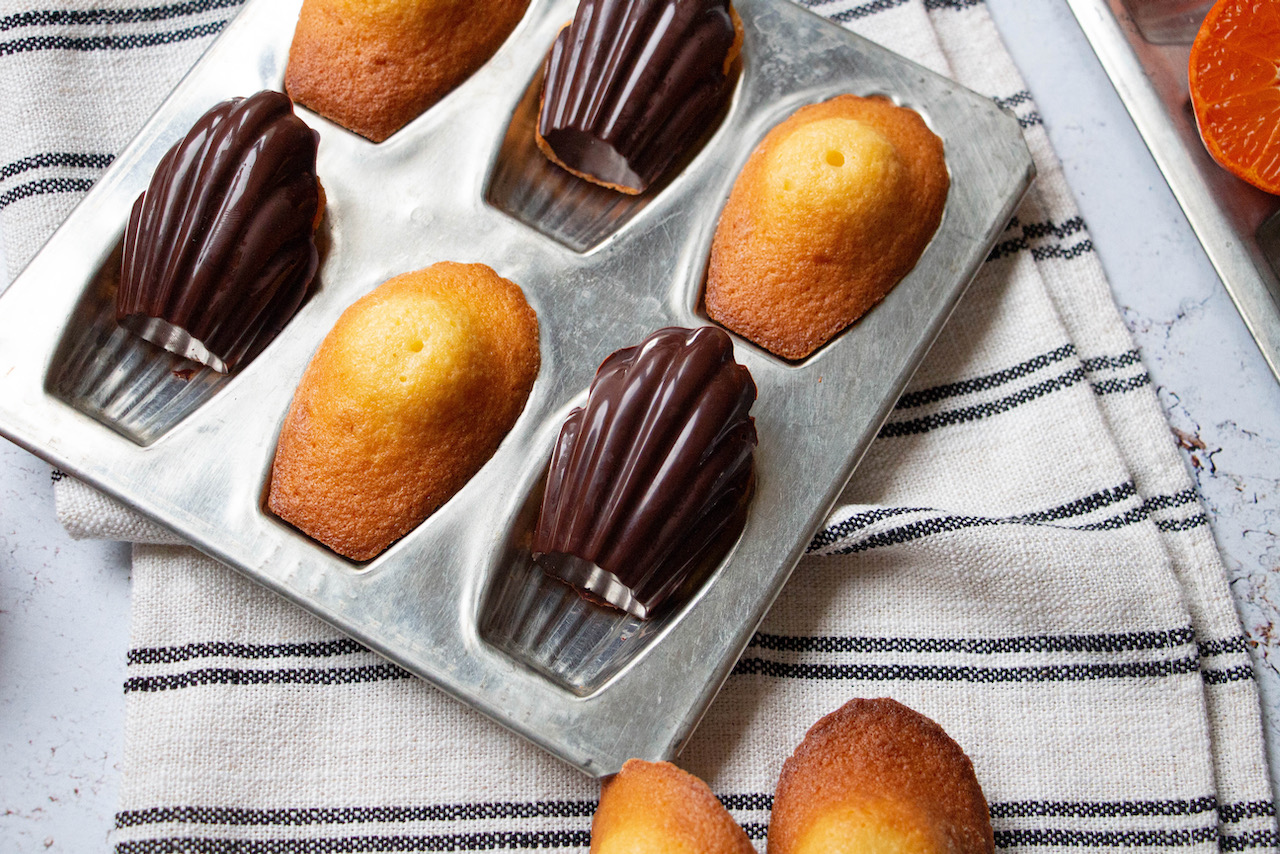 Print Recipe
Clementine and Chocolate Madeleines
Ingredients
Madeleines

4 large eggs (210 g without shell)

225 g sugar

300 g flour

12 g baking powder

150 g butter

55 g honey

2 clementines

Finish

50 g chocolate
Instructions
1
Melt the butter and honey in your sauce pan.
2
Pour the flour, sugar, baking powder, the clementine zests and the juice of half a clementine in your food processor bowl.
3
Start whisking and add the eggs one by one.
4
Whisk for 5 minutes at rather high speed (4 on a scale from 1 to 6).
5
Reduce the speed to the lowest and add the melted butter and honey.
6
Whisk at medium speed (3 on a scale from 1 to 6) for a minute.
7
Place a cling film directly on the surface and set aside in your fridge for two hours.
8
Butter and flour the madeleine molds. Set them aside in your fridge.
9
After the 2 hours, fill the molds in up to 3/4.
10
Place them back in your fridge.
11
Preheat your oven at 210 C / 410 F degrees.
12
Place your madeleines in the oven and lower the temperature immediately to 170 C / 340 F degrees. Cook 10 minutes.
13
Remove from the oven, let cool down 5 minutes before unmolding.
15
Pour into your molds (washed and dry).
16
Place the madeleines back in the molds right away and set aside in your fridge for 10 to 15 minutes.
17
Remove form the molds and enjoy!