Isn't it THE French traditional recipe by excellence?
The iconic French Sunday meal?
The traditional roasted chicken…
So I won't explain what a roasted chicken is, everybody knows it… We eat that dish all the time.
But, and yes there's a but, I will give you two or three tips that will make your homecooked roasted chicken better than ever!
First, let's talk about the chicken itself! If you have a local producer, go for it! It will be so much better and you will give your support to the local business which is always a good thing! Especially these last months… That's what I did with a delicious Sologne chicken!!
Then, go to your backyard (if you have one …) and cut fresh thyme and rosemary!! And finally, add a touch of honey… Sooooo good!!
As far as cooking is concerned, you will need approximately one hour and a half for a 4 pound chicken. Make sure to roast it on one side, then on the other, and spread juice all over it from time to time. That's the detail that will make your chicken really moist.
If your chicken is smaller, reduce the cooking time, otherwise it will be overcooked and quite dry.
Finally, I leave to rest my roasted chicken 5 to 10 minutes once out of the oven before serving. For side dish you have several options: the super crispy potatoes, that you can cook in the oven in the same time as your roasted chicken, a delicious fritta, an Alsatian potato salad or steam cooked green veggies…
The utensils:
A gratin dish,
A pastry brush
And a meat fork.
No need to say more…
The recipe, Chef!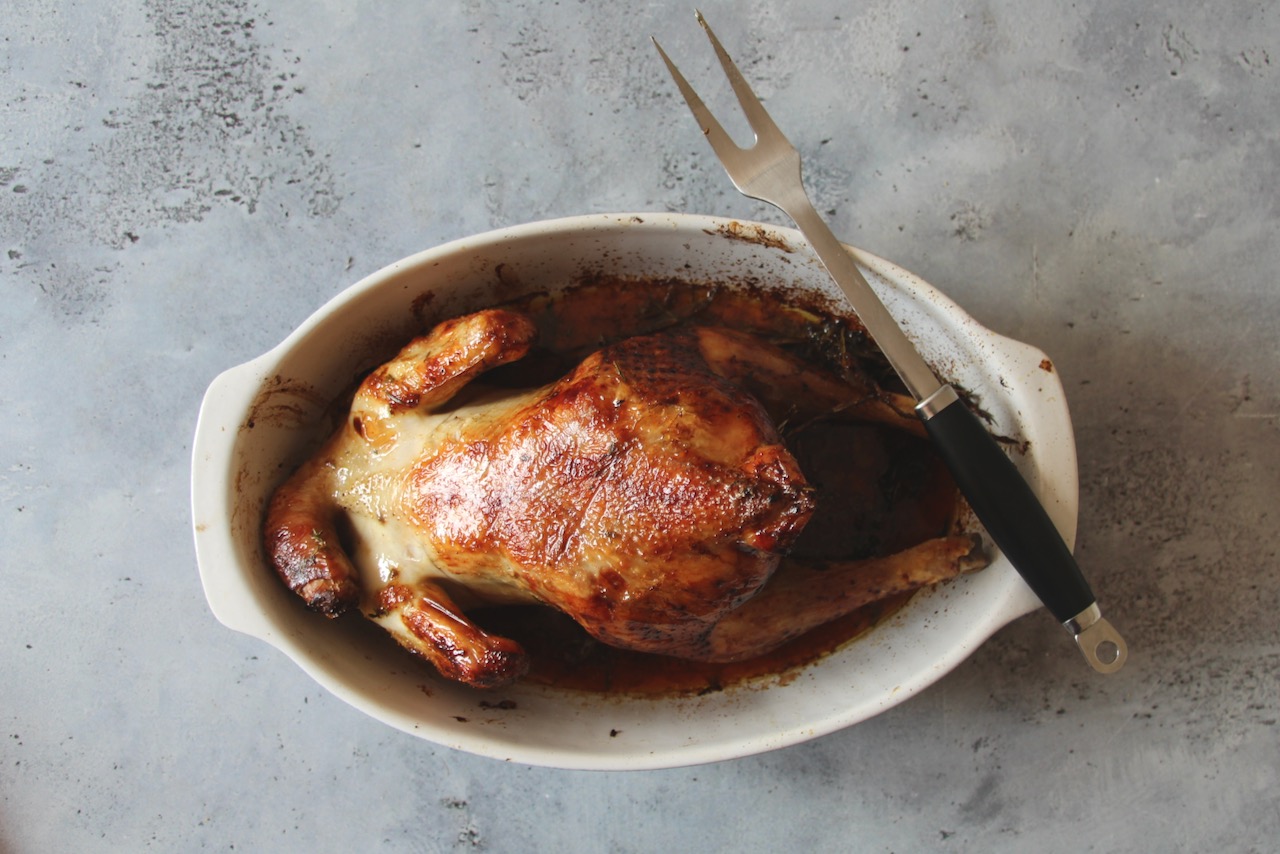 Print Recipe
Ingredients
1 chicken (4 pounds)
2 rosemary stalks
Thyme
4 tablespoons olive oil
1 tablespoon honey
Flower salt
Pepper
1 glass of water
Instructions
1
Preheat your oven at 200 degrees.
2
Mix the oil and honey in a cup, add a few thyme leaves.
3
Place the chicken in your dish and brush the oil/honey mixture all over.
4
Spread flower salt, pepper and place the thyme and rosemary around the chicken.
5
Place in the oven. After 20-30 minutes, turn upside down and pour water in the dish.
6
Spread juice regularly and turn upside down again when roasted on the second side.
7
Lower to 180 degrees and keep cooking for 40-45 minutes (spread juice again).