Mummy !!! What's for dinner tonight??? Ughhh… This question that keeps popping up again and again !! Easy I shall say! Are you in a quiche mood? Let's prepare a leek and chicken quiche!!
It's true that this recipe actually requires some time, mainly because you have to cook slowly the leeks for 2 hours. 2 hours that will give them a sweet and delicate taste, 2 hours that will make your children really enjoy leek!!
As far as the rest of the recipe is concerned, it's a piece of cake!
You need a savory shortcrust pastry, I recommend to prepare it the day before, leeks cleaned and cut, grilled chicken and you're almost there!!
Not bad right? Other options : with bacon, salmon, tuna or just like this.
The utensils:
A cast iron  stewpan, mine is the 22 cm diameter by Staub
My rectangular pastry ring by De Buyer,
A cutting board with a shape knife,
And a baking mat.
You know what, I will say no more!
The recipe, Chef!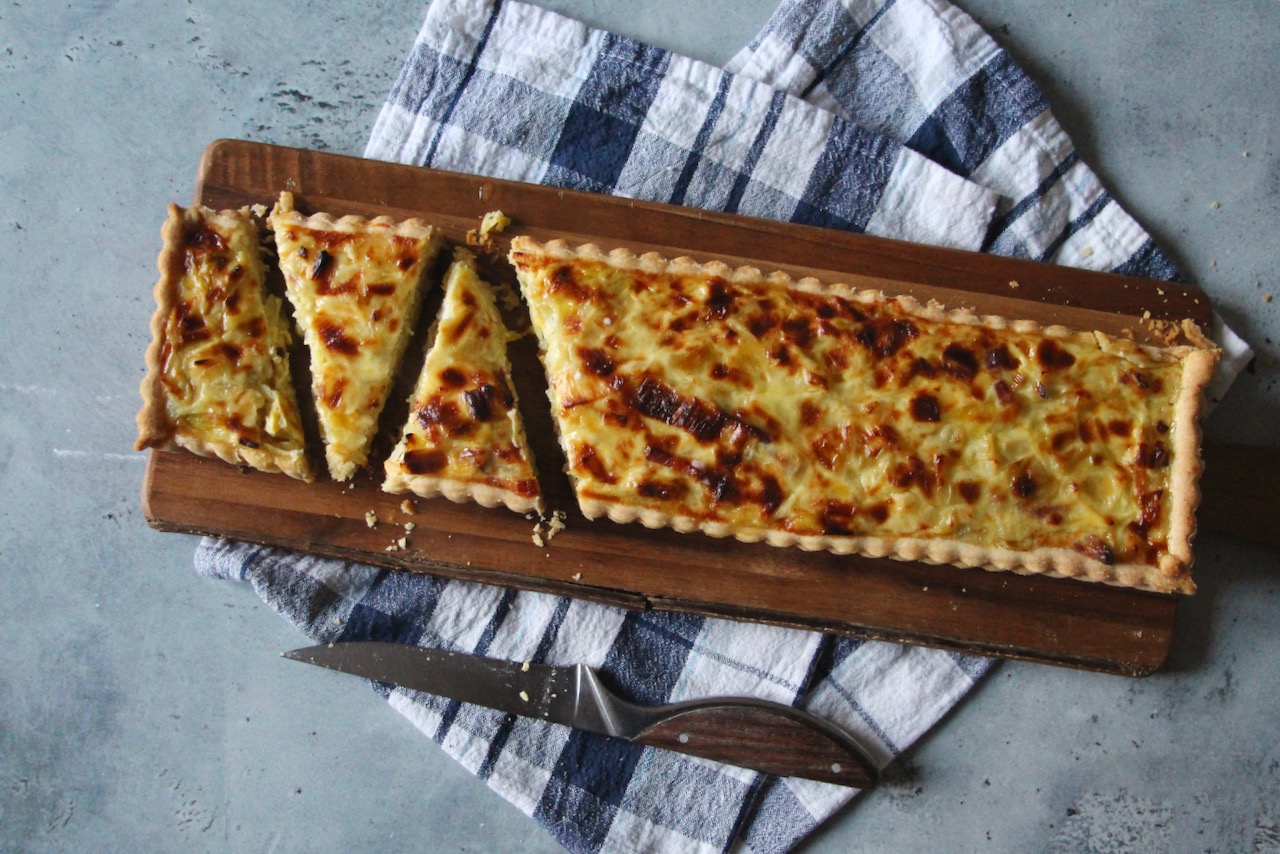 Print Recipe
Ingredients
1 savory shortcrust pastry (recipe on the blog)
2 leeks
1 onion
1 or 2 chicken fillets
20 g butter
3 eggs
25 cl cream
Salt
Pepper
Nutmeg powder
Instructions
1
Peel and cut the leeks and onion.
2
Melt gently half of the butter in a stewpan and add the leeks and onion.
3
Cover and cook at low heat for 2 hours. Mix from time to time.
4
Melt the rest of the butter in a frying pan and grill the chicken.
5
After 2 hours, preheat your oven at 220 degrees.
6
Remove the stewpan from the stove and add the cream. Mix.
8
Season with salt, pepper and nutmeg. Add finally the chicken cut in pieces.
9
Spread your pastry and place it in your mold.
Notes
If you have leftovers, cut them in cubes and serve them as appetizers.