Hello my friends!
Are you ready for a fall recipe? It's time, don't you agree?
Here a my butternut, coppa and burrata ravioli. A super comforting meal to be shared!
Let's see the recipe, Chef!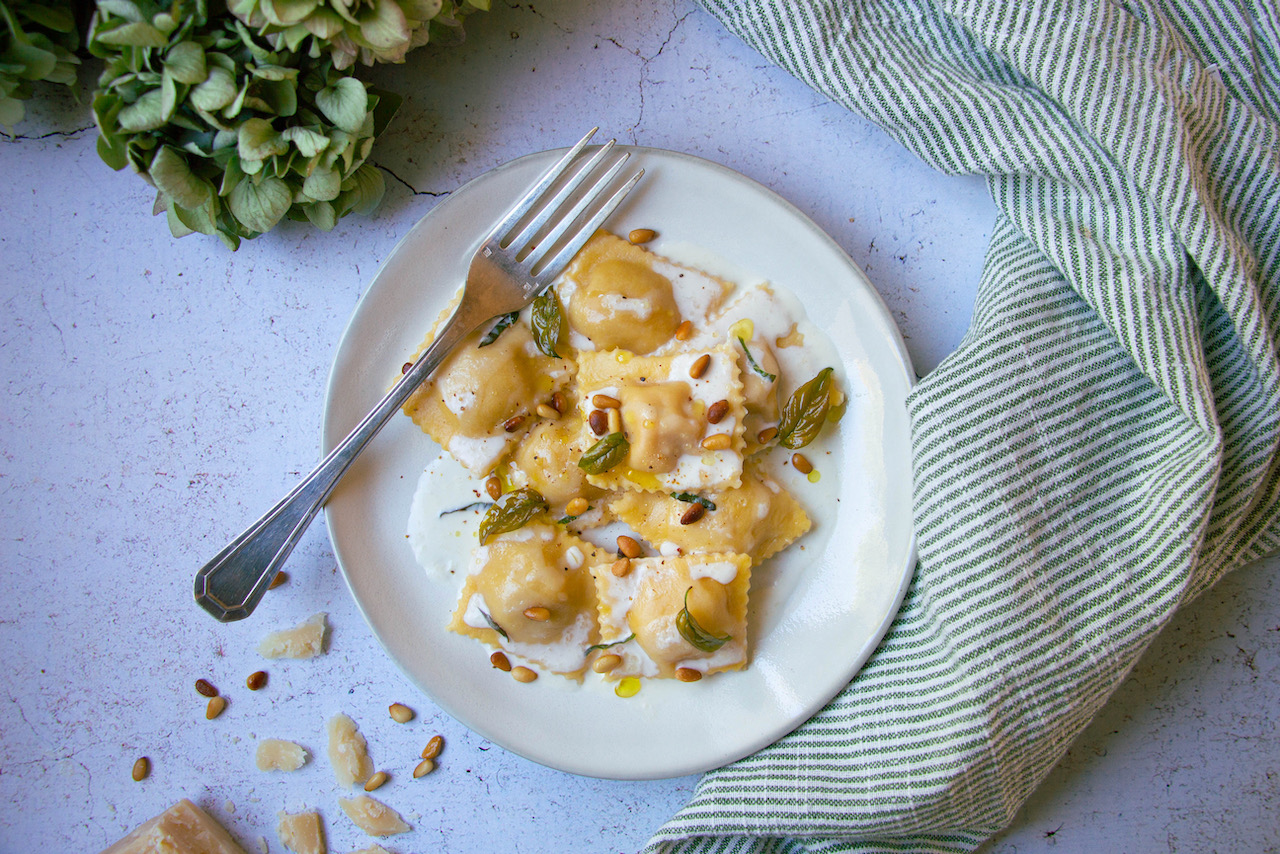 Print Recipe
Butternut, Coppa and Burrata Ravioli
Ingredients
Ravioli dough

275 g flour

1 tbsp olive oil

1 tsp salt

3 large eggs

Filling

350 g butternut squash

Fresh thyme

Olive oil

7 thin slices of coppa

60 g burrata

CreamySauce

40 g grated parmesan

150 g liquide cream

6-8 basil leaves

Salt to taste

Pepper to taste
Instructions
1
Combine flour, salt and olive oil.
2
Beat the eggs and then slowly incorporate into the flour with a fork.
3
Once the mixture comes together, knead the dough by hand until smooth and firm.
4
Wrap the dough in cling film and set aside in your fridge for at least 3 hours.
5
Preheat your oven to 200 C / 390 F degrees.
6
Cut the peeled butternut squash into cubes and place them on a oven tray with parchment paper.
7
Add with salt, thyme leaves and 2 to 3 tablespoons of olive oil.
9
Once the butternut squash is cooked, leave the cubes to cool down.
10
Pour into a salad bowl and add the coppa slices. Mix with a blender.
11
Finely cut the burrata and add to the mixture.
12
Season with salt and pepper, then place in the fridge.
13
Cut the ravioli dough into 4 pieces.
14
Roll the pieces out thinly in the shape of a long rectangle, ideally using a pasta maker.
15
Spoon the filling into a pastry bag and pipe circles of filling in a line onto one sheet of dough, spaced around 5 cm apart.
16
Cover with another sheet of dough, press down firmly to release any air from between the two pieces of dough and press the edges together to seal.
17
Cut the ravioli. Repeat this process until you have used up all the dough and stuffing.
18
Arrange your ravioli on a lightly floured baking sheet and set aside in your fridge for 15 minutes.
19
Pour the Parmesan and cream into a saucepan and cook gently over low heat, stirring occasionally.
20
Add the chopped basil leaves, salt and pepper to taste.
21
Boil a large volume of salted water.
22
Soak your ravioli into the water and cook for 3 minutes (2 minutes for al dente).
23
Remove the ravioli from the water using a slotted spoon.
24
Pour half a ladle of the pasta water into the sauce, add the ravioli and cook for 1 more minute.
25
Serve with a drizzle of olive oil and freshly ground black pepper. You can also add chopped hazelnuts.