Get ready to be stunned… The recipe I'm about to share today is divine, really divine!! Freshness, flavors, healthy but mainly, yes mainly, delicious!!
Let me introduce the scallops, asparagus and fennel salad!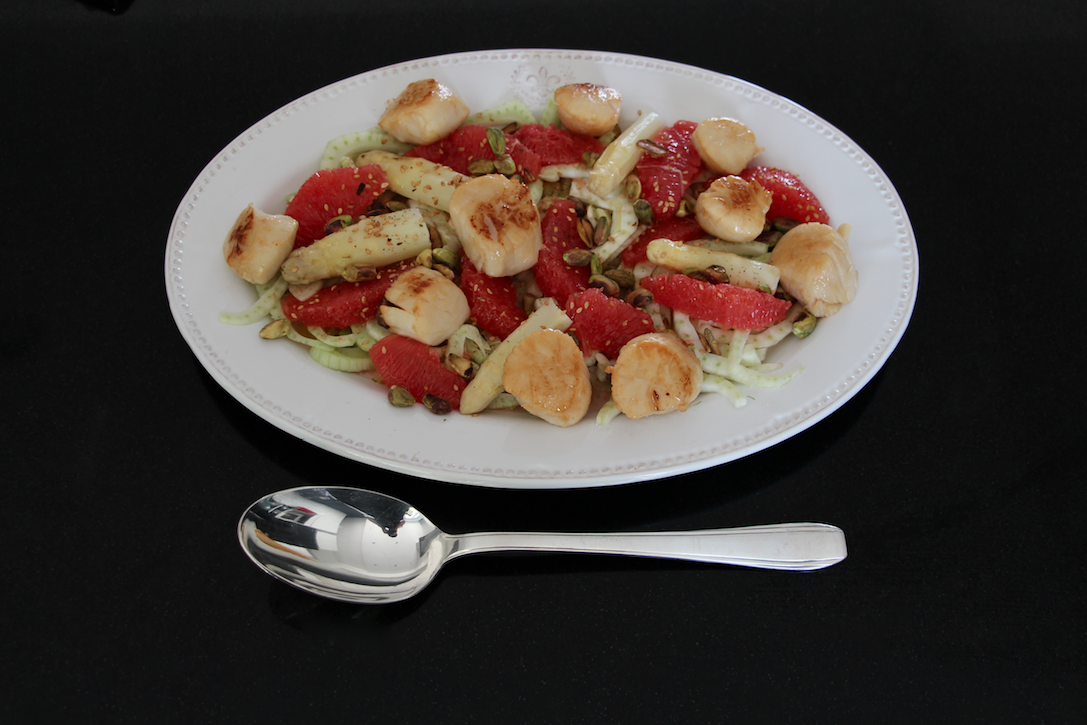 As always when I find my inspirations here and there, I tell you about it.
Today my inspiration comes right from San Diego, California… I follow Vy, a super talented foodblogger. I'm a huge fan of her work and anything she posts on her blog "Beyond Sweet and Savory"!! It is so sophisticated, beautiful, healthy, elegant !
I L-O-V-E it!!!
So, a while ago she posted on Instagram a pic of this salad and it was love at first sight!! Just to give you an idea of what she does…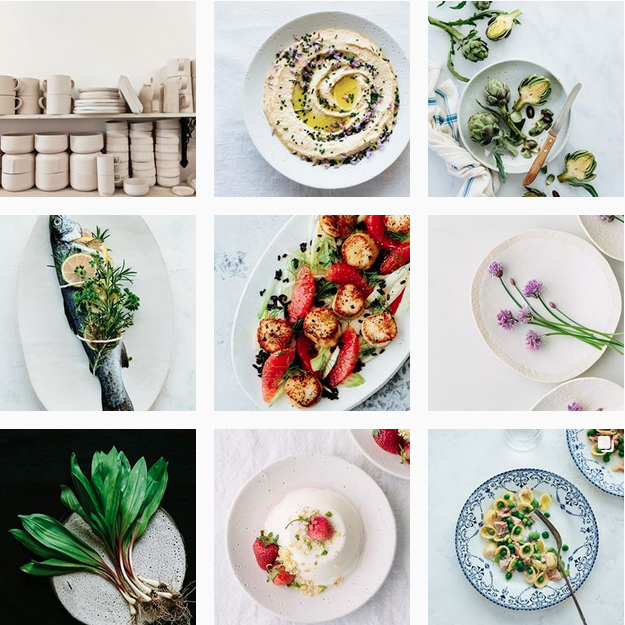 And as we are all thinking about summer holidays (see what I mean…!), this fennel and scallops salad is basically an obvious choice!!
I made a few personal arrangements: white asparagus since I had a few waiting nicely in my fridge, pistachios and sesame seeds.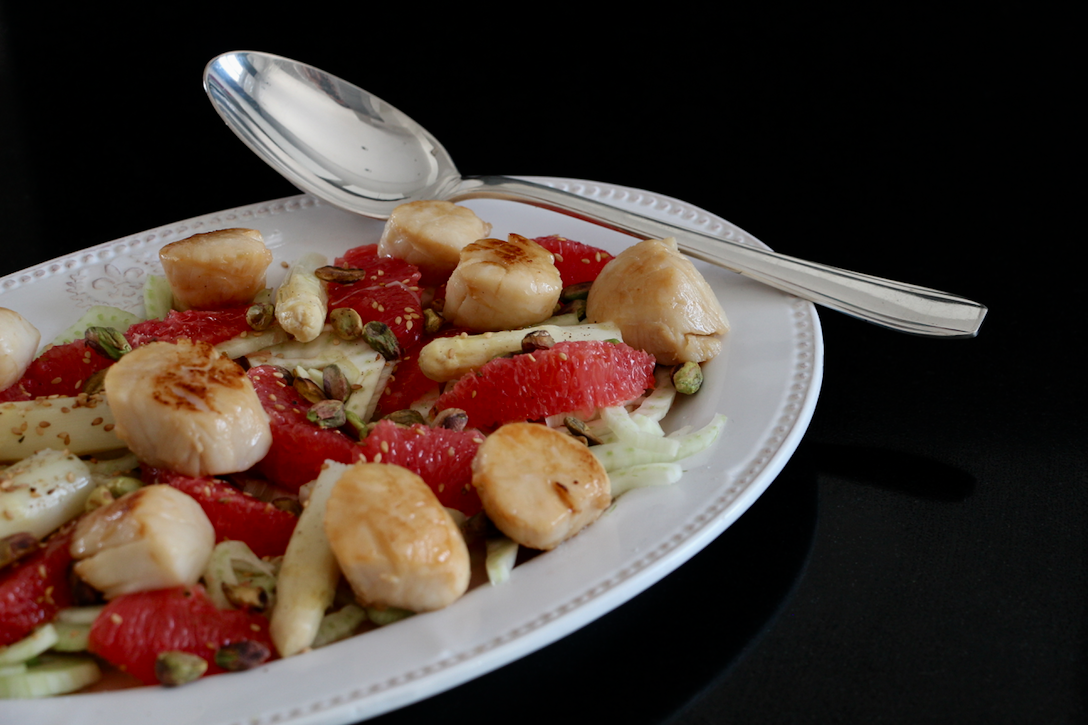 The result was outstanding!! 3 children (8, 10 and 14 yo) and 2 adults: unanimous verdict!! It's to die for!!!
Cherry on the cake, it can be prepared in 10 minutes tops!! Great or what?!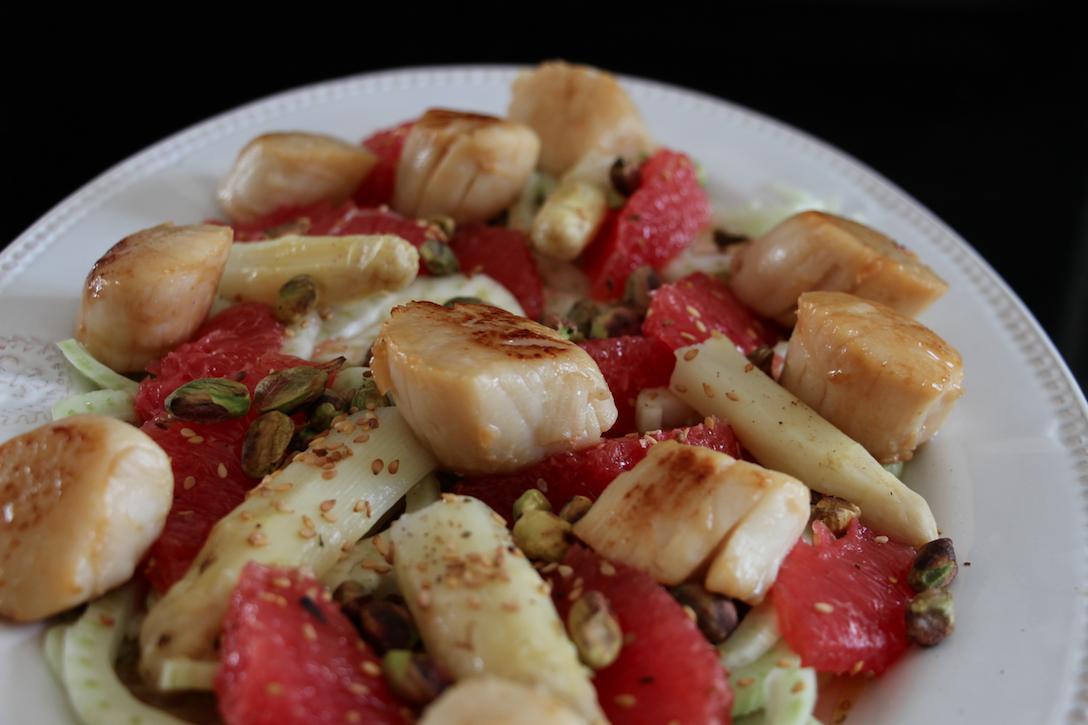 You must br craving now… Let's do this!!
The recipe, Chef!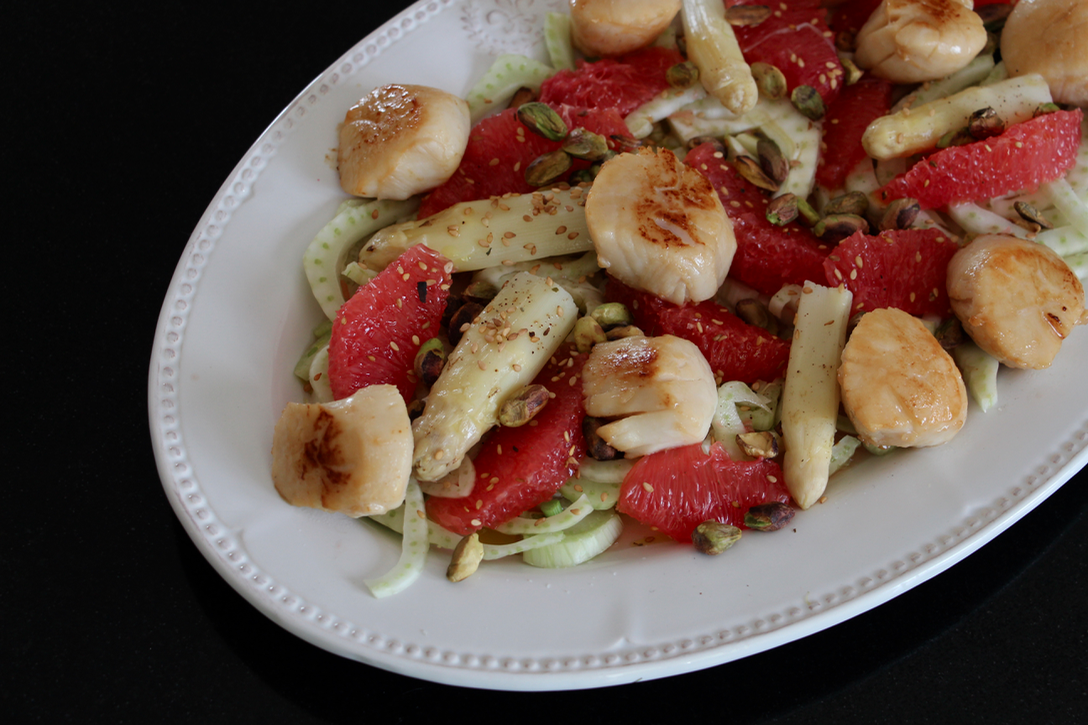 Print Recipe
Scallops, Asparagus and Fennel Salad
Ingredients
10 scallops

1 red grapefruit

1 fennel

10 white asparagus heads (cooked)

50 g pistachios

Olive oil

Sesame seeds

Salt

Pepper
Instructions
1
Clean and cut the fennel in thin slices.
2
Set them on your serving plate.
3
Cut the grapefruit segments over your plate in order to collect the juice for dressing. Place the segments in the plate.
5
Fry the pistachios without fat for 2-3 minutes.
6
Stir fry the scallops in a frying pan with 2-3 tablespoons of olive oil. 1 minute on each side should be enough.
7
Add the scallops and pistachios to the fennel.
9
Pour 3 tablespoons of olive oil. Add salt and pepper.
Notes
You can replace the white asparagus by green ones. And for a surprising version, add a tablespoon of yuzu olive oil... It's stunning!!