Hello my friends,
It's summer and we enjoy it as much as we can. No need to start the oven or the stove, I have just the recipe that you need!
Here is my beetroot and pink radish cold soup.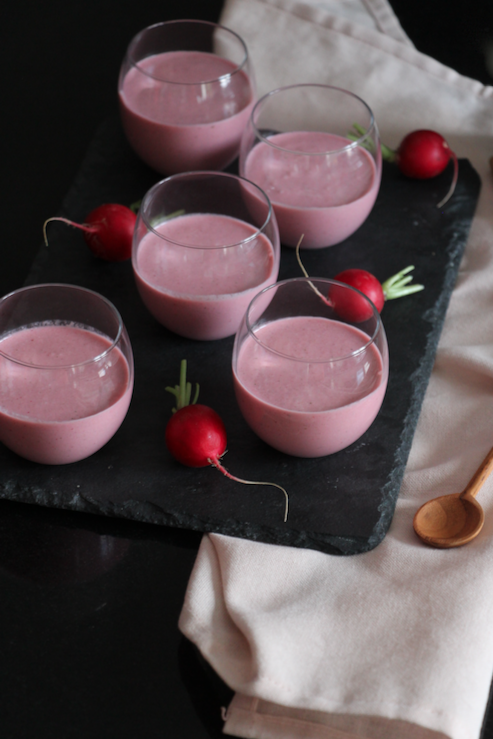 As I am always 100% honest with you, this recipe is very similar to a Thermomix one. With a few modifications here and there.
If you don't have a Thermomix, no need to worry. A good blender or a hand mixer will definitely do the job. It might take a little bit longer with the hand mixer, but you'll get a good beetroot and pink radish cold soup.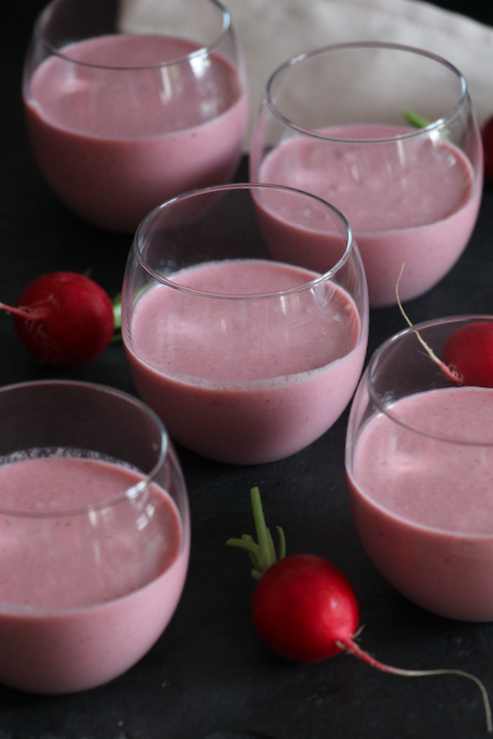 For those who have already tried my cold zucchini and basil soup, you'll see that it's even easier here : no cooking at all!! But the idea is similar with this one: you'll have it as an appetizer, in little jars, or as a starter, with grilled garlic bread maybe.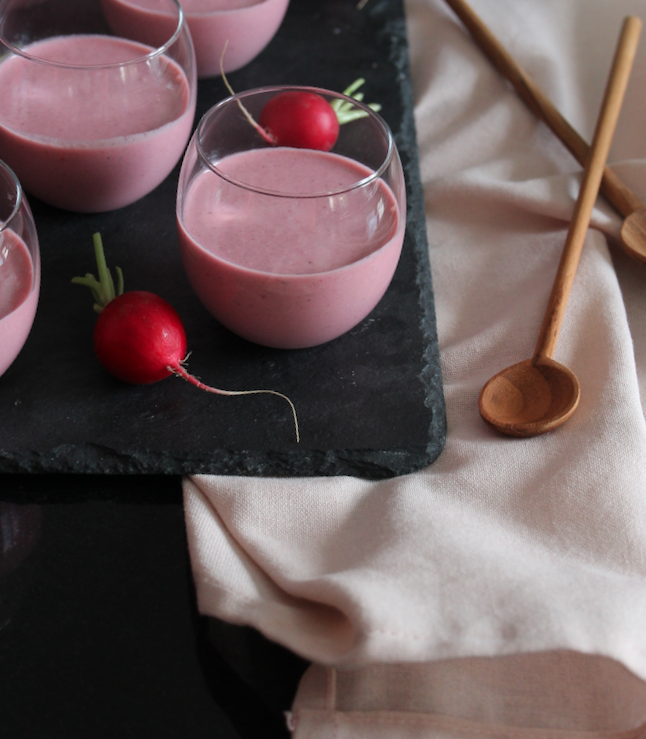 Little Wikipedia moment… The common beetroot (Beta vulgaris), the kind used in cooking, is a plant originally from the Middle-East grown for its edible taproots and leaves.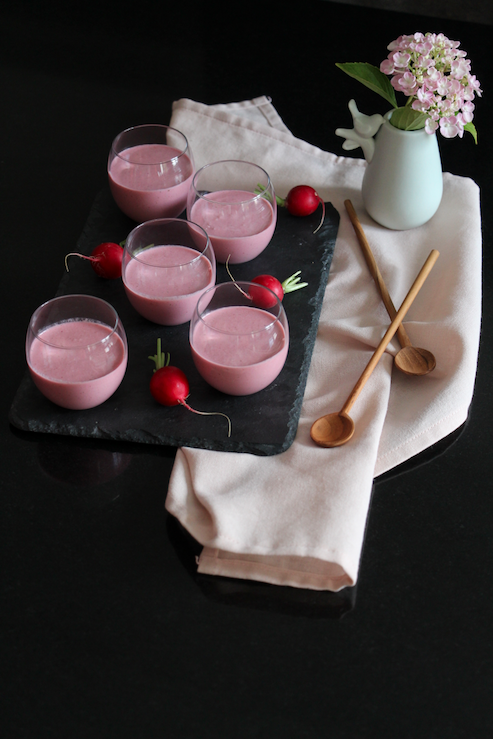 This root is a great source of manganese. The betanine, that you get from the root too, is used in the industry as red food coloring, to improve color and flavor of tomato sauce, desserts, jams and jelly, ice creams, sweets, etc. It can even be used as ink.
Well, well… we have learned something… 😉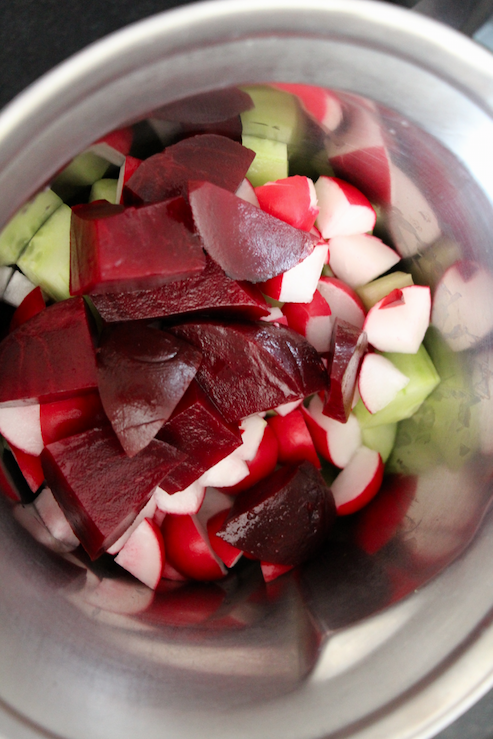 No specific utensil here to make the recipe, except, as I mentionned before, the food processor that you will use to mix your veggies, a large bowl and a whisk.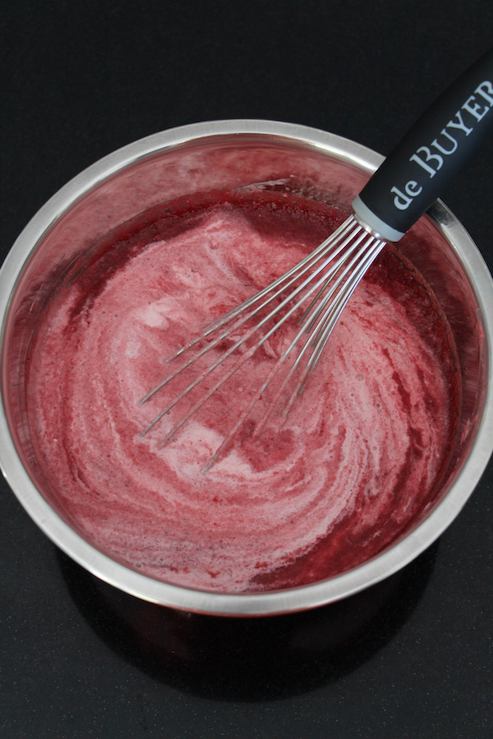 Last point: the quantities given here will be perfect for 16 little jars (6-7 cl), 8 larger jars (12 cl) or 6 bowls or 16 cl soup plates (for a starter). This precision can become helpful if you are planning a buffet.
Shall we give a look to this beetroot and pink radish cold soup?
The recipe, Chef!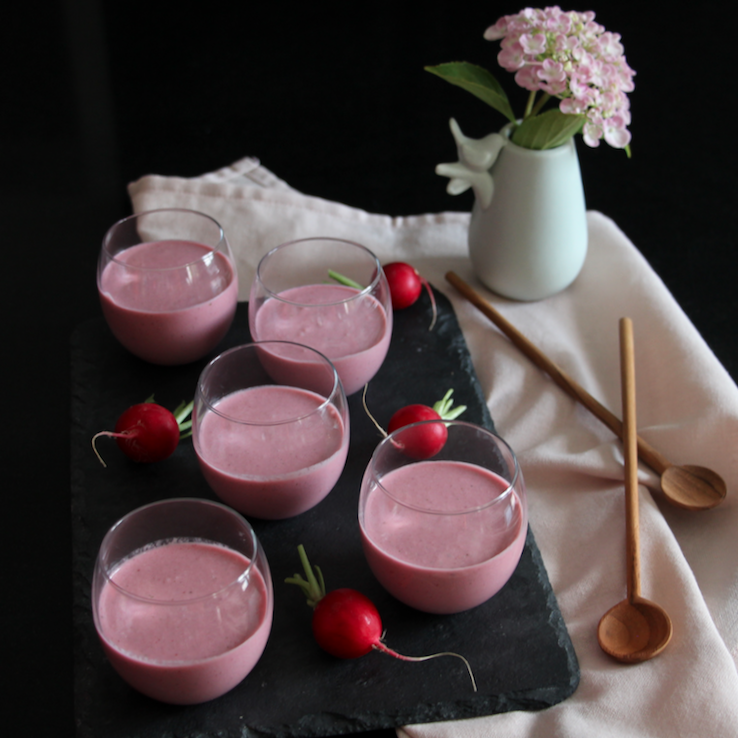 Print Recipe
Beetroot and pink Radish cold Soup
Ingredients
1 beetroot 140 g approx

75 g pink radishes

300 g peeled cucumber

150 g Greek yogurt

150 g liquid cream

20 g vinegar

15 coriander leaves

8 stalks of chive

1 teaspoon salt

1/2 teaspoon sugar

1 teaspoon ground ginger

Pepper
Instructions
1
Cut the veggies and herbs. Mix them until you get a smooth mixture.
2
Add the Greek yogurt, mix.
3
Add the cream, vinegar, salt, sugar, pepper and ground ginger. Mix.
4
Serve right away or set aside in your fridge.
Notes
You can take regular yogurt if you prefer.