Hello my lovelies!
You know I love easy and yummy recipes. This one checks the boxes… Plus it's cheap, vegetarian and with seasonal ingredients. Shall I continue?
Here's my red pepperTatin tart, an upside down savory tart with a delicious vinegar caramel. Intrigued?
Let's see the recipe, Chef!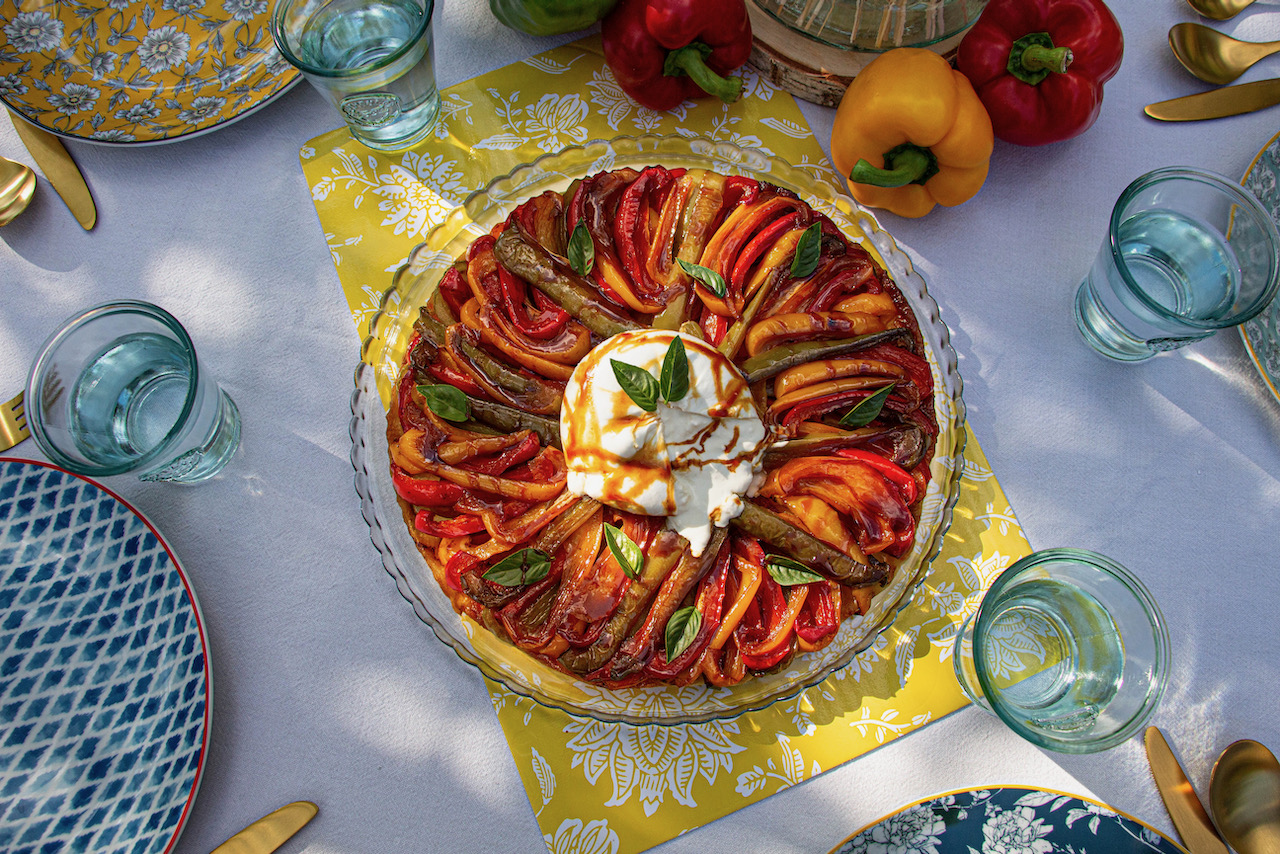 Print Recipe
Ingredients
Express puff pastry

200 g flour

200 g very cold butter

2 g salt (1/2 tsp)

100 g very cold water

Caramel

130 g brown sugar

40 g butter

4 tbsp balsamic vinegar

Finish

2 red peppers

2 yellow peppers

2 green peppers

Basil leaves (optional)

1 burrata

Olive oil
Instructions
1
Place the flour, butter cut in cubes and salt in your food processor bowl.
2
Start whisking at low speed (2 on a scale from 1 to 6) and pour the water.
3
Keep on whisking until the flour is combined with water, you still need to have large cubes of butter.
4
Place the pastry on a floured work plan.
5
Spread the pastry with your rolling pin and make a rectangle (15 cm by 45 cm).
6
Fold the right third of the pastry, then the left third. You should have a square.
7
Make a quarter turn. Make a rectangle (15 cm by 45 cm). Fold the right third of the pastry, then the left third.
9
Set your puff pastry aside in your fridge, wrapped in clingfilm.
10
Pour the brown sugar in your sauce pan.
11
Cook at medium high heat until you get a caramel.
12
Add the vinegar, then the butter. Combine and pour in your Tatin mold.
13
Preheat your oven at 190 C / 375 F degrees.
14
Place the peppers cut in slices on the caramel in your mold.
15
Spread the puff pastry and cut a pastry disc.
16
Cover the peppers with the pastry disc.
18
Wait 5 minutes to cool down before turning upside down on a serving plate.
19
Add the burrata, basil leaves and olive oil.