Yummy, yummy is what you may be saying at looking my coffee and almond tartlets! Am I right?
If you are interested, you should definitely give a look below…
Let's see the recipe, Chef!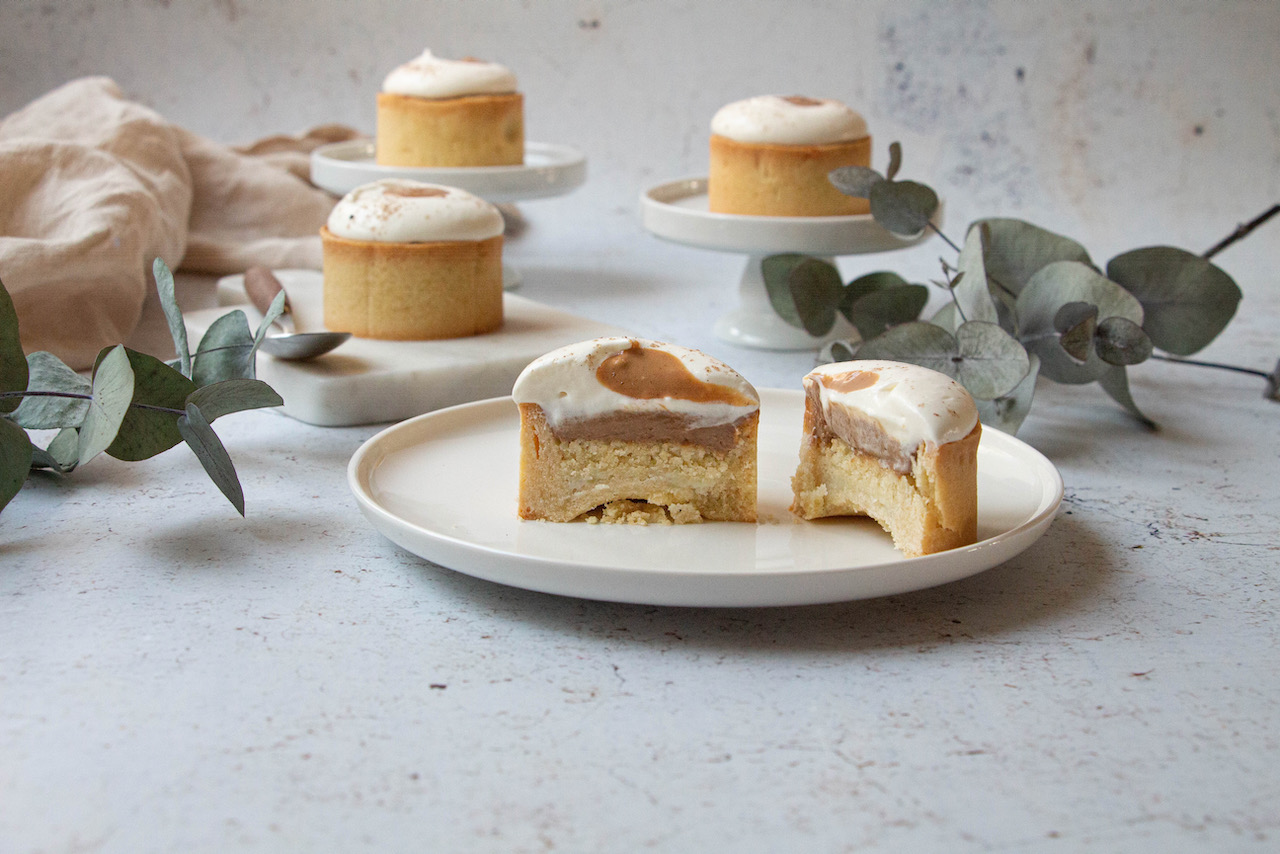 Print Recipe
Coffee and Almond Tartlets
Ingredients
Coffee custard

62 g milk

63 g 30% fat liquid cream

15 coffee seeds

4 g instant coffee

1 egg yolk

12 g sugar

40 g milk chocolate

1 pinch flower salt

16 g mascarpone

Almond pastry

120 g flour

1 tbsp milk

65 g butter at room temperature

25 g ground almond

1 pinch of salt

65 g icing sugar

1 egg yolk

Almond cream

35 g butter at room temperature

35 g icing sugar

35 g ground almond

1 small egg

Finish

100 g liquid cream 30% fat

50 g mascarpone

10 g icing sugar

30 g praliné
Instructions
1
Pour the milk and cream in a saucepan with the coffee seeds.
2
Boil and remove immediately from the heat. Set aside for 15 minutes.
3
During that time, whip the egg yolks with the sugar until it gets white.
4
Remove the coffee seeds from the milk & cream. Heat a bit and add the instant coffee. Pour half of the milk & cream on your egg yolk and sugar mixture, combine. Pour the other half, mix again.
5
Pour the whole mixture in your saucepan at medium heat and cook for 2-3 minutes while whipping with energy (otherwise your cream will cook too much at some point).
6
When the cream has the right consistency, remove from the stove and add the milk chocolate. Combine.
7
Add the mascarpone and flower salt, combine. Pour it in a plate and cover with a clingfilm to avoid having a thick crust. Set aside in your fridge.
8
Combine the flour, salt, almond powder and sugar.
9
Cube the butter and mix medium speed until it resembles breadcrumbs.
10
Add the egg yolk and milk until it comes together.
11
Wrap it in clingfilm and set aside in your fridge for at least one hour.
12
Preheat your oven at 180 C / 355 F degrees.
13
Spread the pastry and place it in your tartlet rings. Cook for 15 minutes.
14
Combine the butter, icing sugar and ground almond until homogeneous.
16
Pipe the almond cream in each tartlet.
17
Cook at 180 C / 355 F degrees for 8 minutes, until golden brown.
19
Pipe the coffee custard on your tartlets.
20
Whisk the cream into chantilly.
21
When the cream starts thickening, add the mascarpone and icing sugar.
22
Stop whisking when the chantilly is firm.
24
Shape a small hole in the center of the chantilly and add the praliné on top.
25
Set aside in your fridge until serving.