Hello my lovelies!
Are you fan of meringue lemon pies? You may already know that I am… Be ready to be surprised today!
I'm sharing my creation, even yummier than the usual ones!!
Let's have a look at my lemon and praline tartlets with meringue!
The recipe, Chef!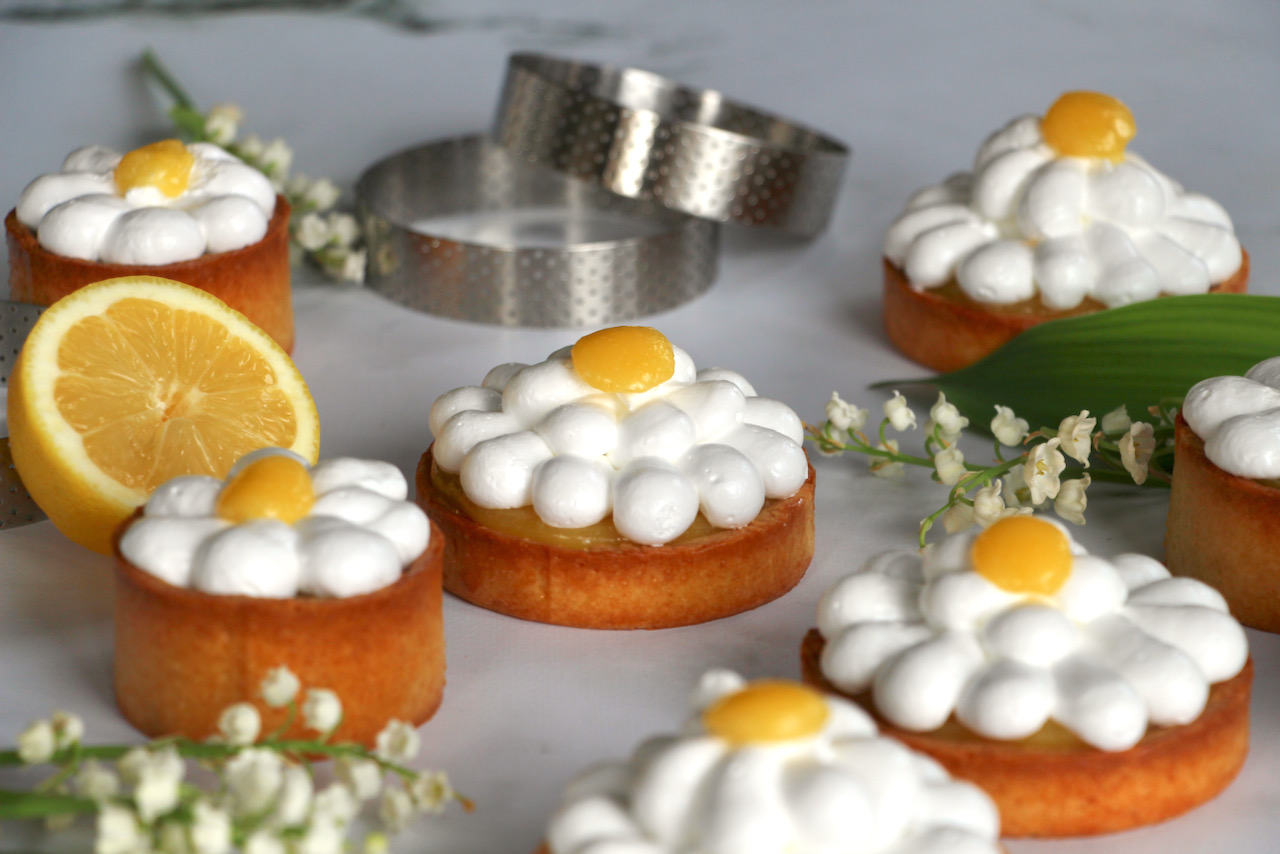 Print Recipe
Lemon and Praline Tartlets with Meringue
Ingredients
Almond pastry

250 g flour

30 g ground almonds

90 g icing sugar

1/2 tsp salt

120 g cold butter

1 large egg

Almond financier

50 g butter

20 g flour

60 g icing sugar

50 g ground almonds

2 egg whites

Praline

50 g almond praline

Lemon curd

2 lemons

40 g butter

1 egg

1 egg yolk

100 g sugar

2 g food gelatine

Meringue

3 egg whites

200 g iced sugar
Instructions
1
Place the flour, ground almonds, salt and sugar in your food processor bowl.
3
Add the butter cut in small cubes and whisk at low speed (2 on a scale from 1 to 6) until you get a crumble texture.
5
Whisk at medium speed until you get an homogeneous mixture.
6
Set aside in your fridge for at least one hour.
7
Melt the butter and keep cooking until golden brown.
8
Combine icing sugar, ground almond and flour.
9
Pour the egg whites on top, combine.
10
Add the melted butter and combine.
11
Preheat your oven at 180 C / 355 F degrees.
12
Spread the pastry and place in your tartlet pastry rings.
14
Remove from the oven, pipe almond financier on top (1/2 cm) and cook 12 to 15 minutes. The financier should be light golden.
16
Place the gelatine sheet in cold water.
17
Squeeze the lemons and keep the zests.
18
In your sauce pan, put the lemon juice, the lemon zests, the sugar and butter. Cook 3 minutes at medium heat (3 on a scale of 1 to 6) and whip gently.
19
Add the egg and the egg yolk and cook at higher heat (4 on a scale of 1 to 6) and whip more vigorously for 2 minutes. Your lemon curd should get thicker.
21
Pour the lemon curd through a strainer to remove the solid parts.
22
Add the gelatine sheet (that you will have quickly dried with a paper towel). Whip a few seconds.
23
Pipe the lemon curd on your tartlets, leave a hole in the center.
24
Pipe almond praline in the center.
26
Whip the egg whites until foamy. Then add the iced sugar gradually and keep whipping until stiff peaks form.
27
Spread your meringue over the tart with a piping bag for a nice shape.
28
And torch the meringue if you want to.
29
You can add a drop of lemon curd in the center.