Hello my lovelies
Here is the second edition of the culinary challenge that Christelle, sommelier at the Caves du Parc in Neuilly, gave me! We will be in line with the season obviously and we are going to talk about mushrooms, nuts and wine!
Let me introduce my ceps and chestnuts velouté…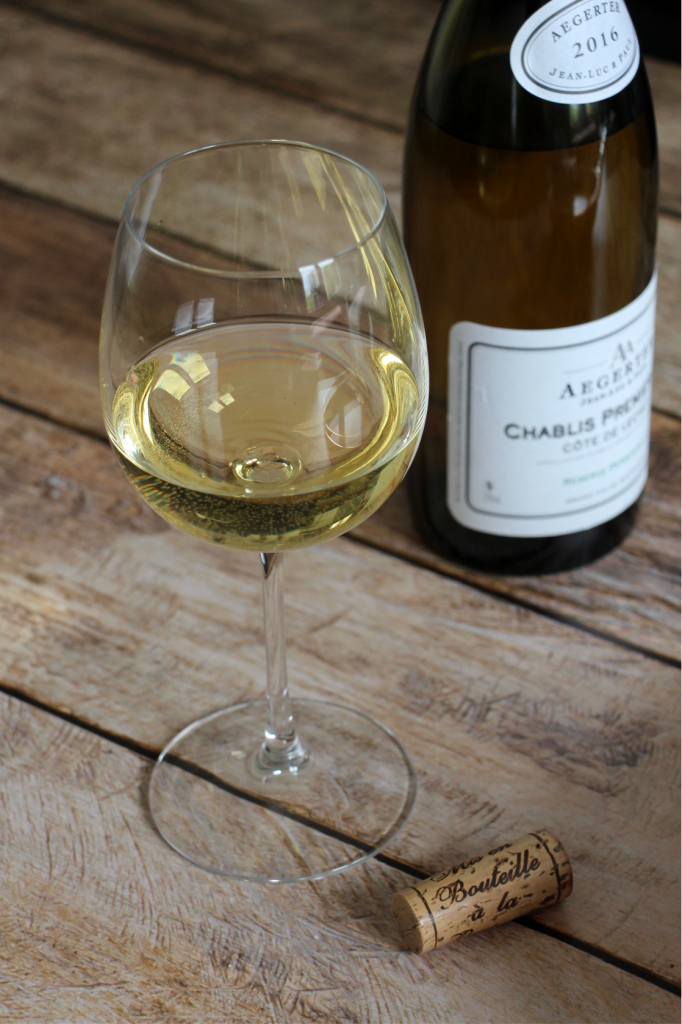 The specifications given by Christelle and her team were the following: a recipe made with ceps, chestnuts and a third ingredient that gave me a hard time but also that made the challenge worth it… the orange! There you go… have fun!! And the wine pairing would be made with a Chablis 1er cru "Côte de Léchet" 2016 by maison Aegerter. Let me just tell you that I loved working on this challenge!!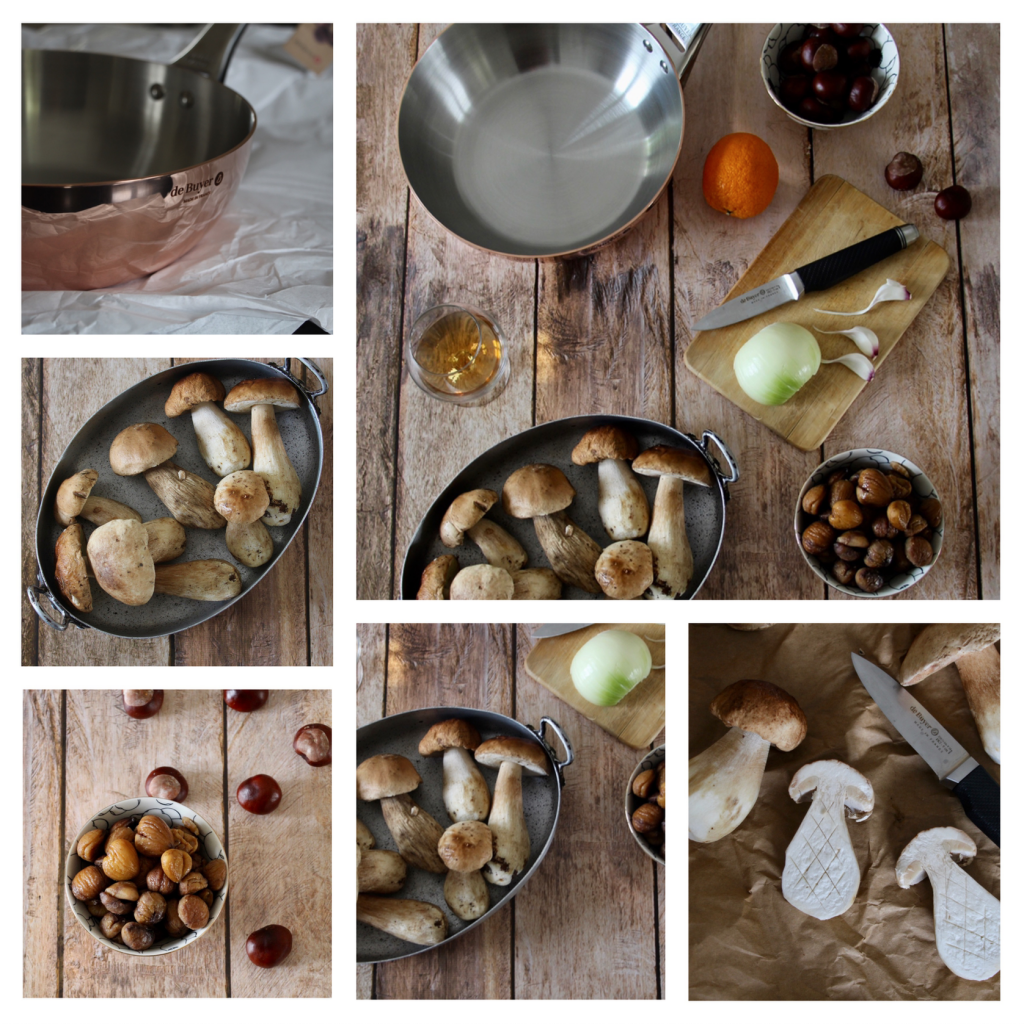 This Chablis, is made with a Chardonnay grape. It grows on a limestone soil, with fossils.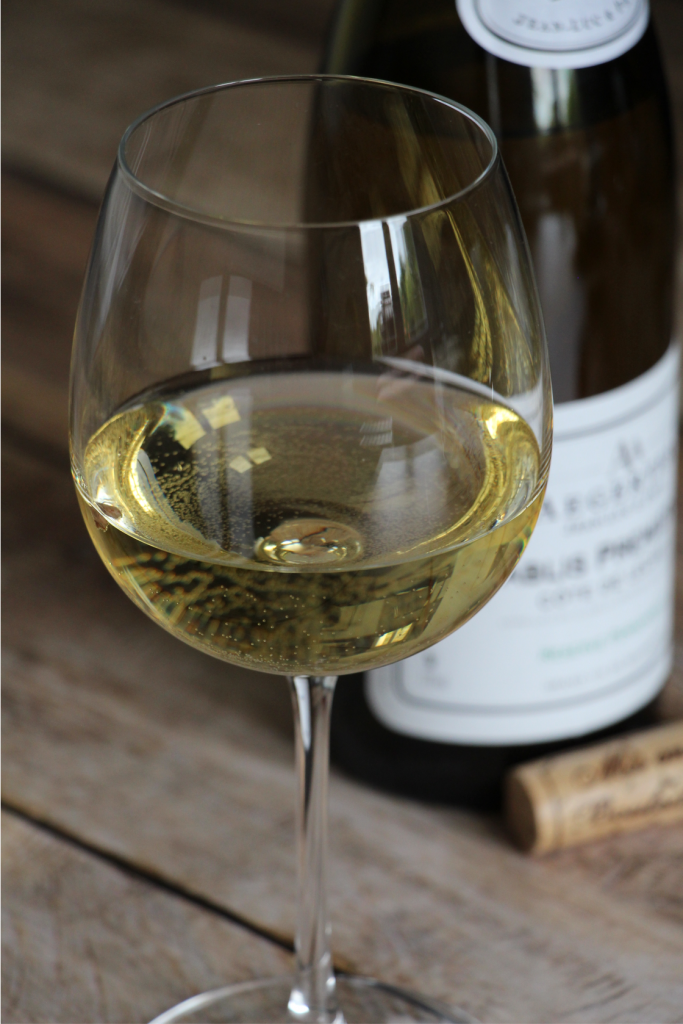 The name Chablis is only for white wines. The soil gives the wine freshness, purity and mineral and iodized flavors. With age, this wine will get smoother, with floral and yellow fruit tastes.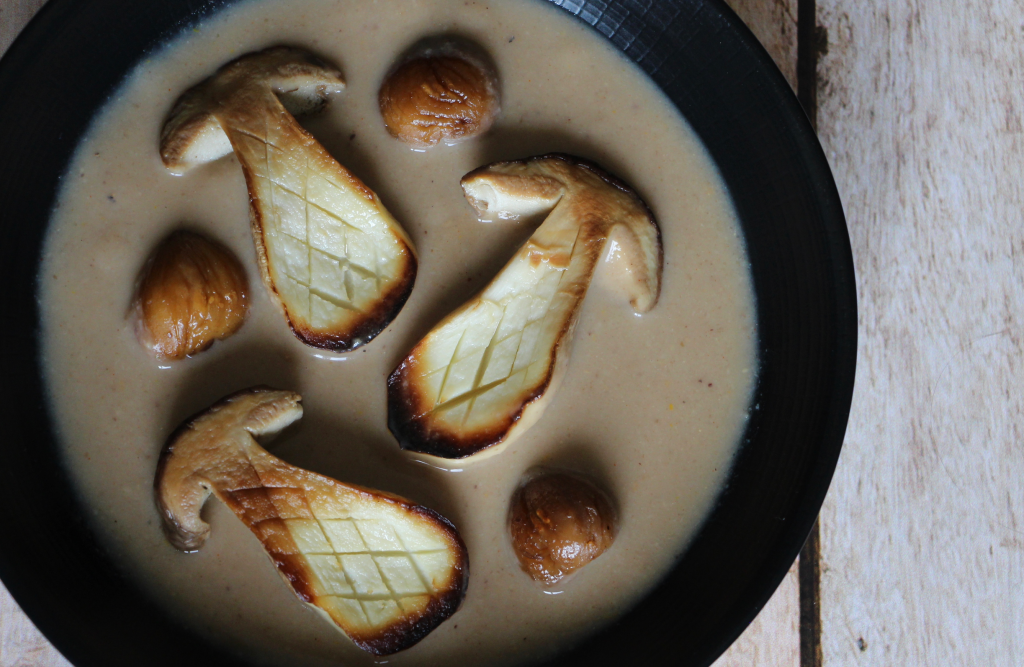 As far as price is concerned, you can get a bottle for 34 euros.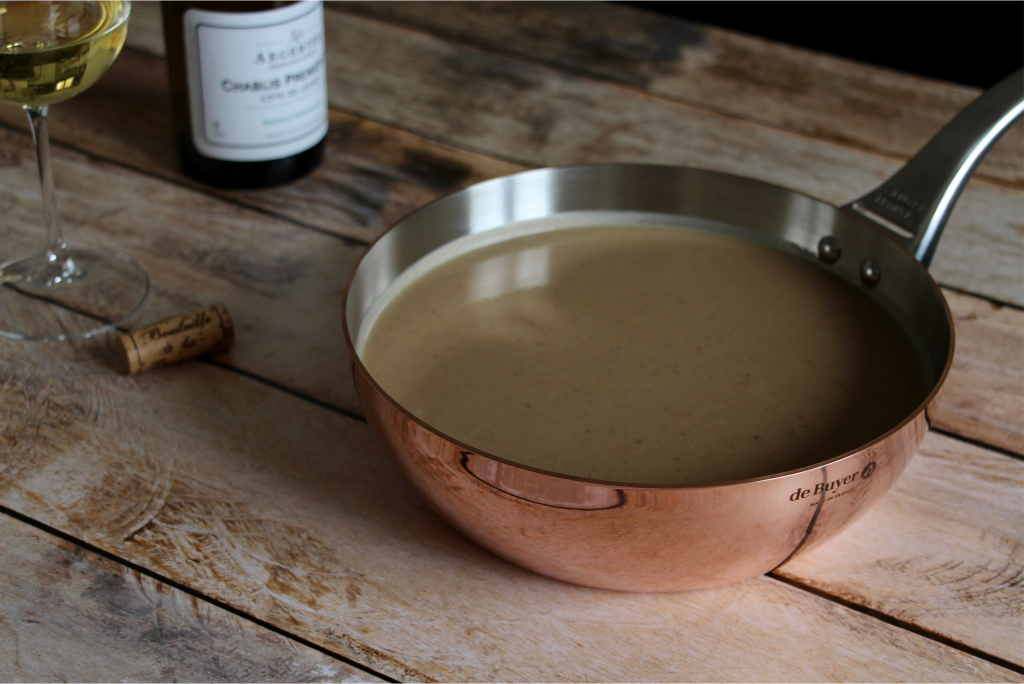 With such a wine, I had to make a terroir recipe with delicate flavors. This is why I chose the ceps and chestnuts velouté… with orange!! When you will taste it, you will first taste the orange flavor and then the ceps and chestnuts.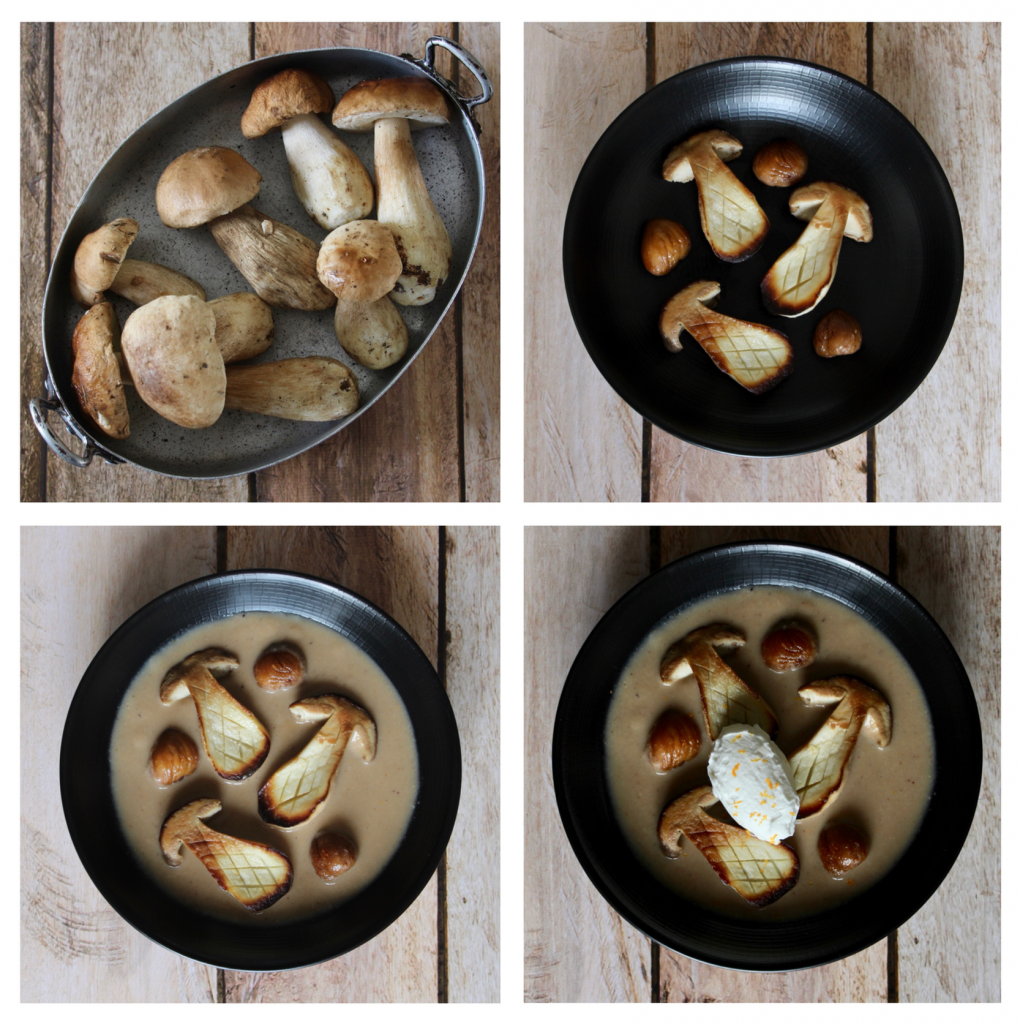 (Presentation: Modulo Nature Pierre de Lave plate by Degrenne Paris)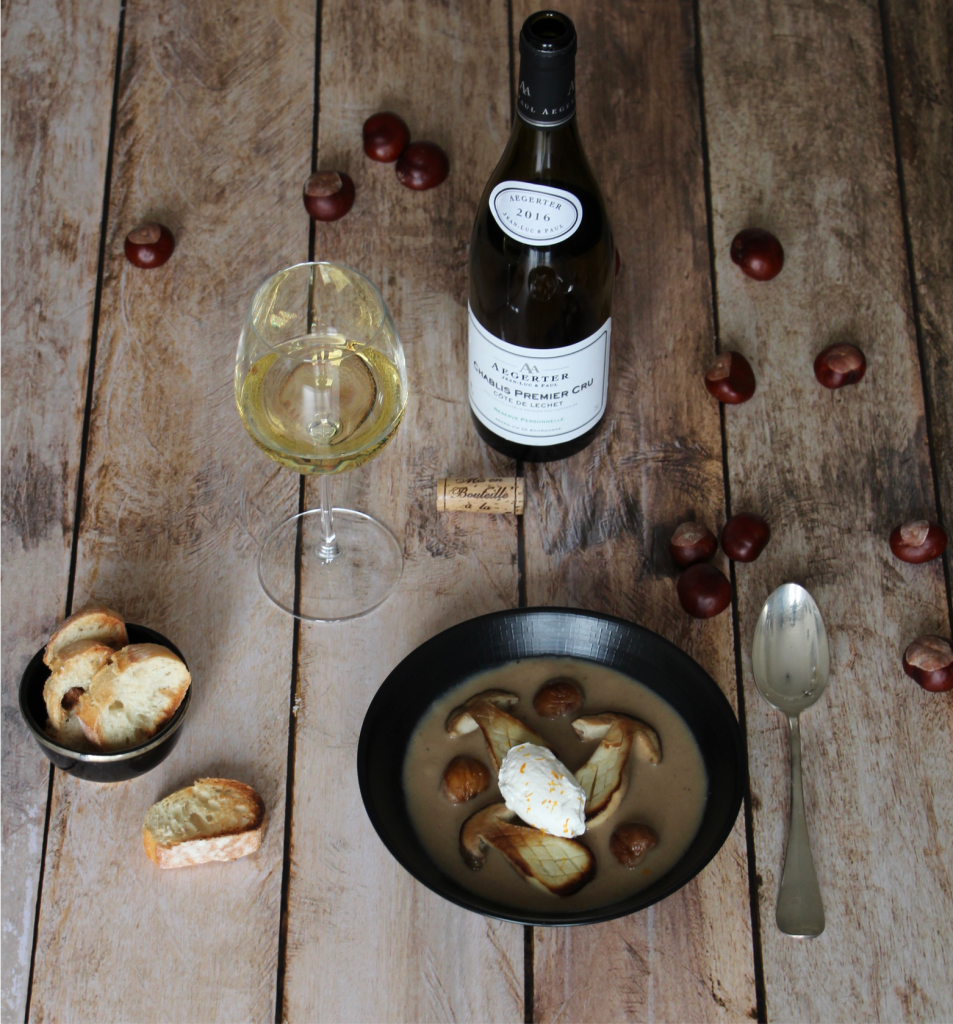 (Warning: I used conkers as decoration here but those ones can not be eaten…)
The quality of the ingredients will be key for a good ceps and chestnuts velouté. You can use frozen ceps if you can't find fresh ones at your grocery store.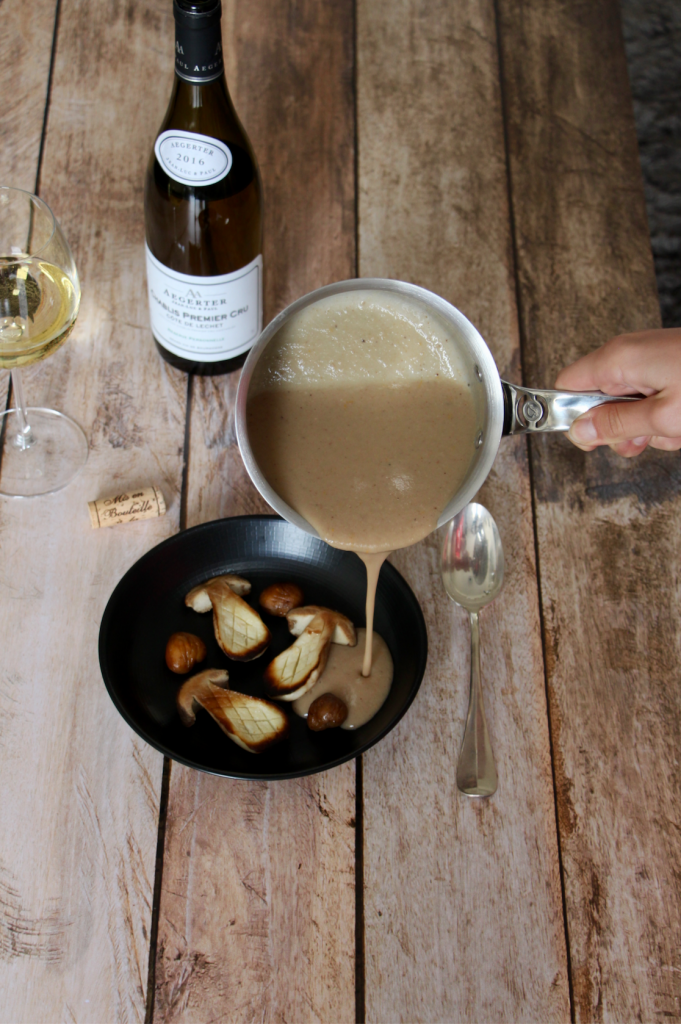 And I used canned chestnuts since I couldn't find fresh ones. It turned out very good.
There you go for my advices…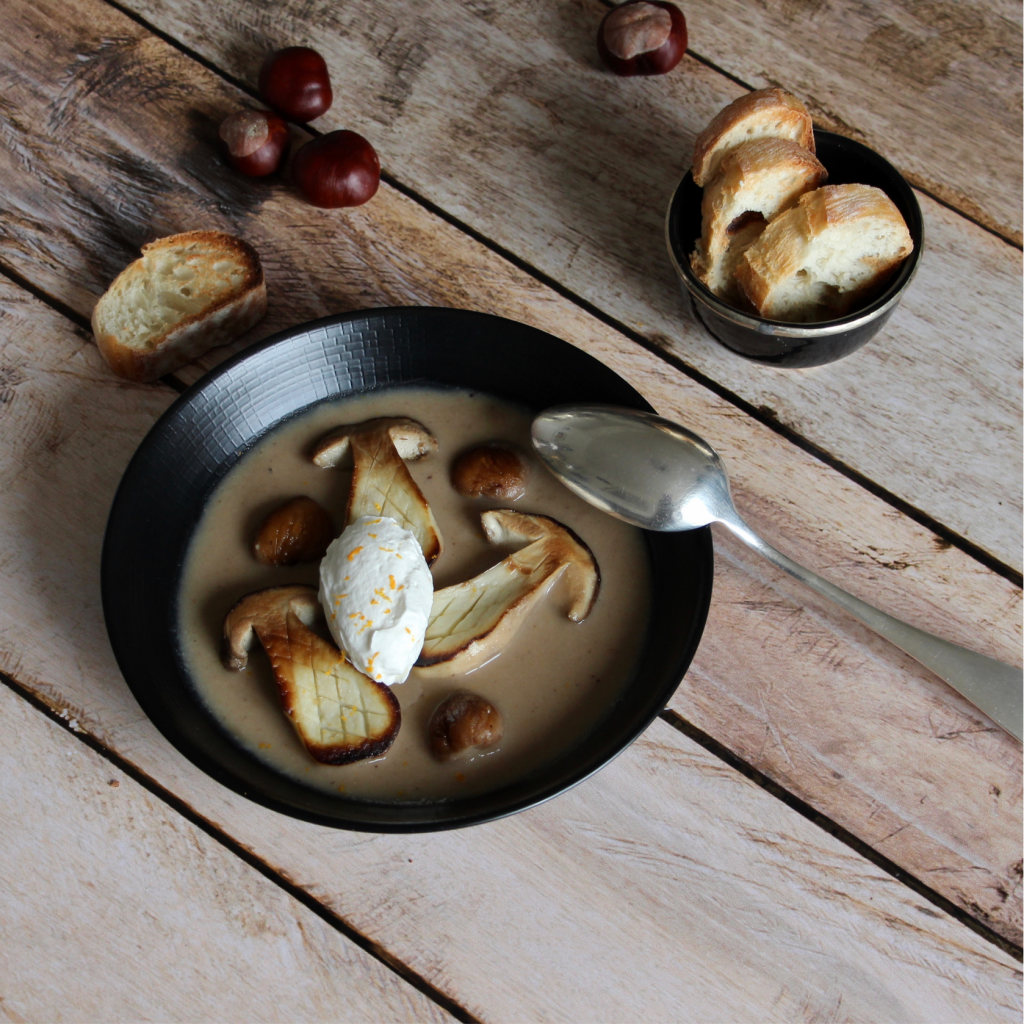 This dish will be a delicious starter (that you can have for Christmas for instance – in this case I add a bit of foie gras) or a yummy dinner.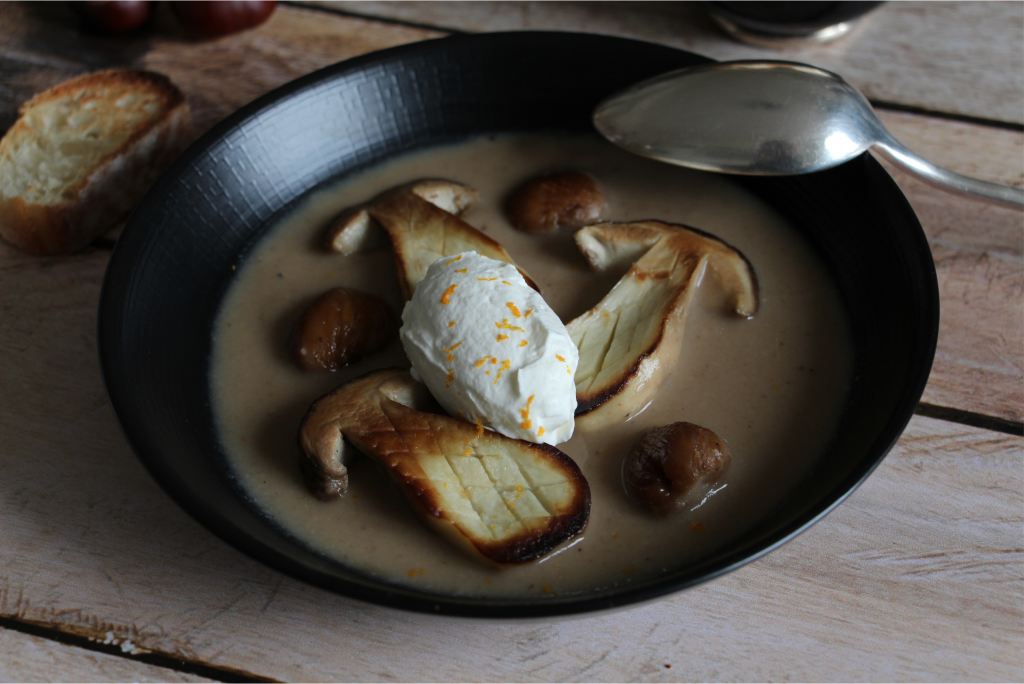 The utensils:
A sauté-pan (or a large frying pan) like my Inocuivre sauté-pan by De Buyer here,
A large casserole (with thick bottom if possible) if you don't have a sauté-pan,
A blender,
A strainer
And a sharp knife.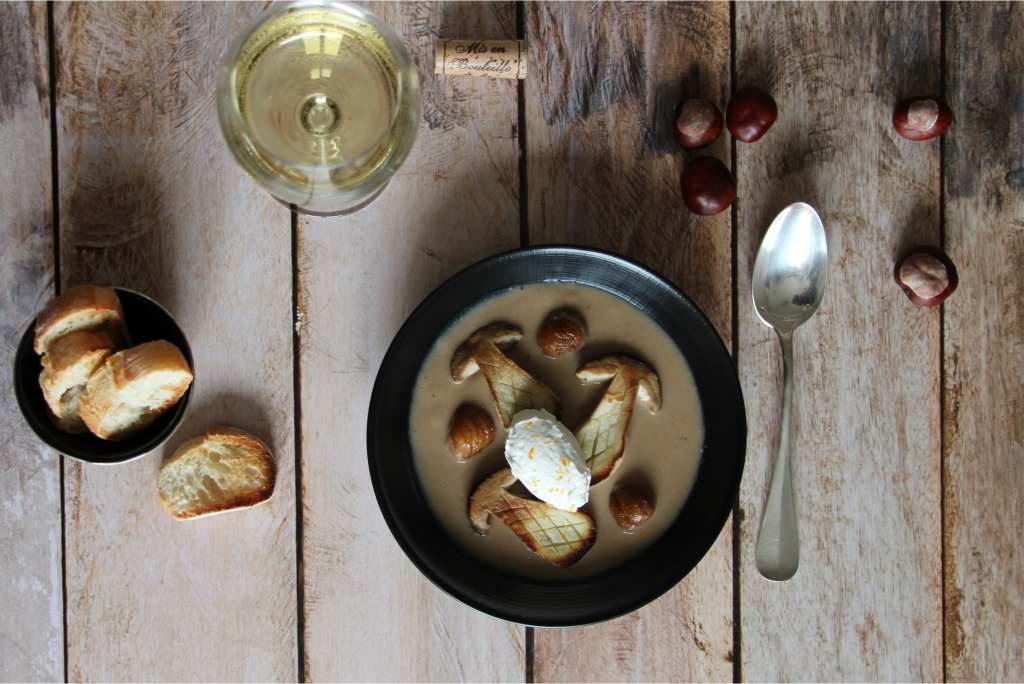 You're all set!
The recipe, Chef!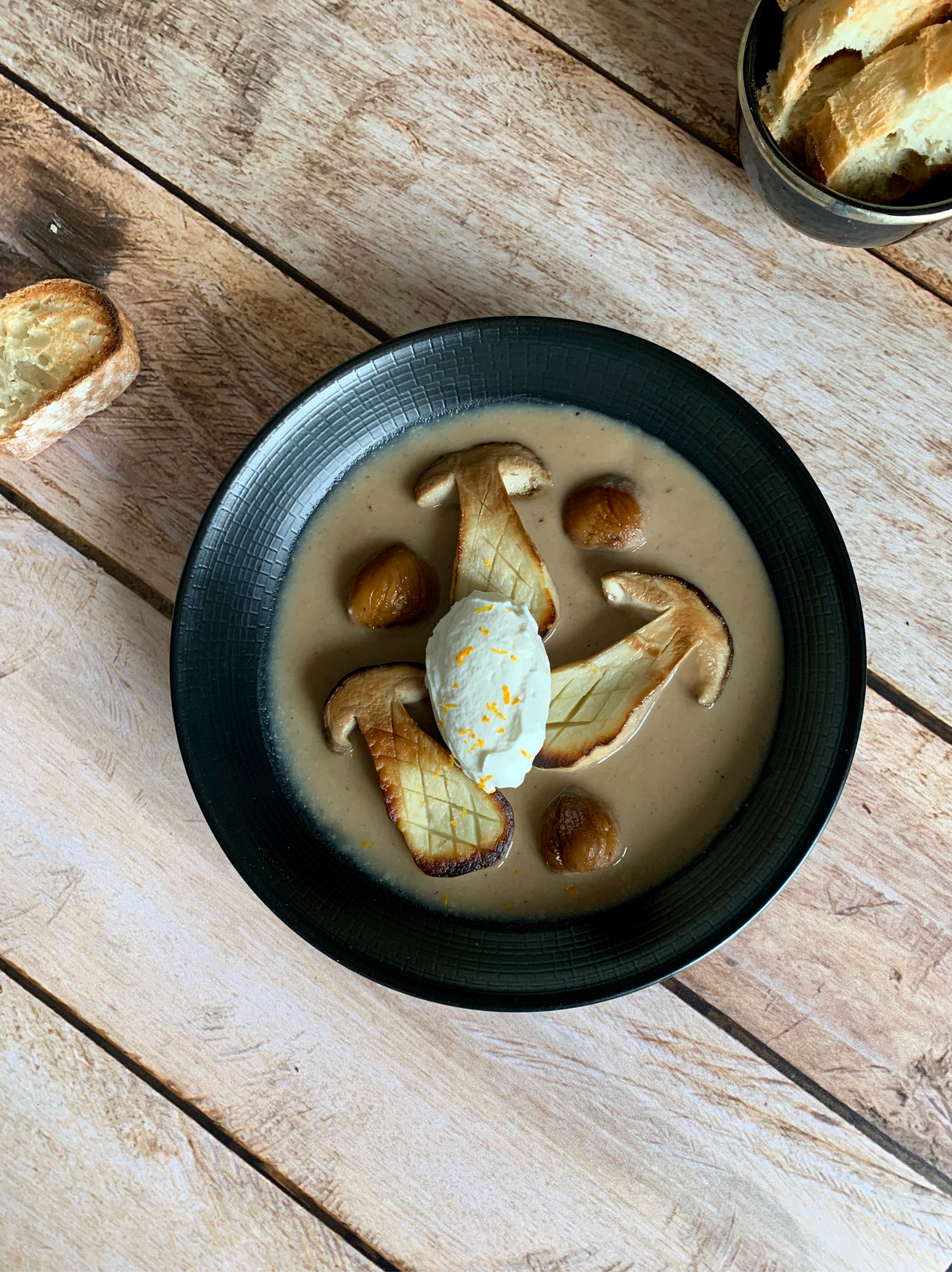 Print Recipe
Ceps and Chestnuts Velouté
Ingredients
800 g / 1 kg ceps

400 g chestnuts

1 orange

1/2 onion

2 garlic cloves

Fresh thyme

6 cl cognac

10 g butter

2 tablespoons vegetal oil

1,5 poultry stock cubes

15 cl cream 30% fat

Salt

Pepper

1 teaspoon paprika

1/2 teaspoon ground ginger
Instructions
1
Make 2 liters of poultry broth: boil 2 liters of water with the stock cubes.
2
Melt the butter in your sauté-pan and add the minced onion. Stir fry 2 minutes.
3
Add the chestnuts and grated garlic. Stir fry 3-4 minutes, pour the cognac and cook 1 to 2 minutes.
4
Lower the stove at medium heat.
5
Set aside 1 medium size cep per person and a few chestnuts.
6
Clean the rest of the ceps, cut them and add them to the chestnuts.
7
Add the thyme, paprika, ground ginger, salt and broth.
8
Cook for 30 minutes at medium heat with lid, then 15 minutes without lid.
9
Whisk the cream into chantilly (no sugar added...) and set aside in your fridge.
10
10 minutes before the end of cooking, heat the oil in a frying pan.
11
Cut the remaing ceps in 2, make braces on the surface with your knife. Stir fry 5 minutes on each side. Add salt.
12
At the end of cooking, remove the thyme, mix with your blender and sift.
13
Add half of the orange zest, taste, adjust seasoning, add pepper and more zests if you want.
14
Place the ceps in your plates with a few chesnuts. Pour the velouté and add a tablespoon of chantilly.
Notes
You can take whisky instead of cognac.