Hello food lovers!
I'va been thinking about this dish for ages! Ages…
Here is finally the shakshuka!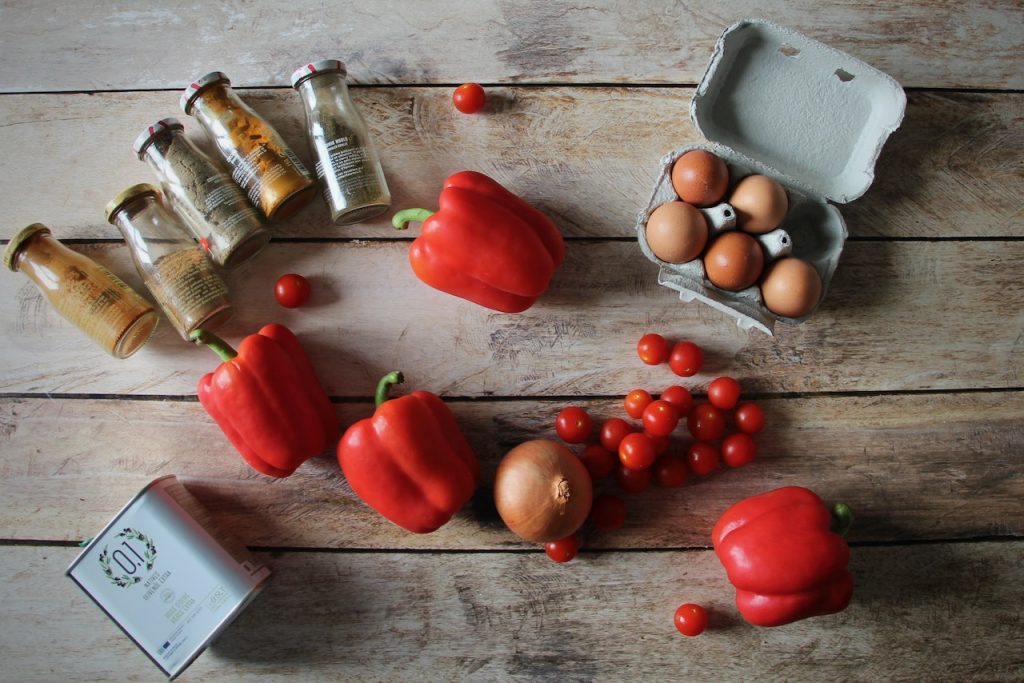 Indeed I had this shakshuka in mind for a while because this dish combines a few of the things I love to cook:
– Mediterranean vegetables first. Red peppers (you can also have yellow, orange or green peppers), tomatoes (if the season is right they will come from my backyard).
– spices: cinnamon, cumin, ginger and quite a few others!
– a slow and gentle cooking to get a delicious taste and texture.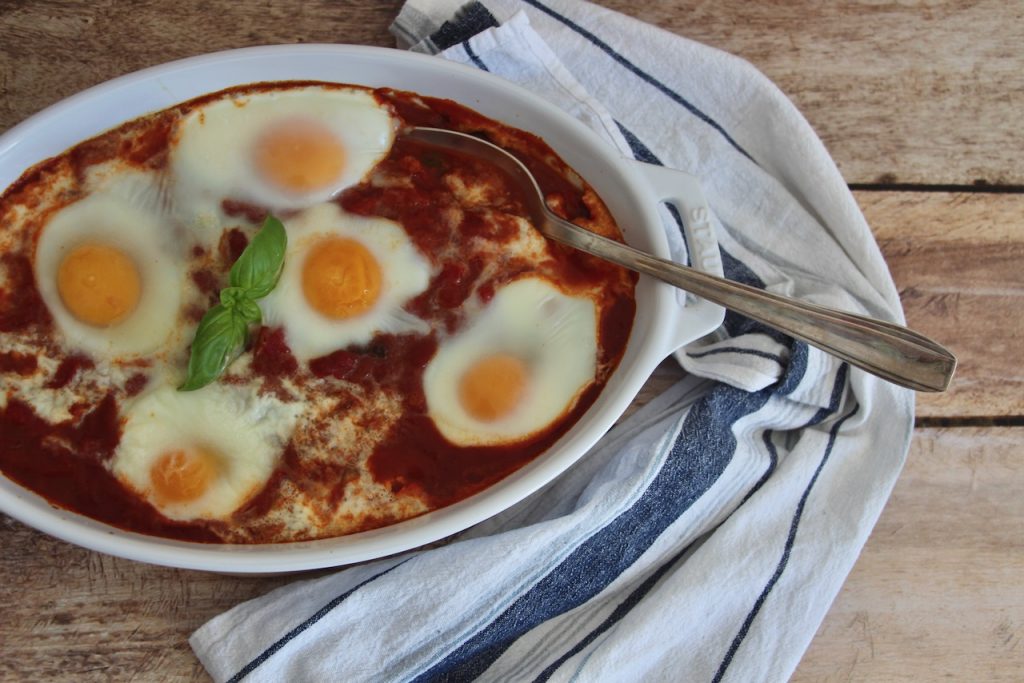 It's also a meatless meal, super healthy, that I will serve with white rice, quinoa or simply with my homemade pita breads. It's always well appreciated.
The shakshuka, or chakchouka , tchektchouka, tchoukchouka ou even chachouka, is a Northern African dish, mainly from the Maghreb region.
It's a kind of ratatouille or red pepper stew, with tomatoes, onions to which you will add eggs.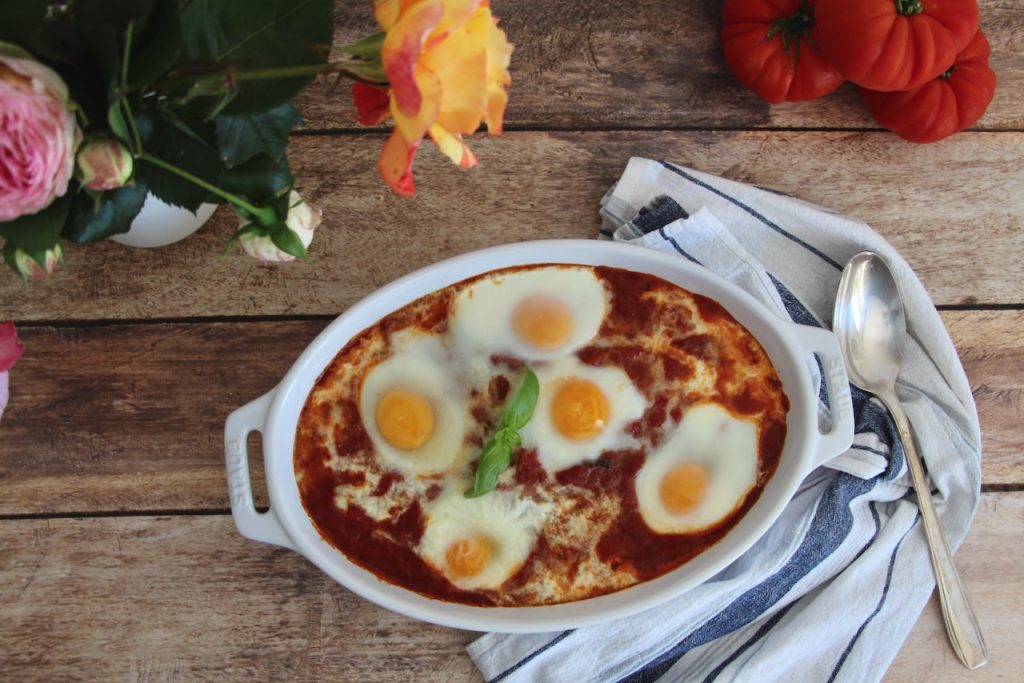 The Turkish version of shakshuka is also a dish based on veggies cooked in olive oil, but that you will enjoy cold and without eggs.
You get it, according to the country, the origin, the family culinary habits, the shakshuka can be different.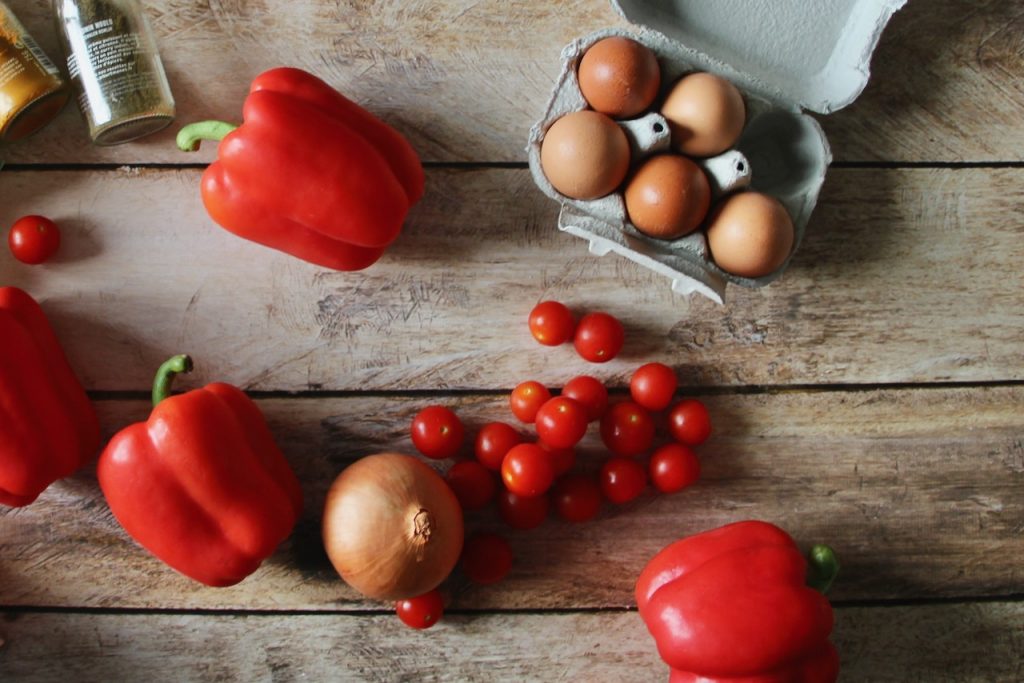 I really like it when it has been cooked for a long time. But you will need at least one hour of cooking, up to 2 hours is great. You will probably notice that I put the spices directly with the onions and garlic to fry, before the red peppers and tomatoes. This will make the spices develop their aroma more.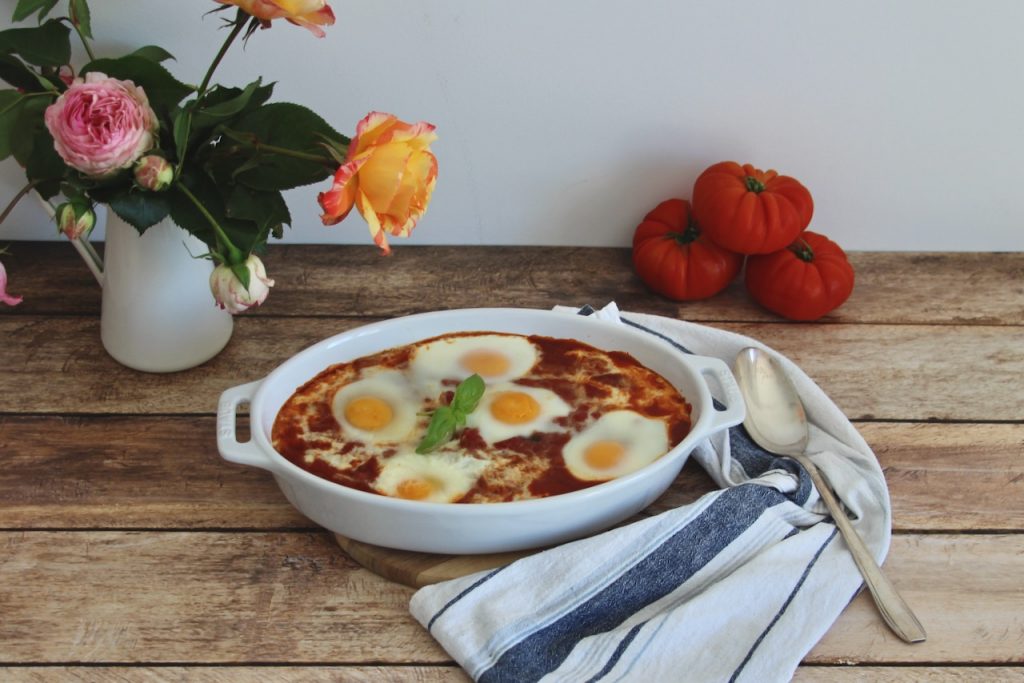 The utensils:
A sauté pan with a thick bottom or a cast iron casserole,
A cutting board
And a sharp knife.
Nothing more…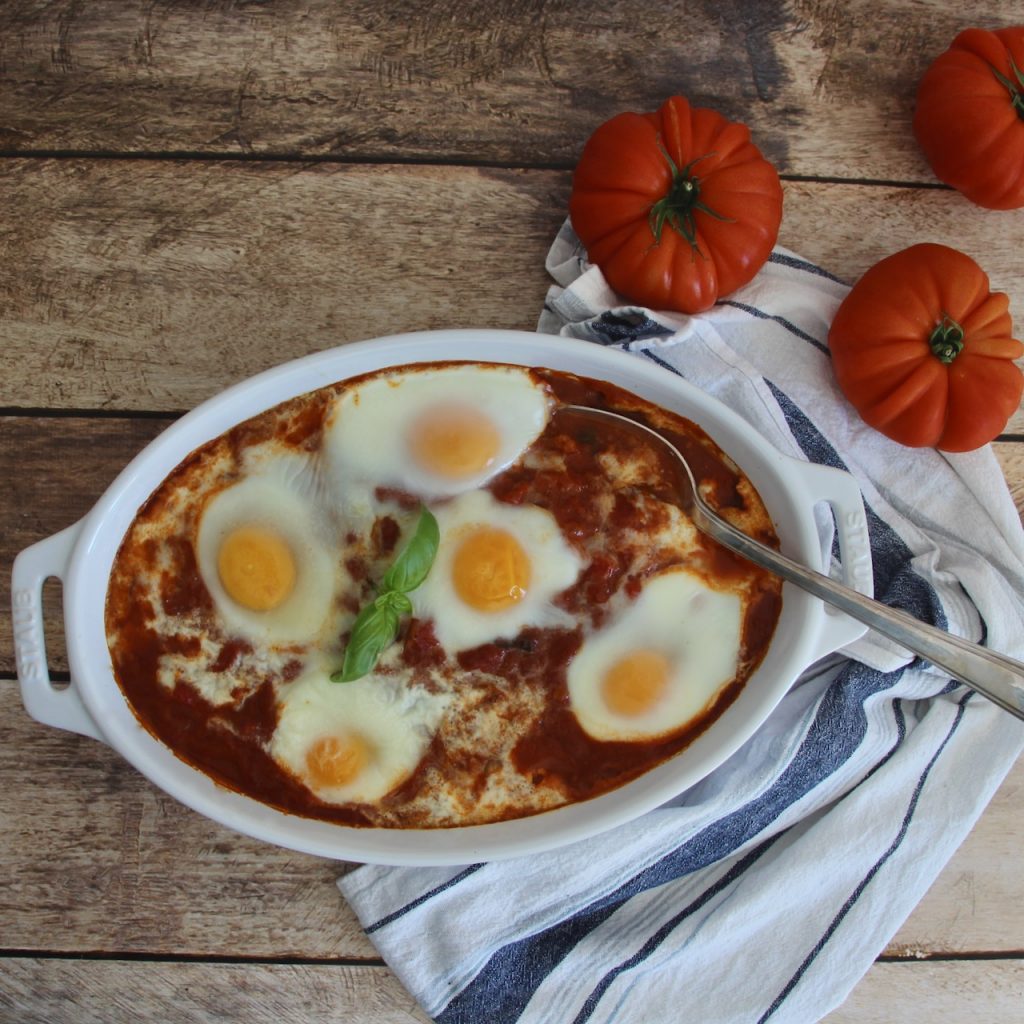 Shall we try this?
The recipe, Chef!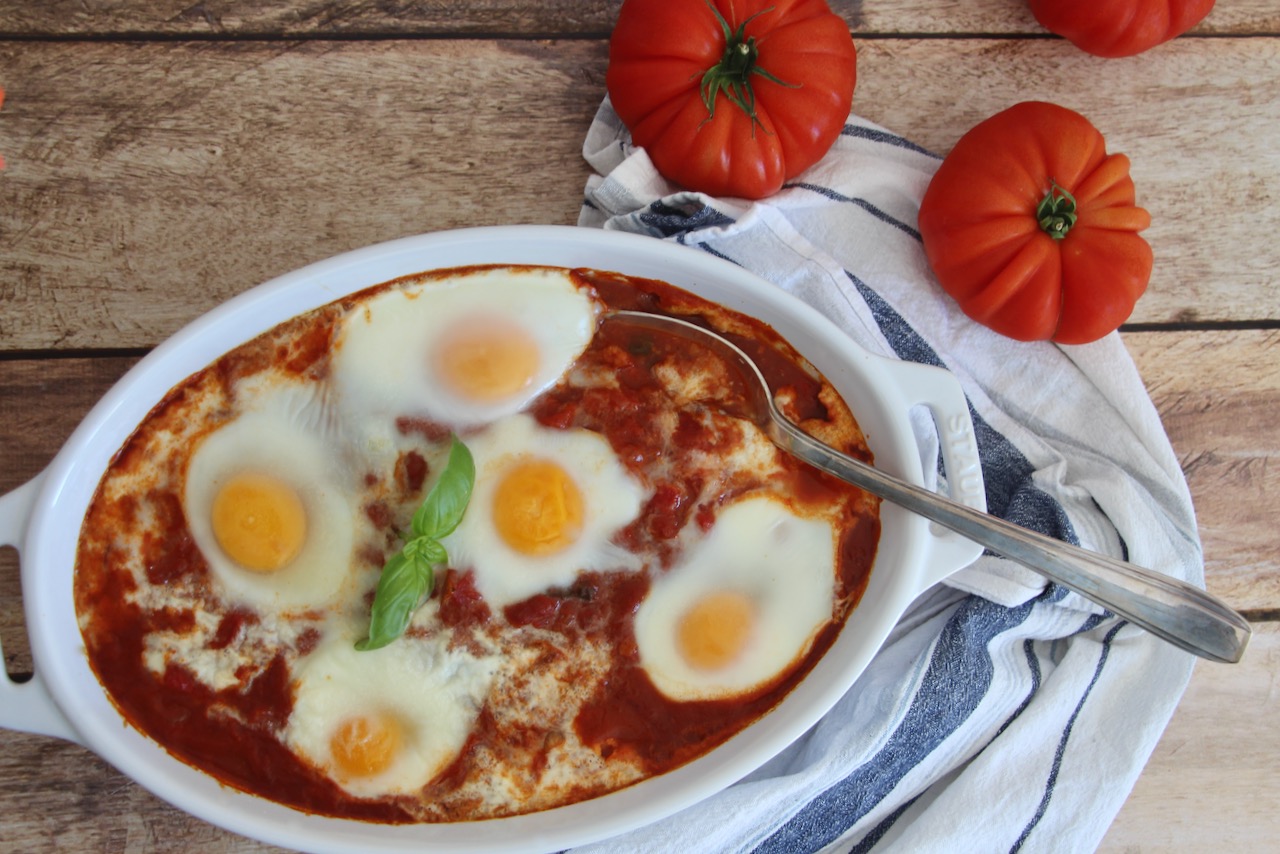 Print Recipe
Ingredients
3 red peppers

5 or 6 eggs

6 large tomatoes or 400 g tomato pulp

1 large onion

2 - 3 garlic cloves

2 teaspoons ground cumin

1 teaspoon paprika

1 teaspoon cinnamon

1 teaspoon ground ginger

1 teaspoon ground coriander

1/4 teaspoon red pepper

5 - 6 basil leaves

3 tablespoons olive oil

Salt

Pepper
Instructions
1
Set your oven on "grill" and place your red pepper. Grill on each side. Then place in a plastic bag and close the bag.
2
If you take fresh tomatoes, place them in boiling water for a few minutes, then remove the skin and seeds.
3
After 15-20 minutes, peel the red pepper, empty the inside and cut it in pieces.
4
Mince the onion and cook it in a large sauce pan with the olive oil.
5
Add the minced garlic and spices.
6
After 2 minutes, add the red pepper cubes, the tomatoes or tomato pulp.
7
Add 1/2 glass of water and salt (do not add pepper until the end of the cooking).
8
Cook at low-medium heat for an hour or more.
9
At the end of the cooking, check your seasoning and add pepper.
10
Place the eggs, salt them and cook some more.