A few days ago, I had the tremendous pleasure to be demonstrating pastry in a food exhibition in my city of Blois.
I made a few recipes, some of which I had never made before…
This one is one among them, my cheesecake from the Loire valley!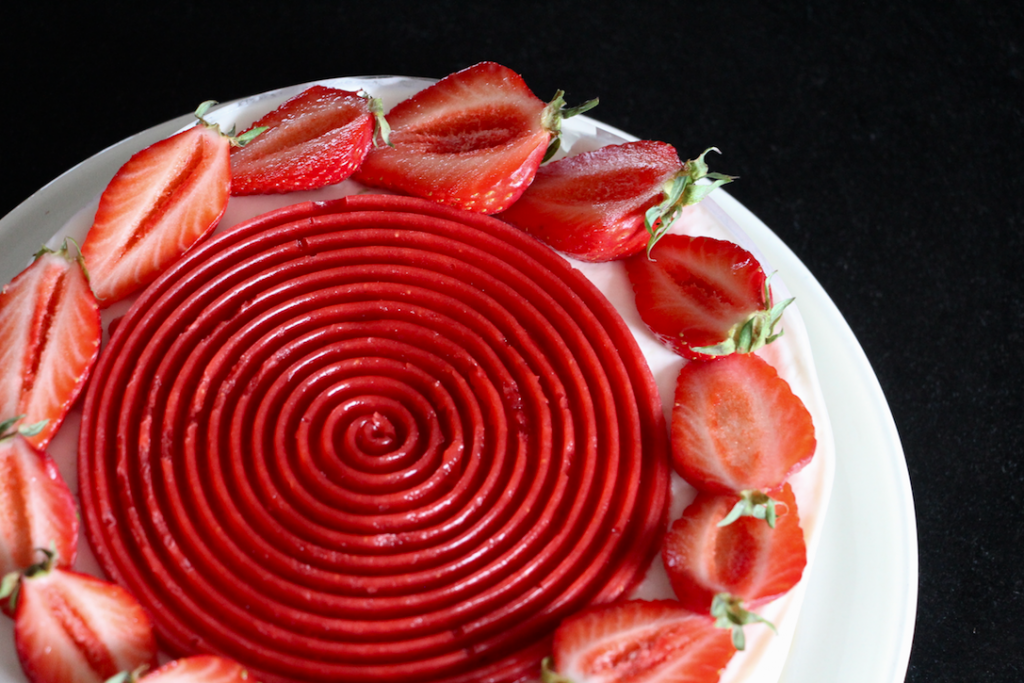 This exhibition's main purpose  was to enhance local products from the local farms.
So I tried to put as many local products in my desserts.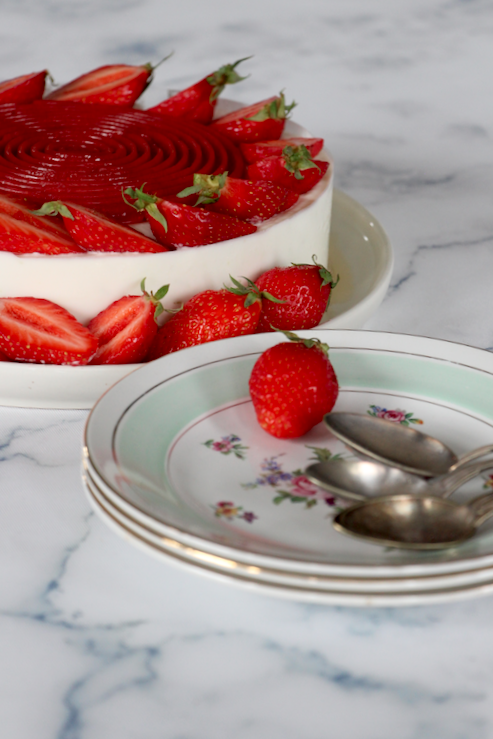 That's what I did here with my cheesecake from the Loire valley.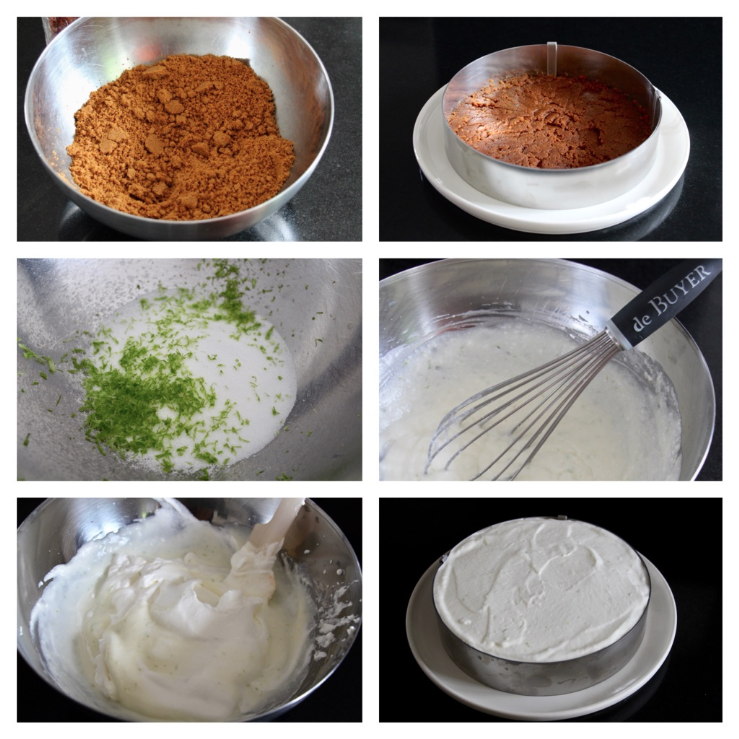 It is made with faisselle, a typical local cream cheese, gingerbread from Sologne (name of the region) and strawberries from Sologne too.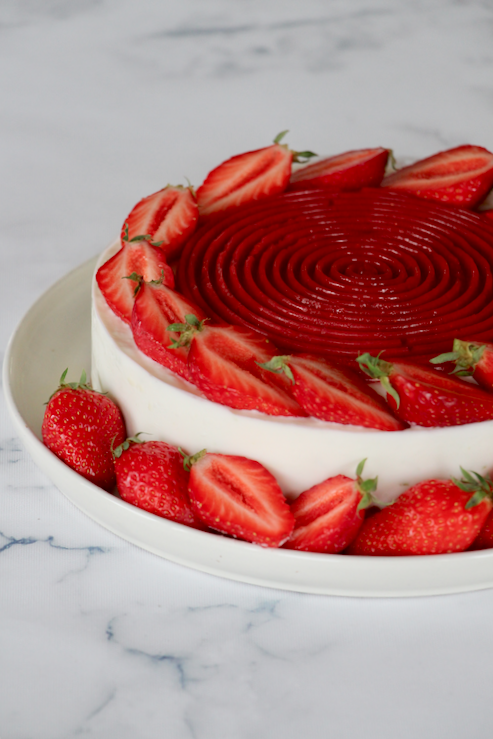 The faisselle is a French generic name for a type of cream cheese produced in the center of France.
It's made either with cow milk, goat or sheep milk. I took the cow milk version.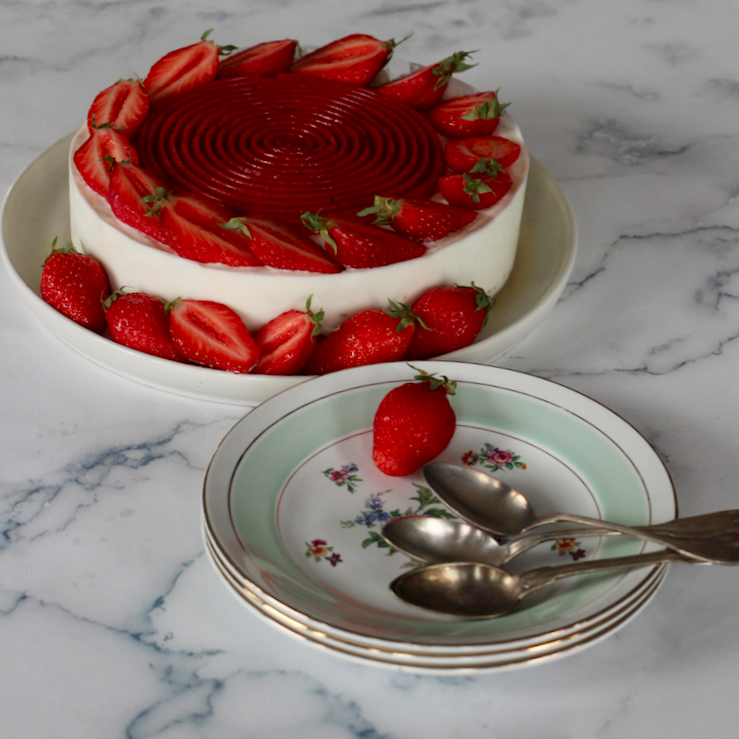 So you can make this dessert in little jars (as I did during the exhibition), it can be super nice on a buffet table… Or as a dessert to share as you can see it here.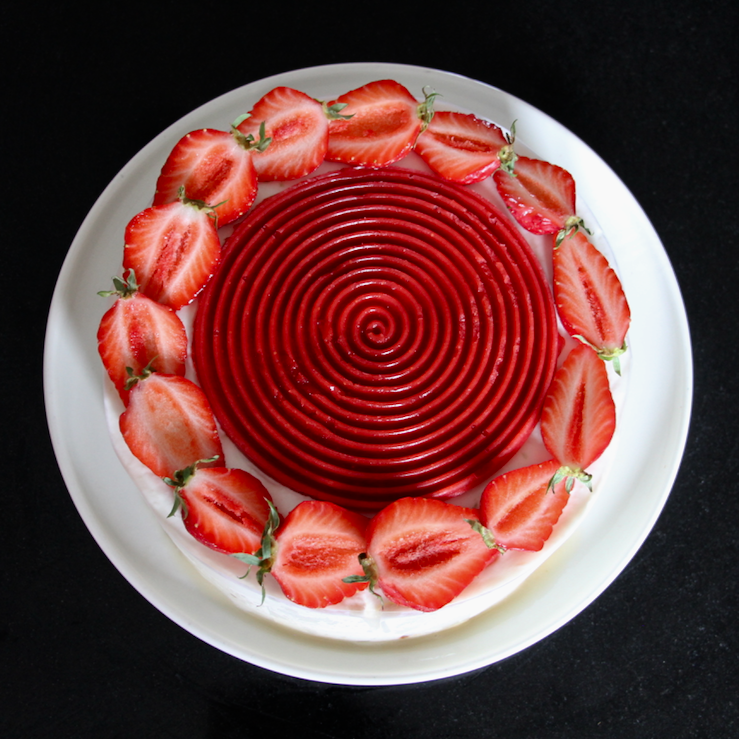 In such case, the utensils you need are:
A pastry ring (adjustable if you have) with 5 cm minimum height
A hand mixer
A large bowl
A good whisk
And a small sauce pan.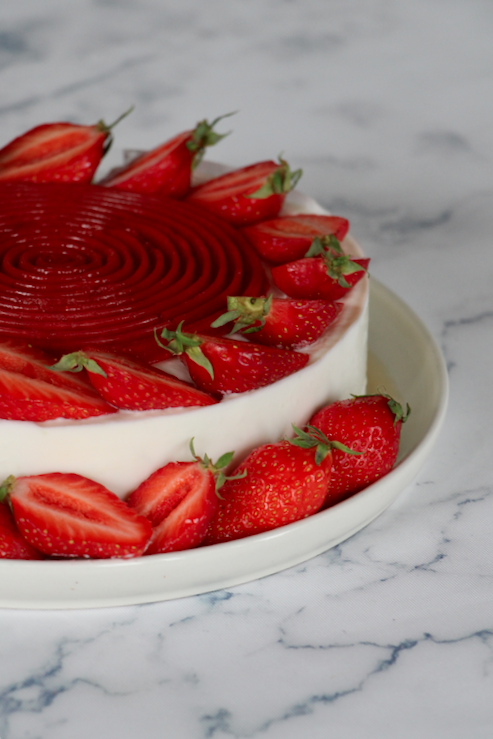 Last point… The faisselle cheese is far less compact than a cream cheese like Philadelphia for instance.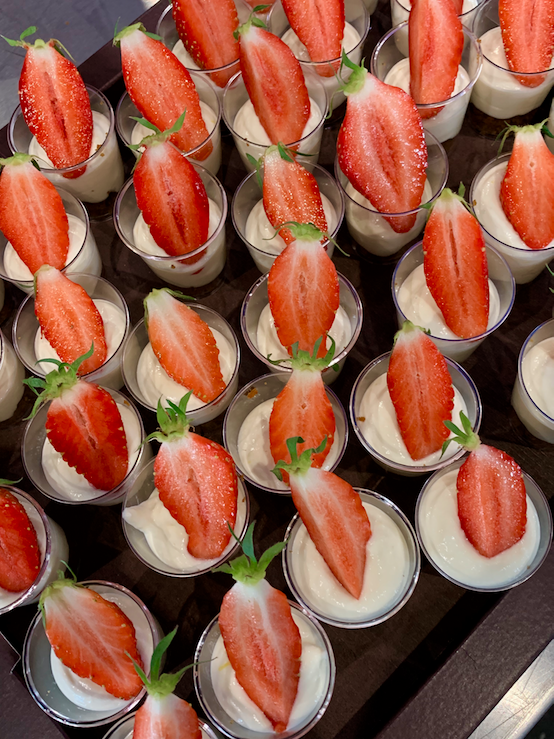 If you make this dessert in little jars, you won't necessarily need gelatine. You will get a mousse texture, which is good too.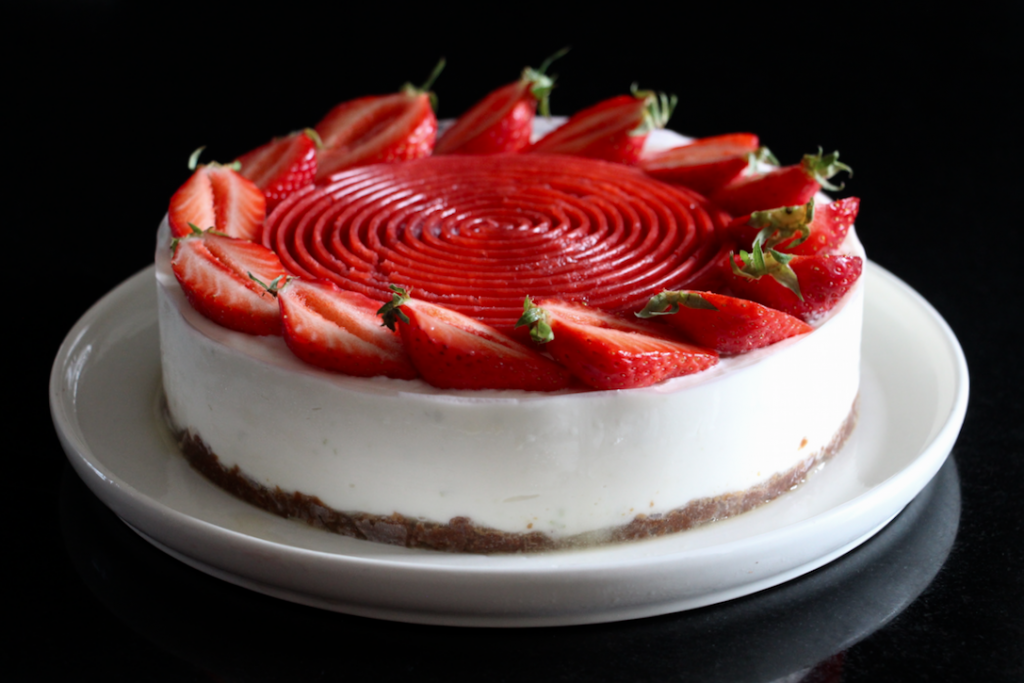 As a dessert to share on the other hand, you must put gelatine if you don't want it to collapse…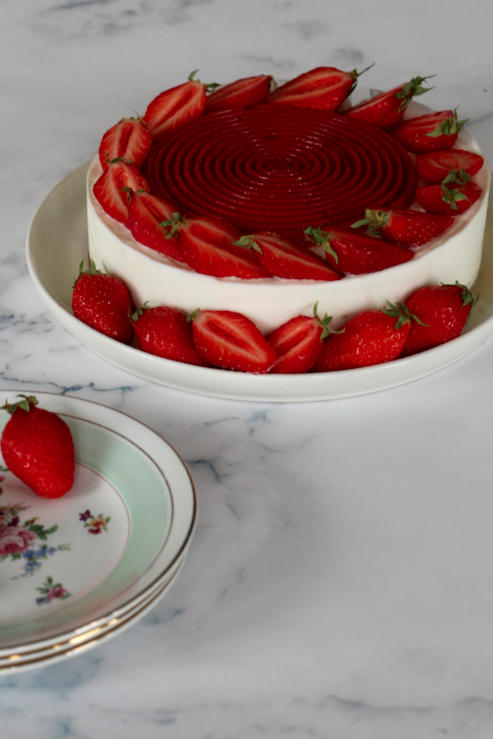 You know everything now…
The recipe, Chef!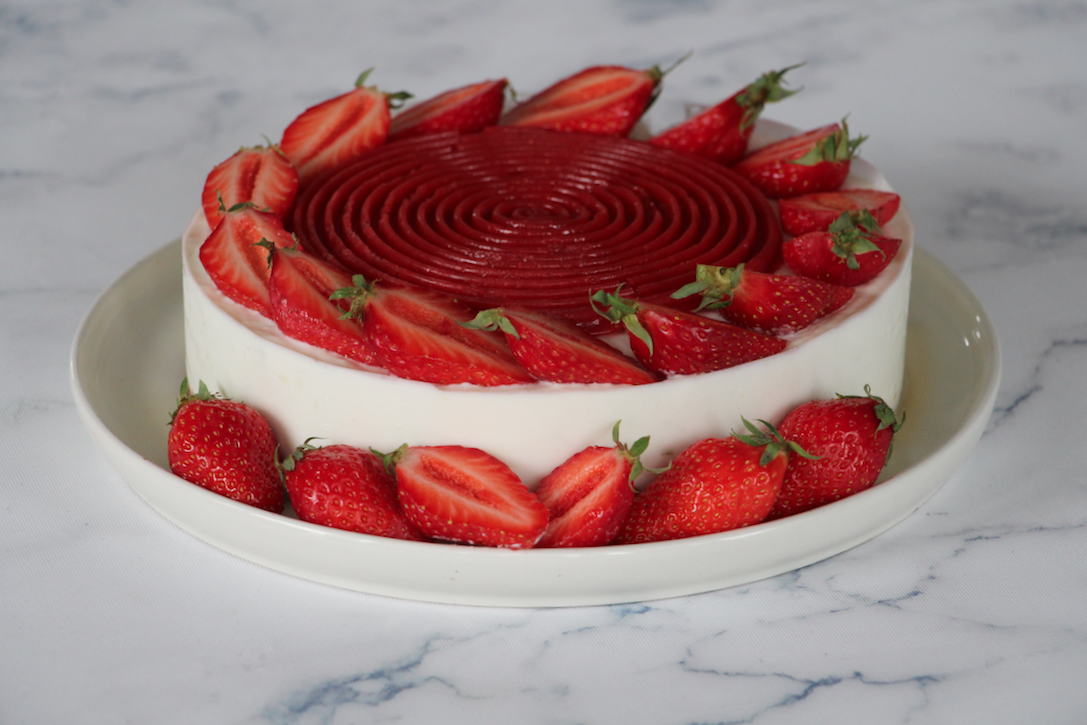 Print Recipe
Cheesecake from the Loire Valley
Ingredients
200 g gingerbread

10-12 strawberries

90 g unsalted butter, melted

100 g sugar

500 g Faisselle cream cheese

220 g liquid cream (30% fat)

1 lime

3 gelatine sheets (6 g)
Instructions
1
Place the gelatine sheets in cold water.
2
Make a thin crumble out of the gingerbread with your hand mixer.
3
Pour crumbs into a bowl and add the melted butter, and stir until well combined.
4
Press flat the crumb mixture into a springform pan. Chill crust in your fridge.
5
Mix the lime zest, lime juice and sugar.
6
Add the Faisselle cream cheese until smooth.
7
Warm 20 g of cream (do not boil).
8
Add the drained gelatine sheets.
9
Add the cream to the cheese mixture when cold.
10
Whip the 200 g of cream in order to make a chantilly (without sugar !). And add it to the cream cheese mixture with a spatula.
11
Pour the filling into the crust; smooth the top with a rubber spatula.
12
Set aside in your fridge for 3 hours.
13
Add fresh fruits before serving.
Notes
The central part on my cheesecake is a strawberry sauce to which I added one gelatine sheet in order to have a firm consistancy.