Hello my lovelies!!
My last sweet creation has just been eaten, it's already on the blog. Huge success, taste and look… So if you want to make a goodlooking and delicate dessert, you just found it: lemon curd shortbread crown!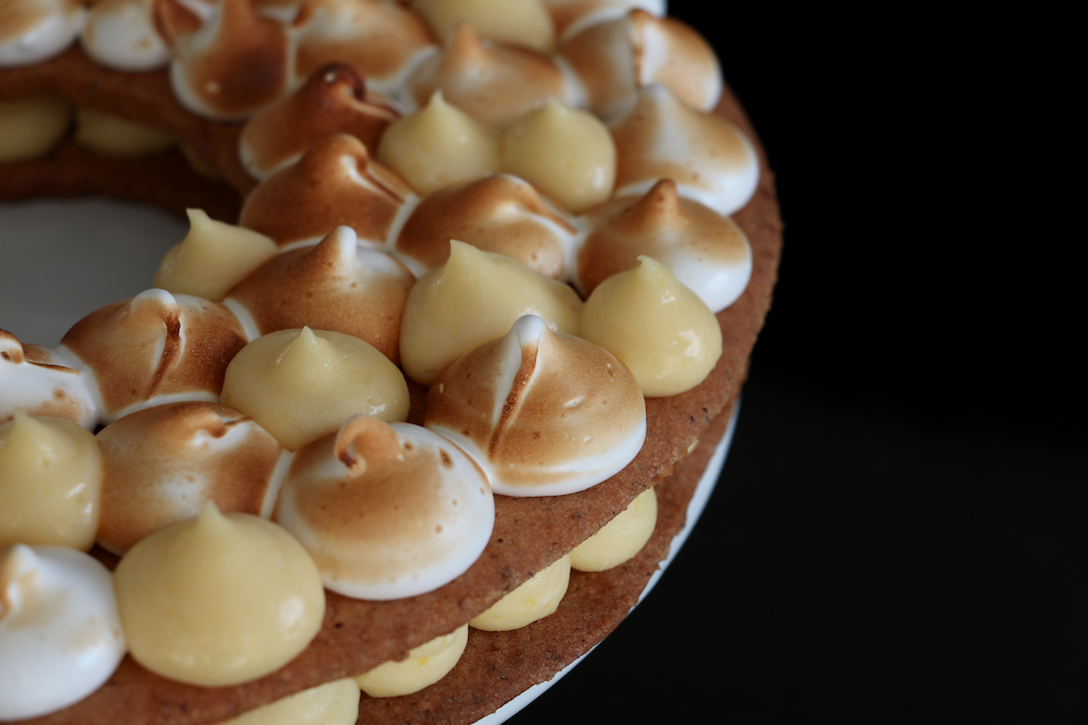 This recipe is the combination of two recipes I already posted here on the blog: the number cake and my lemon pie with meringue.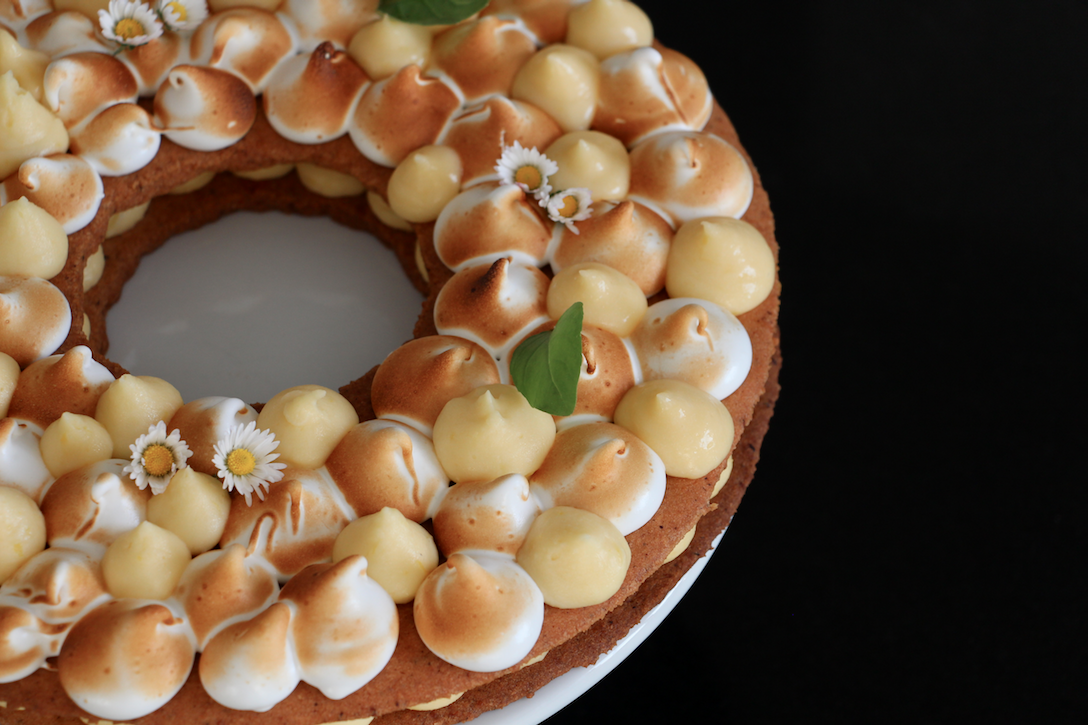 The main issue will be manipulations and piping. As far as the rest is concerned, it's rather do-able.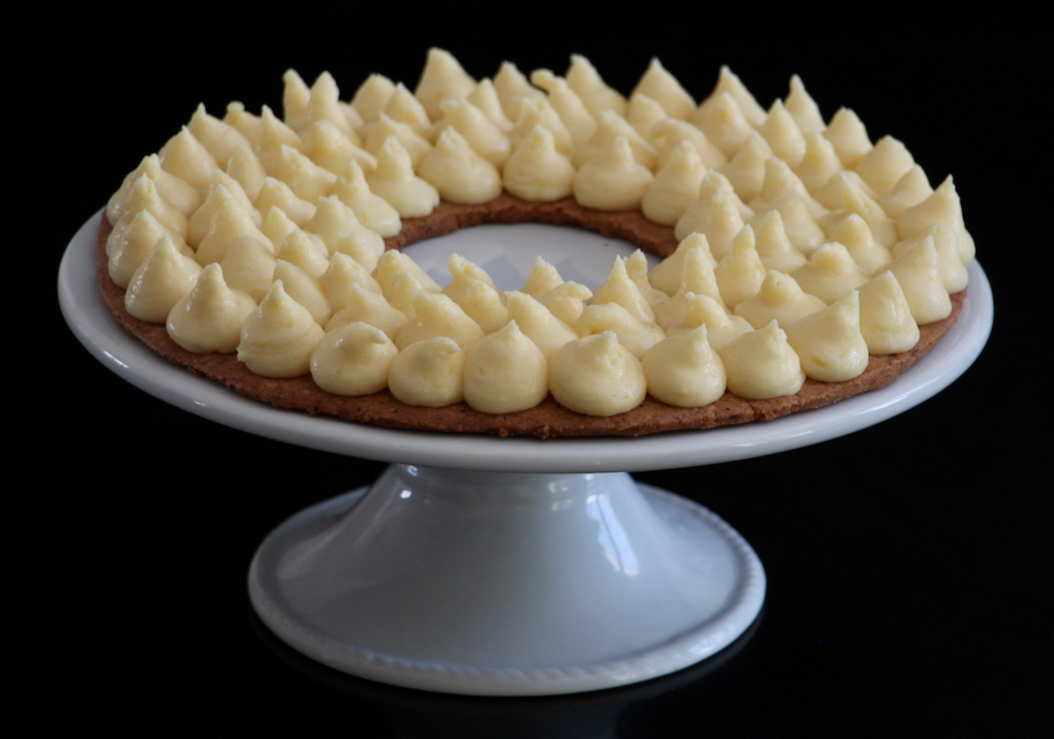 I chose, as I did for my number cake, a hazelnut shortbread pastry. I really like the combo between hazelnut taste and lemon. You can bake an almond version or a basic one if you prefer.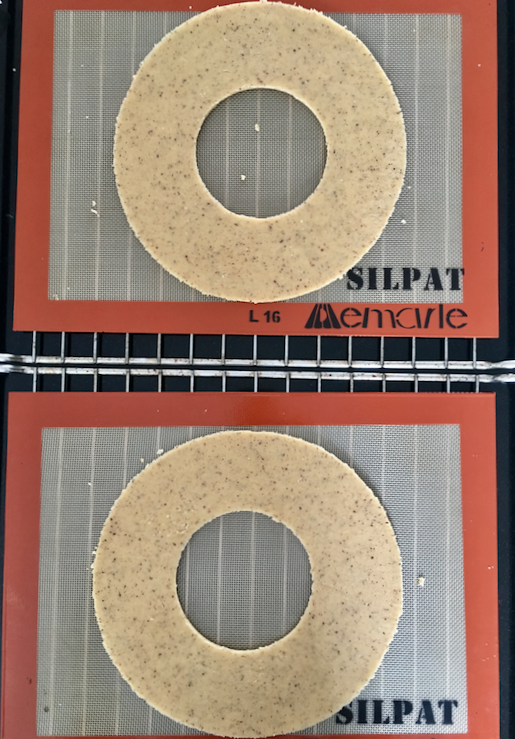 I prefer to bake the pastry the day before to avoid having a shortbread too fresh and fragile. Then I keep my pastry shapes on grids at room temperature.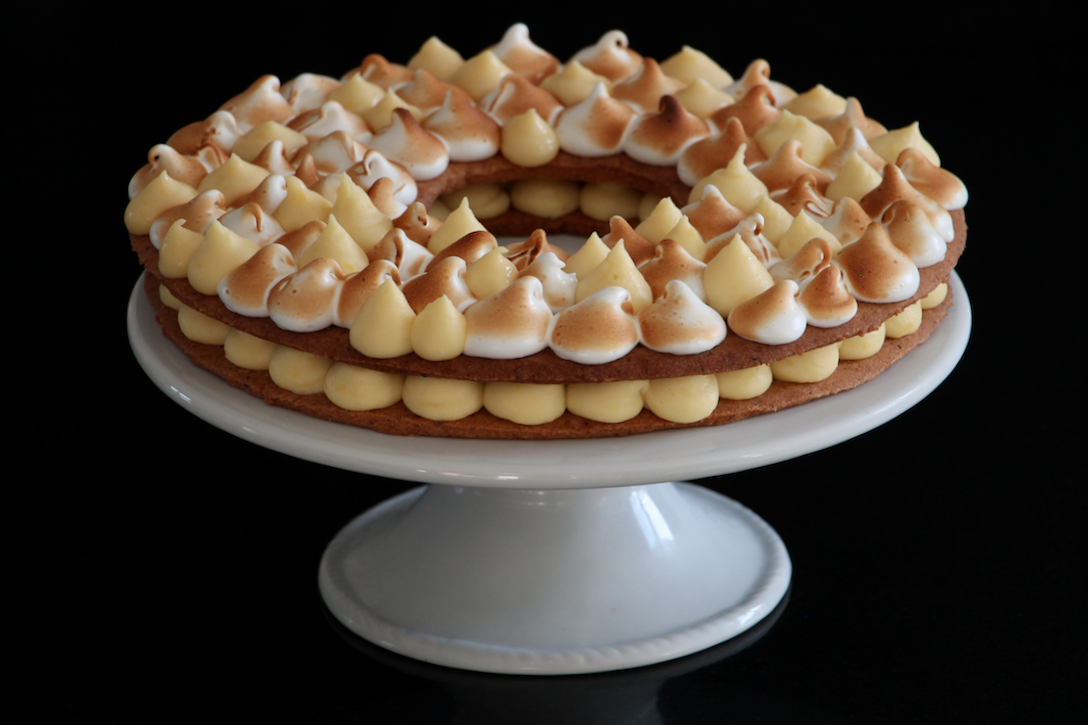 I chose this crown shape because I think it gives a really good look to this dessert and besides it's easy to cut. But you can let go your imagination and creativity.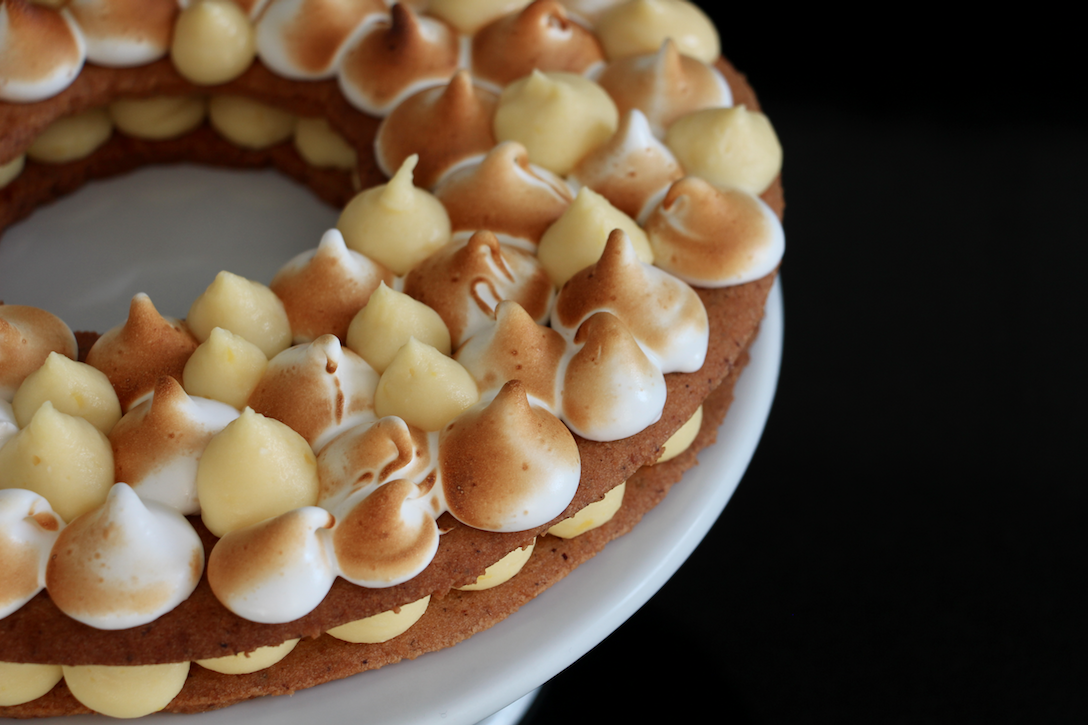 As far as equipments are concerned, I recommend the torche for the meringue. If you don't have one, you can put you shrotbread covered with meringue in the oven for 3-4 minutes, temperature 240 degrees.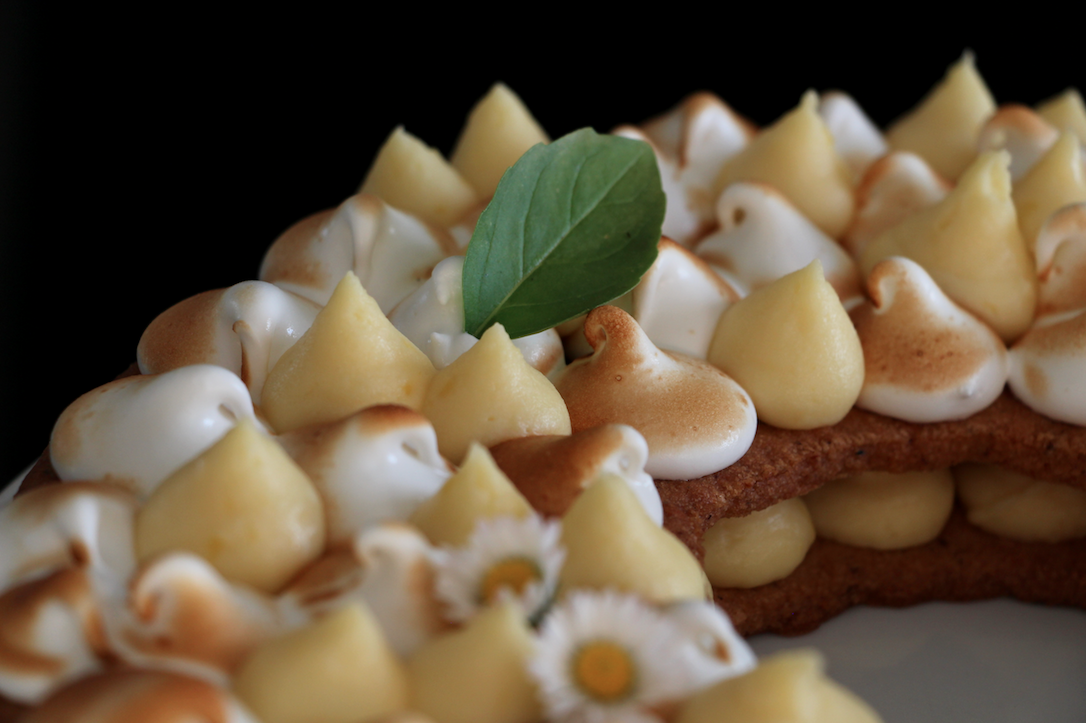 Be carefull, this has to be done before assembling your dessert. And I may even add that you have to do that before adding extra drops of lemon curd with the meringue…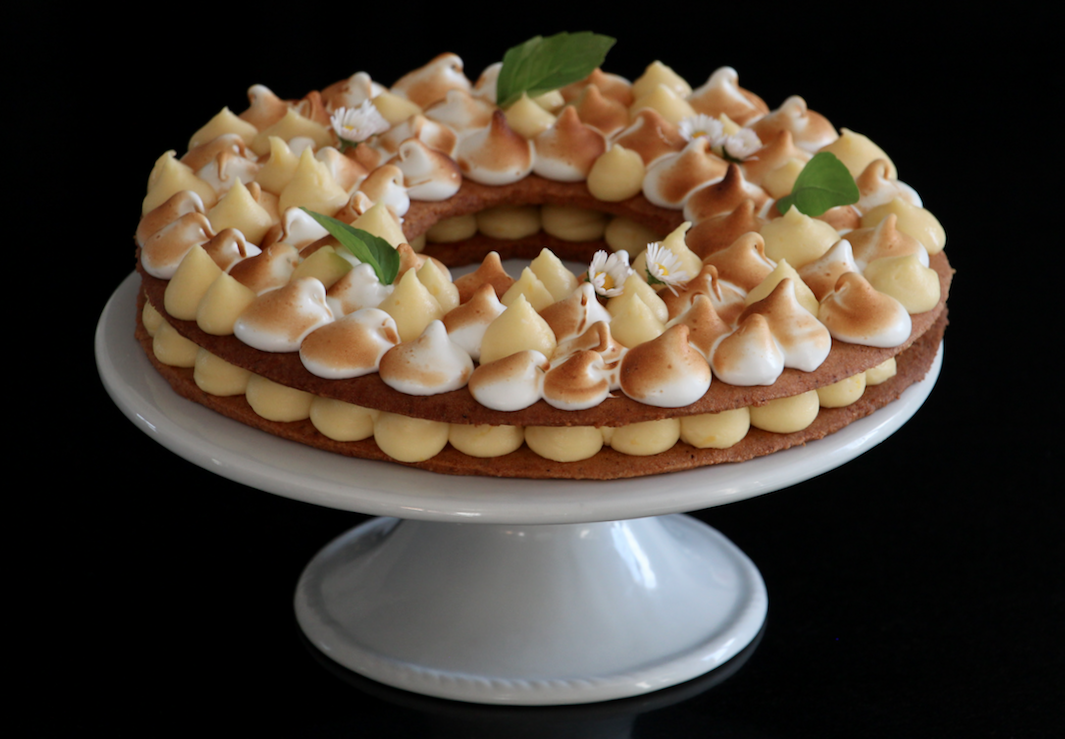 A last remark before starting the recipe: it is mandatory to let cool down the lemon curd at least 2 hours in your fridge. You need to have some time ahead of you…
Shall we? The recipe, Chef!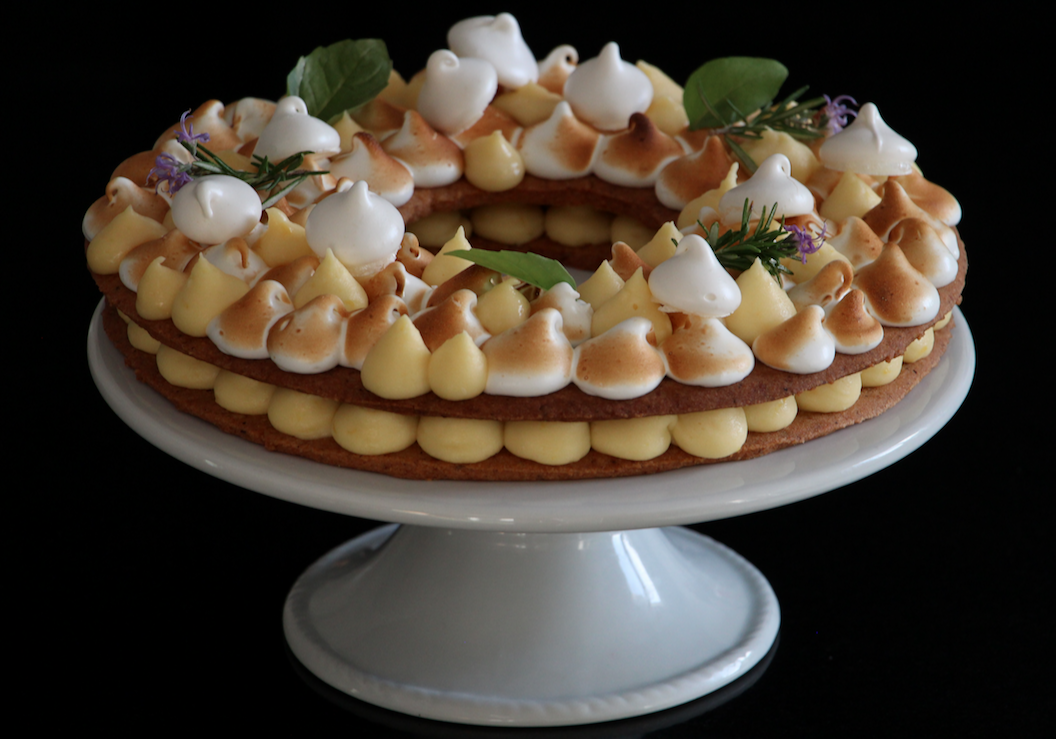 Print Recipe
Lemon Curd Shortbread Crown
Ingredients
230 g flour

5 g baking powder

130 g butter at room temperature

50 g hazelnut powder

1 pinch of salt

125 g iced sugar

2 egg yolks (approx 40 g)

3 lemons

60 g butter

2 eggs

1 egg yolk

150 g sugar

1 and 1/2 sheets of food gelatin
Instructions
1
Preheat your oven at 180 degrees.
2
If you use your Thermomix machine, put the flour, the hazelnut powder, icing sugar, butter, salt, baking powder and 2 egg yolks in the bowl and mix 20 seconds at speed 6. You can use your spatula to ease mixing.
3
If you use any other kind of food processor, put first the flour, salt, baking powder, hazelnut powder and sugar.
4
Cube the butter and mix medium speed until it resembles breadcrumbs.
5
Add the egg yolks until it comes together.
6
Place it between 2 sheets of baking paper.
7
Make your 2 identical shapes and bake them 13 to 15 min.
8
Place the gelatin sheets in cold water.
9
Squeeze the lemons and keep the zests.
10
In your sauce pan, put the lemon juice, the lemon zests, the sugar and butter. Cook 3 minutes at medium heat (3 on a scale of 1 to 6) and whip gently.
11
Add the 2 eggs and the egg yolk and cook at higher heat (4 on a scale of 1 to 6) and whip more vigorously for 2 minutes. Your lemon curd should get thicker.
13
Pour the lemon curd through a strainer to remove the solid parts.
14
Add the gelatin sheets (that you will have quickly dried with a paper towel). Whip a few seconds.
15
Let your lemon curd cool down a few minutes and pour it in your piping bag. Set aside in your fridge 2 hours.
16
The next day, pipe your lemon curd on the first shortbread biscuit. Set aside in the fridge.
17
Whip the egg whites with the salt and add little by little the iced sugar until you get a firm meringue.
18
Pipe the meringue on the second shortbread biscuit (you can leave spaces to add a few drops of lemon curd).
19
Torche the meringue. Add the lemon curd in the available spaces.
20
Place the second shortbread biscuit on top of the first one and set aside in the fridge for 1 hour at least.
Notes
You can add meringues, macarons and fruits for decoration.