I want to travel today…
I want to enjoy my breakfast today…
I want 1000 holes Baghrir crepes…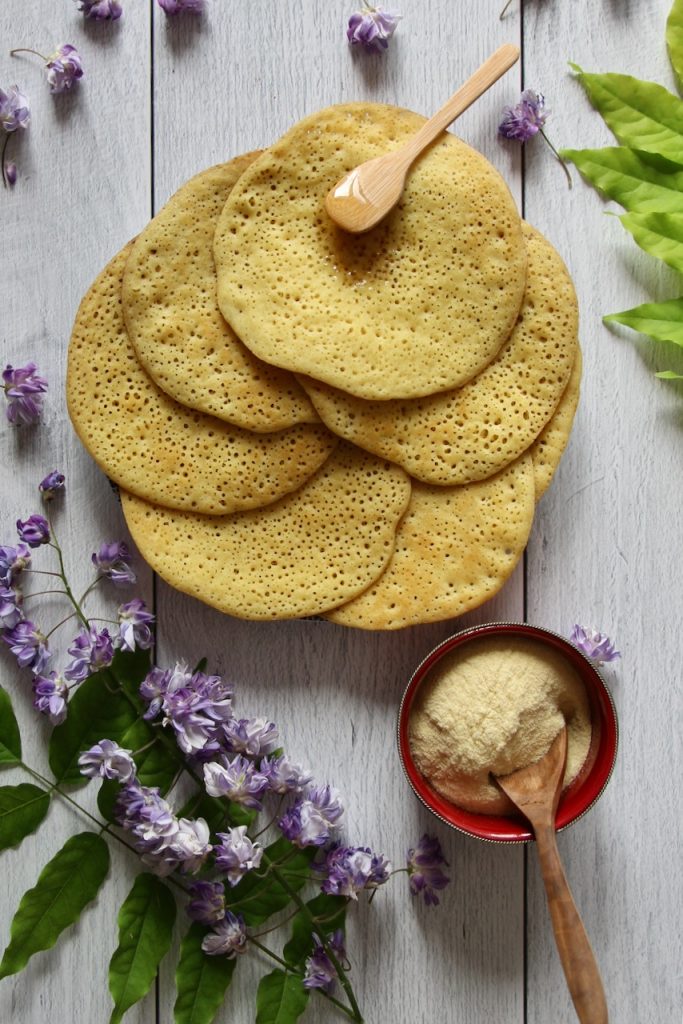 This recipe, originated from the Maghreb region, was shared by Patty on her Instagram account Riceandbaguette, and came right on time for me!
They are lighter than our traditional French crepes or than the delicious pancakes since there's no milk or eggs. It can be a good solution for people intolerant to those two ingredients by the way.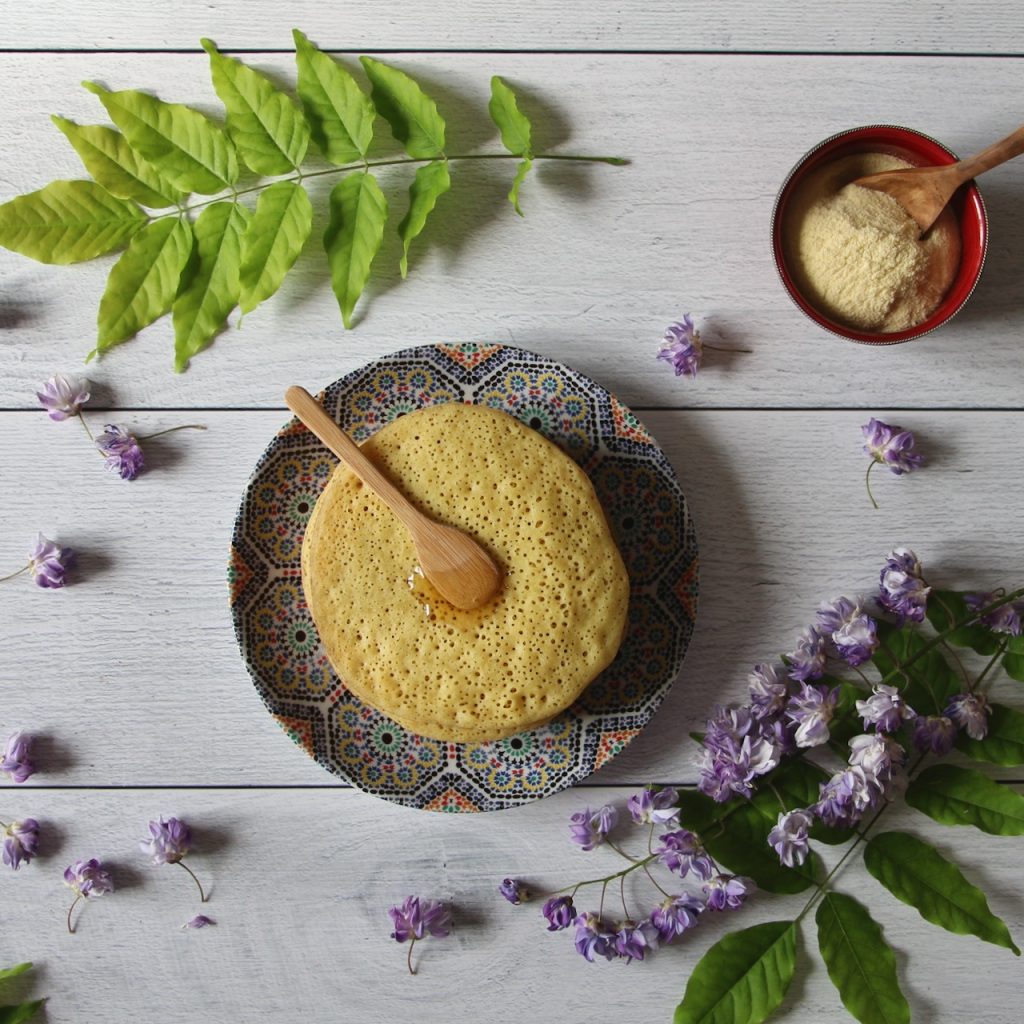 The other good news is that, except the 30 g of flour, this recipe is mainly made with fine semolina. When in confinement and when there's shortage of several products like flour, it can be the perfect option for breakfast or the afternoon snack without taking much of the flour reserve…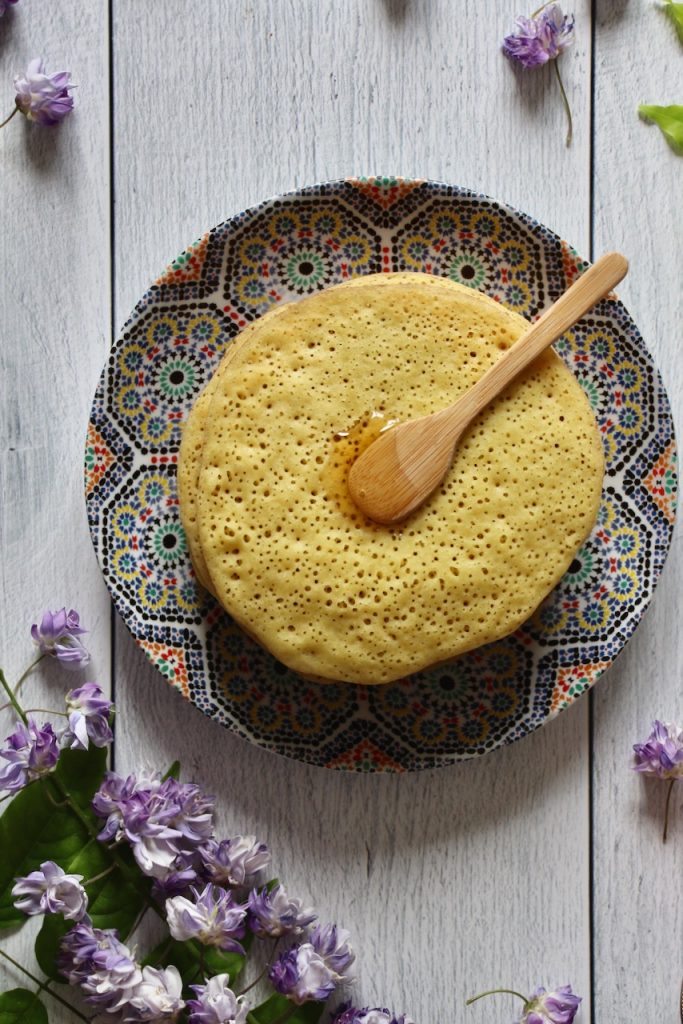 The best way to eat the 1000 holes Baghrir crepes is with a sauce made with melted butter, mapple syrup or honey and orange blossom. Obviously, you can put any other kind of topping that you usually have with crepes: sugar, lemon juice, spread paste, melted chocolate, honey, mapple syrup, praline paste, caramel … shall I go on??? 😉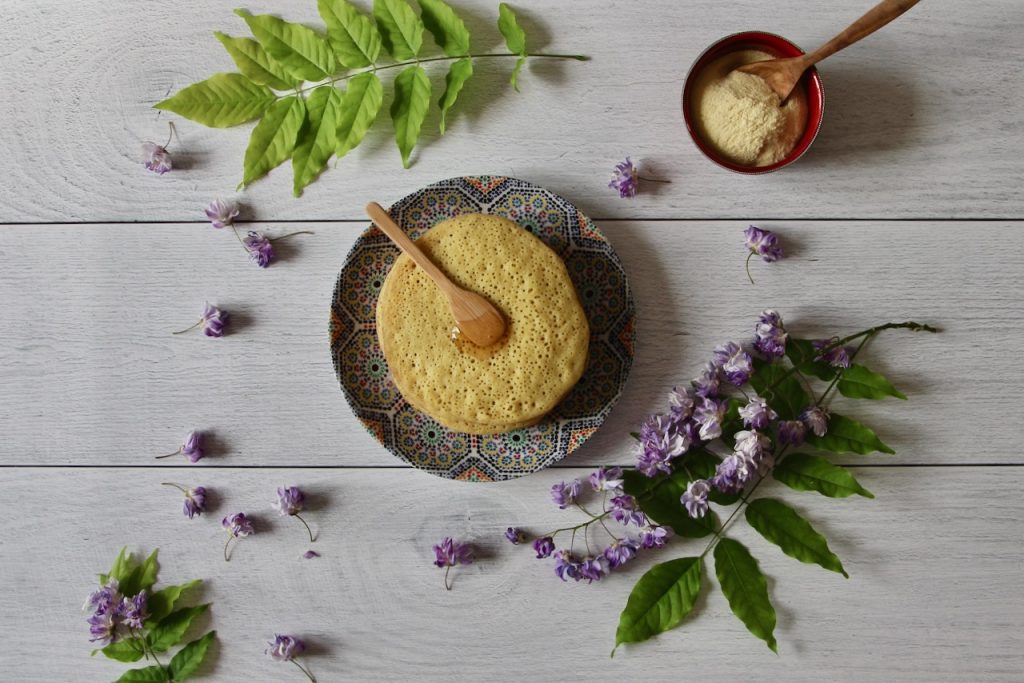 Besides, it can be a fun pastry workshop with the kids. They will be intrigued by the holes!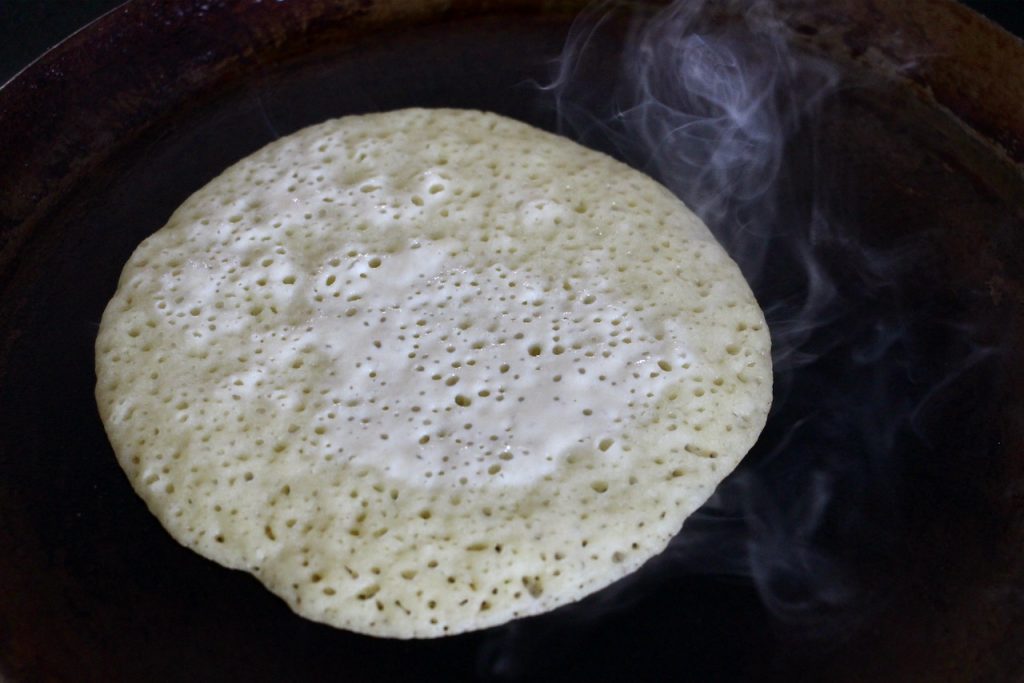 So about those little holes, a bit of advice: when you pour a laddle of Baghrir batter, you will move the frying pan so that the batter will spread a bit but not too much. If the crepes are too thin, you won't have as many holes as expected and your crepe won't be that fluffy. Make a few tests when starting the cooking to find the right balance. Also, cook at medium heat otherwise the bottom of the crepe will be burnt and you'll still have wet spots on top…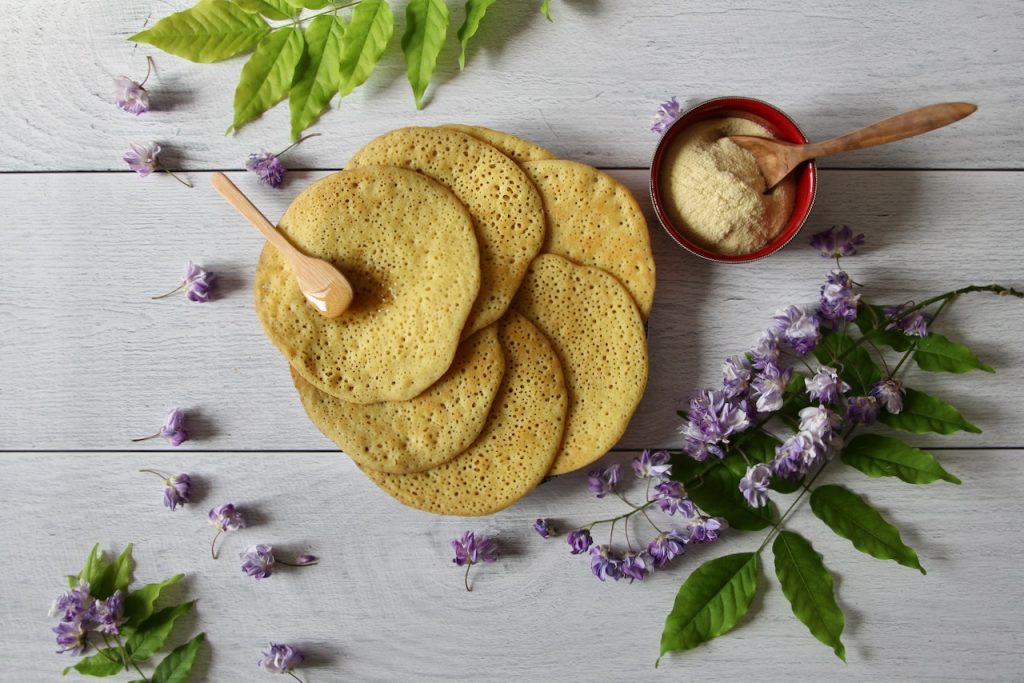 The utensils:
A food processor with whisk (or a large bowl with a hand whisk),
A crepe frying pan (I use my Mineral B by De Buyer)
And a laddle!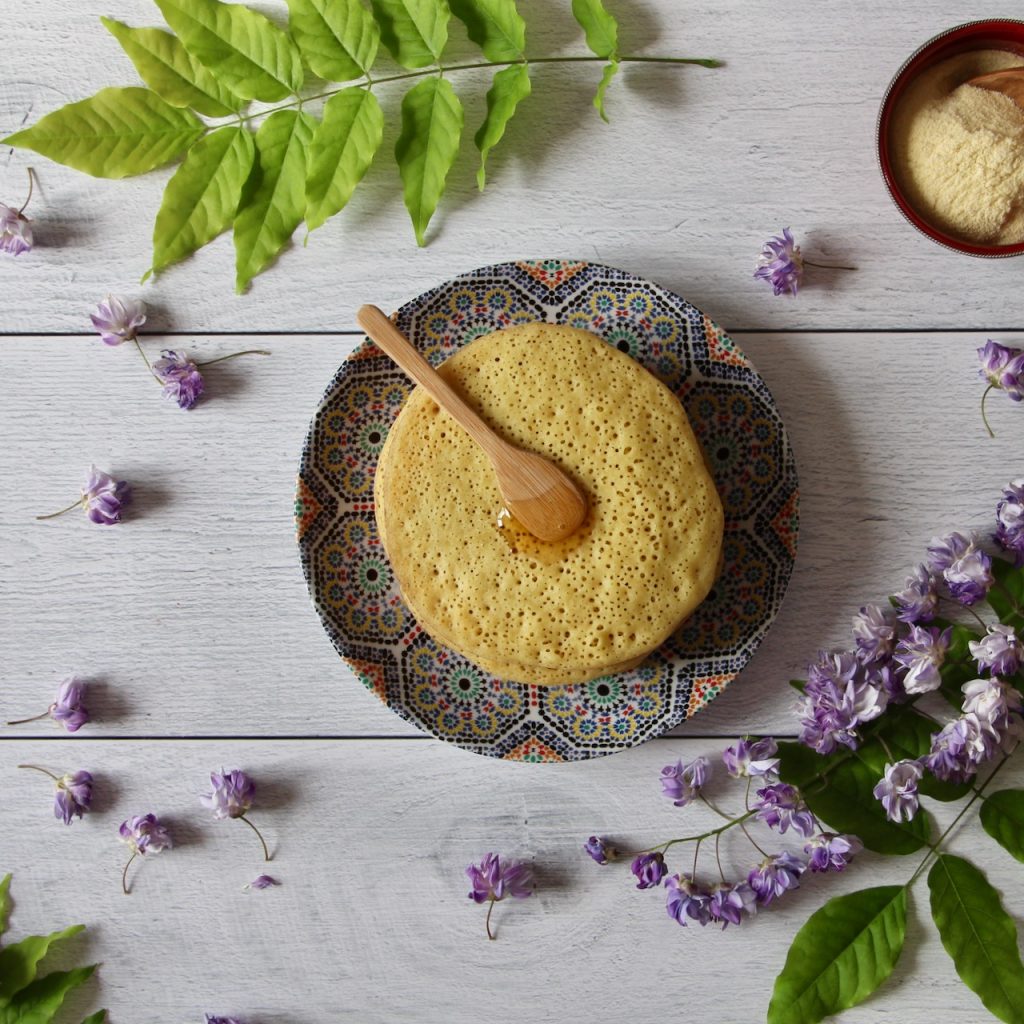 Are you ready?
The recipe, Chef!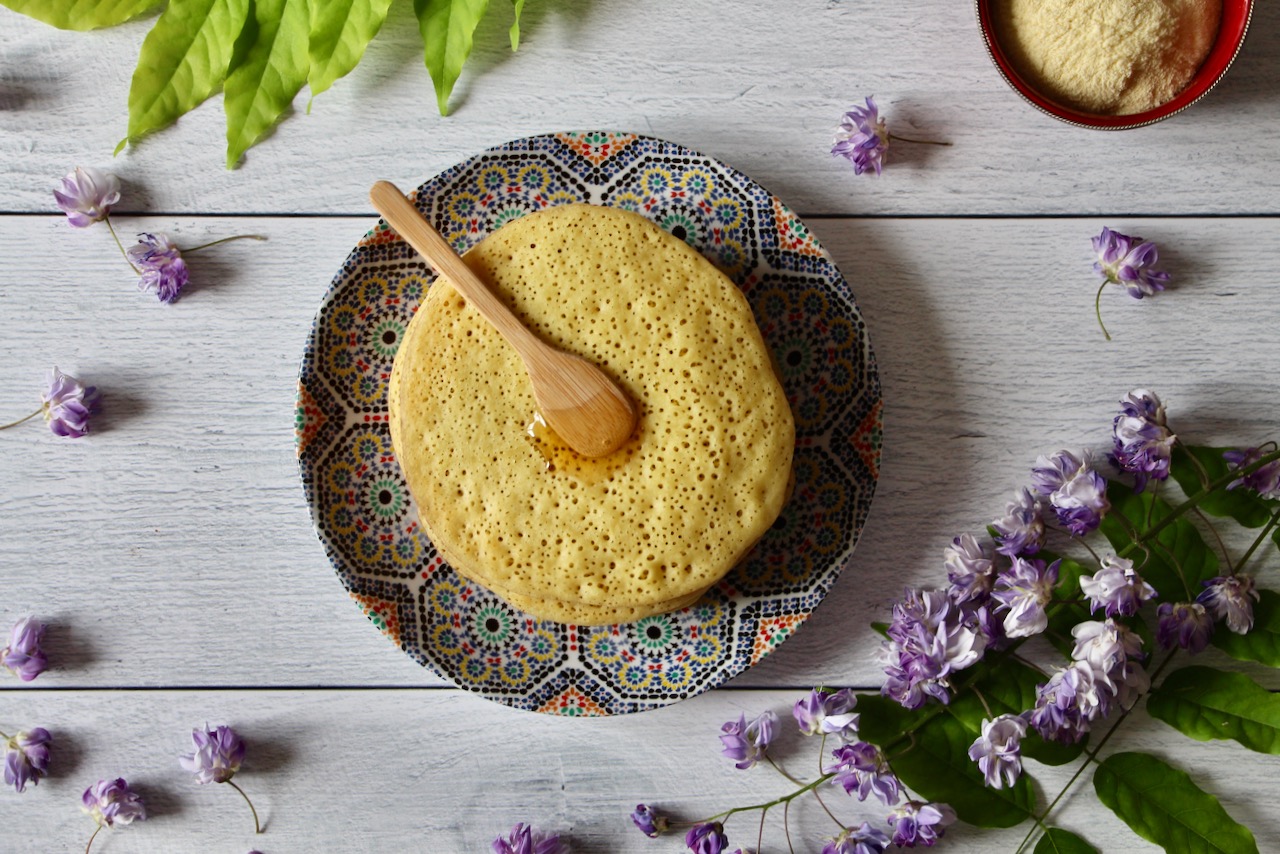 Print Recipe
Ingredients
1 1/2 cups fine semolina (250 g)

1/4 cup flour (30 g)

1 teaspoon instant dry yeast

1/2 teaspoon salt

1 teaspoon baking powder

1 tablespoon sugar

2 1/2 cups lukewarm water (600 g)
Instructions
1
In your blender, combine semolina with all powders except the baking powder.
2
Place the sugar and salt on one side, the yeast on the other.
3
Add the water little by little while whisking at low speed.
4
Keep whisking for 5 minutes until the batter thickens. Set aside for 30 minutes.
5
After this time, whisk the batter with the baking powder, make sure it's well mixed.
6
Heat the frying pan with a bit of oil.
7
Pour batter and cook undisturbed until holes set on the surface and the crepe has no more wet spots.
serve hot with a sauce made with melted butter, mapple syrup or honey and orange blossom.