Hello my friends!
What could be better than chocolate and raspberry combo? I can't find anything!! It's definitely my fav!
As we are celebrating Easter, I though about sharing something good looking, with chocolate and a bit of a wow effect!! But trust me, you can make it all year long!! It will be much appreciated.
Here is my chocolate and raspberry entremet.
The recipe, Chef!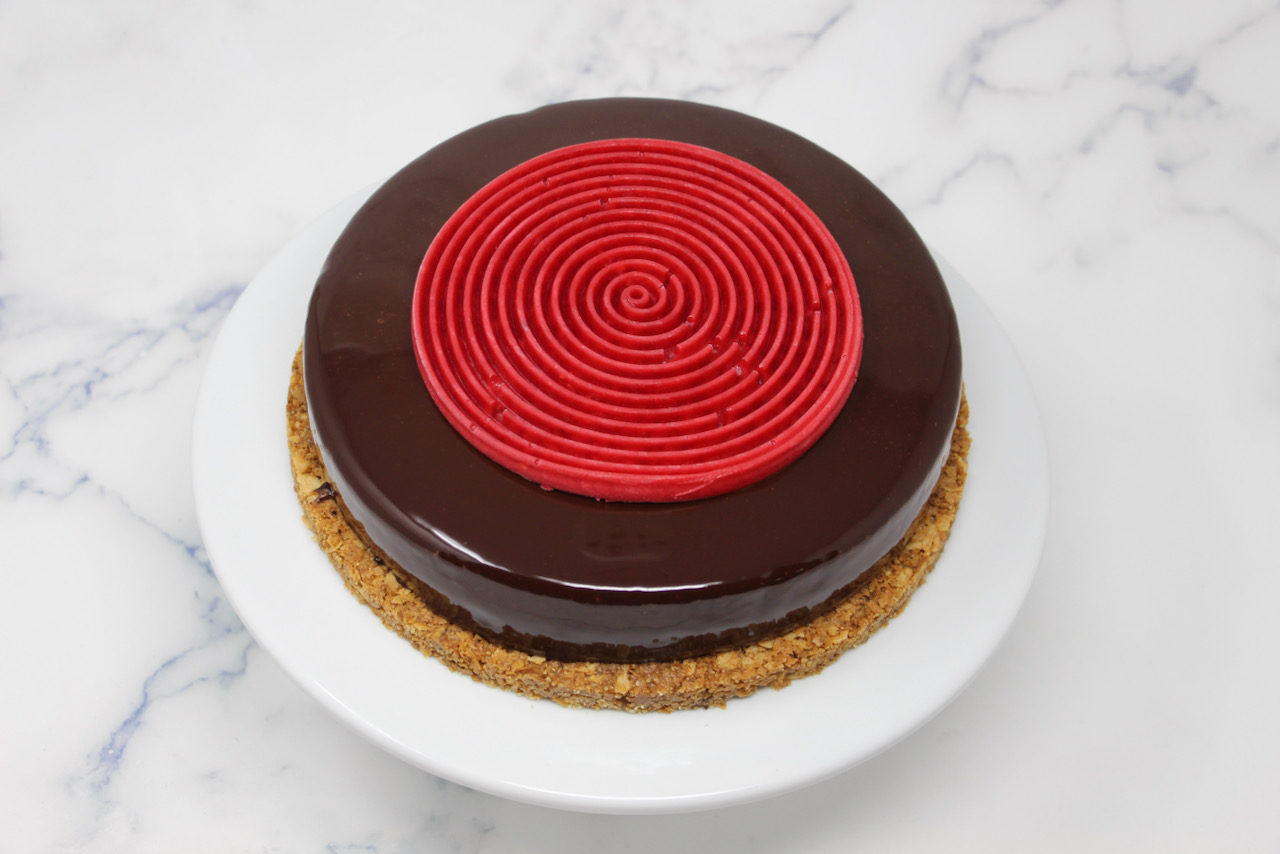 Print Recipe
Chocolate and Raspberry Entremet
Ingredients
Raspberry sauce

250 g raspberries

1/2 lime juice

50 g sugar

2 tbsp honey

2 sheets of gelatine (4 g)

Chocolate mousse

200 g dark chocolate

80 g butter

50 g sugar

240 g egg whites

2 egg yolks

Crumble

65 g flour

65 g almond powder

65 g sugar

65 g cold butter

1 tsp baking powder

2 pinches of flower salt

Biscuit

90 g almond praliné

85 g crispy crepes (for the biscuit)

30 g butter (for the biscuit)

Glaze Mirror

180 g water

218 g sugar

75 g cocoa powder

6 sheets of gelatine (12 g)

150 g liquid cream 30% fat
Instructions
1
Place the gelatine sheets in cold water.
2
Pour all the other ingredients in a sauce pan.
3
Cook gently for 12 minutes with a cover on your pan.
4
Sift the sauce to take away the seeds.
5
Pour half in a bowl, the other half in another. Add the drained gelatines sheets in one bowl. Combine.
7
Pour the sauce without gelatine in your insert mold. Freeze for at least 3 hours.
8
Pour the other sauce in swirl mold. Freeze for at least 3 hours.
9
Whip the egg whites with the sugar until you get a foamy mixture.
10
Melt gently the chocolate and butter.
11
Then put the egg yolks in a large bowl. Add 1/4 of the chocolate/butter slightly cooled down. Combine.
12
Repeat with the second quarter of chocolate/butter. Then with the third.
13
Gently add 2 tablespoons of whisked egg whites and combine until you have an homogeneous mixture.
14
Add the last quarter of chocolate/butter.
15
With a spatula, mix the rest of the whisked white eggs (add 1/3 and mix, then 1/3 and 1/3).
16
Pour half of the mousse in your entremet mold. Place the frozen piece of raspberry sauce and cover with the other half of the mousse.
17
Set aside in your freezer for at least 6 hours (a whole night is better).
18
Preheat your oven at 150 C / 300F degrees.
19
Combine the flour, sugar, almond powder, baking powder and flower salt in a bowl.
20
Add the cold butter and combine (it's easier with your fingers).
21
Spread the crumble pastry on your baking mat.
22
Bake for 30 minutes (your crumble should be golden).
24
Pour the crumble in a bowl. Add 90 g of praline and mix. Then add the crumbled crispy crepes dentelles and melted butter. You will get a sticky mixture.
25
Place it in your pastry ring. Press in order to have a compact and leveled surface.
26
Set aside in your fridge for at least 2 hours.
27
Place the sheets of gelatine in a bowl with cold water.
28
Pour the water, sugar, cocoa and cream in a sauce pan. Heat until it boils whilst whisking.
29
Remove from the heat, sift and add the gelatine sheets. Mix.
30
Place a cling film on the surface of the icing and let cool down (you will use this icing with a temperature between 30 and 35 degrees). You can hit gently the bowl against your working plan to help the little bubbles get out of the icing.
31
Place your frozen mousse on a grid. Below the grid, put a plate.
32
Pour at once the icing (with temperature between 30 and 35 degrees) on the frozen mousses.
33
Leave to rest 2-3 minutes and place each mousse on a biscuit.
34
Place the swirl raspberry sauce in the center and set aside in your fridge until serving (3 hours at least so that the mousse can defrost).