You want a soft, tender meat, with flavors, with spices…
You want to cook plums once more before the season is over…
You want candied lamb with plums…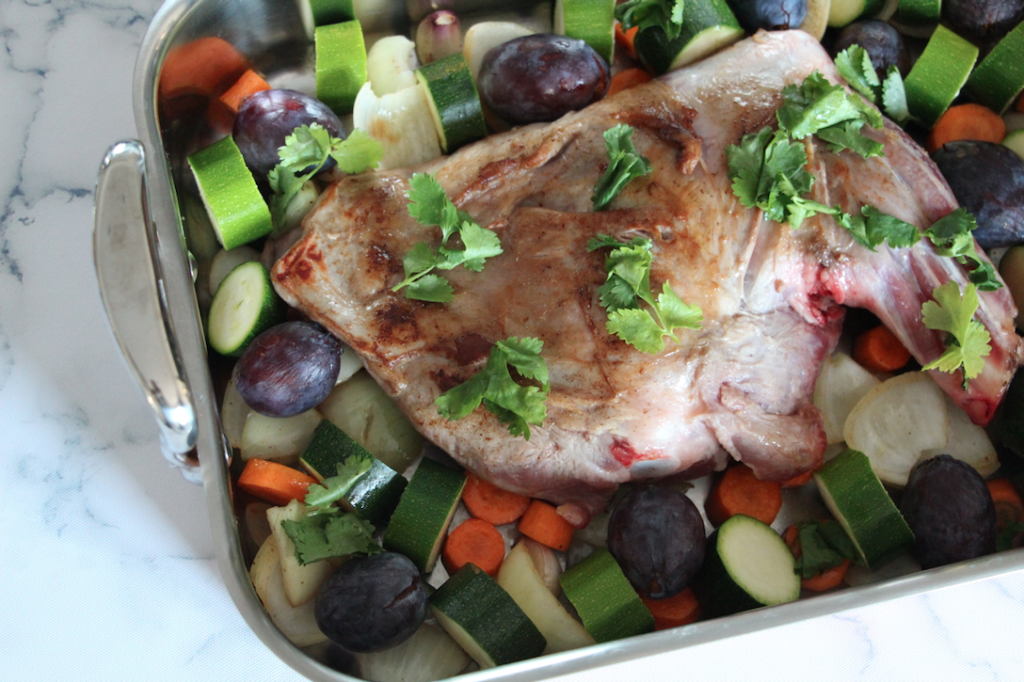 The purple plum called quetsche, the plum that you will mainly find in Alsace, my region, is a fruit that I crave! Raw, in a tart, in a crumble or in a financier,  it's such a delight!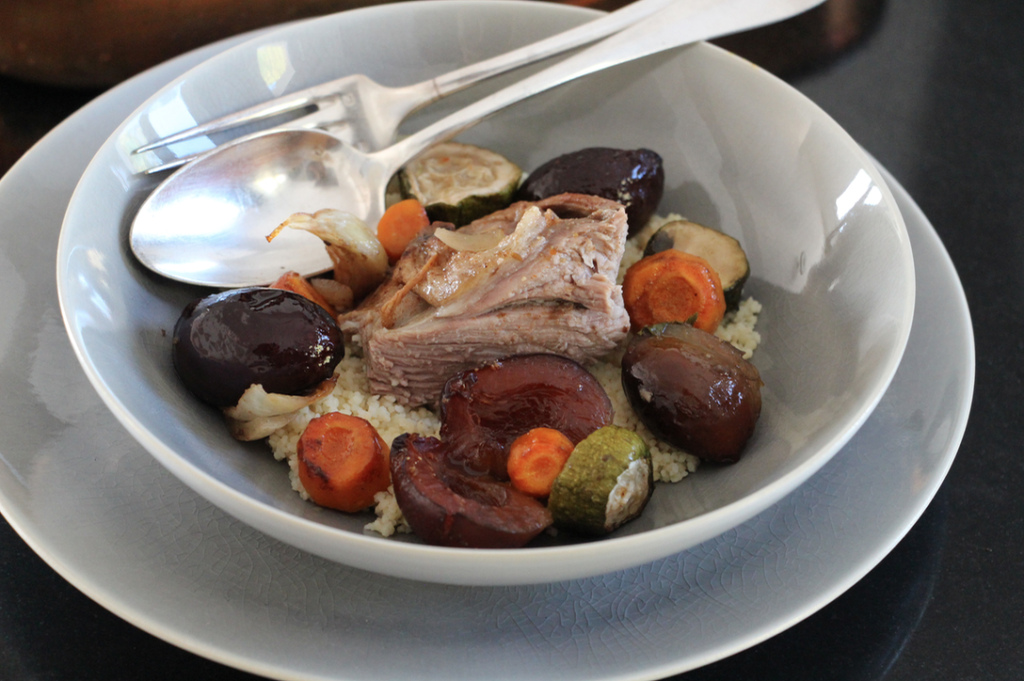 But it is also a fruit with a low sugar level which can be easily combined with meat for a sweety salty dish (lamb, pork or chicken).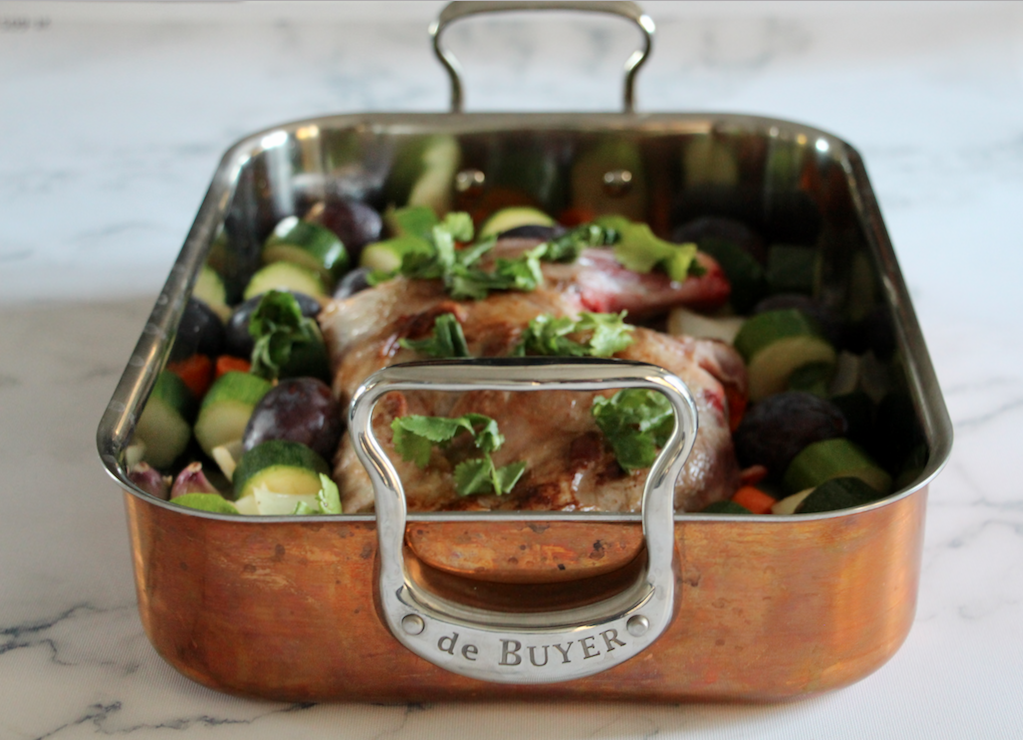 And as the plum season is quite short, I wanted to give this recipe a try, a recipe made with my inspiration of the day… and with what was left in my fridge!!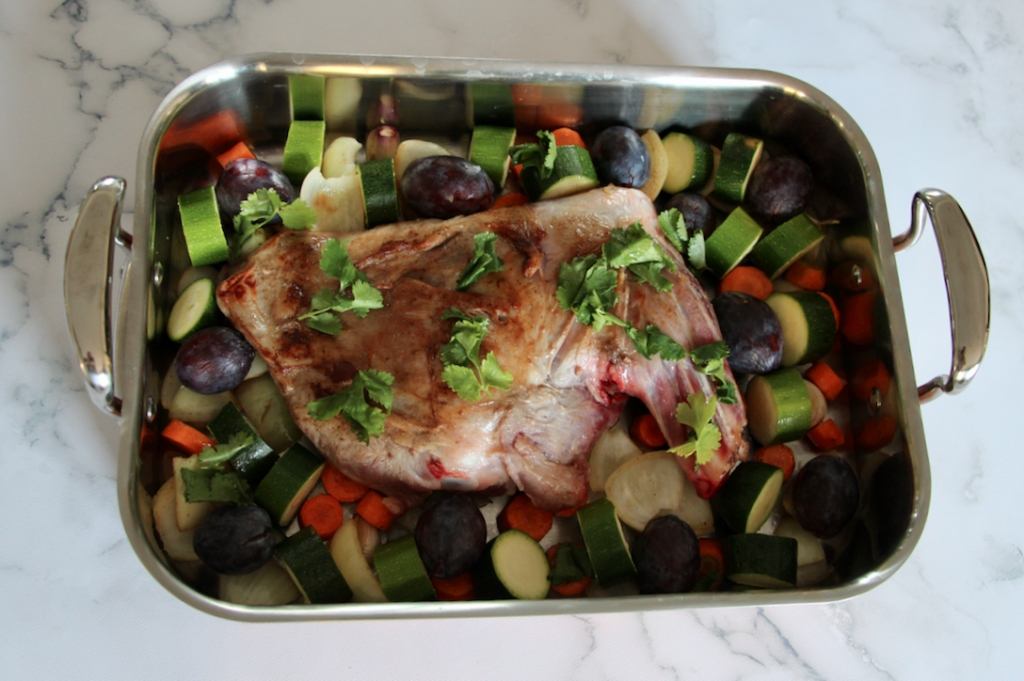 You will see that the recipe is very easy to follow, and the result pretty amazing ! The meat melts in your mouth but remains with a good texture before cutting (one of the great advantages of low temperature cooking), and very juicy. The flavors brought by the spices are there but not too much…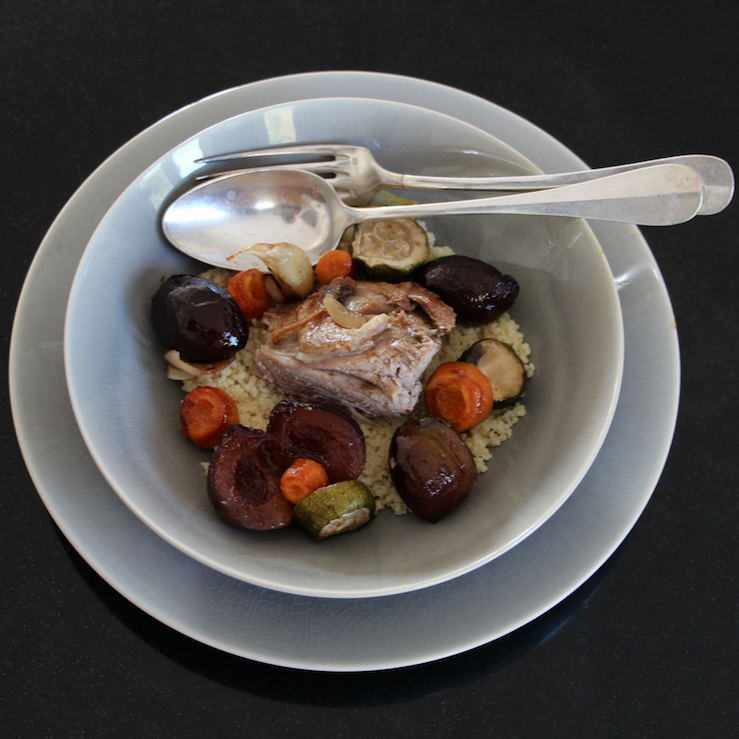 I chose to serve my candied lamb and plums with semolina, plus the vegetables already cooked with the meat. You can also choose pastas, it will be very good too.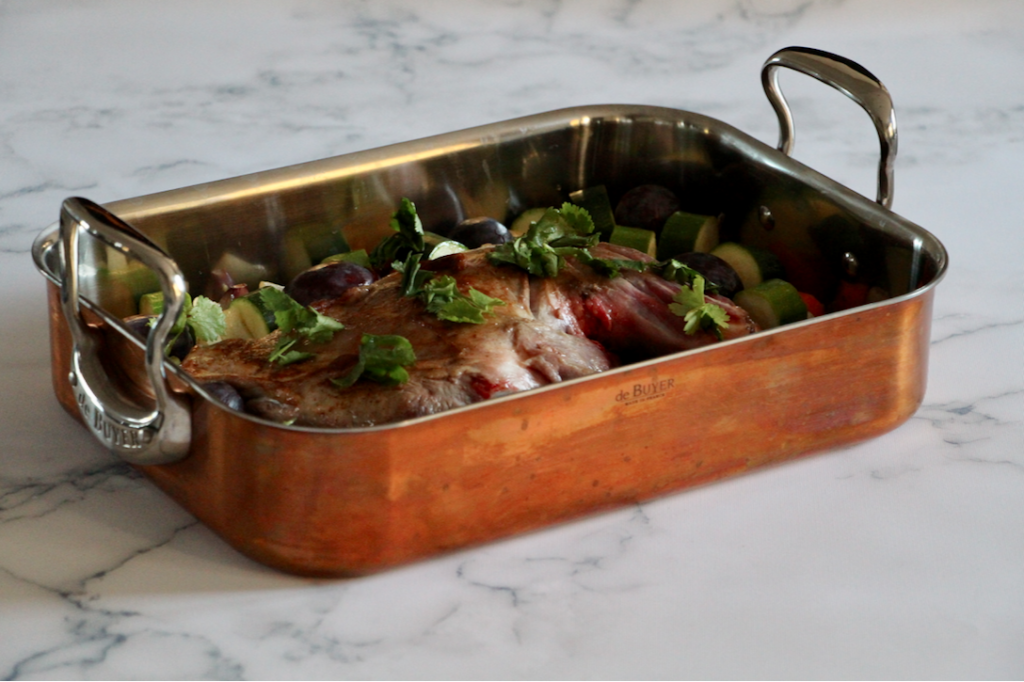 Final huge advantage of this dish if you needed more… You prepare it in advance, you leave it in your oven and you have no extra work when serving comes. I love this kind of meal when I invite friends or family!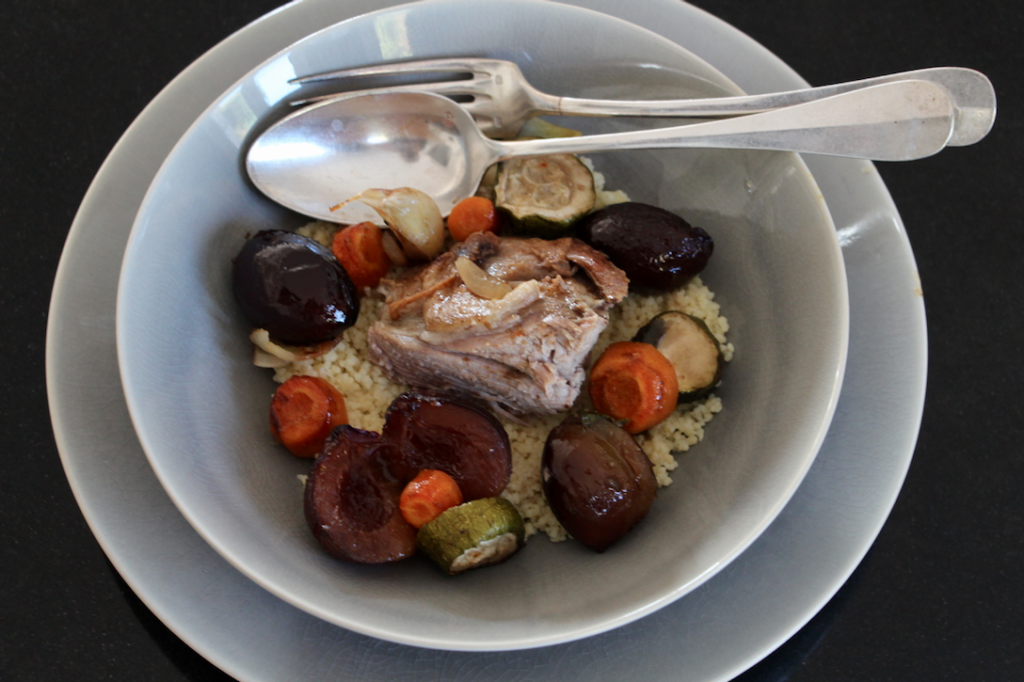 The utensils:
A large frying pan, mine is the Affinity anti-adhesice frying pan by De Buyer
A large roasting pan, here my Inocuivre roasting pan by De Buyer
Okay, I shall stop talking now.
The recipe, Chef!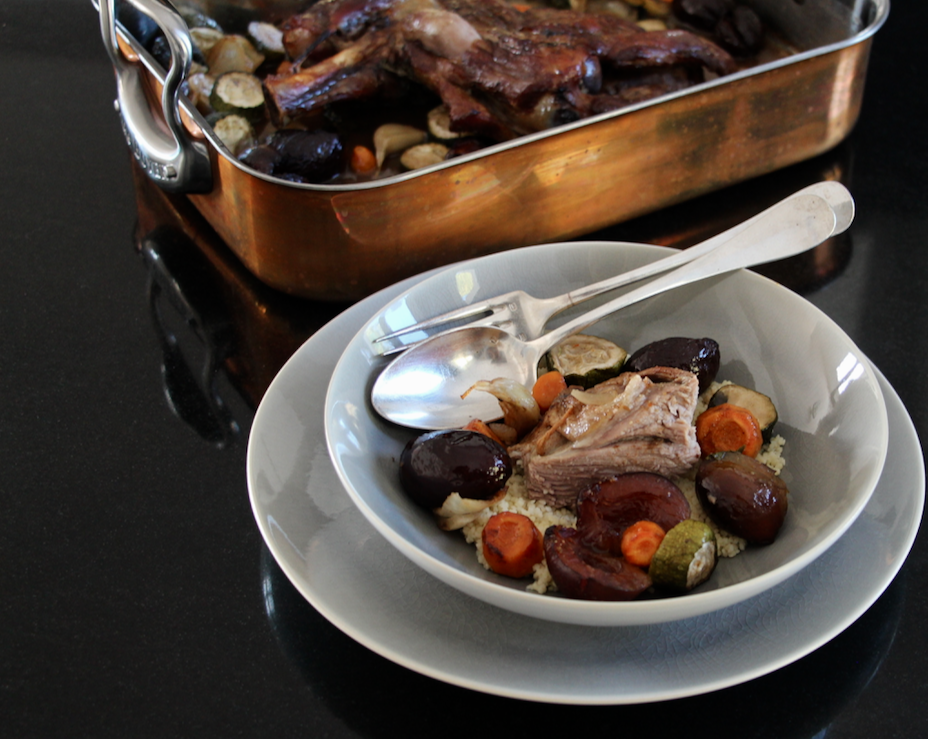 Print Recipe
Ingredients
1 lamb shoulder 1,2-1,3 kg

15 g butter

3 tablespoons honey

20 questches or plums

2 zucchinis

2 carrots

1 onion

5 cloves of garlic

Fresh coriander

2 teaspoons of ground cumin

1 teaspoon of ground ginger

Paprika

Red mild pepper

Espelette red pepper

Salt

Pepper
Instructions
1
Stir fry on each side the lamb with the butter in a large frying pan. Set aside in a gratin dish.
2
Cut the peeled onion and carrots, the zucchinis. Stir fry 2 minutes with the cloves of garlic.
3
Place the vegetables around the lamb. Place the destoned plums.
4
Cook the honey with 30 cl of water in the frying pan. Add the ground cumin, ground ginger, paprika, red mild pepper and Espelette red pepper.
5
Pour in the gratin dish. Add salt, pepper and the coriander leaves.
6
Cook 6 to 7 heures in the oven at 110 degrees.
Notes
I always destone the plums to avoid any little "friend" inside...