Hello my food lovers!
I'm back with a recipe that you're going to love, I'm 100% sure!! Vegetarian, delicious and super healthy. What's not to like?
Here's my roasted fennel, tomato oil and labneh. Interested?
Let's see the recipe, Chef!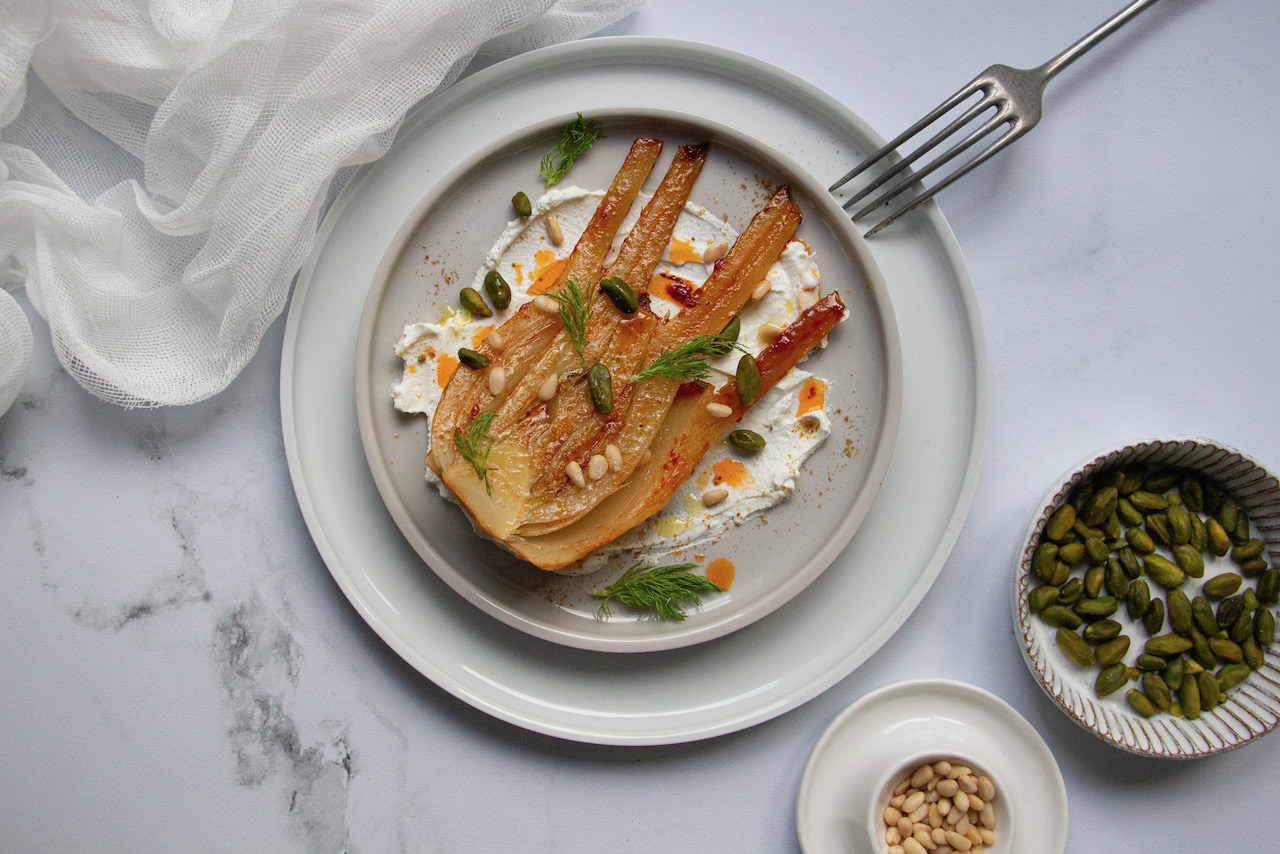 Print Recipe
Roasted Fennel, Tomato Oil and Labneh
Ingredients
Labneh

150 g Greek yogurt

1 pinch of salt

1/4 tsp ground cumin

1/4 tsp ground ginger

Salt

Pepper

1 tbsp olive oil

1 tsp pistachios

1 tsp pine nuts

Roasted Fennel

1 level tbsp tomato concentrate

1 tbsp maple syrup

4 tbsp olive oil

1/2 tsp ground cumin

1/2 tsp ground ginger

2 fennels

Salt

Pepper
Instructions
1
Place gauzes in your strainer.
2
Add a pinch of salt to your yogurt, combine.
3
Pour on the gauze and wrap with gauze.
4
Leave to rest in your fridge for at least 5 hours.
5
After this time, remove the yogurt from the gauze and place it in your serving plates.
6
Preheat your oven at 200 C / 390 F degrees.
7
Combine tomato concentrate, maple syrup, olive oil, ground cumin, ground ginger and a pinch of salt to make the tomato oil.
8
Cut the fennels in halves and brush generously with the tomato oil.
9
Place them on a baking tray covered with parchment paper, cut face against the paper.
10
Pour the rest of tomato oil if you have some.
12
Place your half fennels on your plates with labneh.
13
Spread ground cumin, salt and pepper.
14
Pour olive oil and spread pistachios and pine nuts.