Hey guys !!
So, do I really need to introduce the financier ? Do I really believe that you don't already have a good recipe?
Of course you do, you have probably already baked financiers before … But, here you'll get THE FINANCIER recipe !
Yes I did use uppercase, but it's worth it…
I actually found this recipe by chance when I recieved Elastomoules from the brand De Buyer (that I just love!!). Each Elastomoule has its own Pastry Chef recipe.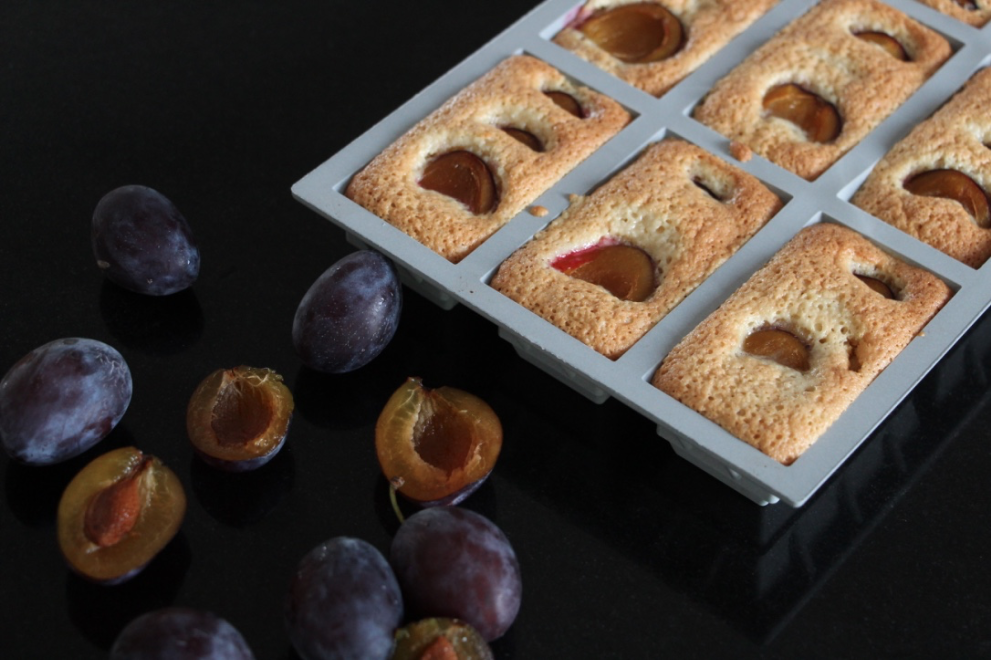 Those financiers are the ones from Angelo Musa. He is the World Champion Pastry Chef 2003, "Meilleur Ouvrier de France" pastry 2007 (it is a very demanding reward) and is now Pastry Chef at the famous Plaza Athénée Paris. So, you may think that the recipe will be too difficult to achieve… Well it's not, the recipe is quite easy actually. The key point is to have a precise weighing machine, that will give you the weight in grams in order to follow exactly the quantities.
I took the liberty to add my personal touch to this financier : I added plums called "quetsches". They are very popular in Alsace, I love them!!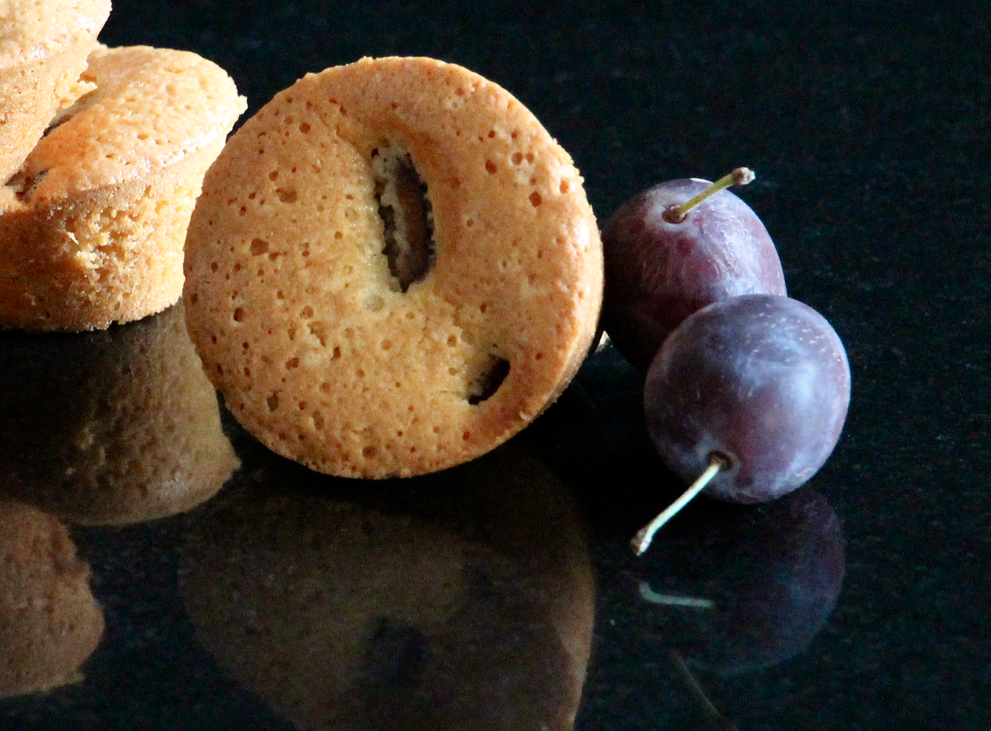 This dessert or sweet snack is a hit now in my family. So delicious … I also make the recipe with almond powder or a mix almond/hazelnut powder. Each time, we loved them!
A quick remark: the quantities given are for 16 to 18 financiers (the size of a muffin). You can also make the regular financier size. In this case you'll get up to 35 pieces. It will be perfect with tea or coffee!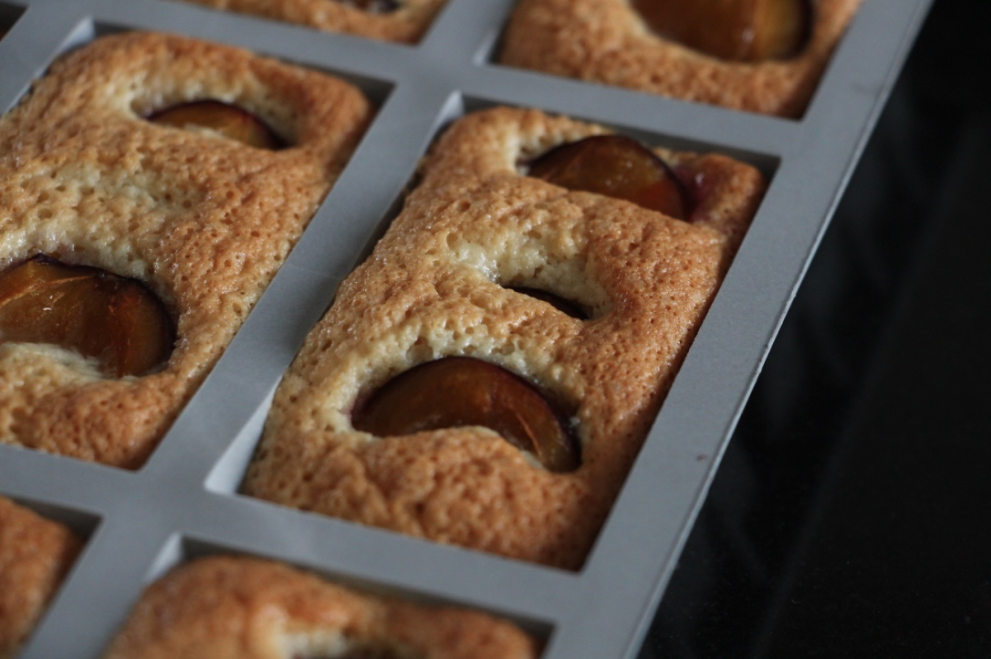 I think it's time to move to the next step… The recipe, Chef !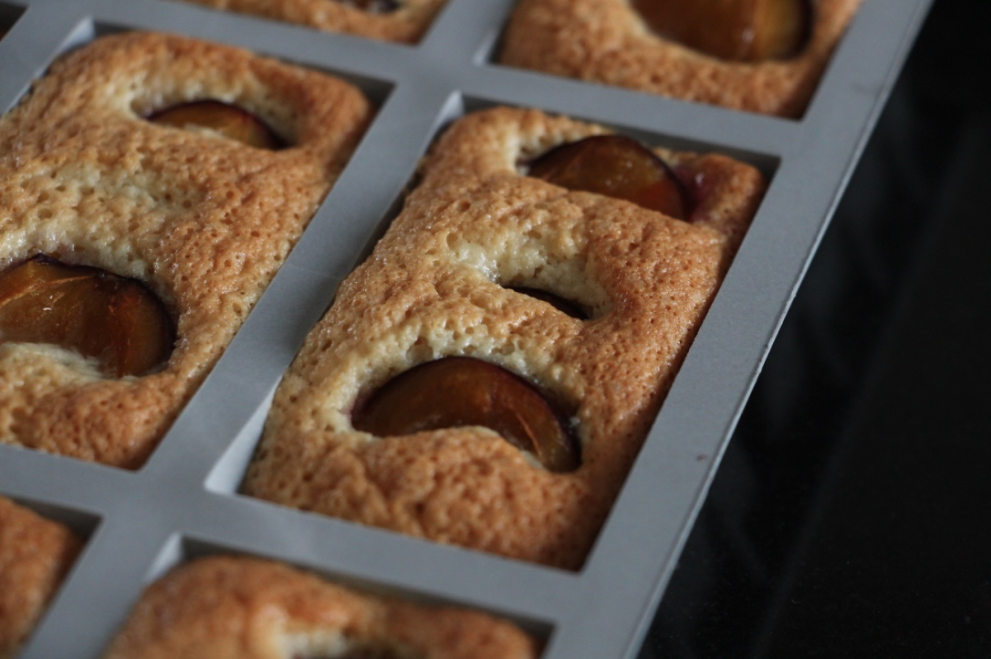 Print Recipe
Plum and Hazelnut Financier
Ingredients
180 g hazelnut powder

90 g caster sugar

60 g brown sugar

50 g egg whites (a little less than 2 egg whites)

60 g egg yolks (approx 3 egg yolks)

65 g icing sugar

170 g butter

1 pinch of salt

90 g flour

7 g baking powder

1 g vanilla powder

200 g egg whites (approx 6 egg whites)

30 g caster sugar

18 plums
Instructions
1
Mix in your food processor the hazelnut powder, the 90 g caster sugar, the brown sugar, the icing sugar, salt, and vanilla powder.
2
Add the 50 g of egg whites and the egg yolks and mix.
3
Make a hazelnut butter : melt at medium heat the butter. When the butter stops foaming, it will "sing", then it will get brown and have a hazelnut smell.
4
Pour the butter through a sieve into a cold bowl in order to stop the cooking.
5
Add the hazelnut butter to your batter.
6
Add the flour and baking powder and mix.
7
Whip the 200 g of egg whites with the 30 g of caster sugar in thirds. You should get a foamy mousse (but not too firm).
8
Add this mousse to your mixture with a spatula.
9
Pour in your mold up to 2/3 of the height.
10
Then put your plums cut in half.
11
Bake for 20 à 25 minutes at 160 degrees (check the baking with a knife).
12
Unmold and let your financiers cool down (this part is tricky, make sure kids are not around!! 😉 )
Notes
If you use regular financier molds, 15 minutes should be enough. You can change the recipe with almond powder et other fruits (apricots, apples, pears, cherries ...)
Enregistrer
Enregistrer
Enregistrer
Enregistrer
Enregistrer