Okay, to day is Valentine's Day. And yes, you will be overloaded with Love and Hearts everywhere you go ! Insta, Facebook, blogs. And yes again, you will find some here too !! Why not ?? So I will introduce a strawberry pie recipe that I baked in a heart shape. Now, don't get me wrong, it works pretty well too in a round shape or a square one …
And I'm not gonna lie, I'm not a huge Valentine's Day fan. When it comes to Love, it's 365 days a year, 24/7 !!But hey ! Do you see me missing a nice opportunity to make a nice cake ?? No can do !!
So here it is. Based on Philippe Conticini's (www.conticini.fr) cookbook "Sensations" , the french pastry master, you should really try it. It is not that complicated, might take a little time to bake but it has an amazing taste !!!
Come on !! Let's bake !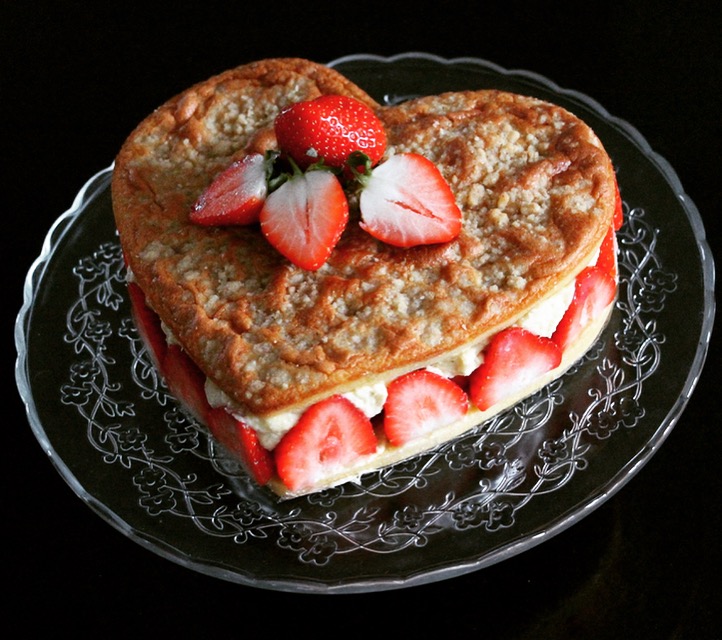 Print Recipe
Valentine's Day Strawberry pie
Ingredients
1 sponge cake

500 g strawberries

80 g cream

200 g milk

1/2 vanilla pod

3 egg yolks (60 g)

30 g sugar

20 g flour

30 g cornflour (or regular flour)

2,5 sheets of food gelatin

130 g butter cream : 95 g butter, 60 g sugar, 1 egg white, 15 g water

40 g nut crumble : 10 g butter, 10 g brown sugar, 13 g nut powder, 10 g flour, pinch of sea salt
Instructions
1
Start with the butter cream. Put the water and suger in a pan and boil. Whipp the egg white until foamy and pour the hot water and sugar syrup so that you get an Italian meringue. Let it cool down. Then whip the meringue with the butter at room temperature in your food processor. Set aside at room temperature.
2
Then prepare the nut crumble. Mix all powders (flour, brown sugar, nut powder and salt). Add gently the butter at room temperature with a whip until you get an homogeneous mixture. Place your crumble on an oven plate and cook for 30 minutes at 150°C. Set aside at room temperature.
3
Then put your sheets of gelatine in cold water.
4
Pour the milk, cream and vanilla pod in a pan and boil. As soon as it starts boiling, remove from your cooking stove. Keep it that way for 15 minutes.
5
In a bowl mix vigourously the egg yolks and sugar until it gets white. The sugar has to be completely melted.
6
Add the regular flour and cornflour until you have a homogeneous mixture.
7
Add half of your vanila milk (remove the vanilla pod first), whip and pour into the pan with the rest of the milk.
8
Whip and boil for 2 minutes. You have to keep whipping during that time! Remove from your cooking stove.
9
Remove the gelatine sheets from the water and squeeze gently. Add to the mixture and whip vigourously.
10
Pour the cream in a large plate, cover with a plastic wrap so that there is no air contact.
11
Let it cool down in your fridge for an hour.
12
Mix gently your cream with 130 g of butter cream.
13
Take your sponge cake and cut two identical shapes. Put the first one in a mold (same shape and size as your sponge cake other.
14
Spread a thin layer of cream.
15
Place the strawberries vertically.
16
Cover the strawberries with the rest of the cream with a spatula.
17
Then put the second sponge cake.
18
Set aside in the fridge for 3 hours.
19
When it's time to serve, spread nut crumble on top of your pie with a few strawberries.
Notes
Je vous proposerai ultérieurement une bonne recette de génoise. Vous pouvez faire celle que vous faites habituellement, ou en prendre une du commerce pour un résultat tout à fait satisfaisant.