Hello my lovelies,
Here's my latest pastry creation. A chocolate and raspberry delight…
Please welcome my creamy chocolate and raspberry cake.
Let's see the recipe, Chef!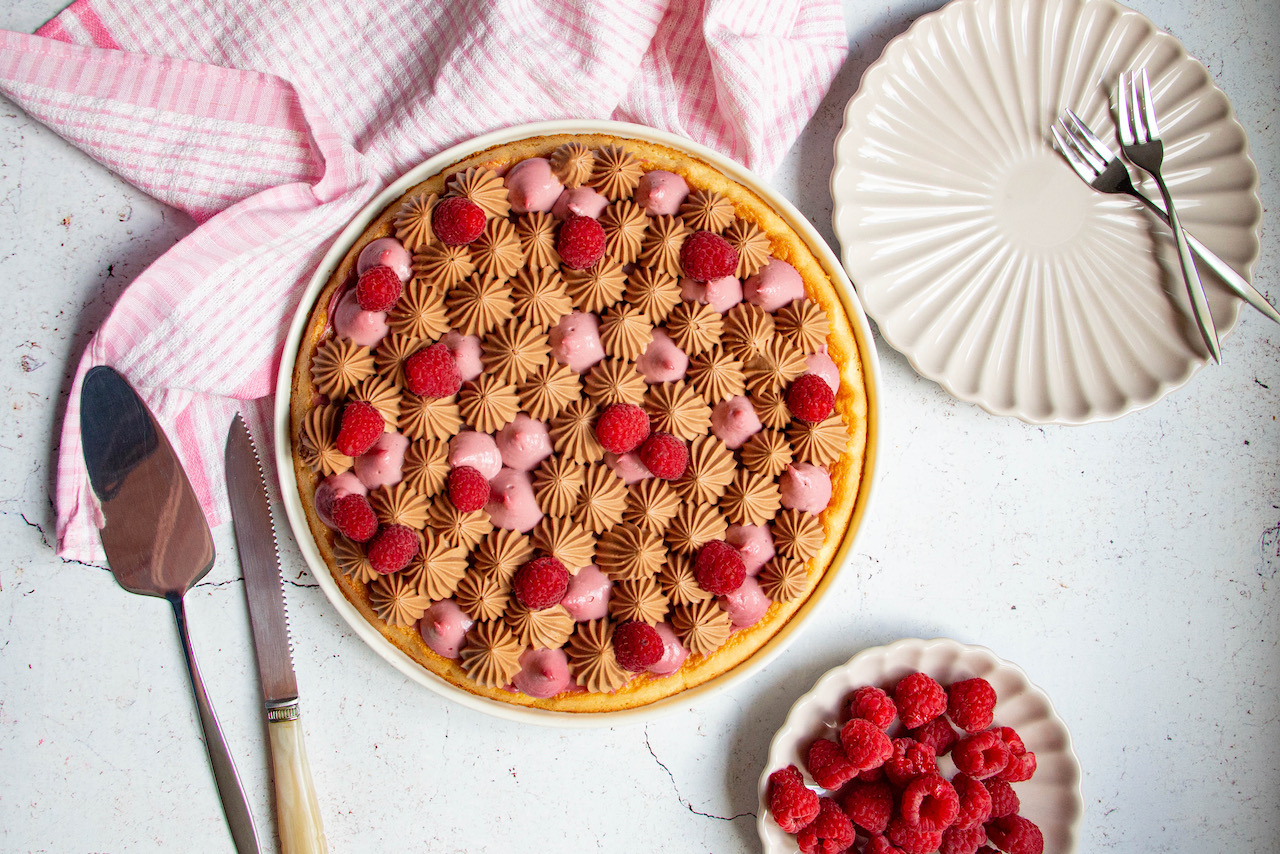 Print Recipe
Creamy Chocolate and Raspberry Cake
Ingredients
Chocolate ganache

2 g gelatine sheet

270 g cream (30% fat)

125 g milk chocolate

1 tsp honey

Raspberry curd

160 g raspberries

45 g butter

2 eggs

70 g sugar

2 g gelatine sheet

Genoise pastry

2 large eggs

67 g sugar

20 g corn starch

50 g flour

Decoration

10 raspberries
Instructions
1
Soak the gelatine into cold water.
2
Pour 100 g of cream in a saucepan. Add the honey.
3
Heat to a boil. Stop heating immediately.
4
Melt the chocolate with a double boiler. Pour the hot cream in 3 times until homogeneous.
5
Add the drained gelatine and combine.
6
Add the remaining cream, combine.
7
Place a clingfilm directly on the ganache and set aside in your fridge for 4 hours.
8
Soak the gelatine into cold water.
9
Pour the raspberries, sugar and butter in your sauce pan. Cook 3-4 minutes at medium heat and whip gently.
10
Add the 2 beaten eggs and cook at higher heat and whip more vigorously for 2-3 minutes. Your raspberry curd should get thicker.
11
Remove from the heat once your whisk makes furrows.
12
Pour the curd through a strainer to remove the solid parts.
13
Add the drained gelatine and combine.
14
Let the raspberry curd cool down in your fridge for 2 hours with a cling film on top.
15
Preheat your oven at 190 C / 375 F degrees.
16
Whisk the eggs and sugar in your large bowl.
17
Place it over a sauce pan with boiling water (double boiler) and whisk with your electrical whisk until you get a white mixture and a 50 C / 120 F degrees temperature. (the mixture should triple in volume)
18
Remove from the double boiler and keep on whisking until the temperature goes down to 25-30 C / 85 F degrees (you should be able to touch the bowl without heat sensation).
19
Add the flour and corn starch in 2 times, mix gently with a spatula.
20
Pour into your buttered and floured mold.
22
Let cool down on a cooling rack.
23
Whip the raspberry curd until smooth and pipe some of it on the genoise cake. Spread with a spatula.
24
Whisk the chocolate ganache for a few minutes until firm and compact.
25
Pipe the chocolate ganache and raspberry curd using 2 different nozzles.
26
Add a few raspberries on top.
27
Set aside in your fridge until serving.