Hey guys,
I decided out of the blue to make a super scary Halloween cake, super super scary!!
Aww yes… look closer… those ghosts are frightening like hell!!
Besides this cake is so hard to make !! Ha! Ha! Ha! (Imagine a super bad scary ugly monster loughing out loud!)
To start with, the day before, make a chocolate ganache (just click!). You will take 1.5 times the quantities of the recipe. The next day, you will whisk the ganache.
The day before or the D day, make meringues and have fun making scary shapes: ghosts, pumpkins, tomb stones… For that you will need a scary De Buyer piping bag and a super scary nozzle!!!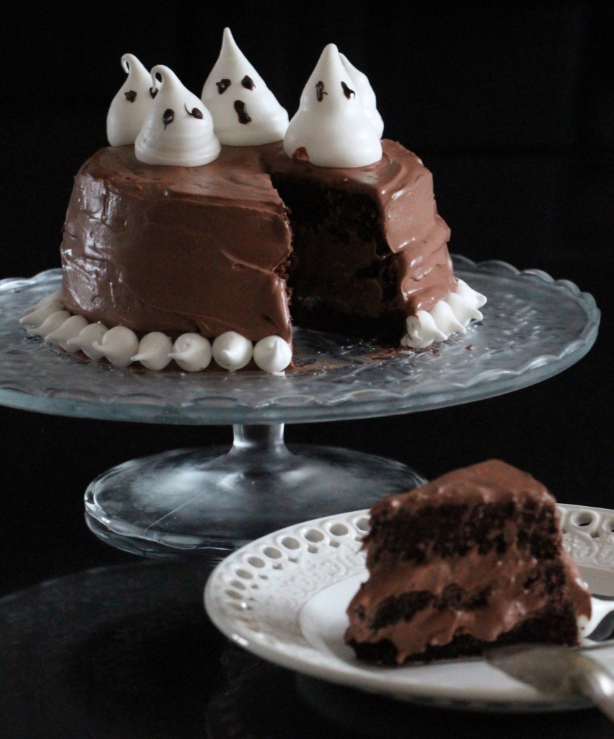 The day before or the D day, make the chocolate cake by Alain Ducasse in a 18 cm diameter charlotte mold.
The D day, proceed with mounting.
Cut the top of your cake in order to have a flat surface, you will use the terrible genoise cutter by De Buyer. Cut the rest of the cake in 3 discs.
Place the larger disc on your serving plate. Pipe a generous layer of ganache. Start again with the second and third disc.
Cover with the rest of ganache and spread it with the mini icing spatula by Fackelmann.
Finally, melt a bit of dark chocolate. Make eyes or other terrifying elements for your meringues!! Place them on top of your cake and set aside in your fridge until serving.
This is too horrible, this recipe killed me!! Click! (sorry I don't know how to express correctly the noise of a cut throat, horrible noise!!!)
The end.