Okay. The hardest part is done : my first post. As I focused on the chocolate part of my blog's name, let me use one of my casseroles today. A Staub cocotte of course. They are just the best ! Plus, I just love the color range you can find.
So this is a typical recipe from le Puy-en-Velais ( a town in the central part of France) : my lentils "a la royale" ! You know how lentils are good for health, I just love those babies ! And they are perfect for a good winter meal. Let's go !!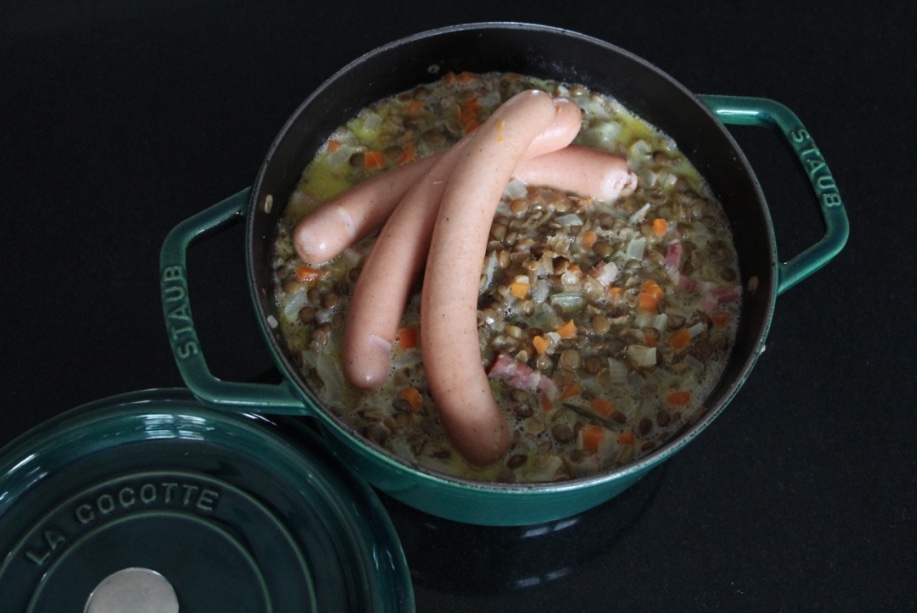 If you want to get one great cocotte … www.staub-online.com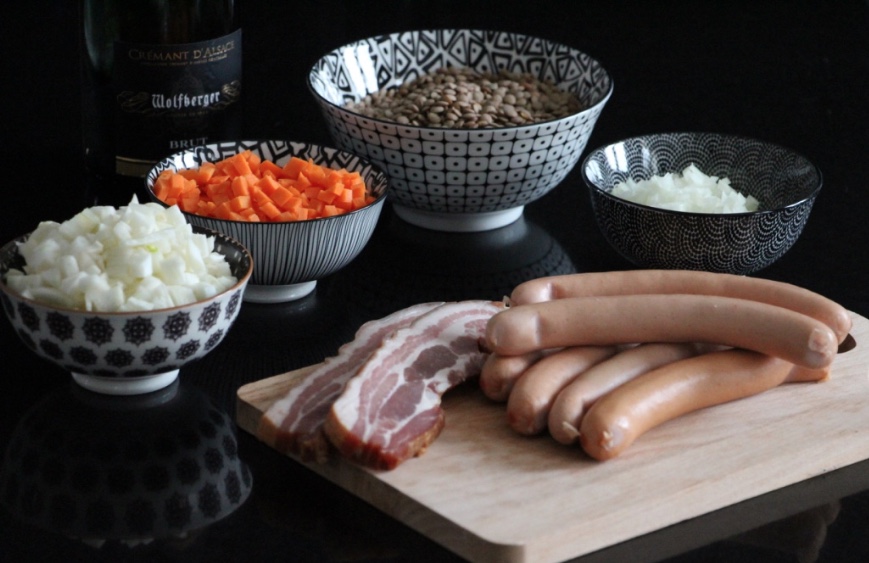 Print Recipe
Ingredients
280 g green lentils
2 onions
300 g smoked pork belly
6-8 sausages
2 carrots
1 fennel
1/4 celery (or 3 white turnips)
25 cl cream
50 cl Cremant
poultry broth
olive oil
salt and pepper
rosemary
thyme
laurel
Instructions
1
Put the lentils into a pan with a large volume of cold water. Add one of the onions cut in half and the herbs (thyme, rosemary and laurel).
2
Once cooked (approx 30 min), drain and remove the onion and the herbs. Set the lentils aside.
3
In the meantime, heat the olive oil in a casserole dish and add the sliced pork belly and onion. Cook over a high heat until lightly browned.
4
Add the rest of the vegetables that you will have sliced into a Brunoise (this means cut into little blocs).
5
Add the Cremant and bring to boil for a few minutes while stirring. Add 2 glasses of water (approx 1/2 liter) and leave at medium heat for 5 minutes.
6
Cook the sausages in the broth and set aside.
7
Add the poultry broth and keep cooking solwly for 20 to 30 minutes.
8
A few minutes before serving, add the cream and salt & pepper.
9
Add the lentils and sausages, keep 2-3 minutes in the casserole until they get back to a good temperature and serve !
Notes
This dish is delicious and can easily be heated again. You can use pork knuckle instead of the sausages or just pork belly if you want less protein in your plate. You can also replace Cremant with white wine.
Enregistrer