Hello my friends!
You know already that I'm a huge fan of macarons. I have a few recipes already on the blog. You can even find foie macarons for your special events!
Today, I'm sharing my tips for pistachio macarons.
Let's see the recipe, Chef!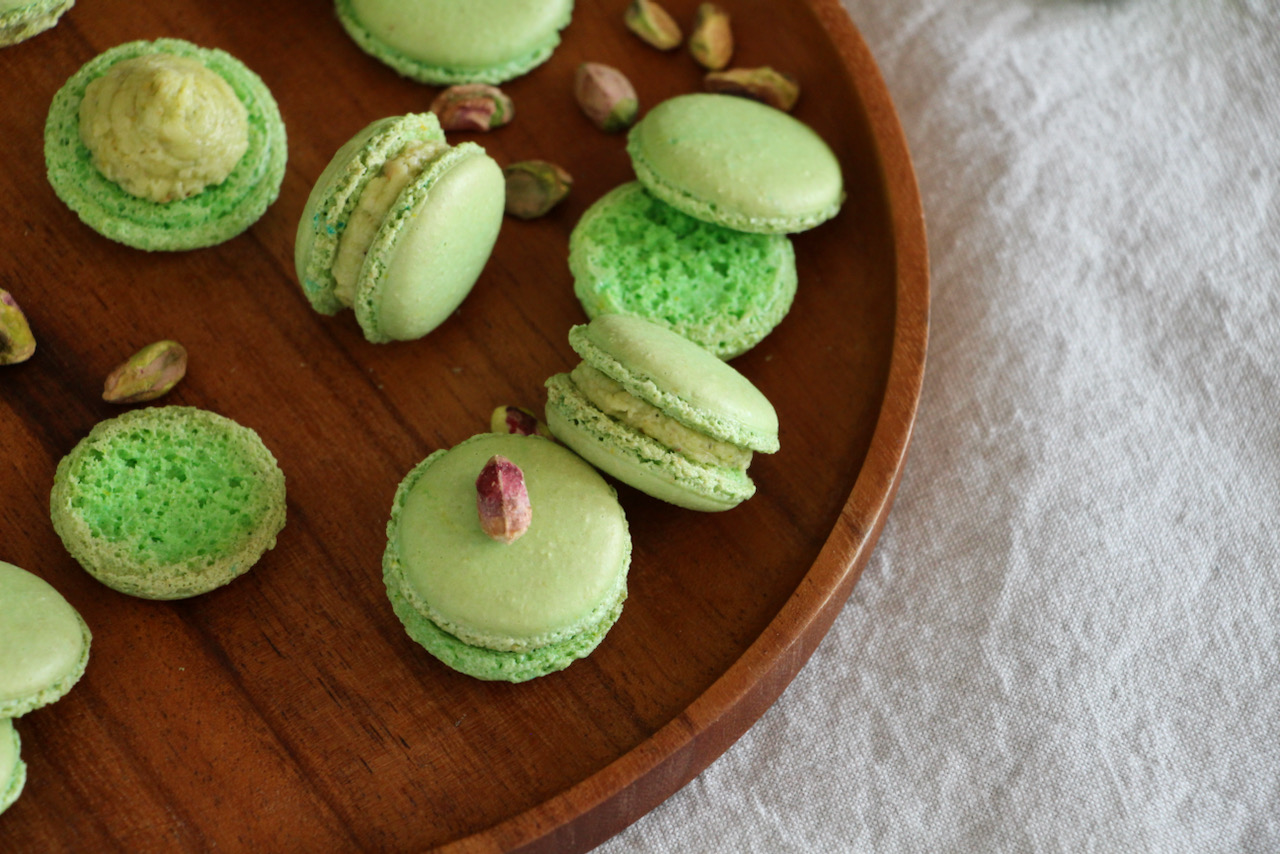 Print Recipe
Ingredients
180 g egg whites (5 egg whites) (for the shells)

230 g sifted ground almond (for the shells)

250 g sifted icing sugar (for the shells)

20 g unsweetened cocoa (for the shells)

250 g caster sugar (for the shells)

65 g water (for the shells)

200 g soft butter (for the ganache)

100 g icing sugar (for the ganache)

100 g ground almonds (for the ganache)

62 g unsalted pistachios (for the ganache)

50 g pistachio paste (for the ganache)

50 g liquid cream (for the ganache)
Instructions
1
Prepare the macaron shells.
2
Mix the almond powder, icing sugar, cocoa and 80-90 g egg whites in a large bowl. You should get a very compact mixture.
3
Start whisking the remaining egg whites at speed vitesse 4 on a scale from 1 to 6.
4
In the meantime boil the water and caster sugar. When the syrup reaches 118 degrees (or when you have littles bubbles all over the surface), pour it gently on the egg whites while whisking.
5
Keep on whisking until the mixture gets below 50 degrees (you should be able to place your hands against the bowl without burning them).
6
Add a large tablespoon of this meringue to your almond batter and mix with the spatula.
7
Add 1/3 of the meringue and mix with the spatula.
8
Add another thrid of meringue and mix.
9
Add the last third and mix.
10
Mix gently until the batter surface flattens when you stop mixing. Be carefull, if you mix to much you won't get the right result after baking.
11
Pipe macarons shells, leave enough space between the shells.
13
Preheat your oven at 170 degrees.
14
Bake each tray (one after the other) 20 minutes.
15
Place your shells on a grid for cooling down.
17
Place the butter cut in pieces in your bowl and whisk.
18
Add the icing sugar and whisk some more.
19
Chop the pistachios with a knife.
20
Add the ground almonds and chopped pistachio to the butter and mix with a spatula.
21
Add the pistachio paste then the cream whisked into chantilly. Mix gently with a spatula.
22
Pipe the ganache on half of the shells.
23
Cover each shell and ganache with a second shell.
24
Set aside in a box in your fridge until serving.