Hello my friends!
When I'm cooking or baking, you know it already, I have my mentors. Conticini for the tart Tatin, Ottolenghi for the sea bream, Felder for the brioche, Ducasse for the donuts …
And for chicken with preserved lemons and green olives, my mentor is my very dear friend Sandy. So it's her recipe that I'm going to share today.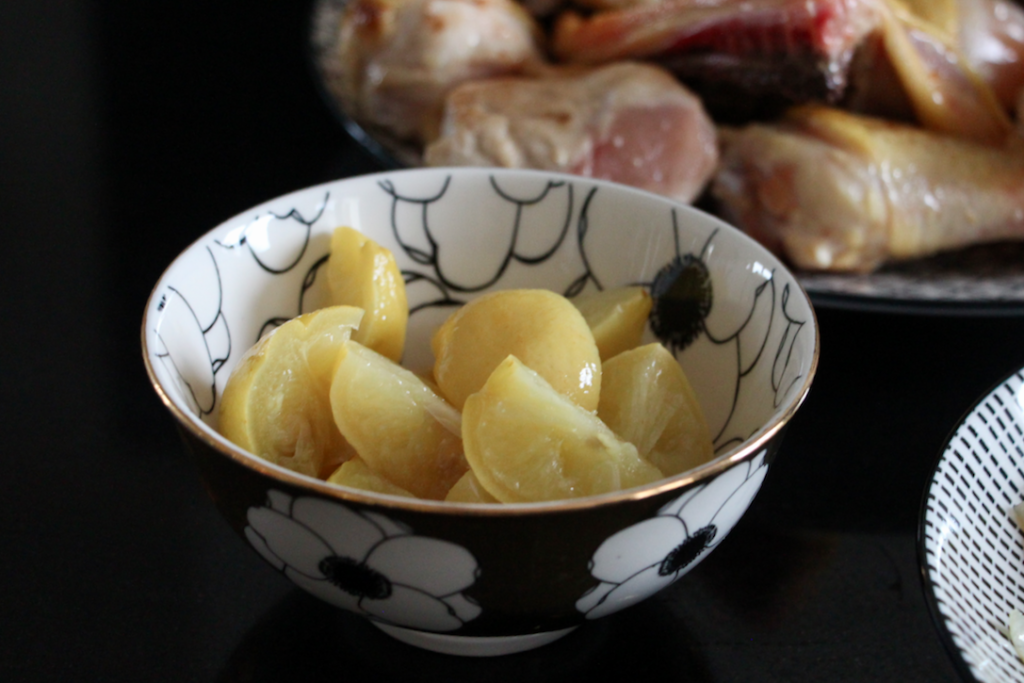 Before getting into the recipe details, and even though it has little to do with food 😉 , I wanted to take the opportunity to suggest that you give a look to sandy-t.com, Sandy's website. You will see how amazing she is at her wedding planner job…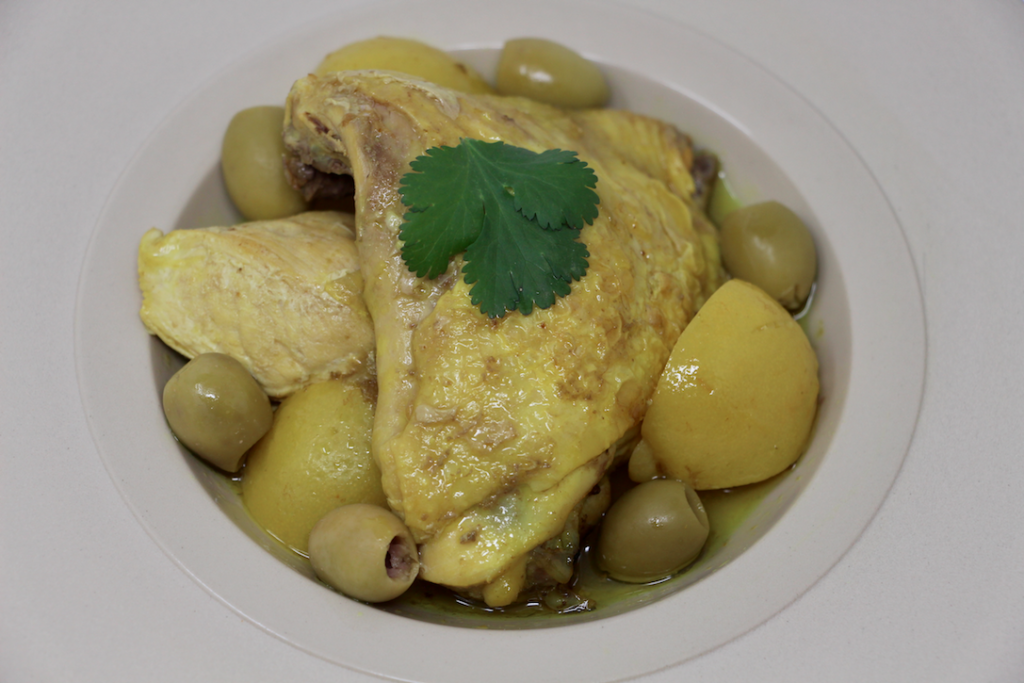 Back to our chicken with preserved lemons and green olives… Sandy is my reference because her cooking takes its roots in the south, the delicious Mediterranean cuisine. Spices, condiments, olive oil… Tasty, yummy, healthy, the whole thing being mixed up in dishes to share with friends or family, dishes where you always end up putting a piece of bread in, so that you don't waste a single drop of sauce… that's how delicious it is…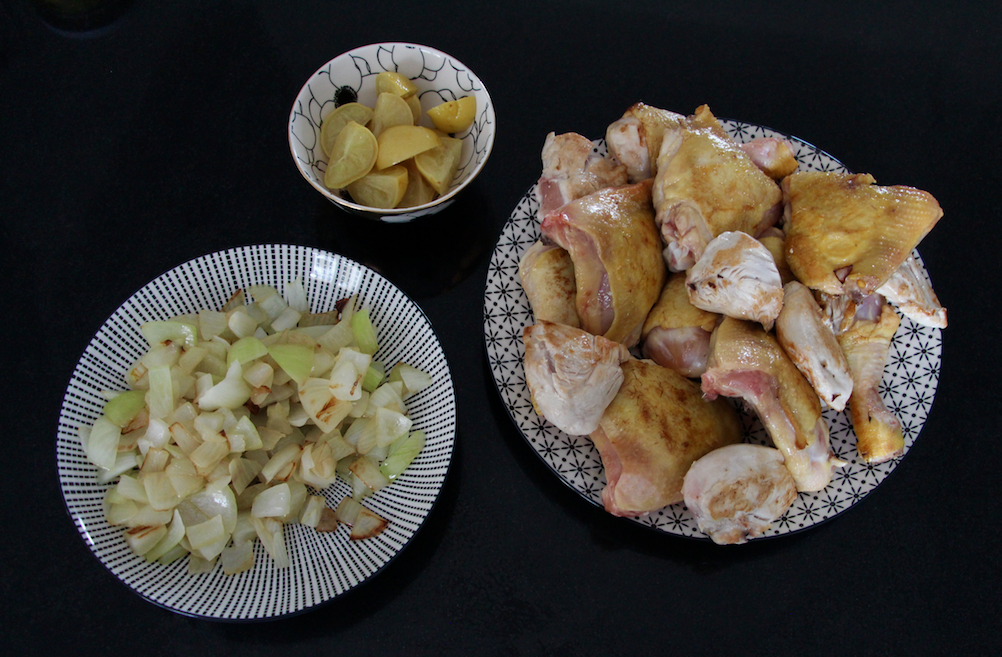 You will see, the recipe is very easy. The secret: take your time… Slowly cooked, your chicken with preserved lemons and green olives will be even better! If you have little time, this chicken will be ready after 45 minutes of cooking.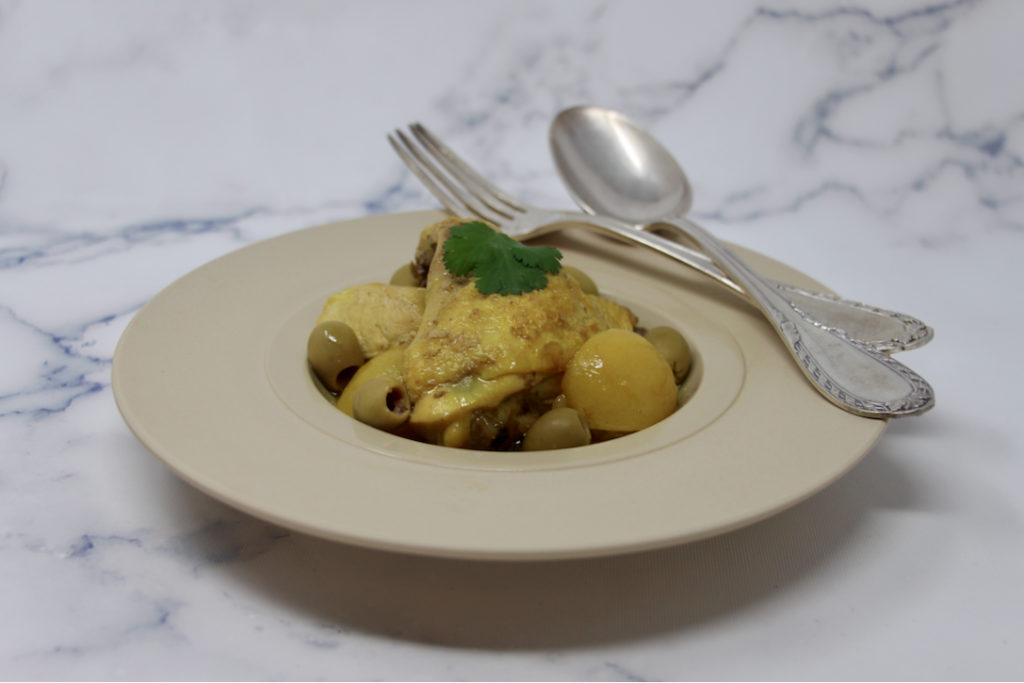 My advice: make more than you need, and you'll enjoy it for another meal re-heated…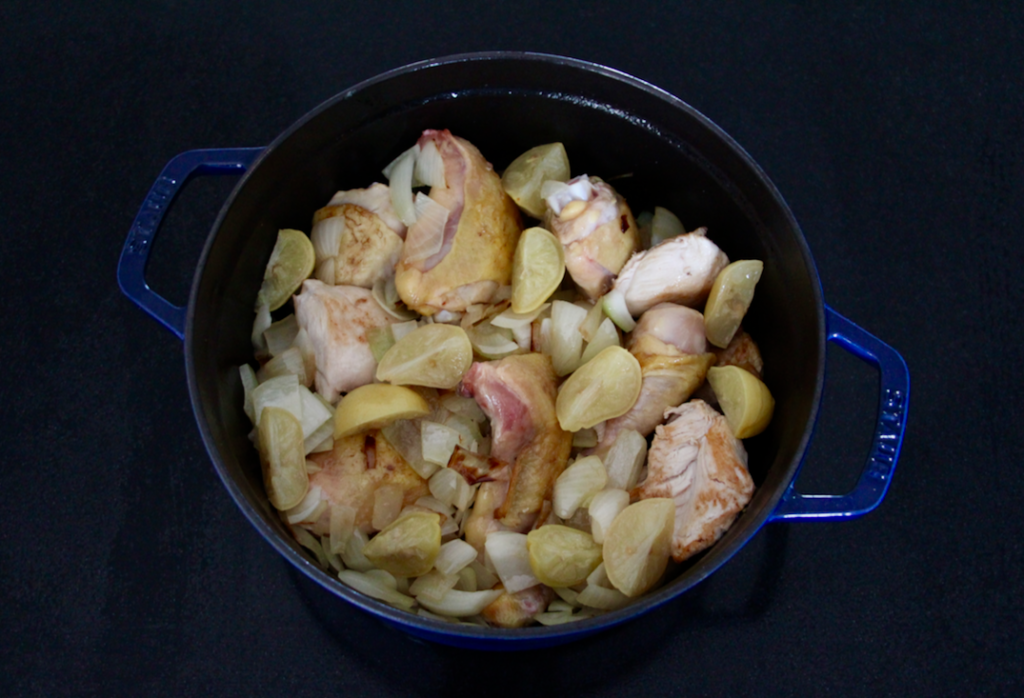 As far as cooking is concerned, I recommend a cast iron casserole, I always used my Staub diameter 26 cm. It's really the best way to cook this chicken with a gentle and uniform cooking.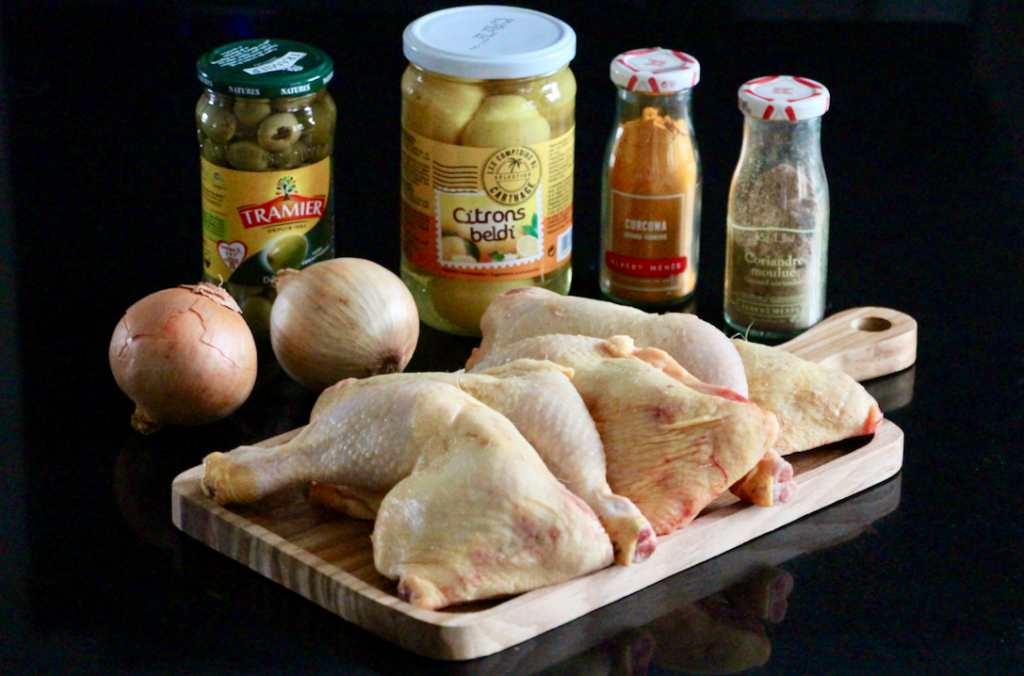 Regarding ingredients, I prefer the chicken thighs which are more tender. But you can have fillets too.
You can make your own preserved lemons or, and that's what I did, you can buy Beldi or Morrocan preserved lemons.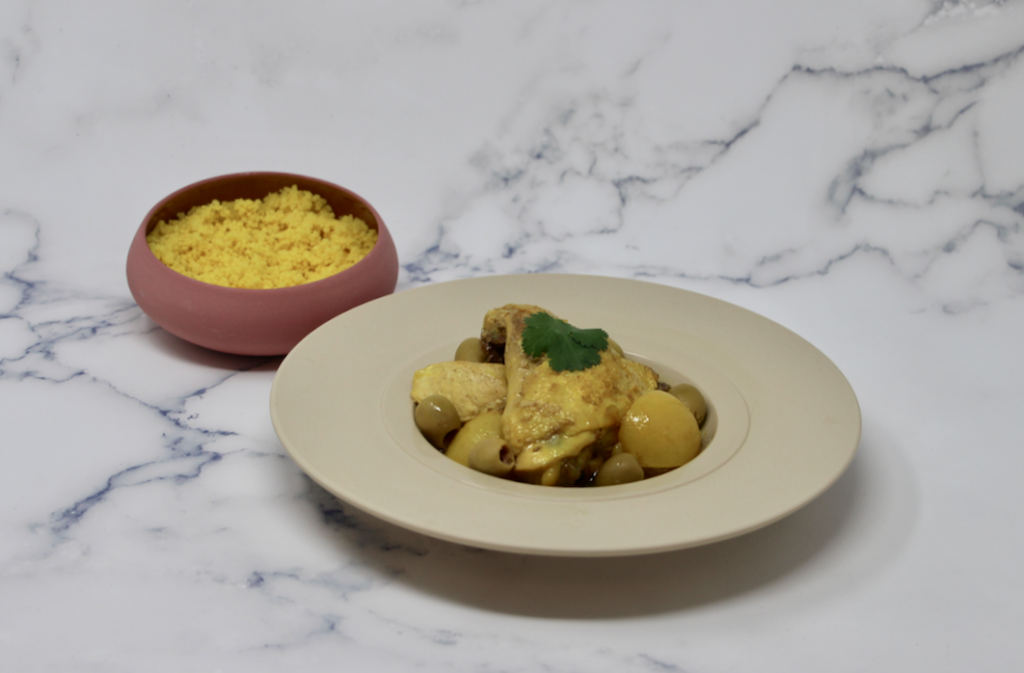 (Presentation: Bahia pink bowl and Gourmet sand plate by Degrenne)
Finally the best side dish to combine this chicken with is semolina mixed with curcuma powder, that's what Sandy says…
Let's do this! Let's bring sunshine on the table today!
The recipe, Chef!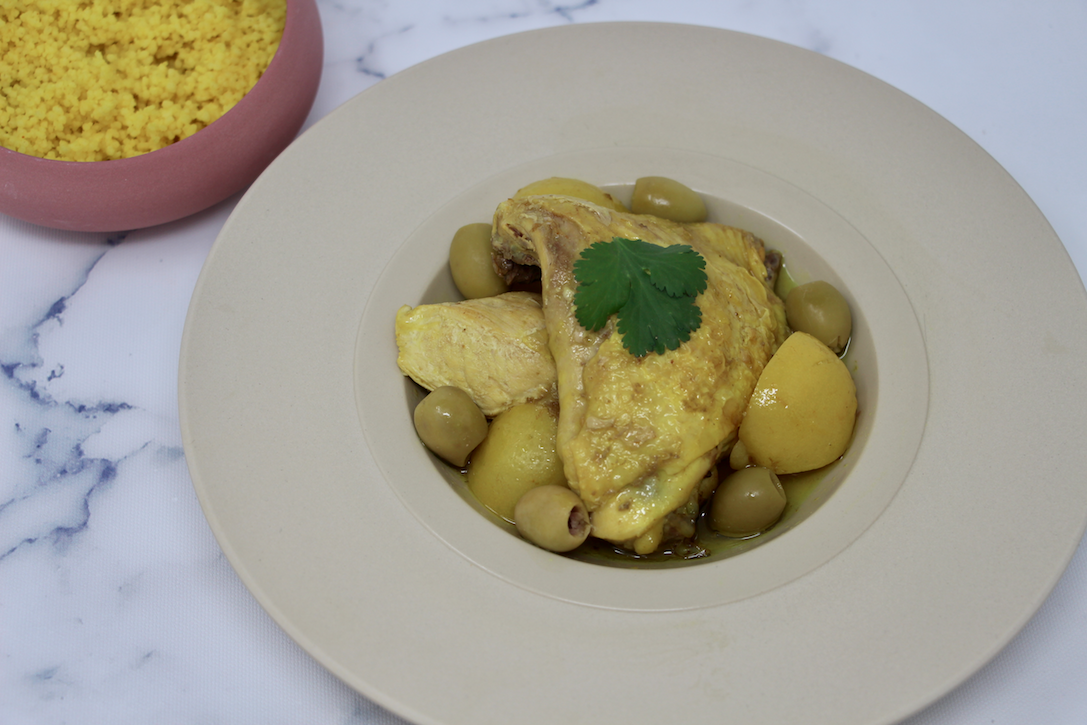 Print Recipe
Chicken with candied Lemons and green Olives
Ingredients
2 large onions

3 tablespoons oil

6 chicken thighs

4 candied lemons

150 g green olives (or purple ones)

A few leaves of coriander

1 tablespoon olive oil

Salt

Pepper

Curcuma powder

Ground coriander
Instructions
1
Heat the oil in your casserole and add the minced onions.
2
Set aside once golden. Stir fry the chicken thighs (I cut the drumstick from the thigh).
3
Once golden, add the onions and cover with water.
4
Add the candied lemons cut in 4.
5
Season with salt, a teaspoon of ground coriander and one of curcuma powder.
6
Cook with cover at low heat for at least 45 minutes.
7
Rince the olives several times to remove salt and bitterness.
8
When your chicken sauce gets a little bit thicker, add the olives. Cook a few more minutes.
9
Adjust seasoning with salt, pepper and spices. Add a tablespoon of olive oil.
10
Chop coriander, spread on the chicken.