Holidays are coming soon, time to make the swimming costume fit again!! and still enjoy what is on the table. That was my mission while making this recipe.
It had to be good, but low calory. But mainly good!
Let me introduce my fennel, red grapefuit and shrimp salad.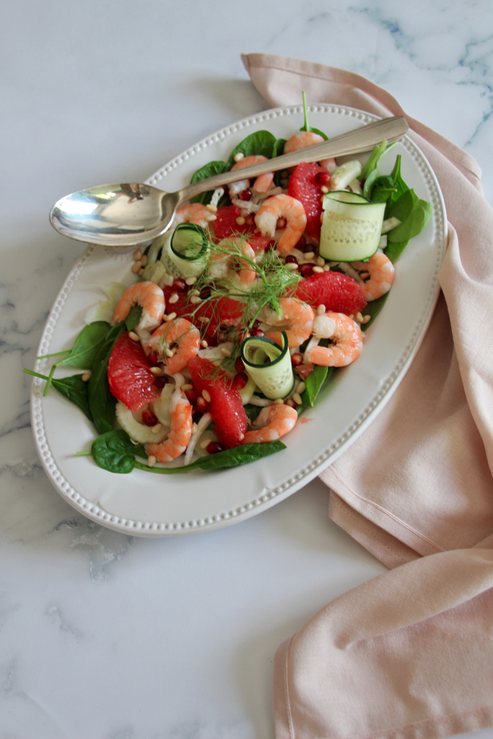 This is obviously a joke, even if we always try to loose a few pounds before the holidays… We have to think about the beach pictures to come…
But this is not the only reason why we eat lighter: the weather is hot, our body is a bit slower and helping our stomach with a lighter digestion can be a good idea.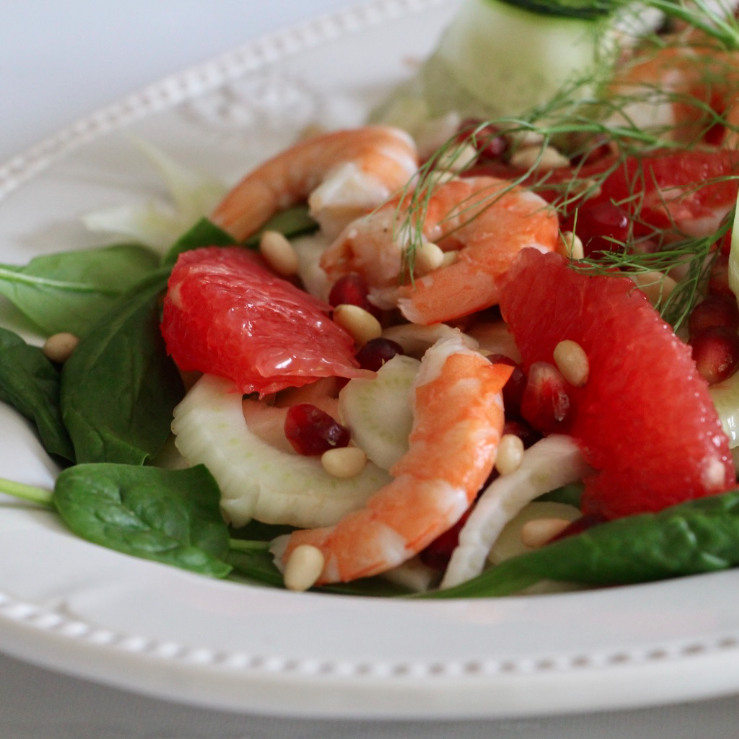 So, this fennel, red grapefruit and shrimp salad…
I wanted to change from the usual salads I'm having lately (especially since this is basically all I'm eating now). So I chose the fennel.
You can have this meal as a main dish or as a starter, it's up to you. It will be obviously another salad to add to the list of my barbecue salads …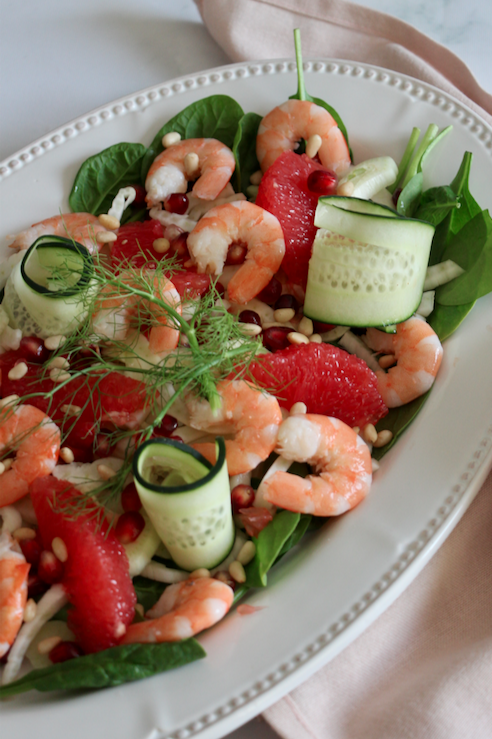 Let's get to know more about fennel…
There are at least 15 varieties of fennel. The one used in recipes can be up to 2,50 meters high… It's a rustic plant that stands well dryness and that is harvested from august to november. You can eat all of it: roots, stalks and seeds.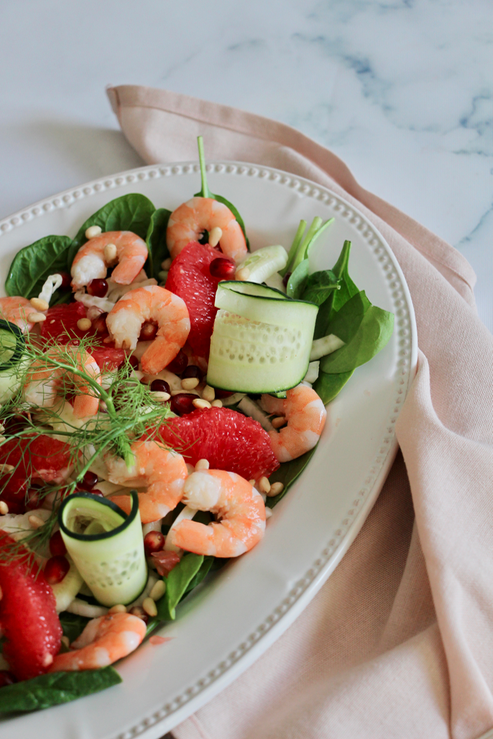 The taste of fennel is close to anise, it is often combined with fish, mixed vegetables, salads or soups… You can eat it raw or cooked (on the blog : the fennel by Pierre Gagnaire, the pork stew with figs, parsnip and fennel for the cooked versions and the scallops, asparagus and fennel salad for the raw version). The fennel seeds (as seeds or as powder) are also used in many recipes. The seeds are one of the ingredients of the famous Pastis.
The health vertus of the fennel are often mentionned, yet are not always verified… It might be good to know…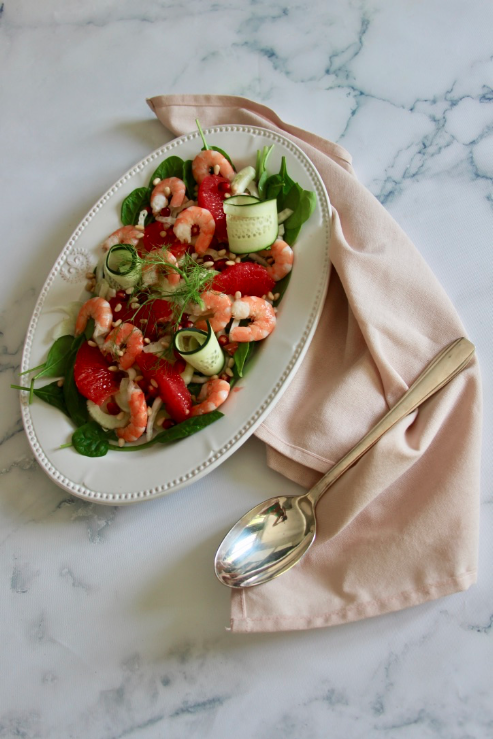 Now that you know everything about fennel 😉 , I suggest to enjoy it!!
The recipe, Chef!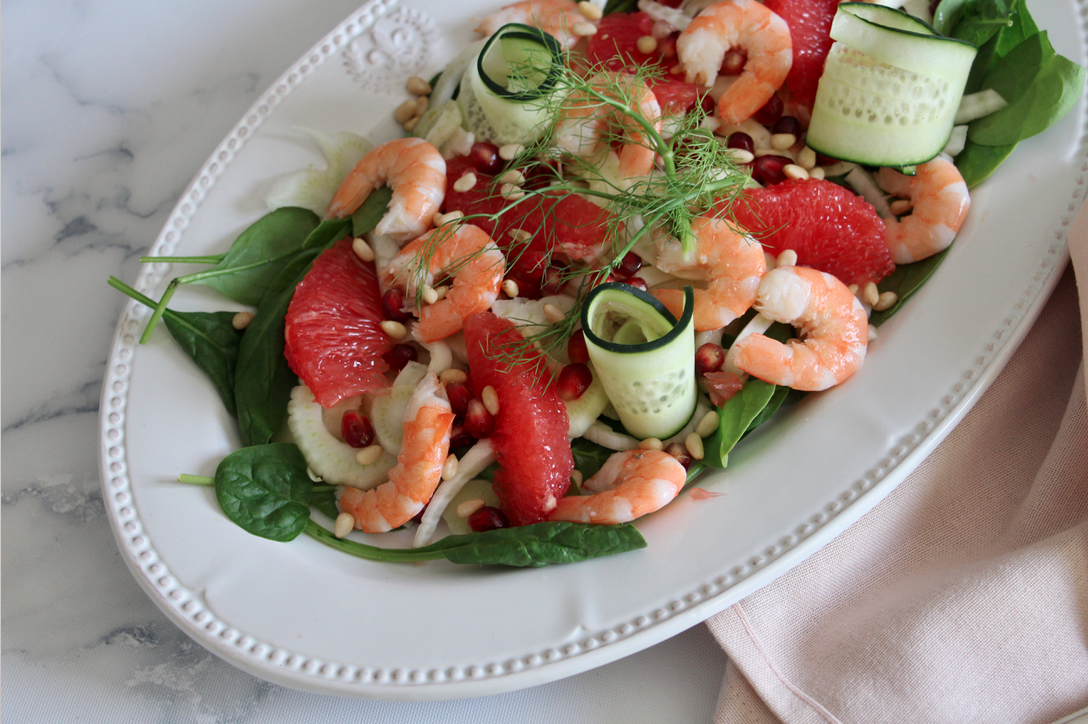 Print Recipe
My Fennel, red Grapefuit and Shrimp Salad
Ingredients
20 cooked shrimps
1 red grapefruit
1 fennel
1 piece of pomegranate
1 handful baby spinach leaves
1 large piece of cucumber
1 tablespoon pine pinions
Olive oil
Pepper
Instructions
1
Clean and cut the fennel in thin slices.
2
Set them on your serving plate.
3
Add the baby spinach leaves.
4
Cut the grapefruit segments over your plate in order to collect the juice for dressing. Place the segments in the plate.
5
Add the cucumber (here cut with a mandoline).
6
Add the shrimps, the pomegranate seeds and pine pinions to the fennel.
7
Pour 3 tablespoons of olive oil. Add salt and pepper.